The BikeRide Guide to Choosing the Best Kids' Bike
by Owen Jesse – updated August 16th, 2022

Contents:
Where to Start When Buying a Kids' Bike?
Age and size are the best places to start when narrowing down which kid's bike to buy. But take note. There is no one perfect bike for a child of a certain age or height.
Kids grow at different rates and start riding at different ages, resulting in a range of experience levels.
We'll help you out with the technical stuff, but it's probably best to consider your child's tastes.
As a little one, learning to ride is a lot more enticing when a bike rocks your favorite color and style, and is kit out with the right accessories.
For kids, cycling is more than just physical exercise. It's an introduction to independence, their main form of transport and a means for socializing.

Ages
There is no specific age where a certain bike suits a particular child. Nevertheless, a 'first bike' should be a balance bike or a bike with training wheels.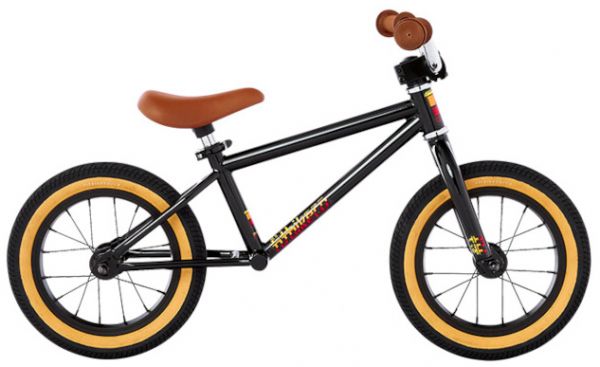 Ages 2 to 4 – 12″ inch wheels
The same goes with moving on to a pedal bike without training wheels. Experts stress that it's wisest to allow a child to develop their riding skill at their own pace.
That said, for kids starting to ride at the earliest opportunity, there are some general guidelines. Balance bikes can be ridden by kids as young as eighteen months and can suit learners up to five years old. They teach children to hone their balance and to steer a bike by shifting their own body weight. Many children find it easy to transition directly from a balance bike to a pedal bike, without using training wheels.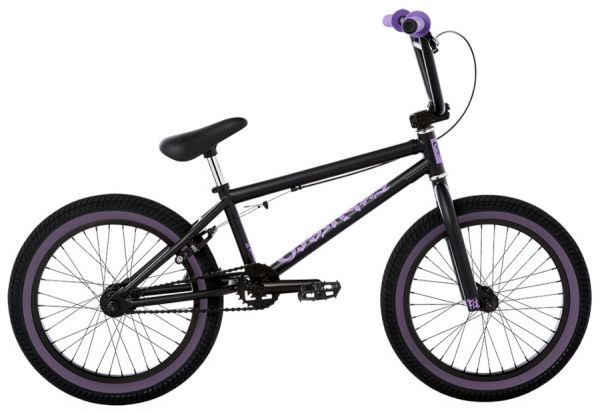 Ages 4 to 6 – 18″ inch wheels
From eighteen months, some lucky kids will be introduced to their first balance bike with teensy 10" inch wheels. Most start on 12" inch wheeled models.
From two to five years, children start learning to ride 12" and 14" inch wheel pedal bikes. At different stages during this period, kids start weaning themselves off balance bikes and training wheels and on to their first 'real' pedal bike.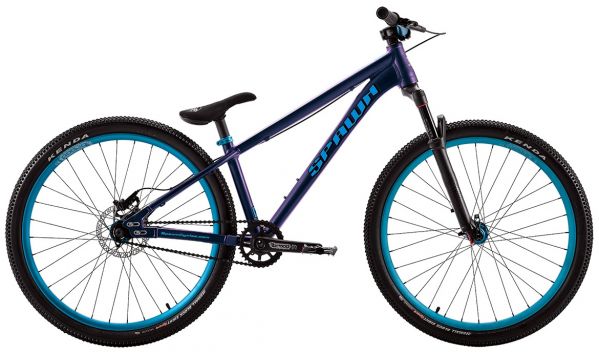 10 years and above – 26″ inch wheels
After this stage, kids are ready to move up on to bikes with 16", 18" and 20" inch wheels. Gears are introduced at this point.
At seven or eight years, many kids move up to 24" inch bikes. These bikes may have some child-specific components, such as levers, handlebars and cranks. But they are starting to resemble adult bikes.
At around ten years old, many riders start to choose 26" inch wheel bikes that resemble smaller adult models.

Sizing
The most important measurements to take into consideration are your child's inseam and reach. As you can see from our section on wheel sizes (below), inseam is a very important factor in choosing the right size bike.
Inseam determines how comfortably your child can stand over a bike's top tube (as well as whether they can touch the ground from a seated position, on a balance bike).
Optimal inseam measurements are usually listed on the manufacturer's model page.
If the manufacturer doesn't list inseam length, a basic rule is to have 1 and 3/16" to 2" of room (3 to 5cm) available when your child stands over a bike's top tube.
Many parents opt to get their child a bike that they can 'grow in to', in order to save money. Too often, this results in an oversized, unsafe and uncomfortable bike that discourages a love for cycling.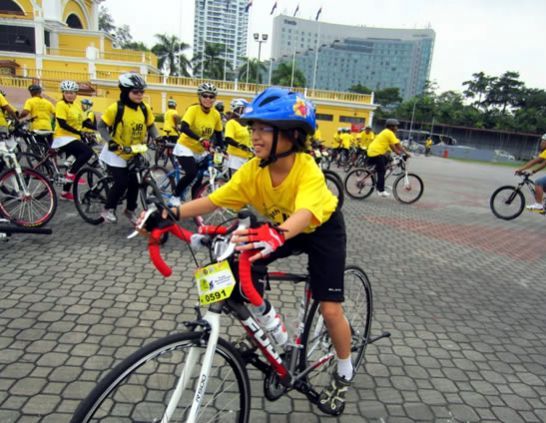 Oversized riding ain't easy
A Correctly Sized Bike:
Enables safe and agile handling.
Is comfortable.
Ensures spine, shoulder and back health.
Makes it easy to get on and off.
Ensures that kids can place one or two feet on the ground to prevent a fall.
Allows ample standover when standing over the bike's top tube.
For children, appropriate wheel size is important, even more so than on adult bikes. For little and growing people, wheel size should be proportional to a bike's frame size.
Correct Wheel Sizing:
Enhances balance.
Increases stability.
Improves control.
Makes for easy mounting and dismounting.
For very small children who are less able or less confident, parents may consider a slightly undersized bike.
The stages and ages of kids' bike options are best expressed as a choice of wheel sizes. We'll examine what's offered in these size categories and what age and size of child they are suited to.

Kids' Bikes by Wheel Size
10" Inch Wheels
Child Height
Inseam
Age
This size is now used on balance bikes for very early starters and particularly small children. Previously, it was only seen on tricycles and ride-on toys. For quality balance bikes, this size is not as common as the 12" inch standard.
12" Inch Wheels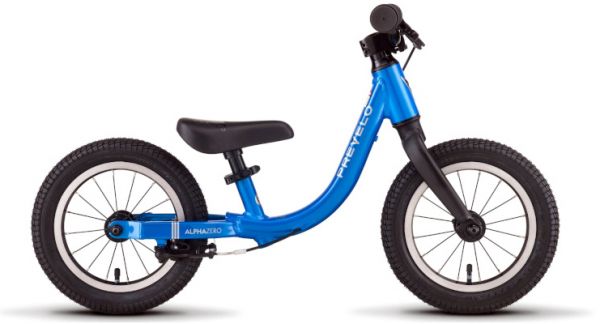 A 12″ inch balance bike
Child Height
Inseam
Age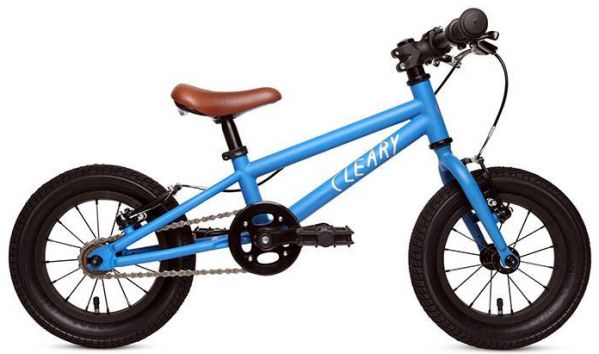 A 12″ inch pedal bike
This is the size for most balance bikes and many pedal bikes with training wheels.
Pedal bikes can be ridden by some children 18 months and over, but generally, 12" inch bikes are most suitable for two to four year olds.
Pedal bikes may use only a rear coaster brake, a rear coaster brake and a hand brake or dual hand brakes.
For durability, quality and safety:
Seek:
A metal or wooden frame.
Hubs that use ball bearings.
Pneumatic (air-filled) tires.
A solid plastic chainguard that doesn't rattle.
Good quality brakes.
A comfortable saddle with moderate padding.
Grips with flared or rounded ends, to prevent injury in the case of (inevitable) falls.
Avoid:
Plastic frames.
Wheels using bushings.
Solid tires.
Heavy metal and insecure, rattling chainguards.
14" Inch Wheels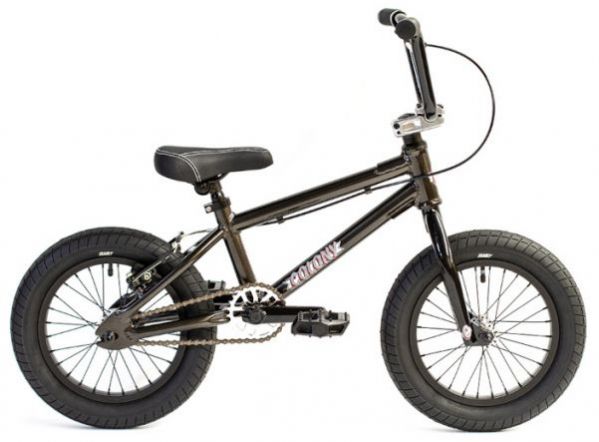 A 14″ inch pedal bike
Child Height
Inseam
16.5" – 21"
41.9 – 53.3cm
Age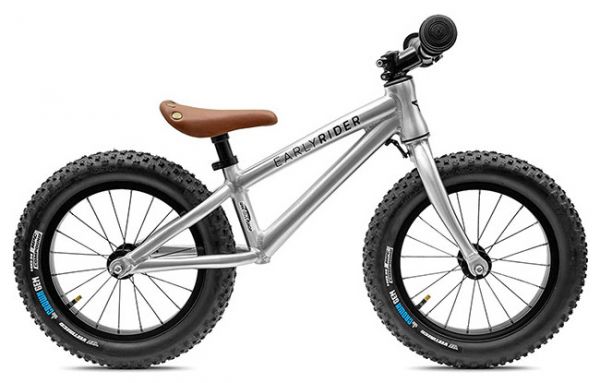 A 14″ inch balance bike
Most 14" inch bikes are pedal bikes. In this age bracket, a decent portion of riders are still on training wheels, while others are casting them aside.
Balance bikes are still available in this size, but the range is smaller. Some come with optional pedals that can be attached as skills develop.
Characteristics for 14" inch bikes are otherwise similar to those of 12" inch bikes (see above).
16" Inch Wheels
Child Height
3' 5" – 4' 0"
104 – 122cm
Inseam
Age
At this wheel size, children are moving on to their first or second 'real' pedal bike. Later bloomers may still be using training wheels. Most bikes are single-speed (no gears), to keep things uncomplicated.
Bikes will usually have at least one brake that uses a lever. Rear coaster brakes may still be used on some bikes, while others will use handbrakes only.
For the best kids' bikes:
Seek:
A lightweight build (aluminum frame and no coaster brake).
Easy maneuverability.
Levers that are small enough for small hands.
Cranks of an appropriate length (90-100mm).
Avoid:
Suspension (too heavy at this age).
Heavy steel frames.
18″ Inch Wheels
Age
This is a rarer 'in-between' size that is less likely to be fit with training wheels.
A number of experts see 18" inches as an unnecessary, intermediate wheel size. Most little riders move straight from 16" to 20" inch wheels.
Where 18" inch bikes really come in handy, is for prodigious riders who are starting out early in BMX racing.
20″ Inch Wheels
Child Height
3' 11" – 4' 5"
120 – 135cm
Inseam
Age
On 20" inch bikes, single-speed options are still popular. Many kids are happy to zip around on BMX bikes for years. Others are starting to ride longer distances. For these kids, there are a number of five and six speed bikes available. Bikes will still have a single chainring up front, to keep things less complicated. Some of these bikes use a 'twist shift' style gear shifter.
Some kids are strong enough to handle the weight of a suspension fork. For this reason, they're specced on "mini-trail" mountain bikes, with 20″ and larger wheels.
Cranks should be around 120-140mm long.
24″ Inch Wheels
Child Height
4' 2" – 4' 9"
127 – 145cm
Inseam
Age
24" and 26" inch bikes start to resemble adult bikes. For some kids, small frame adult bikes may suit, but it isn't wise to choose a bike "to grow into", as an over-sized bike is difficult and unsafe to maneuver.
There are many 'everyday' type bikes available in these sizes. These are similar to hybrid and commuter bikes and can be ridden in diverse situations; in urban settings, bike paths or on less raucous dirt roads.
26″ Inch Wheels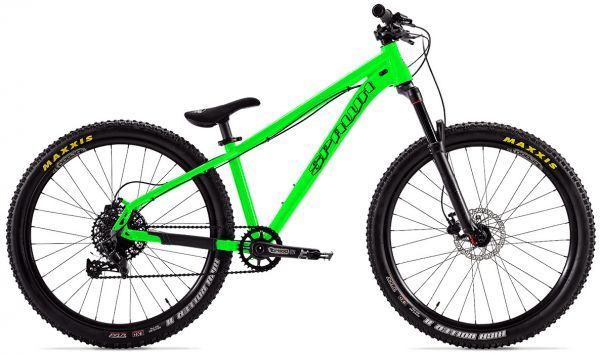 26″ inch mountain 'trail' bike
Child Height
4' 7" – 5' 2" (and above)
140 – 158cm (and above)
Inseam
25" and above
64cm and above
Age
Mountain bikes are very popular. Specialized models become available in various disciplines, which are defined by a specific set of features.
Mountain Bikes
Wide, knobbly tires.
Short reach brake levers.
Appropriately wide handlebars.
Some bikes with front suspension.
Available with both 24" and 26" inch wheels.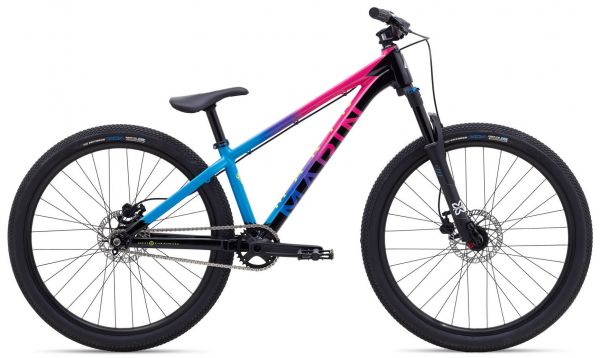 26″ inch dirt jump (DJ) bike
Dirt Jump Bikes
Half-way between a BMX and a mountain bike.
Often single-speed.
Strong front suspension.
Available with both 24" and 26" inch wheels.
Juvenile Road Bikes
Short reach drop bars.
Short reach brake levers.
Wheels are narrow 24" and 26" inch options.
Narrow 26" inch wheels are also known as '650c'.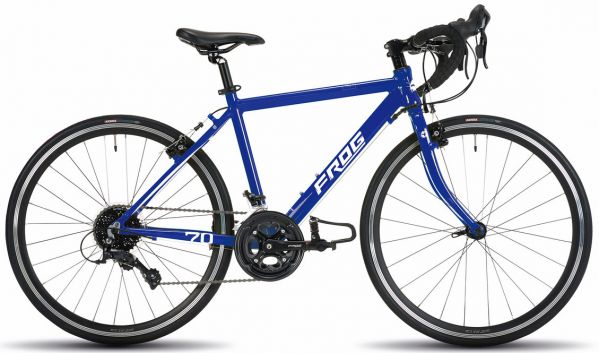 26″ inch road / cyclocross bike
Juvenile Cyclocross Bikes
Similar features to juvenile road bikes.
Clearance for wider tires.
Some models come with two sets of tires; one for road cycling and one for cyclocross, gravel and hardpack dirt roads. This ekes more value out of your bike purchase and gives your child more riding options.

Geometry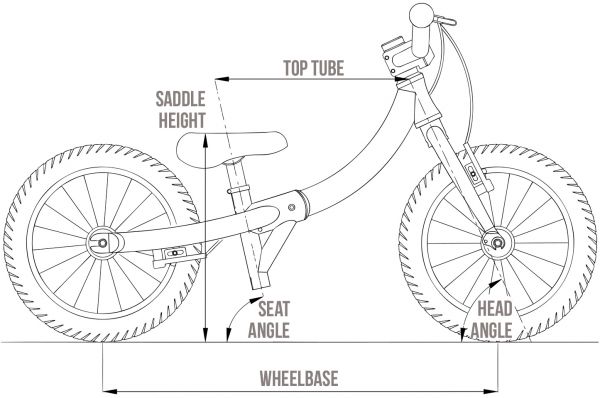 Geometry chart for a balance bike
Kids-only brands are paying attention to newer developments in geometry and integrate them into their bikes. Many quality brands do the same with their children's range.
A number of big-box, department store bikes are taller and more unwieldy, making learning to ride more difficult (and possibly, discouraging).
Research has shown that there is little difference between the proportions of boys and girls at very young ages. Until parents and young riders begin to look at juvenile options, there's little need to consider bike build from a gender-specific viewpoint.
There are a number of kid-specific geometry tweaks that make it easier, safer and more fun to ride a bike.
Reach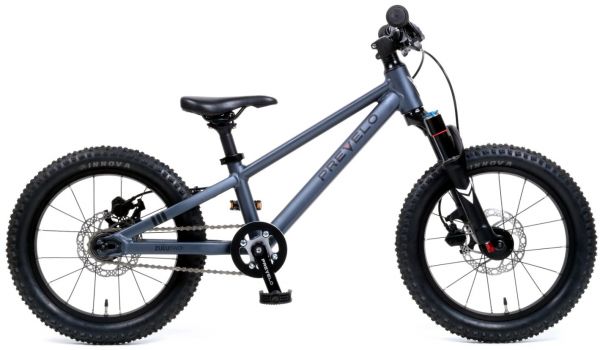 Comfortable reach and a long,
modern wheelbase
On young children's bikes, a shorter top tube and a shorter stem compensate for the fact that children have more trouble leaning forward than adult cyclists do. But there must be enough room available in the 'cockpit' (space between the seat and handlebars), for a child to comfortably steer and lean into turns. Arms should be slightly bent when a child is seated, with hands on the bars.
Wheelbase
Kids' bikes have become longer and lower in recent years. A longer wheelbase makes a bike more stable and less 'twitchy' when steering.
Bottom Bracket
The bottom bracket is the part of the bike between the cranks (or the equivalent on a balance bike). On modern, intelligently designed kids' bikes, they're low. The lower the bottom-bracket, the lower the center of a bike's mass. It also means that the frame can be lowered, making it easier for little riders to get on and off their bike.
The width of the bottom bracket should make it easy for a child to stand upright, without having to stand with legs akimbo. Cheap, poorly constructed bikes may skimp on this and use an adult bottom bracket.
Standover and Top-Tube
Longer reach and higher standover on a pedal bike
Shorter cockpit and lower standover for early riders
Top tubes are slanted for low standover, making it easy to get on and off the bike. It also means a child is less likely to go down with their bike in a fall. They should be of the optimal length to suit a comfortable reach.
Stem
Kids' bikes usually use shorter stems to allow for a shorter reach. A reversible, threadless stem raises handlebars by a significant degree, helping to make a bike last longer as a child grows.
Head Tube Angle
Head tube angles should be 'slack' enough to allow for relaxed steering. If the head tube is too steep, then steering from side-to-side becomes 'twitchy' and unstable for younger riders.
Fork Offset, Rake and Trail
'Rake' more-or-less refers to how far a fork extends out from the head tube. In combination with your head tube angle, this creates a 'trail' distance, which affects steering. In short, look for a fork that isn't too vertical and that doesn't protrude excessively, ahead of the handlebars. This can cause the front wheel to flop from side-to-side.
Cranks
'Q Factor' is the distance between the outside of the cranks.
Like the bottom bracket, cranks should be proportionately sized to offer a narrow Q factor that suits children's hips. This lessens discomfort.

Weight
Weight is one of the most important considerations when buying a kid's bike. The best kids' bikes weigh between 25 and 40 percent of a child's weight. Ideally, the lighter the better. Many cheaper kids' bikes easily weigh half of a child's body weight.
A mountain bike is one of the heaviest types of bike available. An adult mountain bike weighs only 15 to 20 percent of its adult rider's body weight. Now, imagine that your bike weighed half of your weight!
In a medium size, this beefy adults' fatbike weighs 27.2lbs
This 16″ inch bike weighs 28lbs
A lightweight bike definitely reduces a lot of a child's struggle in learning to ride. Many cheaper kids' bikes are excessively heavily, even reaching and exceeding the weight of an adult bike!
Look for these weight-saving attributes in kids' bikes:
A lightweight frame (aluminum is the most affordable material).
Rim brakes over coaster brakes.
Aluminum rims.
Less spokes (especially in smaller kids' bikes).
Frame Materials
Frame material is an incredibly important consideration for kids' bikes, as it can really affect overall bike weight.
Aluminum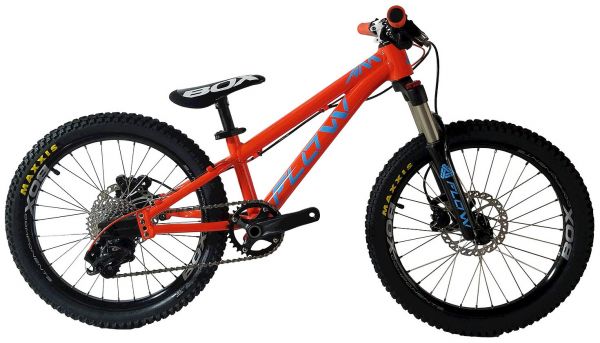 An aluminum frame mountain bike
(with carbon fiber wheels!)
Aluminum is the most affordable lightweight material found on new kids' bikes frames. It's a lot lighter than hi-ten steel and a lot more resistant to corrosion.
Aluminum bikes cost a little more than cheap, heavy, steel options.
It can be unforgiving over uneven surfaces, so it might be coupled with a fork made of a different, more compliant material. This is only a concern if your child is riding on bumpy surfaces.
Steel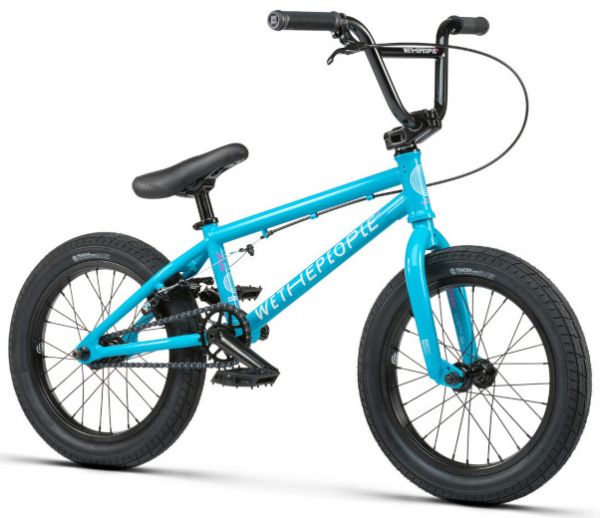 Hi-ten steel BMX
There are two main types of steel that you'll find on bikes for older kids and adults, and there are important differences between them.
Most cheap bikes for smaller kids are made of Hi-Tensile steel.
Hi-Tensile
Otherwise known as 'hi-ten', this steel is a low-cost option for a frame that can last a lifetime. But it can be very heavy and is less shock-absorbent than chromoly steel. The rigidity of hi-ten steel may be partially offset by wide, low-pressure tires.
Chromoly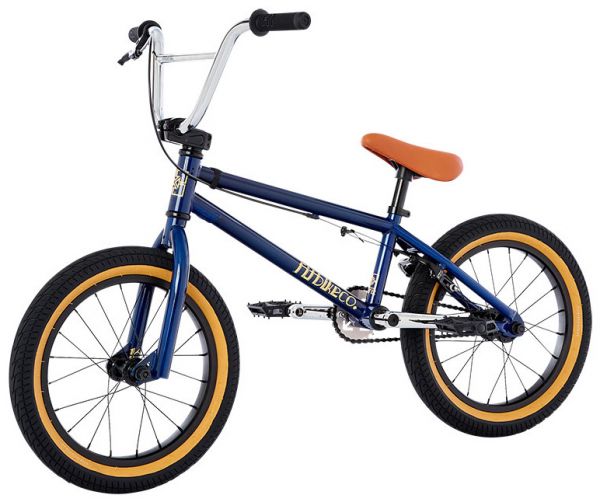 16″ chromoly steel BMX
In the kids' bike world, chromoly is more common on 20" inch BMX bikes. It's a steel alloy that incorporates chromium and molybdenum. It's also known as 'cro-moly', 'cro-mo' and by the numerical designation '4130' (as issued by the American Iron & Steel Institute).
It represents a lighter option, partially because it can be drawn into thinner tubing without compromising strength. This makes it more 'compliant' and comfortable than hi-ten, over bumpy surfaces. Its strength can also lead to it being more durable.
Chromoly frames ask a higher price than hi-ten, but the extra weight of hi-tensile steel can be an additional and unnecessary strain for kids.
Carbon Fiber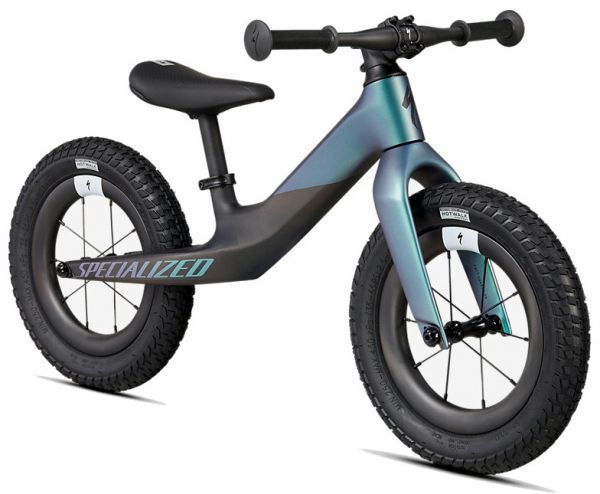 Cutting edge: carbon fiber balance bike!
Carbon fiber is lightweight, resilient, compliant and expensive. It's true that it's strong and absorbs vibration.
On the other hand, it can be restrictively expensive and is usually only necessary on performance bikes, where speed is paramount. A carbon fiber bike will be costly or impossible to repair if cracked.
There actually are some boutique kids' bikes available with a carbon fiber frame.
Wood
Wooden balance bikes are common. Plywood and other lightweight timbers make bikes easy to carry and maneuver.
Its natural look is preferred by some parents. If treated with non-toxic varnishes and lacquers, it can also present a more ecologically-minded choice.
There are other, rarer lightweight materials that are used for kids' bike frames. These include magnesium and fiberglass. Neither option presents overwhelming benefits in terms of weight or comfort.
Fork Materials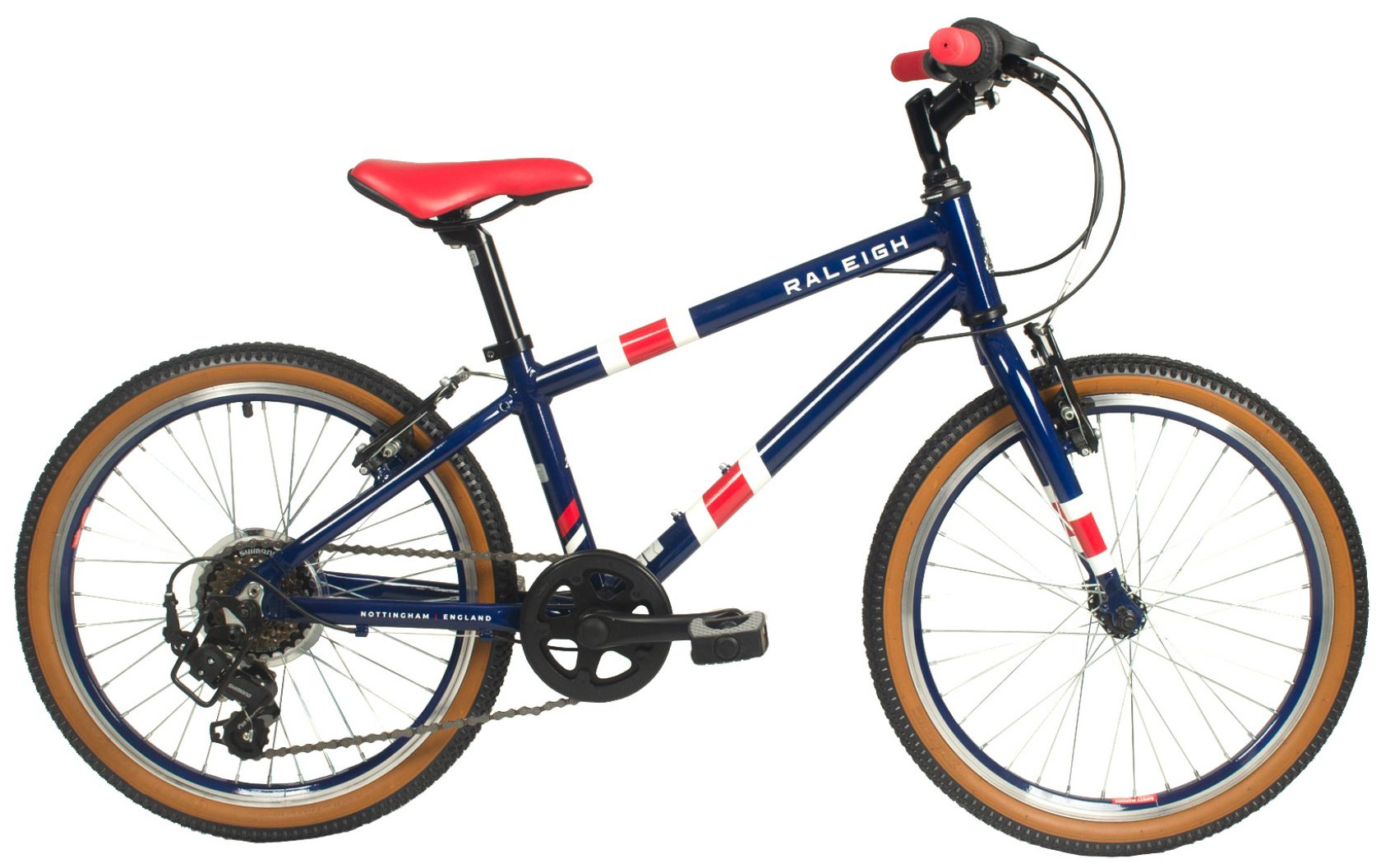 This bike uses a chromoly steel fork and an aluminum frame
As a frame material, aluminum is stiff and light, but it can be notoriously rigid and prone to vibration.
Some kids' bikes compensate for the rigidity of aluminum by using wide, low-pressure tires filled with generous volumes of air. But on their own, plush tires may not be enough.
For this reason, some bikes use a fork made from a material that is more pliant and shock-absorbent than their aluminum frame.
This is usually steel. Ideally, chromoly is used, but some forks are hi-tensile (to cut costs).

Balance Bikes vs. Training Wheels
The trend away from training wheels is on the rise. In the last two decades, the popularity of balance bikes has skyrocketed.
On a balance bike, kids stay seated while using their feet to propel the bike, in a 'running' fashion. As skills progress, kids lift their feet and begin to glide and steer on two wheels.
Many children move straight from riding a balance bike to riding a pedal bike without training wheels. A number of experts have put their support behind balance bikes and say that training wheels are an unnecessary step in a child's cycling development.
Derek Bouchard-Hall, the president of USA Cycling, says that, "Balance bikes are highly effective at helping kids learn to ride. They've made training wheels obsolete from the perspective of many parents—including me."
The concern over training wheels is that they don't teach children to hone their balance, which is essential to two-wheeled riding. They also add about a pound in weight.
Balance Bikes
Pros
Teach kids to rely on their balance.
Encourage steering by shifting body weight.
Very simple, less moving parts to use and maintain.
Cons
Doesn't teach pedaling.
Only a few models can be converted to a pedal bike.
Training Wheels
Pros
Lasts longer than most balance bikes.
Becomes a 'big kid' pedal bike when training wheels are removed.
Cons
Doesn't effectively teach balance.
Adds approximately 1lb in weight to a bike.
Can be unstable, causing bikes to 'tip' or spin.
Doesn't effectively teach kids to steer by shifting their body weight.
Doesn't teach kids to keep their own bike upright.
Components
The weight, shape and size of kids' bike components can have a big influence on how much they enjoy learning to ride. Components on kids' bikes don't need to be high-end, but there are some minimum quality requirements that you'd be wise to keep an eye on.
Handlebars
Width
Most kids' bikes use handlebars of a width that is appropriate to their shoulder width.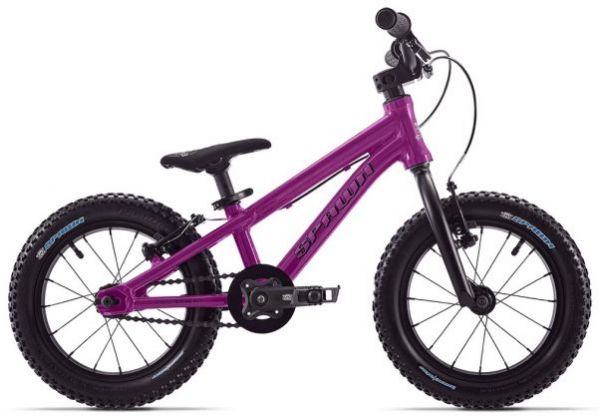 This 14″ inch bike's handlebars have a width of 460mm and a 19mm diameter
For 12" Inch Bikes
For 14" Inch Bikes
Diameter
On 12" and 14" inch wheel bikes, seek handlebars with a kid-specific 19mm diameter. Some manufacturers save costs and cut corners by using shortened adult handlebars on their kids' models. These adult handlebar widths can be uncomfortable or even painful for small hands.
Rise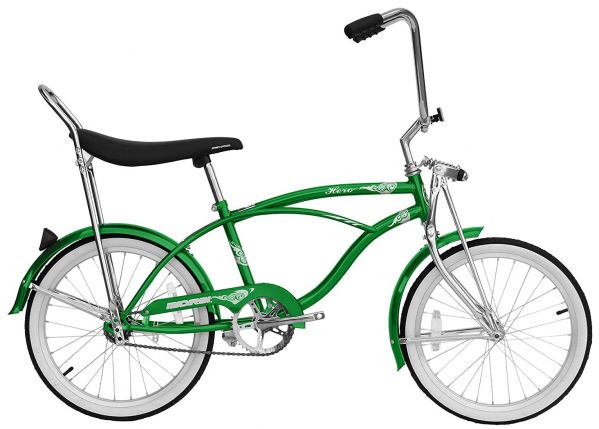 On this bike, excessive rise and reach could cause discomfort
Kids' arms shouldn't be reaching up too high to take a hold of handlebars. On most smaller bikes, a moderate amount of rise suits best. To assess this, it's best to observe how high your child reaches to grab grips, when comfortably seated.
Sweep
Swept back handlebars can be ergonomic but may reduce room in the cockpit, making it harder for kids to steer comfortably.
Drop and Reach
Junior and juvenile cyclocross, track and road bikes should feature suitably reduced drop and reach on drop handlebars.
Material
Kids' bikes are made and sold with both aluminum and steel handlebars. Aluminum bars helps to cut weight.
Stems

Many BMX stems can be flipped to either lower or increase handlebar height
If you want your child to eke more riding years out of their bike, seek out models with reversible, threadless 'BMX-style' stems. These offer adjustability to match your child's height as they grow. They can be turned upside down to reduce or increase rise and subsequently, handlebar height.
Threadless stems can be easily removed, inverted and reattached at home. But if you have any doubts, for safety's sake, seek help from your local bike mechanic.
Steering Limiters

Steering limiters have the potential to prevent falls
These devices are used on smaller bikes, to prevent the front wheel from flopping too far to one side. They use a hefty rubber loop or cloth strap.
Brakes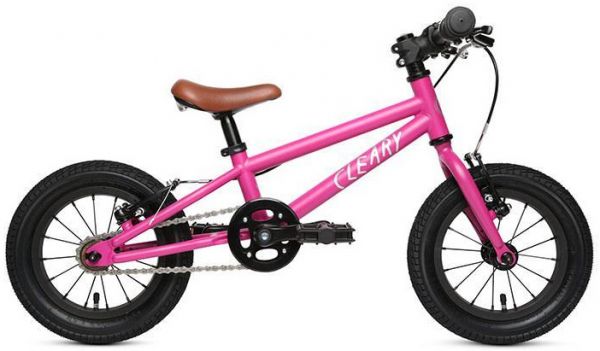 This bike uses V-brakes, front and rear
On kids' bikes, brakes can be divided into two categories. Coaster brakes are also known as 'pedal brakes' and are operated by pedaling backwards. You might remember them from childhood. All other brakes can grouped into the category of hand brakes. This includes rim brakes and disc brakes, both of which are operated by squeezing a handlebar-mounted lever.
In the United States, it is a legal requirement that a coaster brake be fit to all 'pavement bikes' with 20" inch or smaller wheels. This is not the case in the U.K., Australia and many other countries. Some brands package coaster brake bikes with a hand brake conversion package. Modifying your child's bike to use a hand brake is not illegal.
Hand Brakes
Operating brake levers does require a degree of training and skill, but some toddlers learn to use them while they're still riding a balance bike. Rim brakes are lighter than a coaster brake by about a pound.
Rim Brakes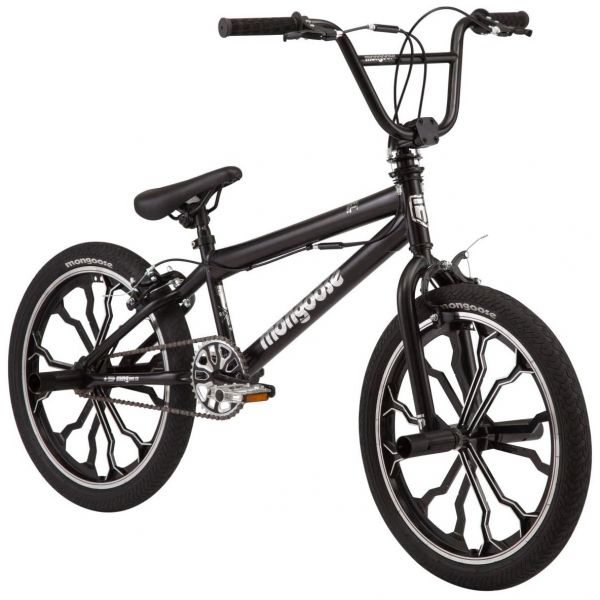 This bike uses front and rear caliper brakes
Rim brakes are operated by hand, by using a brake lever.
V-brakes™ (also known as 'linear pull brakes') are a type of cantilever rim brake that uses a single cable and two arms. They fit well around wider tires and are easily adjusted and maintained at home. That said, they can still be tricky to center. As far as cantilever brakes go, they're powerful.
Compared to discs, they lose some power in wet weather. Winter braking also wears down rims as grit and filth gets attracted to brake pads. However, they are cheaper than discs and easier to adjust without professional help.
Caliper brakes usually attach to the frame or fork by a single bolt. They use curved arms, which must be long and wide enough to fit around your tires. For this reason, they are better suited to accommodating narrow to mid-width tires.
Advantages
They are about 1lb lighter than a coaster brake.
Hand brakes allow back-pedaling to increase balance and avoid obstacles.
They offer ample modulation (varying degrees of braking, not an on/off feel).
They are the best option for off-road use.
Kids need to learn to use them eventually, so the earlier the better.
Children as young as 2½ can learn to use them.
They are low-cost, reducing the overall price of a new bike.
They're easy to adjust.
Disadvantages
They require some extra training.
Possibility of going over handlebars by suddenly grabbing only the front hand brake.
Rim brakes lose effectiveness in wet conditions.
In winter, rim brakes wear down rims as grit and filth gets attracted to brake pads.
They require levers and cables.
Tire width is limited by brake width.
Disc Brakes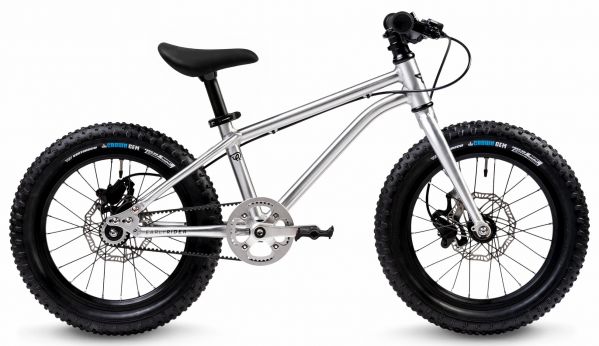 Disc brake power suits mountain biking
Disc brakes are a type of hand brake that features on 'bigger kids' bikes, with wheels 20" inches and larger. Disc brakes slow the bike by squeezing pads onto a disc, which is attached to the wheel hub.
Discs cost more than rim brakes, but are now more affordable than they have ever been. They are more powerful than rim brakes, especially in wet weather. This makes them useful for children, as they require less effort and hand strength, while delivering similar stopping power.
They allow for the use of wider tires and don't wear down your rims. For these reasons, they're popular on mountain bikes.
They are more complicated than rim brakes, when it comes to maintenance, adjustment and repair.
There are two types of disc brake; hydraulic and mechanical. Hydraulic brakes provide greater stopping power and use brake fluid to transmit force. They are more costly than mechanical discs and trickier to maintain. Mechanical discs will definitely suffice for kids' bikes.
If you live in a dry climate, you might consider cutting costs and using rim brakes. But if your priorities are power, performance and all-weather reliability, discs could be your preferred option.
Advantages
They require less effort to apply than rim brakes.
Strong stopping power in all weather conditions.
Allow the use of wider tires.
Protect rims from wear.
Disadvantages
More expensive.
More complicated and difficult to maintain.
They require levers and cables.
Coaster Brakes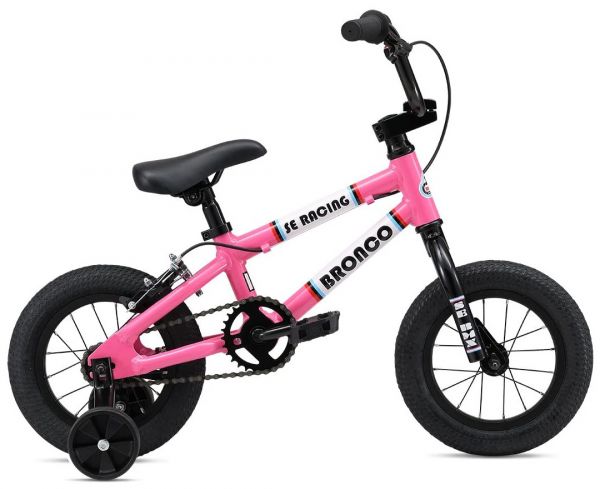 This bike is equipped with both a rear handbrake and a coaster brake
Coaster brakes are the traditional standard rear brake, on kids' bikes with wheels from 10" to 20" inches. These days, many parents, experts and manufacturers are moving away from them. Nevertheless, they remain a legal requirement on wheels up to 20" inches, in the U.S.A.
Some say their back-pedal operation is counter-intuitive, and that it can lead to falls when riders shed their training wheels. Others chide them for their weight, which is about 1lb heavier than lever-operated rim brakes. But for parents who see hand brakes as too advanced, they are preferred.
A popular option is to have both a coaster brake and a hand brake. Many new bikes are configured this way.
Coaster brakes are also known as 'pedal brakes'. There are no pads or discs and braking takes place largely within the wheel hub. Most coaster brakes provide somewhat inferior stopping power, compared to rim and disc brakes. But as with any other brakes, there is a wide range available in terms of quality and cost.
On its own, a coaster brake might not be practical or safe in hillier terrain or at higher speeds. Mashing a coaster can 'cook' the grease inside a coaster hub. The first mountain bikers had to repack this grease after every descent.
Advantages
They may require less skill and effort to operate, for some kids.
They make it easier to pull sick skids.
Internal coaster hubs are insulated from the elements.
Coaster hubs only need infrequent maintenance.
A coaster brake does not need cables or levers.
Disadvantages
They weigh about a 1lb more than hand brakes.
They don't allow back-pedaling to avoid obstacles or adjust balance.
Coaster brakes bring kids to a sudden stop.
They offer little modulation (have an on / off feel).
They're not suited to riding off-road or at bike parks.
They're easy to skid, which can be dangerous.
They lack stopping power at higher speeds.
A 'reaction arm' needs to be detached and reattached to remove and replace the rear wheel.
Levers
Quality children's bikes are equipped with appropriately sized brake levers. Smaller hands have a shorter reach, which means that adult levers may be uncomfortable or even unsafe. Look for appropriately sized brake levers on a new bike.
Factors to Consider
If you are having trouble choosing between a coaster brake and hand brakes, pick a bike that uses both. This way, your child is able to learn how to use a hand brake while they're still young. This is a skill that they will carry on to bigger bikes.
Cranks

3-piece cranks on and off a 16″ inch BMX bike
Cranks on kids' bikes should be proportionate to the size of their bike and their own leg length. A good guide is that they should measure 20% of your child's inside leg length (inseam).
The other factor to consider is the 'Q Factor' (which is the distance between the outside edge of the cranks). This should be appropriately narrow, so that your child isn't standing with legs far apart (see the 'Geometry' section, above).

1-piece cranks cut costs but aren't the strongest option on bigger bikes
Cranks on kids' bikes can use a 1-piece, 2-piece or 3-piece assembly. 1-piece options probably wont use sealed cartridge bearings and can be easy to bend. If bent, the whole assembly must be replaced.
2-piece cranks have one arm attached to the spindle, so you can replace cranks separately. For a 3-piece crank, only the bent crank need be replaced, as they use a separate part for either crank and the spindle.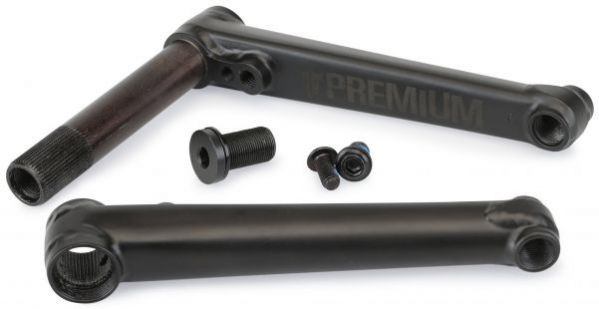 2-piece cranks
2 and 3-piece cranks usually use sealed cartridge bearings and are lighter and stronger than 1-piece options. There are different types of 2 and 3-piece cranks, with their own benefits and drawbacks. But compared to 1-piece cranks, they all possess superior qualities of strength and reliability. Some 1-piece versions can be tougher than others, but in general, 2 and 3-piece setups are superior.
Gearing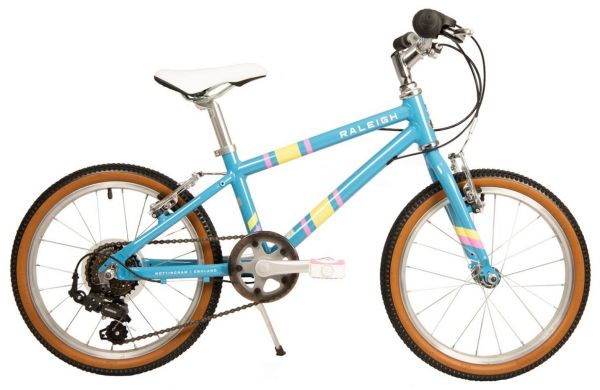 A 6-speed bike with 18″ inch wheels
Gears aren't usually introduced on kids' bikes until they're riding at least 20" inch wheels, at a minimum of around seven or eight years old. How many of us were happy to trundle around on a single-speed BMX, for many years?
Most kids' bikes use a single chainring with a wide spread gear range on the rear cassette. This means that kids only have to deal with a single gear lever. It also reduces maintenance.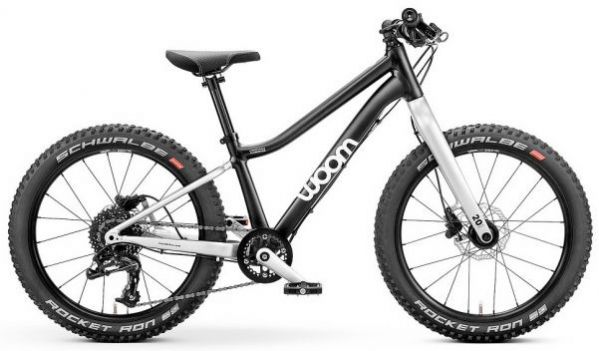 A 20″ inch wheeled mountain bike
with 9 gears
Initially, five or six gears is common. Kids may move up to 7, 8 and 9 speed options, but 1×10 and 1×11 speed choices are a significant step up in price and are usually reserved for 26" inch wheels and larger.
A wide gear range can be the result of having many available gears or of having less gears spread over a wider range. This means that there is still a higher high gear and a lower low gear, but that the jumps between gears are larger.
Kids' bikes can use either external or internal gearing. Lower-cost options are external and do an excellent job.
External Gearing using Derailleurs
Many affordable kids' bikes use external gearing. External gearing is exposed to rain and dirt, which deteriorates components. It also requires more adjustment than internal gearing.
Advantages
This is the most affordable standard.
External gearing can be adjusted by (some) home mechanics.
Disadvantages
External gearing is exposed to the elements.
More tuning and repair is needed than on an internally geared drivetrain.
Internal Gearing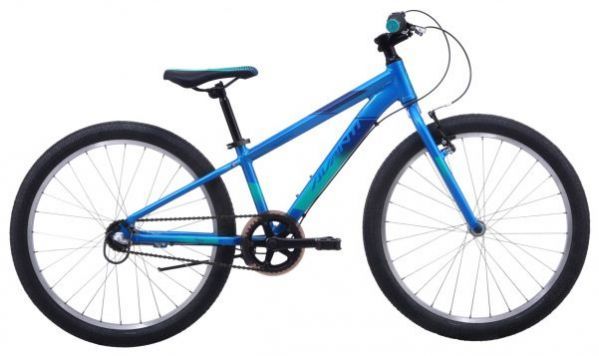 This bike uses a 3-speed internal hub and
24″ inch wheels
Internal hubs are low-maintenance, while protecting your gears from the elements and maintaining a clean look.
There are no derailleurs to bend or damage. Internal hubs are low-maintenance.
Sturmey Archer and Shimano's Nexus range are names to look out for. When it comes to internally-geared hubs, both are manufacturers of renown.
Advantages
Internally geared hubs are sealed from dirt and moisture.
External complexity is reduced by eliminating derailleurs.
Internal hubs present neatly.
They only use one shifter and one cable.
Internal gearing systems only require infrequent maintenance.
Disadvantages
When needed, maintenance can be complicated.
Gears complicate the rear hub, especially when combined with a coaster brake.
Shifters
Single Shifter / Single Chainring
Most geared kids' bikes use a single chainring with a single gear shifter on the handlebar. This keeps the process simple when learning to change gears. Appropriately-sized gear levers are something else to look out for, as they make life easier on smaller hands.
Twist Shift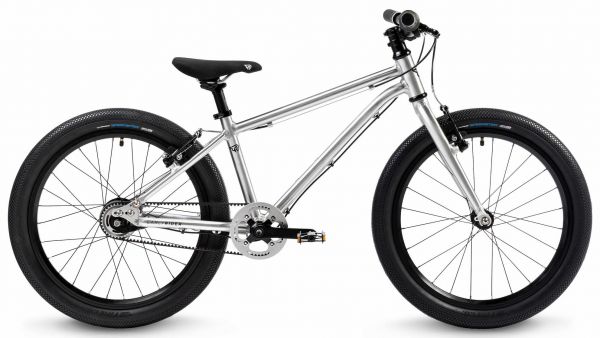 This 20″-wheeled bike uses a twist shift
Twist shift style shifters are often used on geared kids' bikes. They are produced under the 'Grip Shift™' and 'Revoshift™' brand names. These allow the rider to change gears by turning a barrel next to the grip. Aesthetically, the 'twist shift' resembles a motorcycle throttle.
Twist shifts are OK for casual use but they can be problematic. They have the potential to be dangerous if riders suddenly fall into a lower gear (or between gears), when pulling wheelies or jumping their bike.
Drivetrain
Belt Drive vs. Chain Drive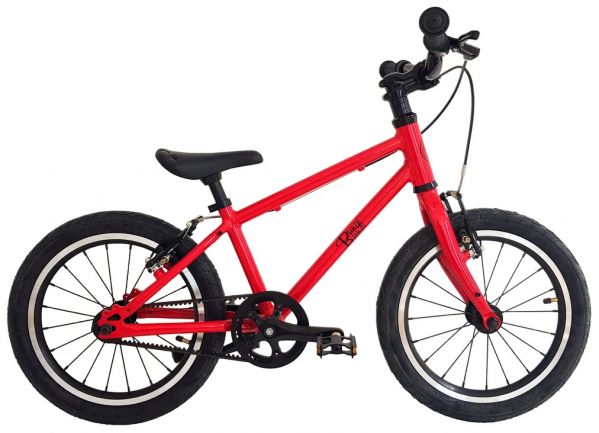 A 16″ inch-wheeled bike using a belt drive
Belt drives are a modern replacement for the traditional chain. They use a single-piece carbon belt that requires a specific frame type to use.
They are near-silent, greaseless and long-lasting. Because they are low-maintenance and won't smear grease on clothes or legs, they present an attractive option for kids and parents.
They do present an extra cost upfront, compared to chain-driven options.
Belt drives are becoming more affordable and more widely available on kids' bikes.
Chain Retention Devices

An integrated chainguard helps keep a chain on the chainring – and grease off pants
There a variety of devices used for chain retention on geared kids' bikes. These help to prevent chains from falling off and from slapping loosely against frames.
They are especially useful on mountain bikes.
The Contact Points
Saddles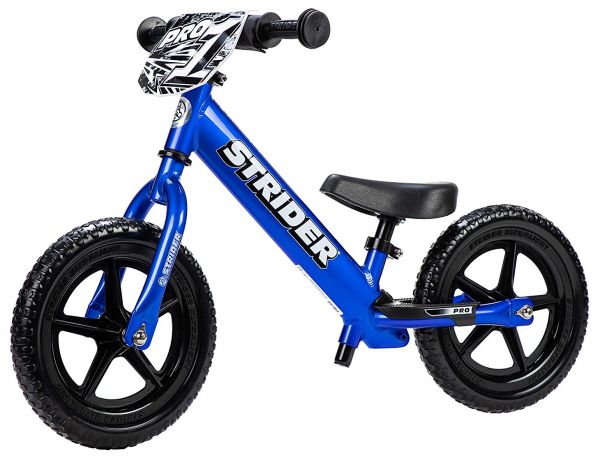 A moderately padded saddle
On cheaper bikes for smaller kids, some saddles are not adjustable.
Look for saddles that adjust by tilting up and down and that also slide forward and backward on rails.
It's also a good idea to choose a bike with ample room to adjust your seatpole up and down.
This gives a bike more room to grow, along with a young rider.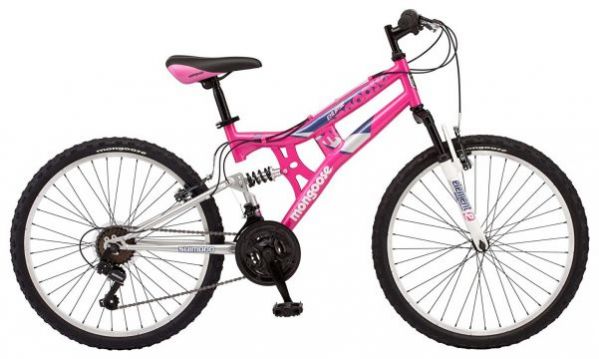 This short seatpole lacks adjustability
Excessively cushioned saddles can be misleading.
'Squishiness' can become uncomfortable and may be felt in hips, thighs and bottoms on longer rides.
This can cause numbness due to restricted blood supply.
For little ones who are still in nappies, excess saddle padding is unnecessary and may even be uncomfortable.
Grips
Smaller handlebars on smaller kids' bikes allow for smaller grips. 19mm grips fit smaller hands comfortably.

19mm wide grips, like these, are used on this bike
For very small children, look for grips with rounded or flared ends. These prevent little hands from slipping off handlebars during falls.
Some substances used to make grips have been proven to be toxic. You may seek out a brand that offers a non-toxic rubber or silicon option.
Comfort Grips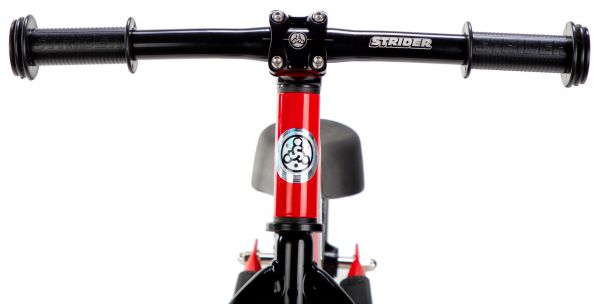 Rounded ends keep little hands on bars
Many kids' bikes use comfort grips. These are usually round and use a shock-absorbent rubber or foam compound. They should provide adequate grip and cushioning.
Ergonomic Grips
These grips are comfortable and healthy for the natural shape of human hands. They are usually made with a material that provides adequate shock absorbance.
Pedals
Kids' bikes are usually sold with flat, plastic 'platform' pedals. Manufacturers describe these as made of nylon or 'resin'. Good examples use non-slip rubber inserts or grip-tape to improve traction. Platform pedals offer easy on / off action and foot-down when coming to a stop. They work well with casual shoes.
Metal pedals with studs (for older kids)
Standard, nylon platform pedals
When choosing or replacing pedals, keep in mind that 'plastic' does not always equal poor quality. Polycarbonate examples can be long-lasting and may use high quality bearings. Older kids' mountain bike pedals may have studs for extra grip.
Wheels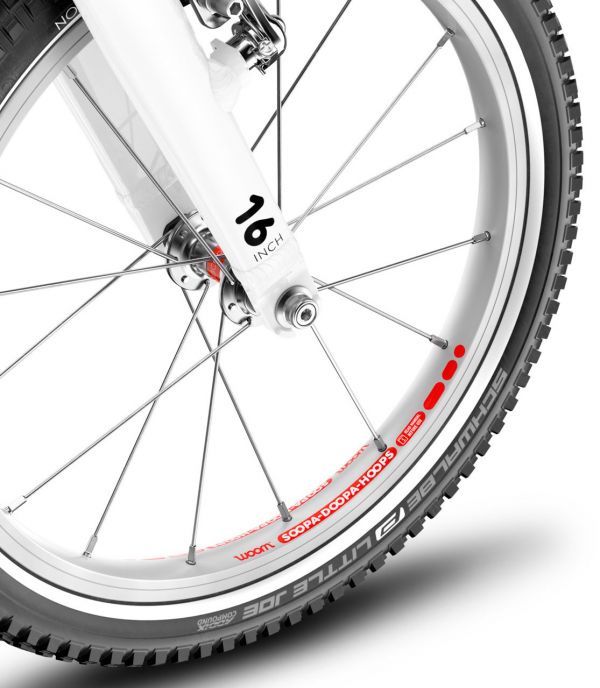 An alloy rim and sealed bearings
Materials
Aluminum rims are light, strong, stiff and highly rust resistant. They're inexpensive too.
If dented, aluminum rims can often be repaired.
Lightweight rims (and overall wheel build) can do a lot to reduce the total weight of a kids' bike.
Bearings
Quality kids' bikes will use sealed wheel bearings.
They roll smoothly and are protected from the elements.
Spokes
Smaller kids bikes can get away with less spokes than bikes for big kids and adults.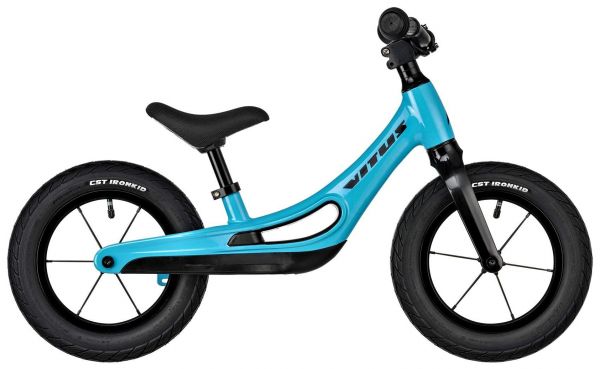 This 7lb balance bike uses 6 spokes per wheel
On 12" and 14" inch bikes, 16 spokes can be enough. Fewer spokes saves weight.
Bikes 20" inch and up may use 28 to 36 spokes per wheel, just like on adult bikes.
On 20" inch BMX bikes and 24" to 26" inch mountain bikes, the extra spokes are needed for strength.
Spokes should be made from stainless steel.
Tires
Most often, kids' bike tires are inflatable rubber or solid foam (on very small bikes).
Rubber
Seek out:
Inflatable tires for increased grip and to easily roll over bumps and debris.
Wide tires for better stability and grip. Unless you're introducing an older child to road, track or cyclocross.
Tires designed to be run at relatively low air pressures, to act as suspension and to increase comfort.
These types of tires are designed to:
Be comfortable.
But not fast.
Bestow moderate traction.
Provide a low rolling resistance.
Inflatable rubber tires
Solid foam tires
Foam
There are a lot of 10", 12" and 14" inch bikes that use solid foam or even plastic tires. These lack the grip of rubber and can slip, especially Indoors on cement and wooden floors. On the other hand, you'll never have to change a flat tire on them.
Solid rubber tires also exist, but compared to inflatable tires, they are less comfortable over bumps and obstacles. Inflatable (pneumatic) tires absorb small bumps well.
Tread
Kids' bike tires vary between 'semi-slick' treads and full-on knobbly mountain bike tires.

Semi-slick for paved surfaces, knobbly for dirt
Unless your child is riding off-road, semi-slick tires are a good choice. They aren't knobbly, like mountain bike tires. But they do have enough tread to easily maintain traction when cornering on paved surfaces in wet weather.
In urban environments, you don't want tires creating excess drag, but if you encounter a little sand when cornering, you may want some assurance.
For BMX, mountain biking and cyclocross, kids' bikes need knobbly tires. These are essential for safe cornering on loose gravel, rocks and dirt. The knobbly tread 'bites' into loose and chunky surfaces for extra grip.
Suspension
High quality, moderate weight suspension
Heavy, unnecessary, low quality suspension
Suspension can be found on some bigger kids' mountain bikes. It's recommended to leave suspension at least until age eight, when children have the upper body strength required to handle the extra weight and resistance.
Suspension provides off-road and on-road comfort, but this comes at the expense of speed, efficiency and weight.
The weight of rear suspension is overwhelming for many children, so pre-teen full-suspension bikes are less common.
Suspension Forks (Front Suspension)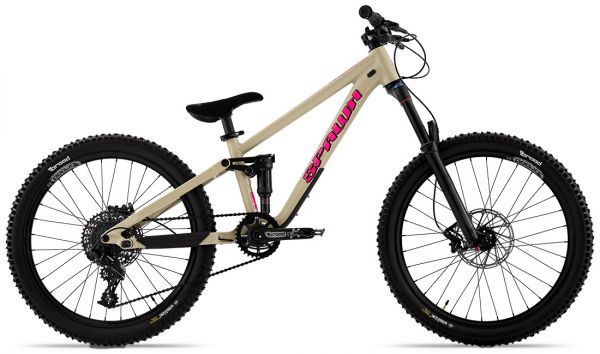 This bike offers 140mm of travel, front and back. It can be fit with 24″ or 26″ inch wheels
The suspension fork on a kids bike should be lighter and less 'beefy' than those found on adult bikes.
Less 'travel' (the distance that the fork has to move up and down), is required than on full-size bikes. Smaller kids bikes offer around 80 to 100mm of travel, while 26" inch and more hardcore 24" inch wheel mountain bikes may offer up to 140mm.
You may seek a fork with a 'lockout' option, which allows you to lock out the fork's suspension, preserving efficiency on flat ground.
A decent suspension fork can add significant cost to a bike, while suspension on cheaper bikes may be heavy and ineffective. These days, there are a lot of great big-volume tires that roll fast and act as ample suspension on rough city roads.
For urban and pavement use, suspension isn't necessary. It adds weight, cost, complication and maintenance needs to a kids' bike.
Bosses, Eyelets and Mounts
Cargo
Rear Racks
Some kids' bikes have mounts for a rear rack. Check for the appropriate eyelets or mount-points on the seat stays and near the dropouts of your potential new ride.
Some kids' bikes even come with a fitted rack.
Many small children use a basket (which can easily attach to most handlebars) or rack to carry around toys.
Some 12" and 14" inch wheel bikes come with a basket and / or a rack.
Front Racks
Some bigger kids' bikes will have eyelets to attach a front rack, but a fair number do not. Look for eyelets near the fork dropout or on the outside of either fork arm, about halfway up.
If eyelets aren't present, racks can be attached to the headtube and / or handlebars, using an aftermarket bracket.
Keep in mind that bikes with a suspension fork will not have mounts to attach a front rack. If you want to attach a front rack, aim for a bike with a rigid fork.
Bottles
Bigger kids' bikes may have mounts for bottles. For longer rides, keep an eye out for a model that allows one or two bottles to be fitted.
This bike comes with bottle bosses attached
A 16″ inch wheel bike with full fenders
Fenders
Some kids' bikes arrive fit with matching fenders. If not, you may want a bike that bears eyelets that allow you to fit some aftermarket options. These are located beside the rear wheel and front fork dropouts.
Kickstands
Kids' bikes may or may not come fit with a kickstand. They can prevent kids dropping their bike on the ground and damaging it. However, they can also be heavy and act as an obstacle to pedaling feet. Low quality options can be unbalanced and come loose, causing more problems than they solve.

Accessories
The list of kids' bike accessories is almost endless. These include:
Water bottles and cages.
Bells
Horns
Baskets
Tassels
Spokey dokes
Reflectors – a priority to increase visibility on public streets.
New kids' bikes can come with one, some or many accessories. Others come with none. Useful accessories can contribute to the value-for-money of your new kids' bike. Other accessories are pure fun and add to children's enjoyment of bikes and cycling.
But remember not to be suckered into a low-quality bike purchase due to a dazzling appearance or because it's dripping in trinkets and tassels. The most important thing is to buy a safe and comfortable, quality bike. It's always possible for you and your child to adorn any bike in aftermarket accoutrements.

Budgeting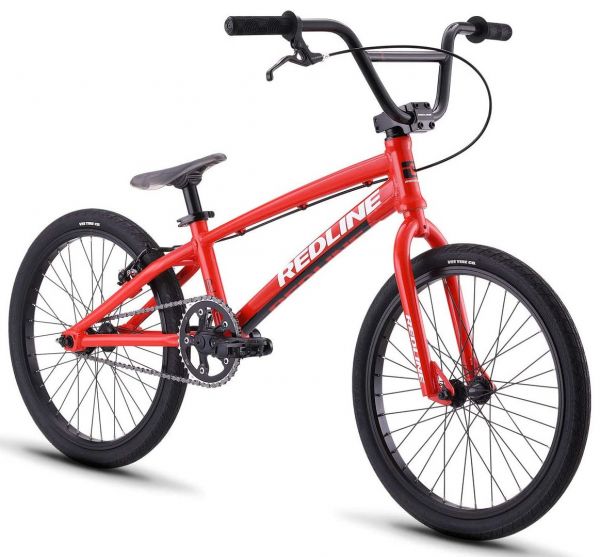 This well-built BMX weighs 17.3lbs
Understandably, parents are usually reluctant to shell out big bucks on a bike that will only fit their growing child for a certain amount of time.
However, very cheap kids' bikes are often discouragingly heavy. The extra weight can act as a deterrent to learning how to ride. It's worth buying the lightest and highest quality bike available within your budget.
Reputable manufacturers will ask a higher price for bikes that offer extended durability, increased safety and a lightweight build. Not to mention; smooth operation in terms of gears, braking and handling.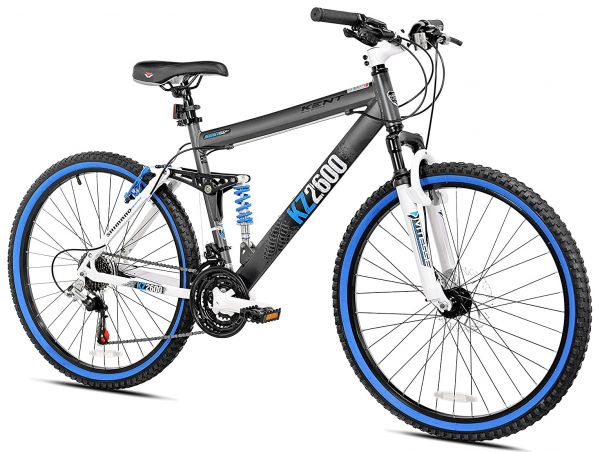 This cheap bike weighs 42lbs
When considering the price of a new kids' bike, always factor in the inclusion of practical accessories. The convenience and peace-of-mind of having a bike that's "ready-to-go" can be worth a few extra dollars.
You needn't be concerned about spending good money on a bike that will soon be grown-out-of. Quality bikes will stay in rideable condition and outlast any department store model by a considerable amount of time.
Higher quality bikes retain their value for resale or as a hand-me-down to younger siblings and family members.

Types of Kids' Bikes
Balance Bikes
For many toddlers, a balance bike is their first bike. Balance bikes do not have pedals and usually use wheels between 10" and 14" inches in size.
There are options with wheels as big as 16" inch.
They are intended to train toddlers and very young children to improve their balance and to steer using their own body weight.
Many small children move straight to a pedal bike, without the need for training wheels.
BMX Bikes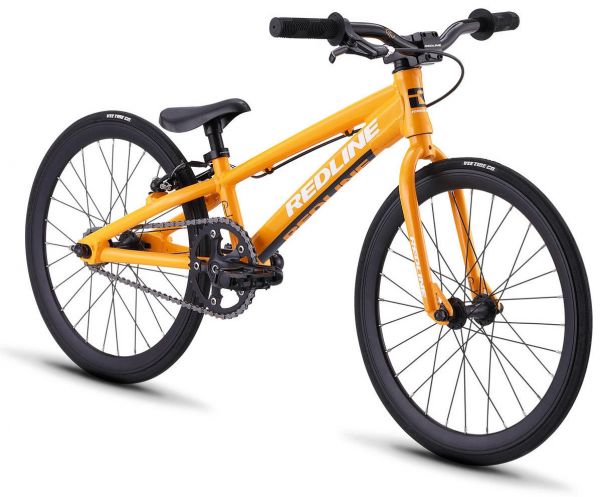 This 18″ inch BMX is built for young racers
For many of us, the BMX was and is the quintessential kids' bike. They're strong and simple. Not only that, but they they can be ridden on-road or off. BMXs are single-speed and ungeared.
The BMX style can stay with some riders for a lifetime, from their first 12″ inch pedal bike.
A 20″ inch BMX bike suits riders from around 10 years old, all the way into professional racing in adulthood. For bigger kids who aren't always about racing or tricks, they can opt for the ever-growing range of BMX bikes with 26″, 27.5″ and 29″ inch wheels.
Mountain Bikes
Knobbly tires are seen on every size of kids bike, from the smallest balance bike up to 26" inch wheeled rigs for teenagers.
A wide-tired mountain bike with a rigid fork (no suspension) makes a great first mountain bike. Many experts recommend that suspension only be used on bikes with 24" inch and larger wheels, as it's widely believed that only children over eight have the body strength available to handle suspension forks.
There are many heavy, flashy, low-quality mountain bikes out there on the kids' market. Seek quality aluminum frames, as well as brand-name gearing and suspension. For specific info on buying a mountain bike, refer to our guide.
Road, Cyclocross and Track Bikes


Some kids like to start out early on authentic road cycling and cyclocross. A number of new models are set up to be flexible, serving as both a road cycling bike and a cyclocross rig. Some are sold with two sets of tires, one for either discipline. These bikes have a wider tire clearance than an average road bike.
Most kids' starter road and cyclocross bikes use a single chainring and a wide range cassette. Check for a decent weight, with aluminum frames being the most affordable option.
For those kids who are heading straight to the velodrome, new track bikes are out there.
A dedicated road bike with 24″ inch (540c) wheels
A beginners' track bike using 20″ inch wheels
For smaller hands, they should have a reduced reach and drop on handlebars, brake hoods and levers. Apart form these concerns, considerations for buying a kids' road bike are the same as for adult bikes. Our road bike guide gives more detailed buying advice.
Electric Kids Bikes
Electric balance bike!
Electric mountain bike with 24″ inch wheels
Believe it or not, electric kids' bikes are emerging on the scene. Some folk see these bikes as an efficient training tool that accelerates cycling skills. To others, they detract from fitness and discourage children from using their own pedal power.
They are most popular with parents who are introducing their kids to motorcycling at an early age. For more detailed information on the specifics of choosing an electric bike, please see our guide.

Direct Sales vs. Local Bike Shop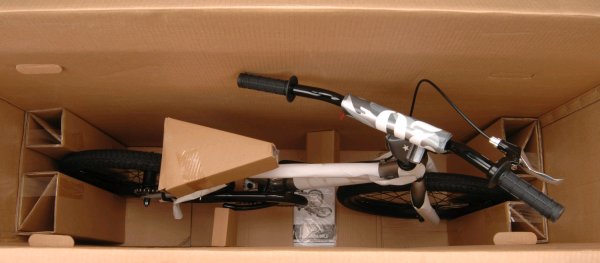 Direct sales: bike in a box
Buying a bike online is a world apart from the experience of choosing a bike from your local bike shop.
The benefit of a direct sale from the manufacturer is that you aren't paying for the middleman.
If you're buying a bike from an online retailer, they don't have to pay for the rent of premises and they don't need to pay an experienced, professional mechanic to assemble and tune your bike. For these reasons, you pay less.
Good online bike retailers will pre-assemble as much as 80% to 95% of your bike before shipping and will provide the tools required for the remaining adjustments.
Your local bike shop (or 'L.B.S.') will assemble, tune and fit your child's bike for them before they ride away.
They will usually offer you a warranty deal and a minor servicing for free, within the first few weeks of purchase.
Whatever route you choose, there are benefits and drawbacks.

A New Life Cycle
Buying a kids' bike can feel like trying to find your way through a labyrinth. But if you know what to look for, you can avoid the pitfalls presented by the myriad of low-quality bikes that are offered up by unscrupulous manufacturers.
With some facts behind you, choosing a kids' bike should be fun.
Some people hold the opinion that "a kids bike doesn't need to be a quality bike", but poorly constructed options can cause injury or discomfort.
A badly built bike can discourage an enthusiastic young rider from setting out on a healthy, exhilarating and independent lifetime of cycling.
When it comes to finding the best kid's bike, choose wisely and roll on!
Further Reading and Useful Links
Have questions about which bike to choose? Ask in our Forum.
Want to win a bike instead of buying one? See our bike Giveaway.
Find out more about BikeRide.
Sources
Bike Categories