37
Best Beach Cruiser Bikes
The BikeRide Guide to Choosing the Best Beach Cruiser
by Owen Jesse – updated August 16th, 2022

Contents:
What is a Beach Cruiser?
The beach cruiser is a simple, stylish bike for the unrushed rider. Sometimes simply known as a 'cruiser', these bikes rock sweeping lines and wide balloon tires for comfort. There's no question that the beach cruiser is one of the best looking types of bike out there.
Beach cruisers put the rider in a relaxed position, sitting upright with arms extended. Handlebars are wide for casual steering. On most cruisers, your legs will be stretched ahead of you, as the crank and pedals sit in front of the seat. You'll never be hunched over the handlebars, with your derriere higher than your head.
Cruise Boardwalks
Chris Boardman (Olympic pursuit cyclist)
Most models have one speed. When it comes to gears, single is simple. This keeps maintenance and adjustments to an absolute minimum. Beach cruisers are heavy, so they're geared with an easy-going ratio for laid-back rolling down the boardwalk and beach-side path. This isn't the bike for speed demons. Most specimens are made from hi-tensile steel, which is resilient, sturdy and repairable. But not light.
The beach cruiser suits relaxed and casual cyclists, infrequent riders, seniors and vacationers. Ungeared options suit flatlands and the coastal, beach-side life. They're an incredibly popular choice for a simple, comfortable bike.

Locals Only – Are They Just for the Beach?
Beach cruisers were adopted by Southern Californians and other coastal residents in the 1970s. Delicate 10-speed road bikes tended to 'harsh one's mellow' amidst this slow-burn lifestyle. At the beach, cyclists seek comfort and durability in a bike that can handle a sandy boardwalk and short, flat rides.
Enter balloon tires. At low pressures, they provide a level of comfort that is only now being discovered by mountain and road cyclists. Wide tires easily handle sandy paths and boardwalks.
A cruiser built for the city of Chicago
Big Apple bred: A New York City cruiser
Beach cruisers are usually heavy and stable. They're not built for speed or long distance riding, but they can easily cut through a vacant lot or unkempt back-alley to pick up some corner-store groceries and a 40oz. Your cruiser is not just confined to the beach.
If you like to roll easy and look good doing it, you can't lose cruising.

Bike From the Past
Where did the beach cruiser come from? How did these big, slow, flashy vehicles evolve to become the United States' most iconic bike? And how did those distinctive, flowing frames come to be? The beach cruiser's past can be traced back to the cruisers of the 1920s, 30s and 40s. We can already see the genre's distinctively wide, swept-back handlebars and humped top-tube in the 1924 Mead Ranger.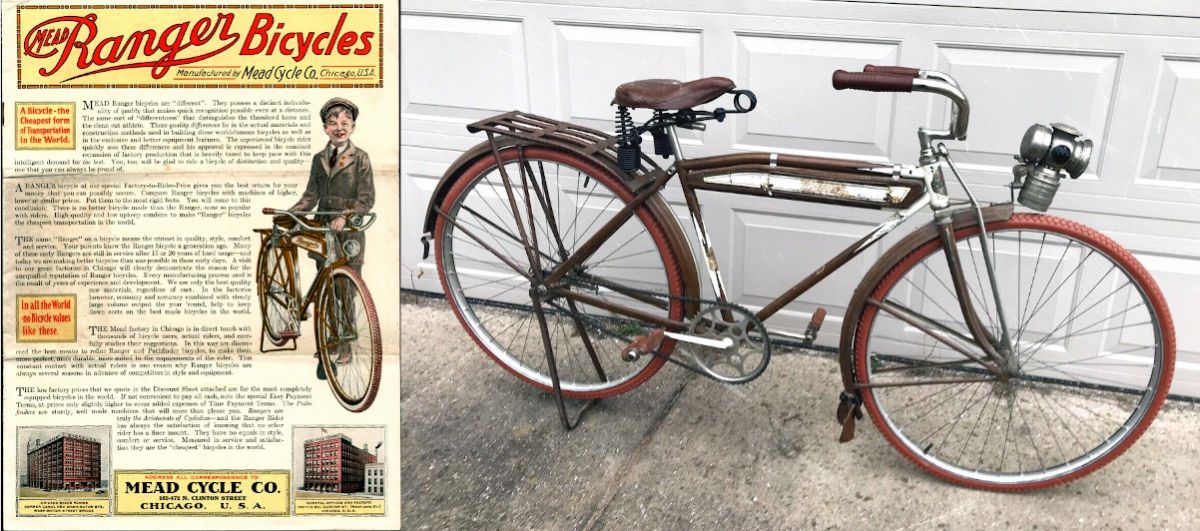 In the depression-era 1930s, bicycles were seen as a luxury. With this in mind, manufacturers switched to constructing simple, durable models that wouldn't beg for spare parts at a time when materials were scarce. Aesthetically, these bikes took on the flowing curvature that was popular in this heyday of Art Deco design.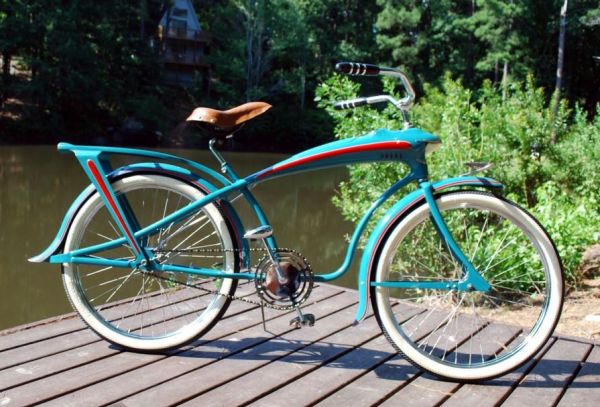 1935 Elgin Bluebird
This style of bike gained popularity from the 1930s through to the postwar 1950s. In 1933, Frank W. Schwinn released the B10E Motobike (which didn't feature an engine). The 'B' referred to the bike's 'balloon' tires. These large, comfortable tires measured around 2.125" wide and had just reached U.S. shores from Europe in the preceding couple of years.
With the onset of the 1950s, European trends influenced U.S. tastes. This resulted in an increase in popularity of the 10-speed racer and lighter bikes with narrower tires and thinner tubing. The bike that would come to be known as the 'cruiser', would fall by the wayside.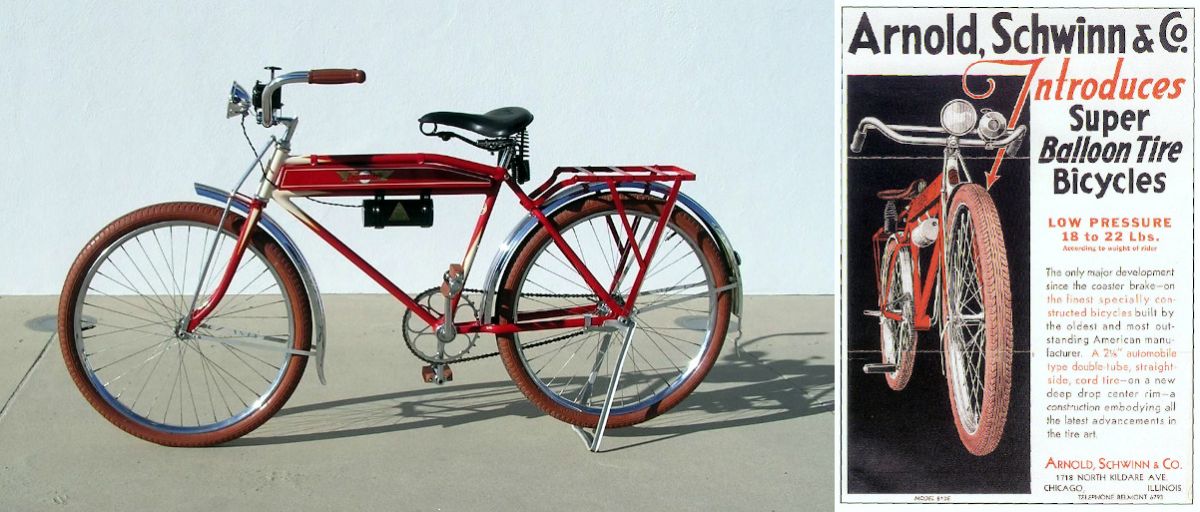 Schwinn B10E 'Motobike'
However, in this era, paperboys and couriers noticed the reliability and simplicity of these older bikes. For rolling around flat suburban blocks and level city streets, they served their purpose well.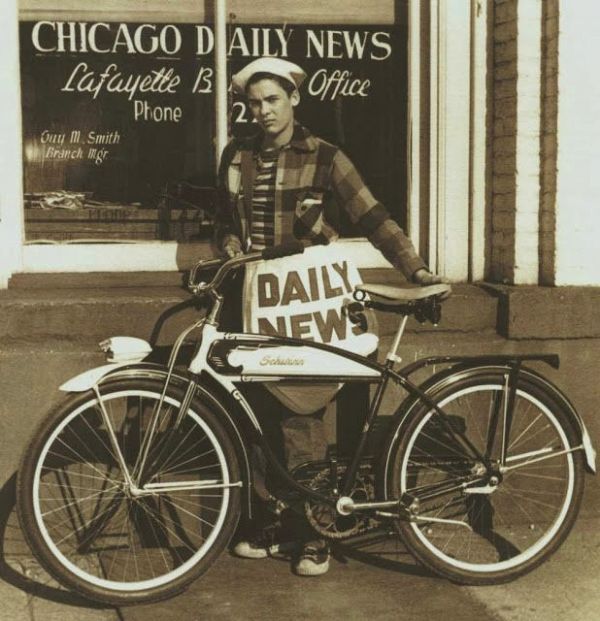 The cruiser reborn as a paperboy's bike
They also came to the attention of another subculture. Surfers and beach bums noticed that these low-maintentance machines were perfect for cruising flatland roads and boardwalks on their way to the beach. Fat tires allowed these bikes to roll on firm, shallow sand. And hey, secondhand specimens were cheap and easy to find.
In 1973 at age 20, Larry McNeely opened his second Recycled Cycles franchise store in Newport Beach, California. McNeely and his father restored 1940s and 50s single-speed, balloon-tire bikes. McNeely noticed that people in Huntington Beach and Newport were only riding their bikes for short distances, "…so we promoted the beach cruiser under the comfort, durability and nostalgia aspects, and that's when it took off."

When surf culture adopted the cruiser in the '70s, the 'beach cruiser' was born
McNeely and his father built these bikes by hand, using backswept touring handlebars for an upright seating position. Original saddles were swapped out for wide, cushioned options. Vintage details included matching fenders and bold color choices. Recycled Cycles couldn't keep up with demand.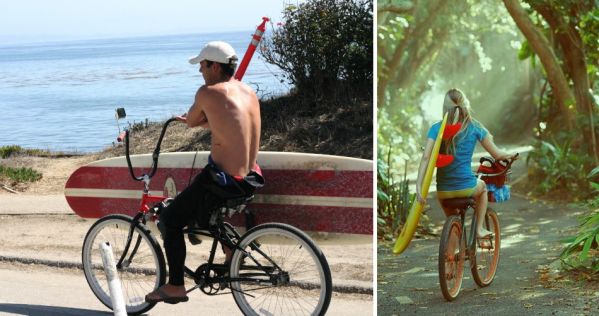 Today, waves and wheels still roll into shore
McNeely recalls a conversation with a customer from this time. "Yeah, it's my bay cruiser", she told him, "I can take my surfboard, go down to the beach, throw this bike down in the sand, go surfing, come back, and it's still gonna be there…"
"And I thought, 'Bay cruiser, huh?' That's clever. Beach cruiser!".
In 1976, McNeely trademarked the name "California Beach Cruiser" and thus was born the bike we know today.
Picking up on the trend, the Schwinn corporation quickly released the "Schwinn Cruiser" in 1977, followed by a court case and settlement with McNeely. Other companies, such as Huffy, jumped on board and caught the wave. Versions of some of the first models are still being made today.
Restored: 1978 Huffy 'Good Vibrations'
Reissued: New Huffy 'Good Vibrations'
During the 1990s slacker renaissance, beach cruisers enjoyed a resurgence in popularity, which hasn't waned. This gives the current-day beach cruiser buyer a wide range of options, from brands both big and small. To this day, beach cruisers are the stylish, no-frills, low-cost alternative. Rock-solid, carefree options are still out there, if you know what to look for.

Geometry and Ride Style
Angles are within the average range on this beach cruiser geometry chart
Beach cruiser geometry is chill. You'll find cruisers and road bikes at opposite ends of the comfort spectrum, with cruisers sporting a relaxed and upright seating position.
On beach cruisers, you sit back with arms outstretched and hands above the height of your saddle. Visibility is excellent, allowing you to see the path ahead.
Swept-back handlebars ensure that steering is comfortable, but slow. They place the rider in an ergonomic position, allowing wrists to bend at a more natural angle. The result is a casual steering style that feels free and easy, but won't see you whipping through alpine hairpin bends.
Wheelbase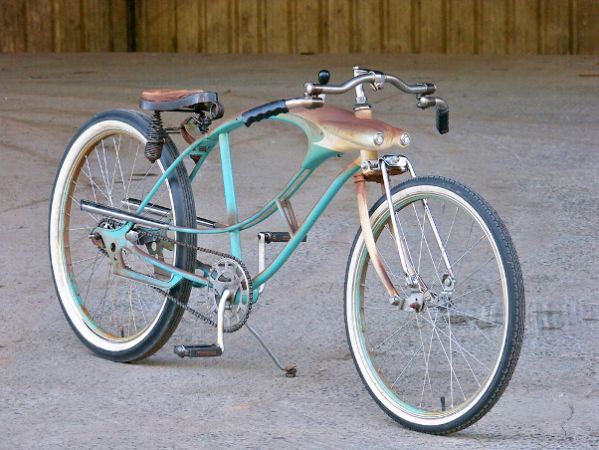 Long and low
Beach cruisers have a long wheelbase, keeping them stable. A long top-tube keeps arms extended, while long chainstays result in a grounded bike and slower acceleration.
Head Tube Angle
A relaxed head tube angle of around 69° to 70° results in relaxed steering. It also contributes to less weight being placed over the front wheel, which is only a problem if you're attempting a lot of climbs. On a cruiser, this probably isn't the case.
Seat Tube Angle
At around 67° (but as steep as 70°), a slack seat tube angle places the rider further toward the rear of the bike. With tall bars, riders are seated low and reaching high. With many cruisers; the bottom bracket, cranks and pedals are placed further ahead of the saddle than is the case with most bike types. This means that riders stretch their legs forward when pedaling.
Bottom Bracket Height and Drop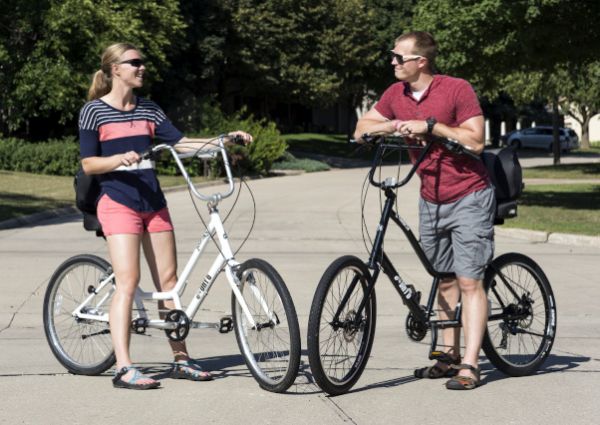 Feet planted while seated
Cruisers usually sit low to the ground, leaving less space between their bottom brackets and the ground, than on many other types of bike. This makes for a more stable ride, especially at slow speeds.
In combination with a slack seat tube angle, this makes it possible for some manufacturers to create cruiser models that allow the rider to plant both feet flat on the ground, while seated. This isn't allowed by the geometry of most bikes.
On the other hand, this brings your pedals close to the ground on turns. Striking your pedals at speed can cause a crash. But let's be honest, this usually happens when pedaling through turns at high speeds. And those who cruise, usually coast through bends. So this isn't a downside or safety issue.
Fork 'Trail'
The fork on your cruiser bike is almost always curved. If not, a straight cruiser fork is usually situated to place it at a similar distance and angle from the head tube. This results in a lot of rake and loads of what is known as 'trail'. Basically, your steering is slow and casual, just how you want it.
No twitchiness here.
Low Standover
This is one of the build characteristics that makes a beach cruiser so suited to the casual cyclist. It is especially easy to swing a leg over a step-through cruiser frame. But even on a step-over cruiser, there is plenty of room for a rider to stand over the top-tube, with clearance between the bike's frame and their crotch.
This makes it easy to stop and start, especially at traffic lights or when it's important to bring the bike to a stable stop. With their low seat and standover heights, beach cruisers can be some of the safest types of bike to ride.
Step-through standover
Standover on a step-over frame
Frame Materials
Steel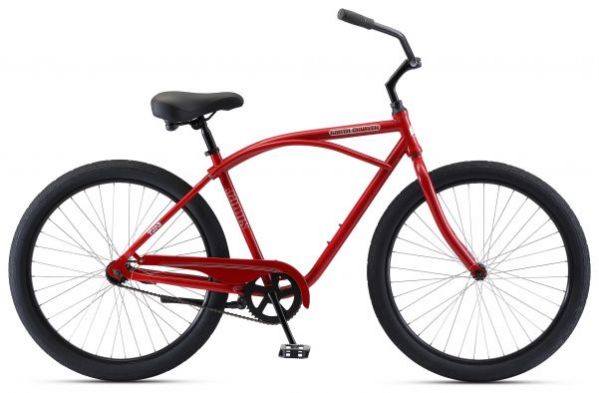 A recent hi-tensile steel model
Most beach cruiser frames are steel. They always have been. It's the classic choice due to its durability, comfort and ability to be repaired. On the downside, it's heavier than aluminum. It's also less rust-resistant, unless it's received a coating (such as electrophoretic deposition). This is definitely something to consider when riding beachside.
There are two main types of steel that you'll find on beach cruiser frames, and there are important differences between them.
Hi-Tensile
Otherwise known as 'hi-ten', this is the steel used to make a great majority of beach cruiser frames. It's a low-cost option for a frame that can last a lifetime. But it is heavier and less shock-absorbent than chromoly. On a cruiser, this isn't a great concern. The relative rigidity of hi-ten steel is offset by wide, low-pressure tires and sprung saddles.
Chromoly
Chromoly is a steel alloy that incorporates chromium and molybdenum. It's also known as 'cro-moly', 'cro-mo' and by the numerical designation '4130'.
It's relatively rare on new cruisers, but represents a lighter option, partially because it can be drawn into thinner tubing without compromising strength. This makes it more forgiving than hi-ten, over bumpy surfaces. Its strength can also lead to it being more durable.
But in the end, chromoly frames ask a higher price than hi-ten. Because cruisers are a casual ride, most buyers are happy to get by with the extra weight and lower price of hi-tensile steel. For the kind of riding you'll do on these bikes, you may not notice the difference.
Aluminum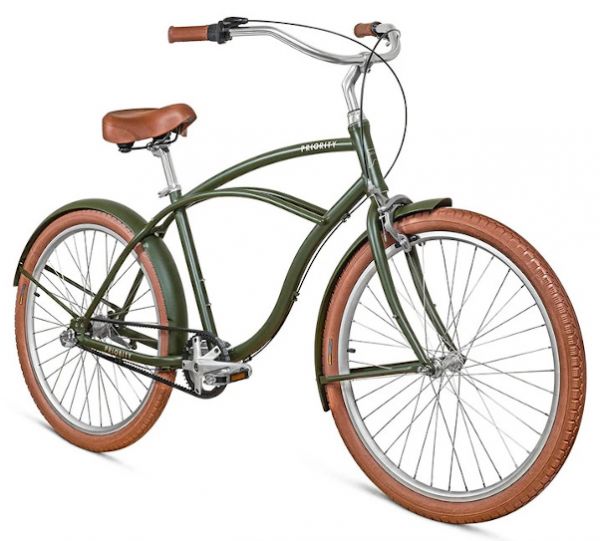 This aluminum cruiser is equipped with rust-resistant parts for maximum coastal resilience
On beach cruisers, aluminum is rarer and costlier than hi-tensile steel. Nevertheless, it makes a lot of sense.
Aluminum is a lot more resistant to corrosion than any kind of steel. It's also significantly lighter than a hi-tensile frame (and somewhat lighter than chromoly). This means you can have the classic long, flowing framework found on traditional cruisers, without the weight penalty.
Some geared cruisers use aluminum to offset the weight of gearing components.
Titanium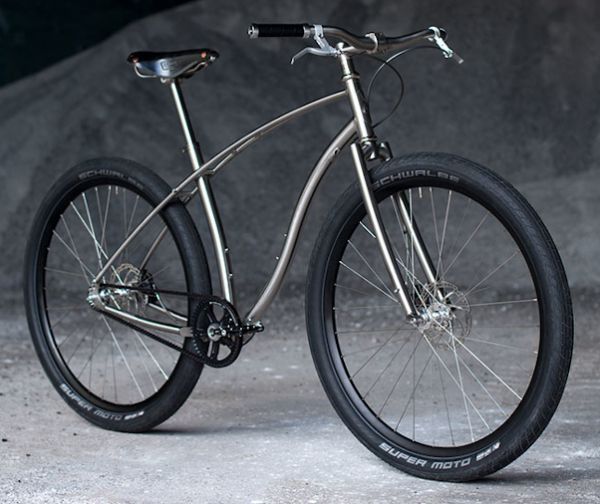 King of the beach? A titanium cruiser
Titanium is an expensive, light, durable and shock-absorbent metal that is almost rust-resistant.
When you want a simple and low-cost bike, titanium is probably the last material you'll think of.
The best beach cruiser might be the one that's ignored by thieves.
Even on the highest-end mountain and road bikes, titanium is boutique. But if you have deep pockets and want a nigh-indestructible bike that won't rust, you can find yourself a titanium beach cruiser.
Wood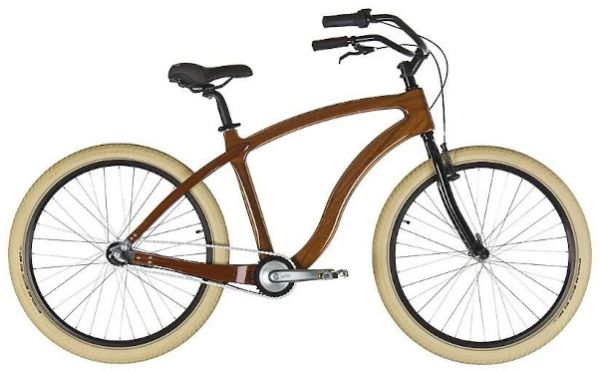 This is the Redwood variation
If you find yourself drifting in the direction of natural materials, it's possible to buy yourself a beautiful, wooden beach cruiser. At the date of writing, there only appears to be one production model on the market, available in either Redwood or Ash. At 28.7 lbs, it isn't even that heavy.
Sure, it looks great and is undeniably unique. But it'll cost you a pretty penny.

Handlebars
Sweep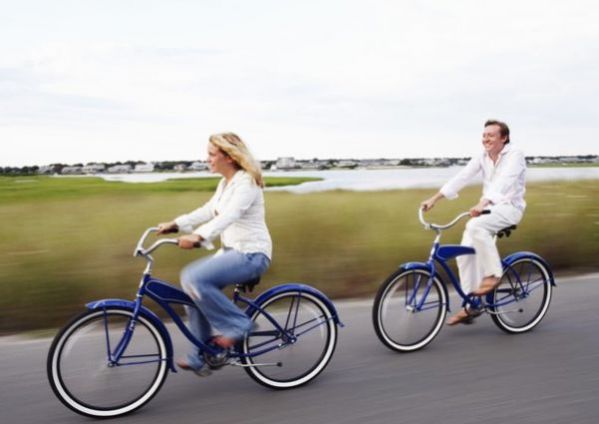 On the left, 'north-road' bars.
To the right, bars are swept-back
Swept-back handlebars are one of the signature characteristics of beach cruisers. Not every model uses them (see the high-performance titanium cruiser, above), but a great majority do. These handlebars employ a large degree of 'backsweep', setting riders' wrists at a relaxed horizontal or vertical position (such as on 'North Road' style bars). This gives you the feeling of steering an unrushed bus.
Backsweep also ensures that you have infinite room for a basket or anything placed on a rack; be it a crate, box or your double-dinked friend.
Width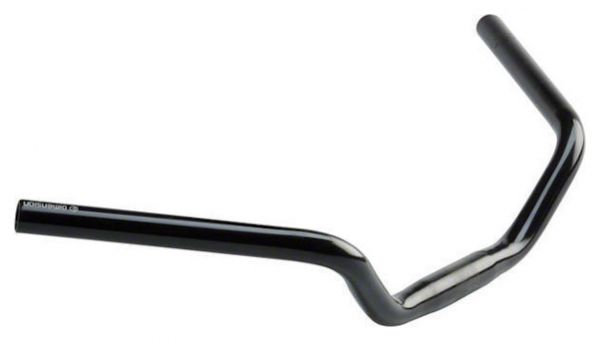 These cruiser bars are 24.5in wide,
with 40° of backsweep and 2.17in of rise
Cruiser bars are very wide, often measuring between 24 to 30 inches from tip to tip. If you read our section on beach cruiser fork geometry (above), you'll see that cruisers are 'high-trail' bikes, with heavily raked forks. That is to say, the fork sticks out in front of the head tube. This means that your fork can easily flop around from side to side. The way to counter this is with leverage – and the way to gain leverage is with… handlebar width!
Rise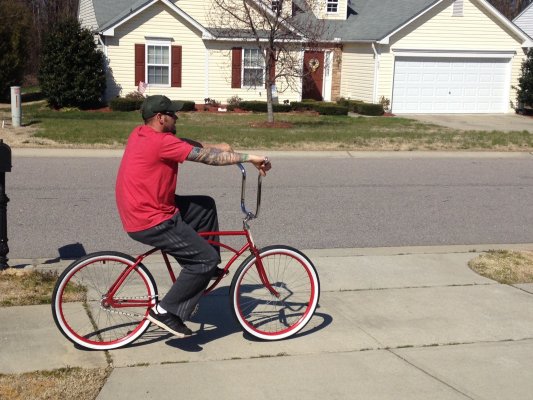 'Ape-Hangers'
Cruiser bars have a decent amount of rise, varying from a couple of inches to the dramatic 'ape-hanger' bars found on some custom 'choppers' and lowriders.
Dramatic rise doesn't really help on climbs, as it results in your weight being set lower and further back.
A couple to a few inches of rise places you in a comfortable, upright position with excellent visibility.
Shape
Cruiser bars are usually curved and are rarely flat or straight. On some urban cruisers, they might be more angular in shape, but are still bent for rise and sweep. Subsequently, they might not be the best for standing over on climbs.
One thing they ain't, is racy. You won't find drop bars on a cruiser and you won't find yourself leaning over the bars.
Material
On new bikes, most bars are steel. You can find lighter aluminum bars on higher-end, higher-priced models. They are also available as an aftermarket option.
Brakes
Coaster Brakes
Coaster brakes are also known as 'pedal brakes'. You might remember them from childhood, when simple bikes required you to push your pedals backwards to stop. There are no pads or discs and braking takes place largely within the wheel hub. Most coaster brakes provide somewhat inferior stopping power, compared to rim and disc brakes. But as with any other brakes, there is a wide range available in terms of quality and cost. Coaster brake hubs can also be combined with internal gearing.
A 'coaster-brake only' cruiser
Coaster brake hub
Reaction arm on rear chainstay
Traditionally, beach cruisers use just one rear coaster brake. This is how the first cruisers were configured. It's a good enough option for coastal, flatland riding and slow cruising. On its own, a coaster brake might not be practical or safe in hillier terrain or at higher speeds. Mashing a coaster can 'cook' the grease inside a coaster hub. The first mountain bikers had to repack this grease after every descent. A number of new models use a rear coaster brake with a front rim brake. This front brake is usually a V-brake. Sometimes, it's a caliper.
Advantages
Coaster hubs only require infrequent maintenance.
A coaster brake does not need cables or levers.
They give your cruiser a neat, clean appearance.
Disadvantages
They can overheat on long, steep descents.
Coaster hubs may need repacking with grease.
There are more powerful options available.
Coaster brakes prohibit back-pedaling.
Bunny-hopping can be more difficult with a coaster brake.
A 'reaction arm' needs to be detached and reattached to remove and fit the rear wheel.
Rim Brakes
It's common for new beach cruisers to use rim brakes. Some models come with a front rim and rear coaster. Other models, especially geared specimens, come with rim brakes front and back.
Linear-pull Brakes (or 'V-brakes') are a type of cantilever rim brake that uses a single cable and two arms. They fit well around fat balloon tires and are easily adjusted and maintained at home. That said, they can still be tricky to center. As far as cantilever brakes go, they're powerful.
Front caliper brake (with a rear coaster brake)
Dual V-brakes
Caliper Brakes are also specced on some new cruisers. These attach to the frame or fork by a single bolt. They use curved arms, which must be long and wide enough to fit around your tires. For this reason, they are more suited to accommodating narrow to mid-width tires.
Advantages
Low-cost.
Easy to adjust.
Disadvantages
Rim brakes lose some power in wet weather.
Winter braking wears down rims as grit and filth gets attracted to brake pads.
Drum Brakes
Some beach cruisers use drum brakes, but they're more often found on European roadsters and utility bikes (where they're sometimes called 'roller brakes' or 'hub brakes'). Drum brakes use an internal hub, like coaster brakes, but are cable-actuated in the same way rim and disc brakes are. Drum brakes work by using a conventional brake lever and cable linked to a cam that presses brake shoes outward against the inside of a cylindrical drum, creating friction.
These bikes use a front drum brake with a rear coaster brake
Dual drum brakes
Drum brakes may be combined with an internally geared hub and / or a dynamo that's connected to your bike's lighting. They are used on some U.S. cruisers and lowriders.
Advantages
They are easy to modulate.
Drum brakes are long-lasting and robust.
They require infrequent maintenance.
Disadvantages
They usually require a mechanic to overhaul.
Drum brakes are heavy.
They may "stick".
Braking is not as powerful or sudden as with discs.
Oversized drum hubs affect wheel building and alter spoke length.
Like coaster brakes, a reaction arm needs to be detached to remove the wheel.
Drum brakes have poor heat dissipation, making them prone to brake fade.
They are built into a hub. When one element of this hub is worn out, the whole unit needs replacing.
Disc Brakes
Disc brakes slow the bike by squeezing pads onto a disc, which is attached to the wheel hub. Discs are more powerful and more costly than rim brakes, but are now more affordable than they have ever been. They are more effective in wet weather. They allow for the use of wide tires and don't wear down your rims.
Disc brakes add weight to your bike. They are also more complicated than rim brakes, when it comes to maintenance, adjustment and repair.

This klunker (off-road cruiser) and this deluxe cruiser both use dual disc brakes
There are two types of disc brake; hydraulic and mechanical. Hydraulic brakes provide greater stopping power and use brake fluid to transmit force. They are more costly than mechanical discs and trickier to maintain.
If you live in a dry climate and cruise by the beach, you might consider cutting costs and using rim brakes. Beach cruisers are attractive for being low-maintenance and low cost. This makes disc brakes an uncommon choice on pedal bikes. They are more prevalent on electric cruisers, to counter the extra speed and weight.
Advantages
Strong stopping power in all weather conditions.
Allow the use of wider tires.
Protect rims from wear.
Powerful ability to stop a heavy cruiser's bulk.
Disadvantages
Expensive.
Complicated and difficult to maintain.
Require levers and cables.
Don't leave a cruiser with such a clean look.
Factors to Consider
Used by itself, a coaster brake could fail at high speeds or with extended use on long, downhill rides. To be safe, it's a good idea to choose a new bike with a front rim, drum or disc brake.
Either new or as an aftermarket option, a rim brake is the cheapest option. When choosing a geared beach cruiser, it's a good idea to aim for a model with dual brakes, as you'll be reaching higher speeds.
Cranks
One-piece cranks
Three-piece cranks on a belt-drive bike
A number of cheap, single-speed beach cruisers still use one-piece cranks. Some versions can be tougher than others, but in general, three-piece setups are superior. New three-piece cranks use sealed bearings and a separate part for either crank and the spindle. They are lighter and stronger than one-piece options, which can be easy to bend. If this happens, the whole assembly must be replaced. For a three-piece crank, only the bent arm need be replaced.
Aim for three-piece cranks.
Gearing
Traditionally, beach cruisers are single-speed bikes. Internally geared hubs with 3, 5, 7 or 8 speeds are also common. There are also 7 and 9 speed beach cruisers that employ a rear derailleur. Few brands manufacture a beach cruiser that uses more than one chainring, as this avoids the need to deal with the complication of a front derailleur. That said, there are a couple of manufacturers that offer a 21-speed model.
Generally, beach cruisers are geared quite low, in order to offset the significant weight of these bikes.
Single-Speed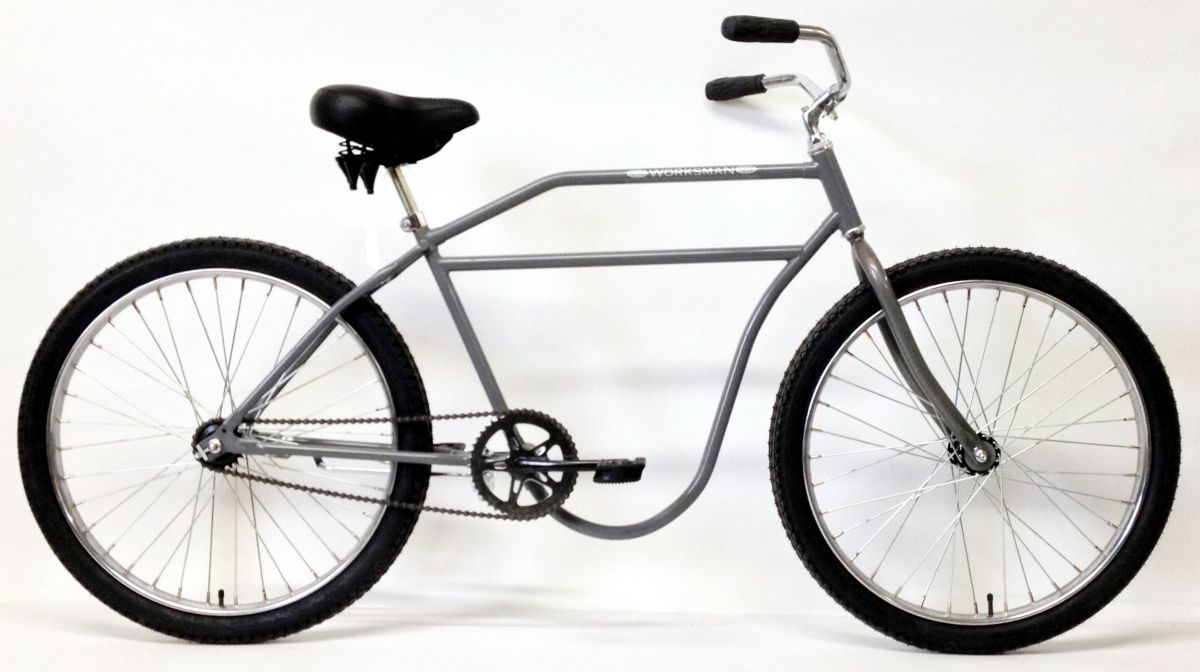 Single-speed gearing ratios are easy-going, hovering around 2:1. Chainrings usually have between 44 and 46 teeth. Rear cogs sit between 18 and 23 teeth. Some common ratios on new bikes are:
44:22 – A very common ratio and a good average when considering a new purchase.
44:18
44:23
46:21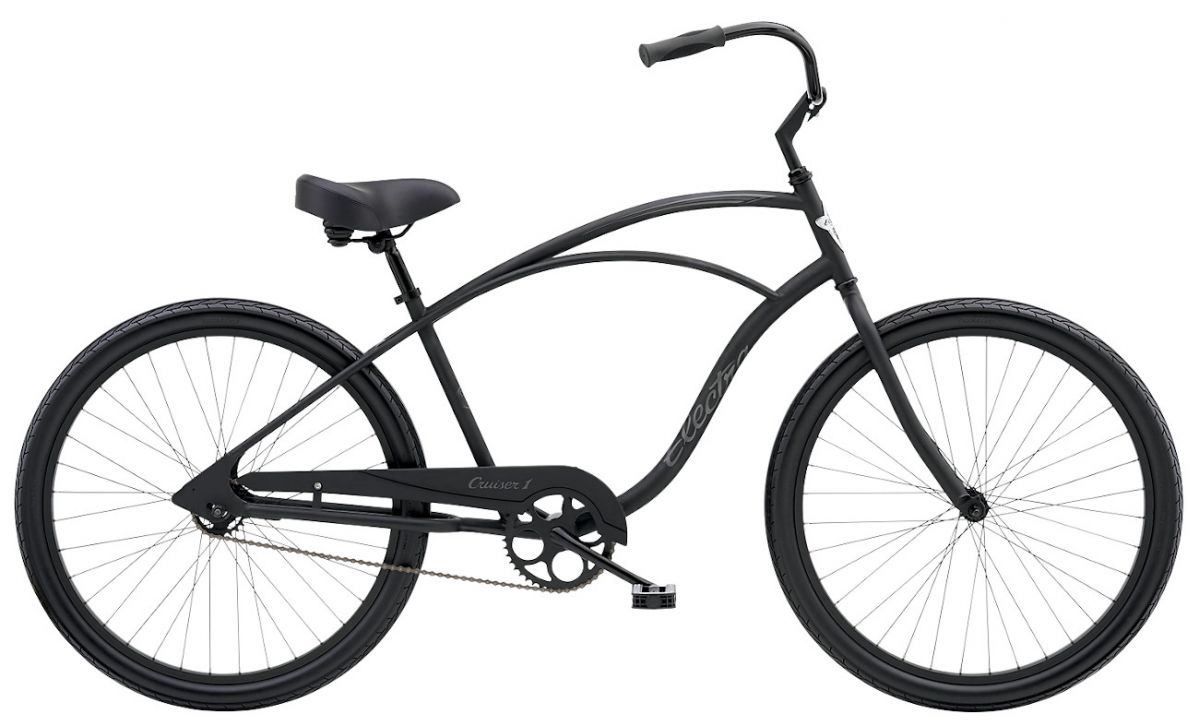 Advantages
Single-speed setups are very simple.
They are low maintenance.
One gear is usually enough for short rides.
Single-speeds suit coastal, flatland and beachside terrain.
There's no need for cables, derailleurs, shifters or internal hubs.
Single-speeds have a clean and minimal look.
Disadvantages
You won't have a high top-gear on flats or descents.
One gear will limit your beach cruiser to less steep terrain.
A single-speed can be hard work when loaded down with cargo.
It can be difficult to take off from a dead stop.
Single-speed drivetrains can cause knee strain.
Internal Gearing
Beach cruisers with 3, 5, and 7-speed internally geared hubs are common. 2 and 8-speed models are rarer. These options open you and your bike up to hilly terrain and longer distance rides, while maintaining the relatively clean look of an internal hub.
3-Speed
5-Speed
7-Speed
Advantages
Gears open your beach cruiser up to a wider range of terrains.
Internally geared hubs are sealed from sand and moisture.
A geared hub makes it easier to haul cargo.
A lower gear makes acceleration easier from a dead stop.
Higher speeds can be attained on flats and descents.
Internal hubs present neatly.
They only use one shifter and one cable.
There's no need for derailleurs.
Internal gearing systems only require infrequent maintenance.
A 2-Speed klunker
A cruiser using an 8-Speed Shimano Nexus hub
Disadvantages
When needed, maintenance can be complicated.
An internal hub requires a shifter, cable and guides.
Gears complicate the rear hub, especially when combined with a coaster brake and / or a dynamo for lighting.
Shimano and Sturmey Archer are names to look out for. When it comes to internally-geared hubs, both are manufacturers of renown.
External Gearing using Derailleurs
7-Speed
21-Speed
Beach cruisers are also available with external gearing. External gearing is exposed to salt air and sand, both of which rapidly deteriorate components. If you're looking for a 7 or 8-speed cruiser and you actually ride your beach cruiser by the seaside, an internally-geared option will be more durable and require less maintenance.
Derailleur-equipped beach cruisers are available in 7, 8, 9 and 21-speed variants. A 21-speed bike uses three chainrings and a front derailleur, making maintenance and adjustment significantly more complicated than the single chainring setups specced on 7, 8 and 9-speed beach cruisers.
8-Speed
9-Speed
Advantages
21 speeds can help you cover more terrain.
A large number of gears lets you carry cargo up steep hills.
Low gears make it easier to accelerate from a dead stop.
Higher speeds are attainable, along with acceleration on descents.
External gearing can be adjusted by (some) home mechanics.
Disadvantages
External gearing is exposed to rust and sand.
A full drivetrain (derailleurs, cabling, shifters and guides) is complicated.
More tuning and repair is needed than on an internally geared drivetrain.
The complexity of external gearing in some ways defies the simple, carefree nature of the beach cruiser. On flatland escapades, you can do without this many gears.
The Contact Points
Saddles
New beach cruisers generally arrive fitted with a wide, cushioned saddle. There's a couple of reasons for this. Firstly, a comfy seat suits the relaxed ride-style and aesthetic of these bikes. Secondly, cruiser geometry puts you in a position where a lot of your weight is resting on your behind.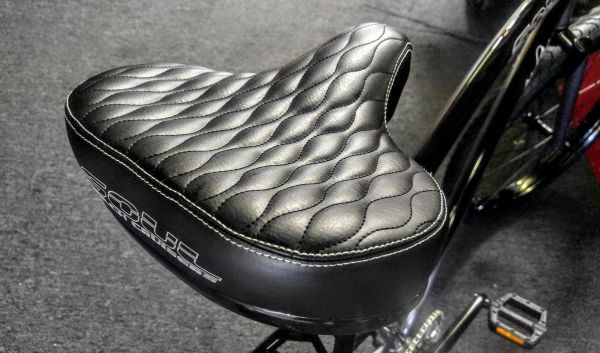 Extreme cushioning
Some cushioned saddles are well thought-out in their construction and shape. However, excessive cushioning can be misleading. This squishiness is uncomfortable on longer rides and will be felt in your hips, thighs and bottom. It can cause numbness due to restricted blood supply.
It's best to err on the side of moderation when considering saddle width. A number of female riders find that a moderately wide imprint is more suited to their body shape. Other riders will choose a standard saddle as found on a commuter or hybrid bike.
Many new beach cruisers are only fit with a nutted seat collar. This means that you will need an allen key or spanner to adjust the height of your seat. Thieves will also need a tool to remove it. Other new bikes use a quick-release lever that lets you quickly and easily alter the height of your seat. It also makes it easy to steal.
Sprung Saddles
Sprung saddles are a traditional component of classic cruisers. They are an early but effective form of suspension. These saddles usually feature two large, short springs under the seat of a bike's saddle. Other examples have a third spring beneath the saddle nose. Some modern versions use elastomers as a lighter-weight alternative to springs.

Sprung cruiser saddles, off and on the bike
Sprung saddles are comfortable and provide relief on bumpy and uneven surfaces. But they're usually quite heavy.

Modern 'sprung' saddles using elastomers in place of springs
Leather Saddles
Leather saddles are fit to higher-end cruisers and are often chosen as an aftermarket option. The first sprung saddles were made of leather. They are expensive and have a breaking-in period, during which they can be a little uncomfortable.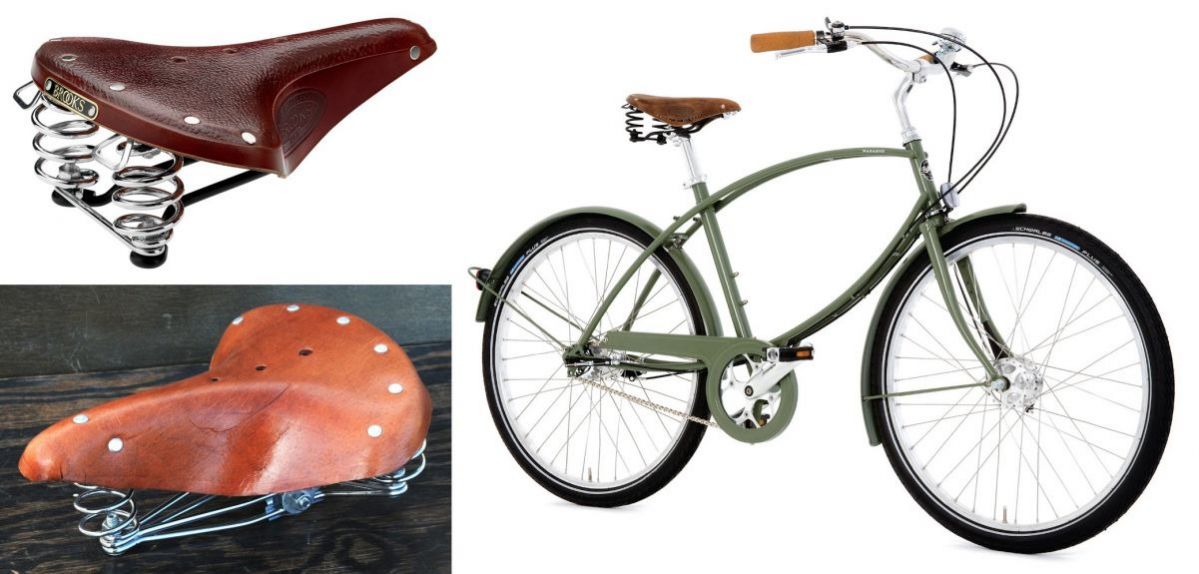 Leather saddles: double and triple-sprung
Once broken-in, they mold to the specific shape of your butt and can easily last a lifetime. Leather saddles are collectible and durable, when cared for.
You can always choose a different saddle for your new beach cruiser. For many people, this is the first part that gets replaced on a new bike. A lot of cruiser and lowrider owners enjoy customizing their bike with a saddle that reflects their personal style.
Grips
All kinds of grips come fit to new beach cruisers. Something to be wary of is 'style over substance'. Some grips look great but will cause discomfort on longer rides. This is not an uncommon occurrence on new cruisers. These are the types of grips most often found on beach cruisers:
Vintage molded grips
Ergonomic grips of real leather
'Comfort' rubber grips
Molded Grips
This is the traditional style. They're molded to fit individual fingers and are made of a firm yet pliable rubber. They are comfortable but don't offer the highest degree of relief from vibration.
Stitched Leather
There are a lot of synthetic 'leather-look' grips fit to new cruisers. They can be spongy and not too grippy. More expensive options use either synthetics or real leather. They may be more ergonomic and less slippery in sweaty conditions. Mostly, leather is for looks.
Ergonomic Grips
Higher-end cruisers may come fit with ergonomic grips. These are comfortable and healthy for the natural shape of human hands. They are usually made from a material that provides adequate shock absorbance.
A good guideline for grips is to seek something that's comfortable but not too squishy.
Pedals
The most common beach cruiser pedals are flat 'platform' pedals. This traditional style features two rubber inserts on the edges of the pedal. Yes, these look cool, simple and classic. But they're also the best tool for the job.

Rubber platform pedals make barefoot riding a breeze
Platform pedals offer easy on / off action and footdown when coming to a stop. They're great for casual shoes, flip-flops and maybe most important of all… bare feet. Be wary that a number of low-cost beach cruisers come fit with low quality pedals. On the worst examples, bearings are poor and axles bend.
Never fear. After saddles, pedals are soon swapped out on new bikes. When seeking replacements, keep in mind that 'plastic' does not always equal poor quality. Polycarbonate examples can be long-lasting and feature high quality bearings.
Wheels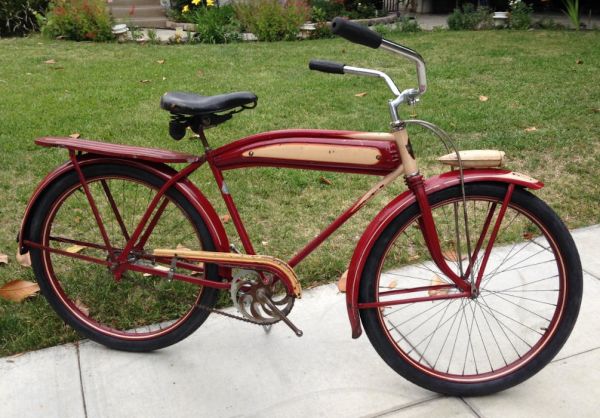 Painted steel rims on a 1941 cruiser
Materials
Once upon a time, cruisers used steel rims. No doubt, some of them were very sturdy. But these rims rocked some heavy, rust-prone metal. In addition, brake shoes are more effective when biting into alloy. For these reasons, rims on new beach cruisers are made of aluminum.
Aluminum alloy rims are lightweight and highly rust resistant. Aluminum can achieve the same strength as steel at a much lower weight, while retaining a high degree of stiffness. As a material for wheel rims, it isn't expensive either. If dented, it can often be repaired.
Shiny new aluminum
Old-school steel: 'weathered'
Bearings
Sealed wheel bearings roll smoothly and protect bearings from salt and sand. Beach cruisers using sealed wheel bearings may cost a little more than models using cage bearings.
The durability is worth the extra cost.
Cage bearings
Sealed bearings
Rim Width
Beach cruiser rims are wide, in order to accommodate balloon tires at low pressures. This allows your big tires to spread out to an even wider footprint, creating a large contact patch, for grip and stability.
26" Wheels
On beach cruisers, these are the approximate internal rim widths needed for beach cruiser tires:
20 to 22mm covers the most common beach cruiser tire sizes (from 2.0" to 2.35")
25mm rims are needed for bigger and 'plus-size' tires (2.4" to 2.7")
35mm to 50mm for fat-tire cruiser options (2.8" to 4.0")
Wide rims can be expensive. It's worth taking rim width into consideration if you plan on upgrading or customizing with truly fat tires.
700c Wheels
20 to 25mm rims will fit tires from 35c up to 54c (the most common 700c cruiser sizes).
Spokes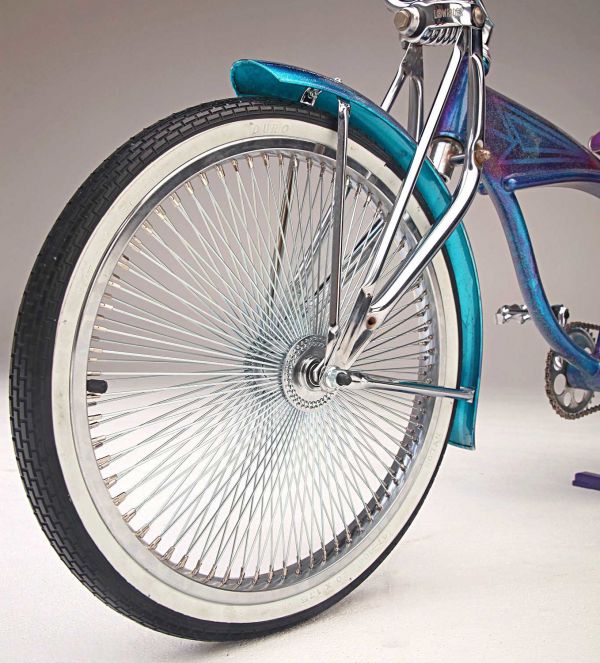 A 144-spoke, 26″ custom wheel
New cruisers usually use 32 to 36 spokes.Look for 32 spokes at a minimum, to provide support under a heavy frame and bike.
New bikes should use regular gauge spokes in a 14G width. Anything wider would be a bonus.
For a real beach bike, look for stainless steel spokes to impart rust resistance.
Sizes
Almost all beach cruiser wheels are 26" in diameter. This is a classic size. It's also the same size that was adopted as the mountain bike standard, up until the 2010s. This means that there are plenty of spare wheels and rims available.
Of course, bigger wheels would be faster. But speed is not a priority for the beach cruiser.
26" – 26 Inch
Most adult beach cruisers use this size. These wheels can proscribe a tighter turn-circle than 700c wheels, on what is a comparatively long wheelbase bike. Most frames allow for fat, balloon-style tires. With fat rubber, the total diameter of your tires is increased.
700c / 29" – 29 Inch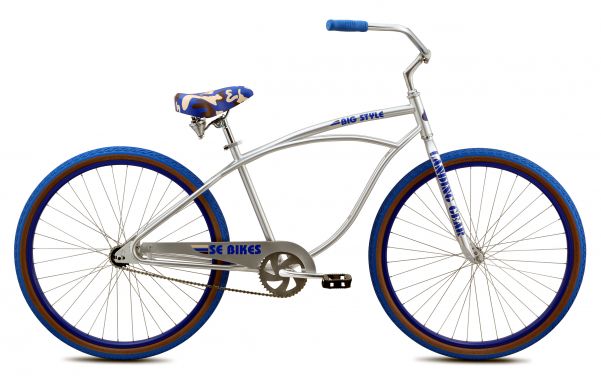 This cruiser uses 29" wheels
This is the standard size for road bikes as well as many hybrids and commuters. They are used on some cruisers that are also intended for commuting and longer distances. Being of larger diameter, they roll faster. Wide 700c rims are known as '29 Inch' in the mountain biking community.
They also roll over small bumps without the need for such plump tires as on 26" varieties. Even so, you'll want ample rubber for comfort and flotation on sandy surfaces. Your new bike should sport tires at least 35c in circumference, but preferably 38c to 50c. Your cruiser's frame should have clearance for tires of at least 38c.
24"
Cruisers for shorter riders and juveniles sometimes use 24 inch wheels. This allows for a more proportionate build with smaller frame sizes. 24" rims are also used on standard frame sizes to accommodate very fat tires.
A 24" cruiser for shorter riders
An adults' cruiser using 24" x 3.0" tires
20" to 24"
Smaller children's cruisers use 20" and 24" wheels.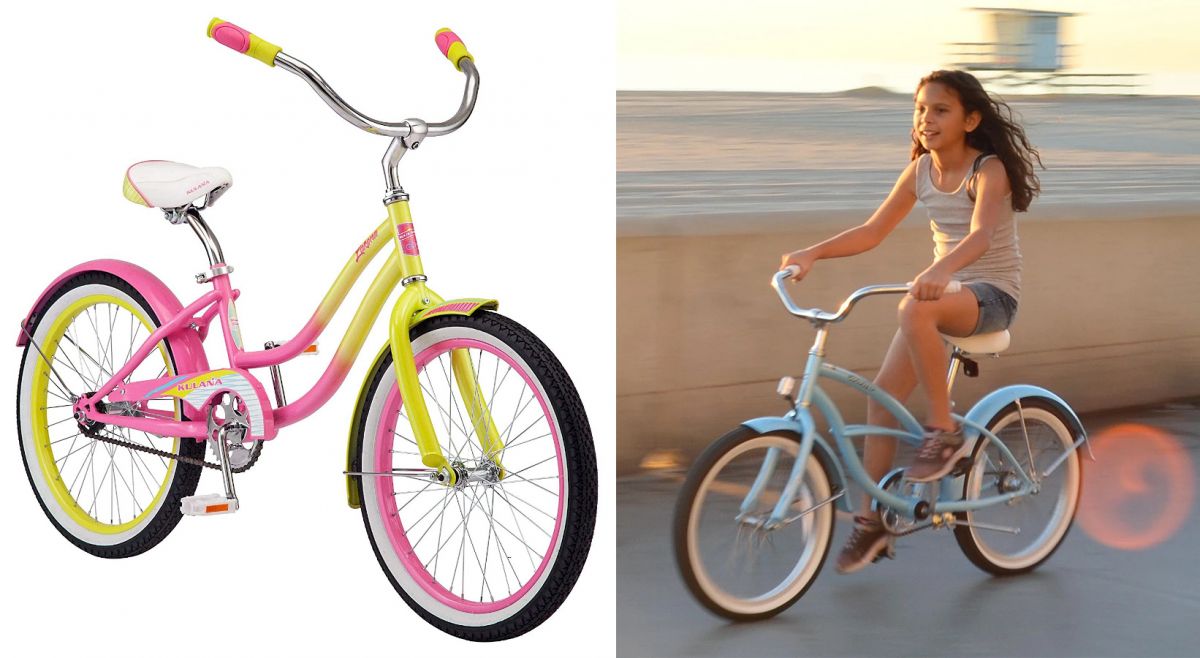 20" kids' cruisers
Tires
All beach cruiser tires share similar traits. They have moderate tread and ample width.
Big balloon tires are:
Comfortable.
Bouyant on firm and shallow sand.
Good lookin'.
They are designed to:
Have superior rollover on bumps and debris.
Bestow moderate traction.
Provide a low rolling resistance.
Lets face it, with beach cruisers, looks can be important. The same goes with tires. New and aftermarket tires sport a variety of colors and styles.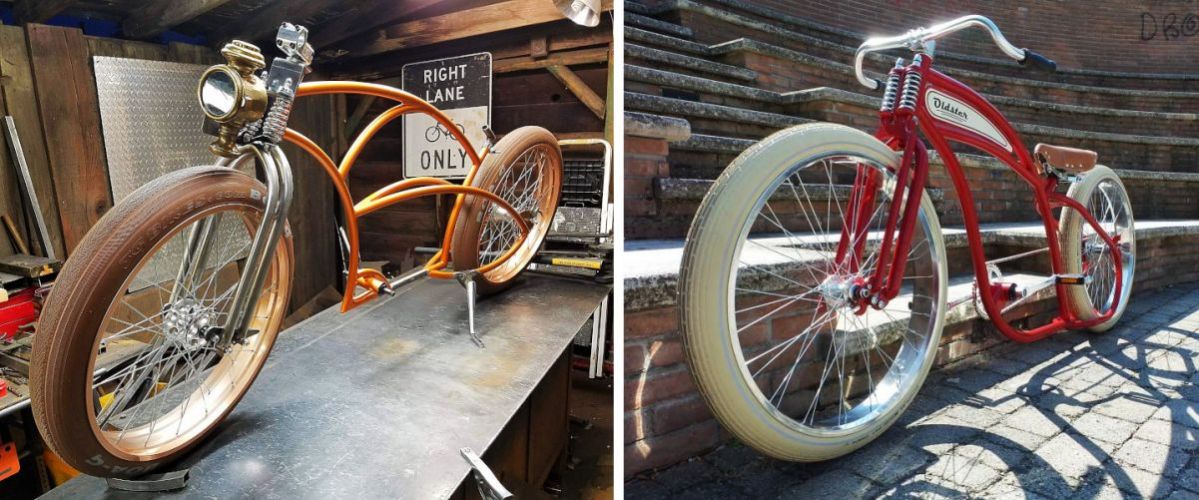 Matched for color, width and tread
Tread
Beach cruiser tires usually bear a 'mixed' tread. This pattern isn't knobbly, like on mountain bike tires. But it has enough tread to maintain traction on some sand, especially on turns. A moderate tread allows you to ride your cruiser on unkempt roads, grass and hardpack dirt. But if you regularly roll through urban streets, you won't want your tires creating excess drag. For this reason, you can choose between smoother 'semi-slick' tires and moderately tread tires with zig-zag and waffle patterning.
Button-Tread
Semi-Slick
Zig-Zag
Waffle Pattern
Beach Cruiser Tire Sizes and Widths
26"
Standard widths usually range between 2.0" and 2.35".
Fat tire options can be as wide as 4.0".
700c
On cruisers, tires usually start at a width of 38c.
Maximum widths peak at around 50c.
24"
2.125" is a popular width.
Widths generally vary between 1.75" and 2.15".
24" tires are often used on 'dragsters' and fat bikes with 3.0" tires.
20" and 16"
These sizes are used on kids' cruisers with widths from 1.75" to 2.15".
Suspension
Really? Yes. Suspension exists, for beach cruisers.
Springer Forks
The Springer Fork is the traditional form of beach cruiser suspension. They often use a single, central spring attached to the threaded headset assembly. They do provide relief over bumps and poor terrain, but the centrally located spring can have a tendency to swing from side to side, creating steering lag and a spongy ride.

Good quality options are hard to find on off-the-shelf cruisers. But they sure do look good. A more stable option uses this same central spring in combination with a 'double-sprung' fork, attached by pivots to either side of a 'second fork'.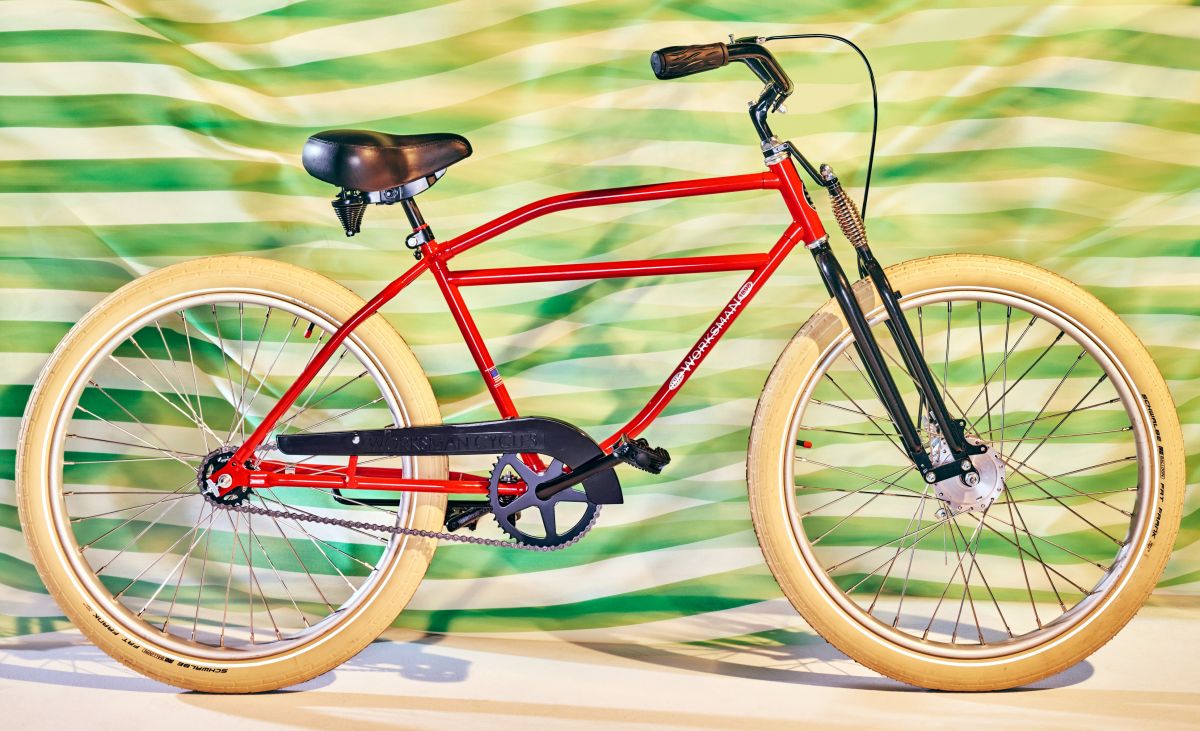 A sturdier, double-sprung fork
Bosses, Eyelets and Mounts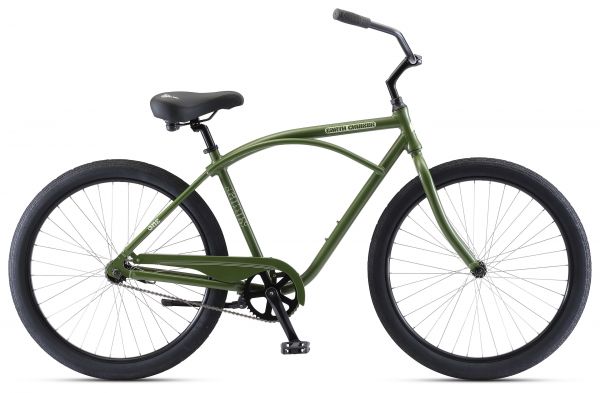 A frame kit out with water bottle bosses
Bottles
Many beach cruisers don't have mounts for bottles, as they're intended for short-haul rides and jaunts. Some stylized frames don't leave room to attach bottle bosses or to fit a bottle in the frame. If you plan on going on longer rides, keep an eye out for a model that does allow a bottle to be fitted. Many geared and commuter cruisers come equipped.
Cargo
Rear Racks
Many beach cruisers have mounts for a rear rack. Check for the appropriate eyelets or mount-points near the dropouts or on the seat stays of your new cruiser's frame. For some cruisers, you may need to purchase an aftermarket saddle clamp adaptor.
This cruiser comes fit with a rear rack
This cruiser's frame integrates a rear rack
Front Racks
Front racks can also be attached to your beach cruiser. Many Cruisers may not have eyelets to attach the kind of front rack that you would attach to a touring bike, but they can be attached to the headtube and / or handlebars, using a bracket.

Front racks on beach cruisers, attached via different systems
Baskets, Boxes and Crates
These are popular, traditional and stylish options for cargo. Crates and boxes can be mounted on a front rack, while smaller baskets can be attached to the handlebars.

Surfboard Racks
Because this is a 'beach' cruiser we're talking about, you may need a way to carry a surfboard. Specialist racks tote a surfboard beside you as you ride. Some models even have their own proprietary rack.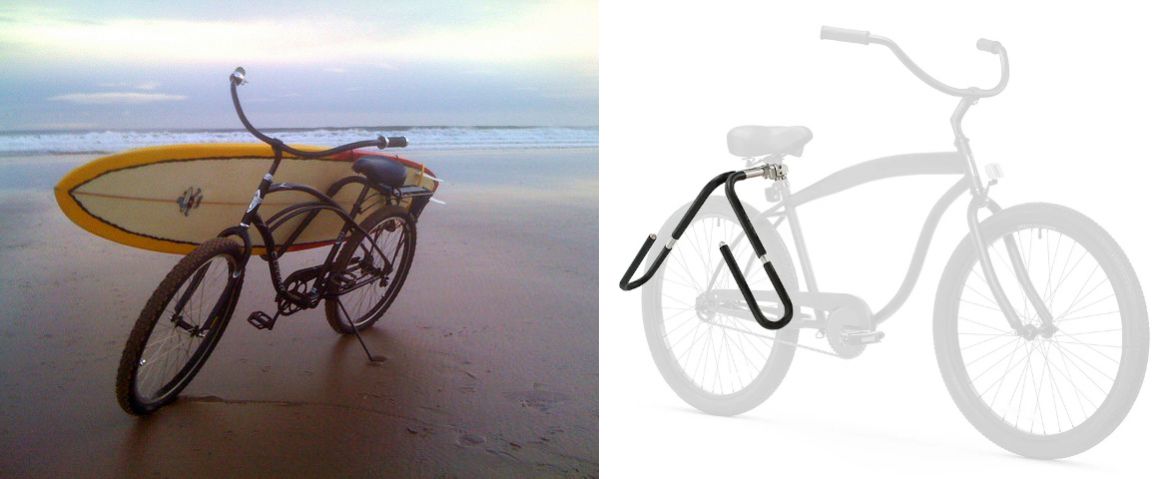 Surfboard racks
When looking for a new cruiser, keep in mind that many models won't have mounts for any racks.

These cruisers come fit with both front and rear racks
Many beach cruisers arrive fit with matching fenders or at least with eyelets to attach them.

This may be a 'beach bike', but you never know when an unexpected saltwater puddle or onshore rainstorm is coming to harsh your sunny buzz.
Accessories
Many beach cruiser accessories are stylized to suit the retro aesthetic. Options are almost endless, including horns and cup-holders for your Mai Tai.

Essential beach cruiser accessories
Lights
Aside from electric models, few beach cruisers come equipped with lights. For aftermarket lighting, you might consider aesthetically appropriate options.
This e-Cruiser comes with front and rear LED lights
Appropriate aftermarket lighting
Budgeting
Beach cruising is not an expensive cycling genre. At heart, beach cruisers are intended to be simple and low-cost, as relates to both upfront and ongoing costs. This is due to their minimalistic build. Even so, low cost models can be low quality. There are numerous examples on the market.
That said, a few hundred dollars should buy you a sturdy ride. Geared models will cost more, but a 3-speed, internally-geared bike may be similar in price to a 7-speed cruiser with a derailleur. Of course, beautiful designer models fetch a premium.
Many custom enthusiasts will buy a cheap complete bike, intending to strip all parts from the frame. With this in mind, there is less concern over the quality of components.
Cruisers with 3-piece cranks and / or sealed wheel bearings will cost more. For the extra money, you get a bike that is better sealed against the elements, more durable and easier to upgrade.

Step-Over and Step-Through
The main beach cruiser variation is between the two frame shapes. Cruisers with step-over frames have a higher standover height, meaning the top-tube curves upward from the head-tube. This means that it sits up higher from the ground than on a step-through frame. Step-through frames have a downward-sloping top-tube and a much lower standover height.

This model is available in both step-through and step-over styles
Traditionally, this means that step-over frames were favored by male riders, while step-through frames were marketed to women. This is still predominately true. Step-through frames do make it easy to mount a cruiser in a dress. But in reality, some shorter or less-able men choose step-through frames, while some taller women prefer a step-over frame. Many cruiser models are available in both styles.

Commuter Cruisers
5-Speed with drum brakes
700c with a chromoly steel frame
These bikes are daily commuters that retain the cruiser's flowing framework. Often, they use chromoly steel or aluminum tubing. This makes for a lighter, more comfortable rig. Unlike their flatland counterparts, they're geared. Some models use 700c wheels to achieve greater speeds and cover longer distances.
Fat Tire Beach Cruisers

Fat tire cruisers
Fat cruisers look extra bad-ass. Tires range from 3.0" to 4.0" wide on both 26" and 24" wheels. Some of them are all about the look. But like other fat bikes, a few of these cruisers exhibit so much flotation that they can actually be ridden on sand. They are heavy, slow and not practical for everyday use.
Electric Beach Cruisers

E-Cruisers bring comfort and ease to the next level
Wide tires and relaxed geometry make the beach cruiser well suited to e-biking. Long frames easily accommodate batteries without inhibiting aesthetics. E-Cruisers should use disc brakes, which can be either mechanical or hydraulic.
Tandems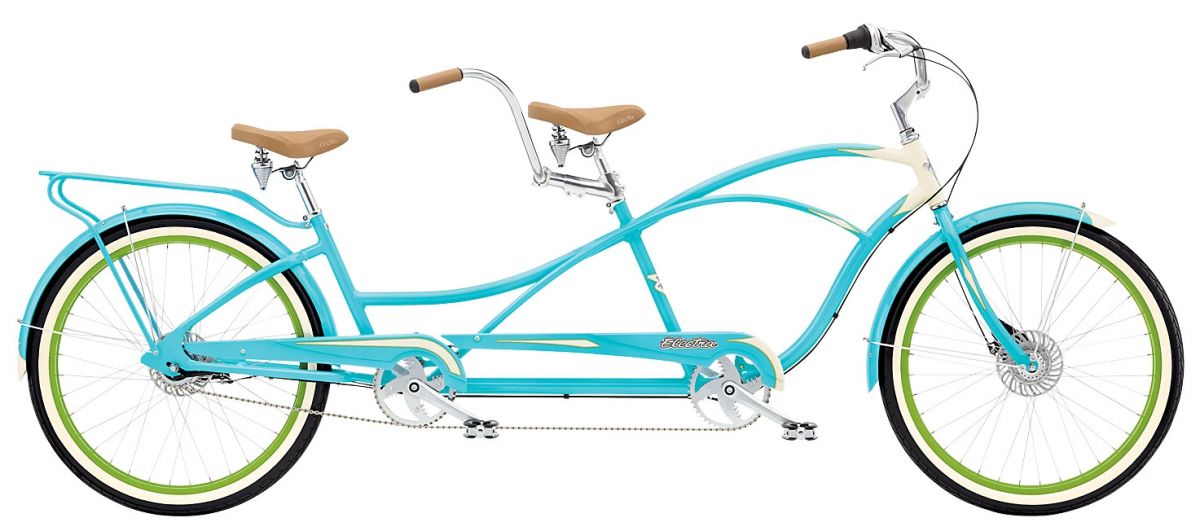 A bicycle built to cruise
What could be better than the synthesis of two of the world's most popular vacation bikes? New tandem cruisers should use wheels with at least 36 spokes, to handle both riders' weight.

Related Cruiser Types
Urban Cruisers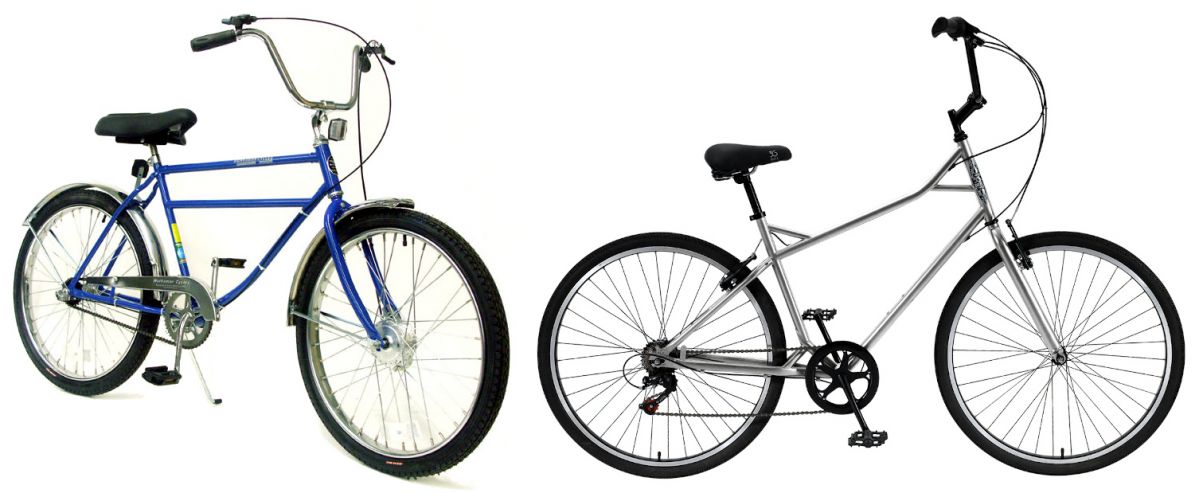 Son of a beach cruiser: the urban cruiser
These bikes employ the same relaxed geometry as beach cruisers, but often use sturdy, angular frame construction. They come in single-speed options but are often available in geared versions to suit urban commutes.
Board Track Racers / Café Racers

Slow and steady wins the board track race
Like cruisers, these retro bikes feature arched frames with flowing lines. They are reminiscent of Board Track and Cafe Racer motorbikes of the 1910s and 20s. Handlebars are low, in an old-school racing position. They often use large 28" wheels with balloon tires, to attain higher speeds. They may be geared, with up to 5 speeds in an internal hub.
They may be slow to accelerate. But at speed, big wheels and tires unite with ample weight to make for an unstoppable steamroller of a bike.
Lowriders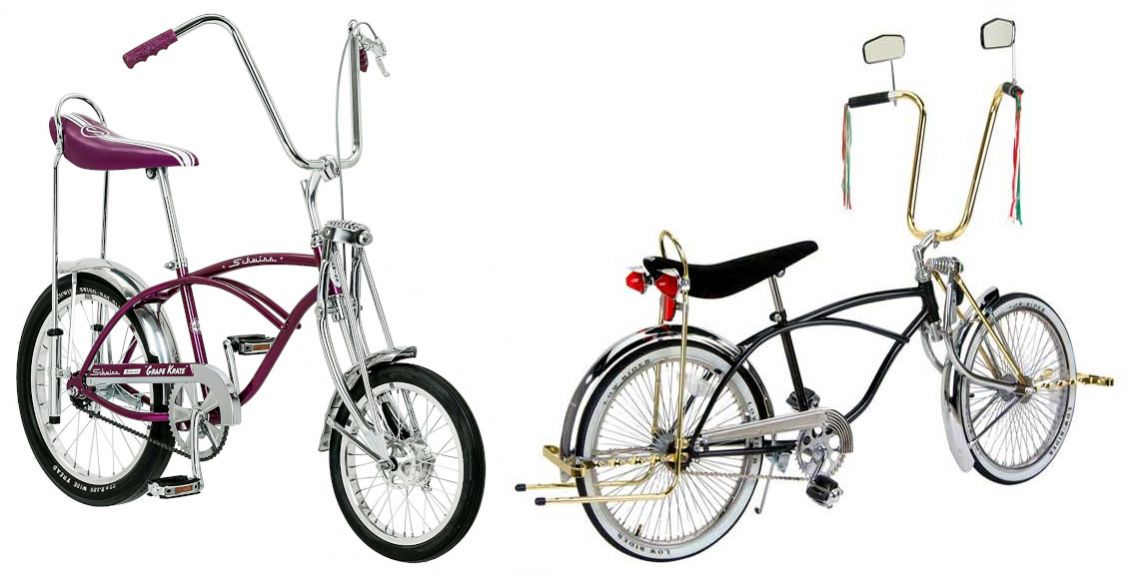 These bikes can be seen as the cruiser's 'younger sibling'. They may feature a larger rear wheel with a smaller front wheel and often employ sprung suspension. New models are available, but they are largely the domain of the custom bike afficionado. Many specimens are one-offs.
Klunkers
The old made new. A '90s Klunker
A brand new klunker
Mountain bikes originated from cruisers. In the 60s and 70s, the sport's pioneers adapted cruisers from the '20s and '40s. Knobbly, off-road tires were added, while fenders and chainguards were removed. The Klunker was born. Riders needed to repack coaster hubs after long, rapid off-road descents. Modern versions are a niche style that harks back to these groundbreaking bikes. New models often use disc brakes.

Direct Sales vs. Local Bike Shop
Buying a bike online is a world apart from the experience of choosing a bike from your local bike shop. The benefit of a direct sale from the manufacturer, is that you aren't paying for the middleman. If you're buying a bike from an online retailer, they don't have to pay for the rent of premises and they don't need to pay an experienced, professional mechanic to assemble and tune your bike. For these reasons, you pay less.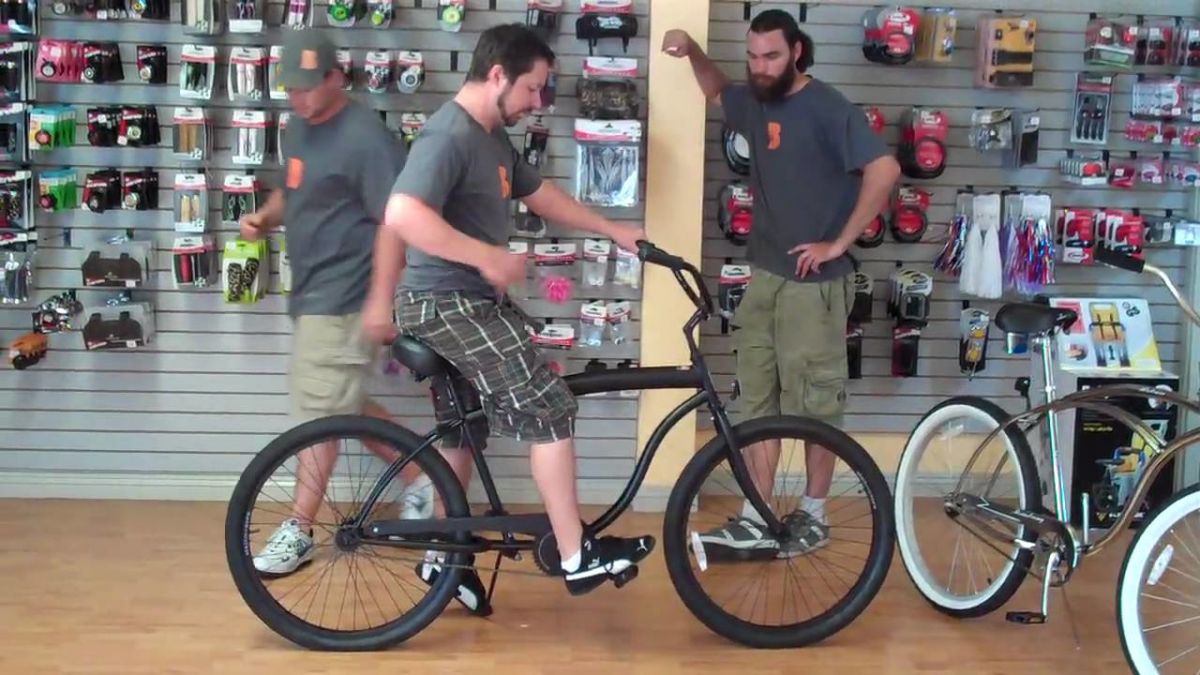 Getting a beach cruiser fit at a local bike shop
Good online bike retailers will pre-assemble as much as 80% to 95% of your bike before shipping and will provide the tools required for the remaining adjustments.
Whatever route you choose, there are benefits and drawbacks.

Get Some Sand Between Your Spokes
Beach cruisers are meant to be easy. Easy to buy, easy to ride and easy to maintain. These simple and beautiful machines are a mile away from the technical and competitive worlds of road and mountain bikes, where flowing lines are rare. While they should be low cost, this doesn't mean that they should be 'cheap'.
When it comes to coastal coasting, choose wisely and roll on!
Further Reading and Useful Links
Have questions about which bike to choose? Ask in our Forum.
Want to win a bike instead of buying one? See our bike Giveaway.
Find out more about BikeRide.
Sources
Bike Categories