60
Best Bikepacking Bikes
The BikeRide Guide to Choosing the Best Bikepacking Bike
by Owen Jesse – updated August 16th, 2022

Contents:
What is a Bikepacking Bike?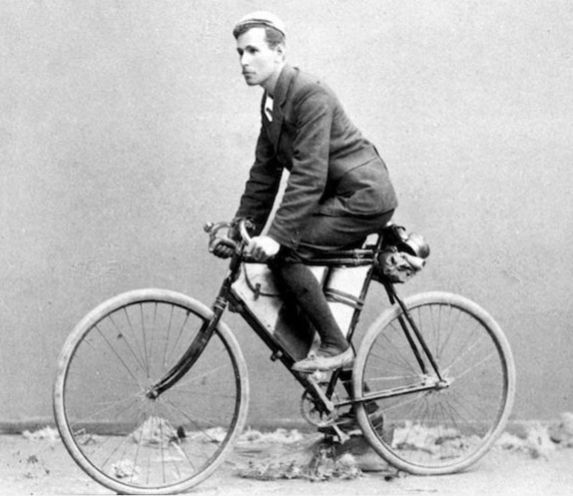 Arthur Richardson, on his 1897 Australian tour
The term 'Bikepacking' goes back to 1973. To cut a very long story short, bikepacking is the natural evolution of cycle travel, as equipment has become lighter and smaller.
For many decades, long-distance cycle touring required the use of front and rear racks with panniers. As equipment became more minimal, luggage moved from the front and rear racks and onto the frame itself. This has resulted in the current use of frame-bags, within the main triangle of the bike. Weight is also carried on the handlebars, behind the saddle and on the fork.
Bikepacking involves any trip of at least one night, on any bike that is capable of carrying the required equipment. This means that you can bikepack on any bicycle suited to the terrain you are riding. However, bikepacking-specific models are designed to easily attach the bags, bottles and accessories that your camping trip requires.
What are the Characteristics of a Bikepacking Bike?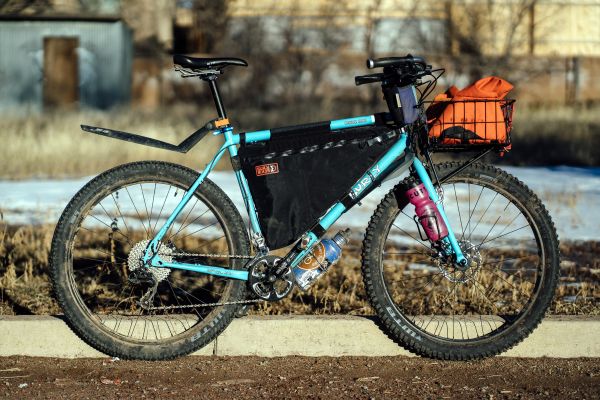 A bicycle built for bikepacking
A bikepacking bike is any bike you can take on a camping trip. More and more bikes are designed with bikepacking as their primary purpose. These bikes will usually feature:
Mounts; eyelets and bosses on the frame and fork (for bottles, bags and cages).
Room for large, versatile tires (as well as fenders).
A longer head-tube and straighter top-tube, in order to allow a large frame-bag.
Bikepacking Bikes of Different Stripes
Bikepacking bikes are usually off-road vehicles or, at the least, capable of riding flat dirt-roads and gravel. Apart from these 'rules', the field is wide open. A bikepacking rig can be a purpose-built machine with either drop or upright handlebars. It can be a gravel, all-road, cyclocross, monstercross or touring rig. It might be a mountain bike; in rigid, hardtail, fat or full-suspension flavors.

From backwoods thumpers to gravel racers, all are bikepackers
Features of Bikepacking Bikes
Bikepacking is a relatively young genre of cycling that's still undergoing a lot of experimentation amongst enthusiasts and manufacturers . This makes it a highly individualized branch of cycling that's open to customization. Although there are specific requirements for any 'bicycle-built-for-camping', you'll find that there is a vast range of choices amongst the parts and frames that feature on new bikes.
Frames
Chromoly Steel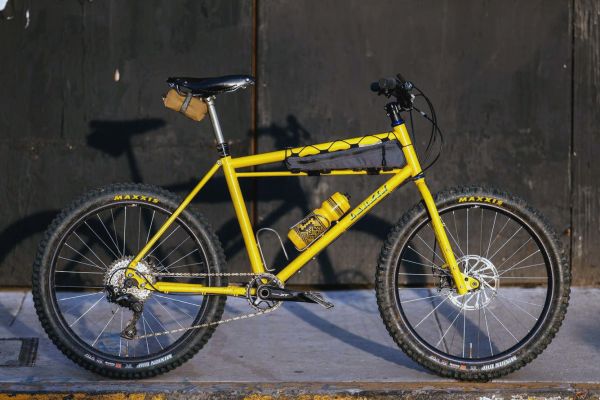 This compact 'packer is full chromoly steel
Chromoly (sometimes stylized as 'CrMo' or 'chromo') displays superior shock-absorbance qualities. It's relatively lightweight and easier to have repaired in remote areas. Chromoly steel comes in a variety of grades and recipes.
It's very common on new, affordable bikepacking bikes and is the material of preference for many enthusiasts.
Aluminum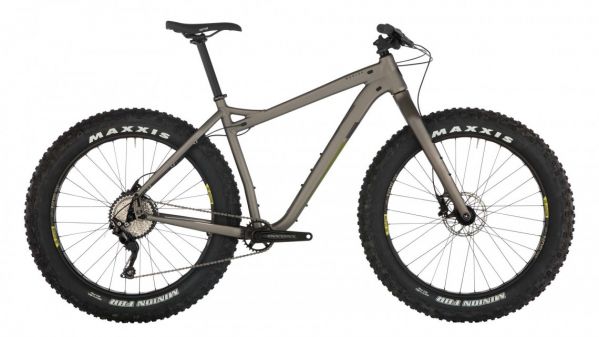 A carbon fork softens the harshness of an aluminum frame
Aluminum alloys are also used to build some new bikepacking bikes. The compromise between price, strength and weight makes these frames attractive.
On the downside, Aluminum can be rigid and tends to vibrate, rather than absorbing impact. This stiffness can be offset by a carbon fiber or suspension fork.
In the rare instance where a frame cracks, repairs are difficult and expensive.
In general though, aluminum is lightweight, affordable and durable.
Carbon Fiber

Weight-conscious carbon fiber frames are favored by bikerafters
It's lightweight, resilient, compliant and expensive. Carbon fiber is strong and absorbs vibration well. You can see it used on high-end bikepacking bikes of all stripes, but it is particularly prevalent on hardcore expedition bikes and fatbikes, where weight loss is a priority.
Titanium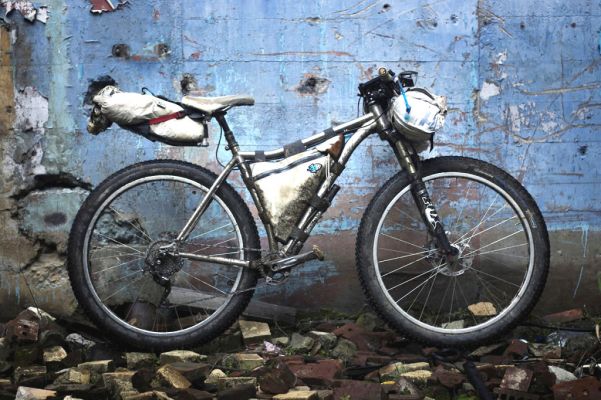 Titanium frames can last a lifetime
Titanium is a boutique frame material that's used in aircraft construction, due to its low weight and high strength. It's rarer on bicycles, because it's tricky to work with. Titanium is lighter than steel and has superior shock absorbance. On top of that, it's highly corrosion resistant and close to rust-proof.
A titanium frame can easily last a lifetime. It won't age and isn't prone to catastrophic failure, as can be the case for carbon fiber. That makes it reliable on remote trips. Reliable, but pricey.
Frames and Pricing
On bikepacking bikes, chromoly is usually of high quality. In addition, many frames employ electrophoretic deposition (sold as 'ED coating'), which inhibits corrosion. This means that they may cost the same as aluminum or significantly more. Carbon fiber is reliably pricey, while titanium is the most costly of all.
Handlebars
Bikepacking handlebars vary wildly. There is a vast range of bars available in a variety of shapes and widths. These offer varying hand positions and applications.
Drop Bars
Traditional curved drop bars have been a mainstay on touring and road bikes for over a century. If you are spending a lot of time on terrain that allows you to stay down low while slogging away over distances, drop bars may be your speed.
You may seek a flared bar, for ergonomic comfort. Wider bars are popular for bikepacking, as they offer added control in dicey conditions. In addition, many wider drop bars offer ample width on the flat of the bar, for upright riding.
Drop bar mountain bikes are sound bikepackers
Flat bars work well with cargo
Flat Bars
Flat bars, of the style found on mountain-bikes and commuters, are also very popular on rugged bikepacking rigs. These are usually wider than drop bars, and offer upright visibility and increased control on rugged terrain.
Flat bars are available with or without sweep and with varying degrees of rise.
Multiple Positions
If you thought the options stopped there, prepare to be overwhelmed. The touring and bikepacking worlds have birthed a panoply of handlebar styles.
Multiple-position bar
Flared drop bar
Swept-back flat bar
Many of these offer multiple hand and riding positions, for comfort over a variety of surfaces and terrain. They cover the entire gamut of speeds and styles.
Handlebar Attributes
Sweep
15° or more sets the wrists at ergonomic angles. This places the ulnar nerve at a more natural position over longer distances, lessening fatigue in the process. Some bars feature sweep that reaches more severe angles, up to 45°. To find your preferred comfort zone, it's worth experimenting.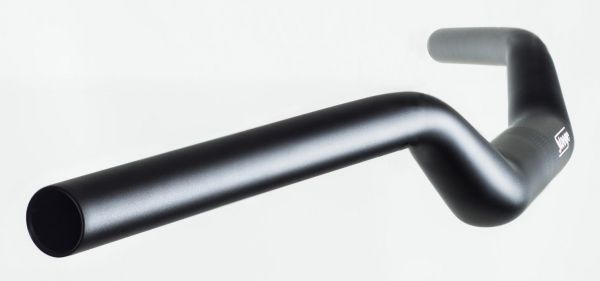 This flat bar uses 17° of sweep and 1.5" of rise
Rise
Rise helps adapt a rider's physical reach and riding position to the size and geometry of a frame. Some bikes use a shorter stem and more handlebar rise to achieve "tight" handling characteristics. It may also be a preference that accommodates certain handlebar bags and accessories.
Width
Ample width is favored on flat bars and flared drop bars, as it gives the rider greater control on demanding trails. However, narrower bars will allow easier passage between trees and other obstacles. For mountain bikes, bars between 25" and 32" are common.
Material
The material used to build handlebars can affect weight, comfort and durability.
Aluminum is affordable and light but can be fatiguing, due to its stiffness.
Chromoly is affordable, tough, durable and compliant, but heavier than aluminum.
Carbon Fiber is light, tough and compliant, while being expensive and easy to scratch.
Titanium is light, tough, compliant and durable, but pricier than other materials.
Shape


Multiple-position handlebars come in many flavors
When considering handlebar shapes, it's important to consider:
Bags. Your bars need to be amenable to the kind of handlebar-bag you plan to use.
Cabling. Room for cables, levers, devices and accessories should be factored in.
Positions. What are your preferred riding positions, styles and terrain?
Geometry
The geometry of a bikepacking bike is suited to a rider's preferred terrain and riding style. As previously mentioned, a bikepacking bike is any kind of bike – adopted to camping and travel. Even so, certain characteristics are shared by new bikes that are aimed at the bikepacking crowd.
A straighter top-tube and longer headtube help to accommodate the maximal frame-bag size. The resulting height may be countered by the use of a 'dropped stem' (angled down from the top-cap) and drop-bars.
Apart from purpose-built rigs, bikepacking bikes can be:
Mountain Bikes, using slack angles and a sloped top tube.
Gravel, All-Road and Cyclocross Bikes that lend from road geometry.
Touring Bikes, that use flat top-tubes but are more relaxed than road bikes.
Whatever set-up you aim for, it should be comfortable over at least a couple days of riding.
Brakes
Most bikepacking bikes use disc brakes. But there are as many types of brakes on bikepacking bikes, as there are types of bikepacking bikes.
Disc Brakes
Cable Disc
Hydraulic Disc
Cable-actuated Hydraulic Disc
Disc brakes are very popular with bikepackers, due to their powerful action and reliability in all conditions and seasons. They also allow for the use of wide tires and won't wear down your rim surfaces (in the way that rim brakes do). They are usually more powerful than rim brakes, especially in wet weather.
Disc brakes are unaffected by damaged rim surfaces and moderately untrue rims.
On the downside, they cost more than rim brakes and are more difficult to repair and adjust in remote areas. Disc brakes add weight to your bike and are more complicated than rim brakes. Rotors may be bent during travel and are susceptible to contamination by oils and lubes.
Disc brakes slow the bike by squeezing pads onto a disc, which is attached to the wheel hub. There are two types of disc brake; hydraulic and mechanical. Hydraulic brakes provide greater stopping power and use brake fluid to transmit force. They are more costly than mechanical discs and trickier to maintain.
Many bikepackers choose mechanical disc brakes over their hydraulic counterparts. Hydraulic brakes require 'bleeding' of their fluid in order to be repaired (or even adjusted, in some cases). A 'bleeding kit' may be required. In the instance of failure, parts can be difficult to attain in remote areas. For this reason, many cyclists choose mechanical disc brakes, which are actuated by a cable. Recently, cable-actuated hydraulic brakes have emerged on the scene, in an attempt to combine the power of hydraulics with the D.I.Y. ease of mechanical brakes.
Disc brakes have become 'the standard' for bikepacking. However, they are not the only choice.
Rim Brakes
Linear / V-brakes
Cantilever brakes
Hydraulic Rim brakes
Linear-pull brakes / 'V-brakes' are a type of cantilever rim brake that uses a single cable and two arms. They allow room for fatter tires and suit lightweight, off-road rigs. High quality options are powerful. They are easily adjusted and maintained. That said, they can still be tricky to center.
V-brakes are excellent for remote touring, as parts are easy to source. Drawbacks include their lack of compatibility with most road levers and that they may interfere with wider fenders.
Cantilever brakes offer large tire clearance, are easy to repair, affordable and compatible with common road levers. But they are less powerful than V-brakes and disc brakes.
Hydraulic rim brakes offer excellent stopping power in all seasons. They're reliable, but difficult for most users to repair, D.I.Y. spare parts are less common than other brake types. You also can't use road-bike handlebars with these. Hydraulic rim brakes may interfere with wider fenders.
Rim brakes use rubber pads to squeeze against the wheel rim, in order to slow it. The most important consideration with rim brakes is that they lose some power in wet weather. Winter braking also wears down rims as grit and filth gets attracted to your brake pads. However, they are cheaper than discs and easier to adjust without professional help.
Gearing
Gearing can be a very personal issue. After prolonged experience with your bike, your ideal gearing requirements will reveal themselves to you. The intricacies of long-distance gearing are too much to go into here, but there are some basic factors that will affect your new choices amongst new bikes.
Elevation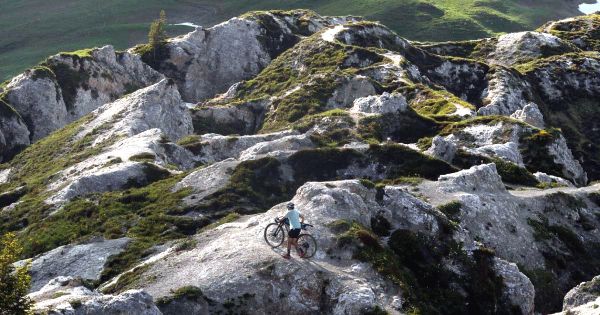 "Walking it", without ample gear range
If you are going to tackle mountainous trips with bags, it would be likely that you'll need a 2x setup (with double chainrings). This will ensure that the steepest of climbs will be covered by your smallest chainring, while your large chainring enables you to pedal at speed on descents. Triple chainrings are becoming defunct, as cassettes on 2x setups become more compact and cover a similar gear range.
Terrain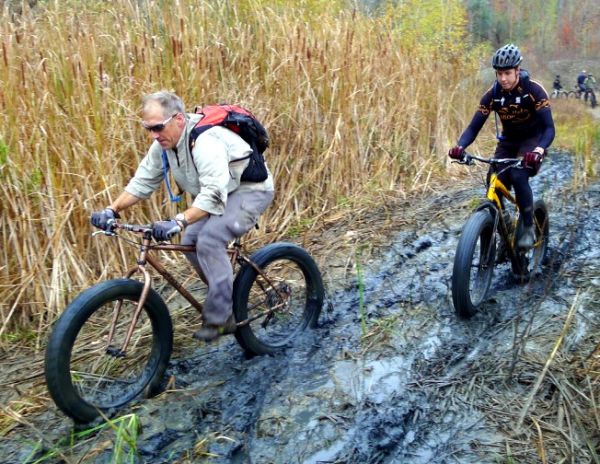 Slogging it, with low gearing
Are you rolling over hardpack dirt-roads or sluicing through muddy swamps? Fatbikes are often used in soft sand, snow, mud, slush or snirt. New 'fatpacking' bikes often come specced with a 30t chainring. This is coupled to an 11 or 12 speed cassette that spans anywhere from 10 to 51 teeth (e.g. 10t-51t, 10-50t, 11-46t). This might suit you at first, but experience may prove that something even lower is appropriate.
On the other end of the scale, you could be using a gravel bike to traverse an arid landscape on hardpack dirt. A majority of this journey would entail gentle elevations. With the use of narrower, higher-pressure tires and a lighter frame, you could get by with gearing more akin to that found on a road bike. On flatland, a narrow-range cassette on a single chainring will enable you to find the perfect gear over subtle gradient increments.
Strength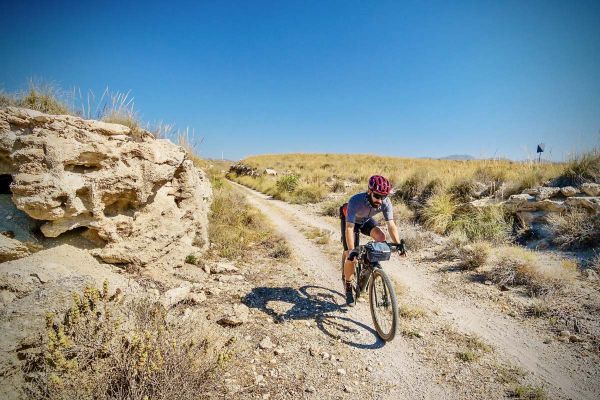 Mashing it, on flatland hardpack
If you're a stronger rider, you may find that you are rarely using your drivetrain's lowermost gears. As you get stronger, you may need to alter your gearing to heighten it.
Whatever you do, don't go too high. No rider's legs can handle a cadence lower than 60rpm in the long-term.
Preserve the knees!
Maintenance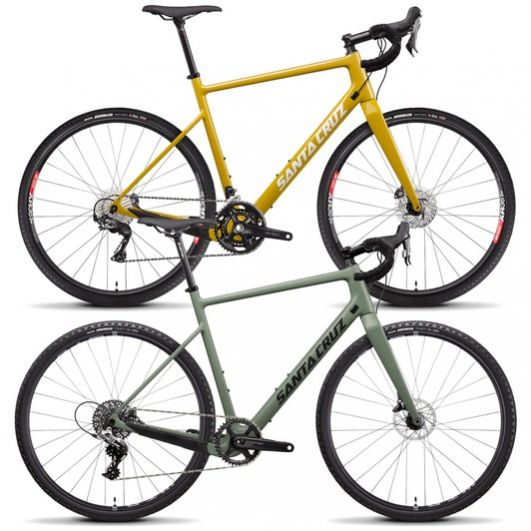 This rig is offered in both 1x and 2x configurations
Will you forgo a second chainring in the name of simplicity? In recent times, single chainring (or "1x" – pronounced "one by") drivetrains have increased in popularity. As technology progresses, cassettes become more compact to accommodate a greater number of cogs with a wider overall range. The gear range of single chainring drivetrains now approaches that of 2x setups. As such, riders are choosing to jettison the front derailleur, in favor of simplicity and decreased maintenance.
Many new bikepacking bikes are equipped with a single-chainring drivetrain. Often, a 1x configuration will be available from amongst a selection.
Riding Style
You might prefer to ride at a comfortable pace over long distances. If you choose a bike with wider tires, they can be run at a lower pressure for added comfort. The trade-off is that your rig is heavier. For some riders, this is no problem. It can be a conscious choice to take it slow. You'll need lower gears to offset the weight of a bike with plus-size or fat tires.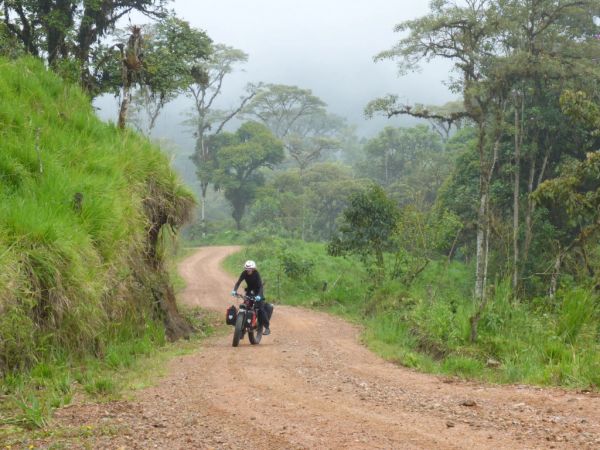 Pacing it, on a long climb
On the other hand, you may choose to smash your ride on less-comfortable and narrow tires that roll faster. A gravel bike with a lighter frame may suit your riding style.
Cassettes
Cassettes are usually 10, 11 or 12 speed on modern 1x and 2x drivetrains. Recently, 13 speed cassettes have emerged. These can feature a larger cog with up to 52 teeth!
Internal
Internal hubs are also used by bikepackers. These systems protect gear mechanisms from external knocks and damage, but come with a weight penalty. On the lower-cost end, Shimano Alfine 8 and 11 speed hubs are popular. Rohloff (14 speed) hubs are a high-quality product with a dedicated following, but come with a price to match. Pinion systems have 18 speeds in a gearbox, mounted to the bottom bracket of a bespoke frame.
Alfine 11-speed
Rohloff 14-speed
Pinion 18-speed
Internal hub systems can sport some of the widest gear ranges available to a bikepacker. They are unlikely to break down, but if they do, parts may be impossible to source.
The Contact Points
The 'contact points' are the three places where your body comes in contact with your bike. These parts aren't as technically complex as your drivetrain or bottom bracket. Nevertheless, they are incredibly important. Customizing the contact points is relatively inexpensive and can make a huge difference to your level of comfort.
Saddles
Nowhere is saddle choice more important than on long distance rides. You might prefer synthetic options, cotton saddles or the time-proven acquired taste that is leather. Leather saddles require care through waterproofing and initial stretching adjustments. There is also a period of 'breaking in' required to adjust them to your own shape. Even so, many long-distance riders are adherents to a well-broken leather saddle.

Leather saddles will conform to your body shape, over time
For most riders, comfort comes to mind as the main priority here. However, it's important to consider your long-term groin and reproductive health. Specially-designed saddles take these issues into account. A poor saddle can also cause numbness due to a restricted blood supply.
Synthetic ergonomic saddle
Cotton and carbon fiber ergonomic saddle
There are numerous materials used for the construction of the saddle body and rails. Carbon fiber sheds weight in both areas. For rails, everything from chromoly to aluminum and titanium can be found.
Consider your budget and your priorities (comfort vs. weight vs. cost), when making your choice.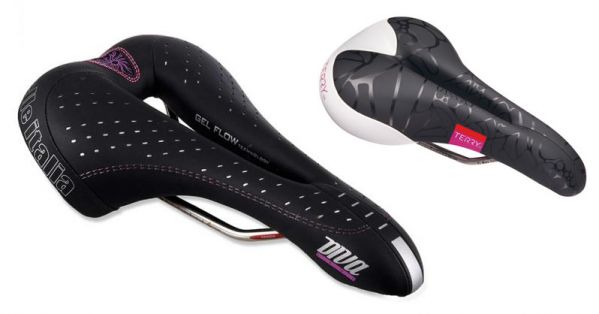 Womens' saddles
Moderate padding is ideal, ensuring that your weight is supported by your sit-bones. Saddle choice is highly subjective and most riders will change the saddle on their new bike.
The easiest way to choose a new saddle is try a few out at your local bike shop.
Grips and Bar Tape
Grips
Good grips contribute a lot to comfort. Thin or uncomfortable grips can result in soreness or fatigue, especially over long distances. Cheap grips can be made of poor material that wears out quickly.
Rubber
Ergonomic
Cork
Silicone
Options include rubber, silicone and cork. Some bikepackers are partial to ergonomic shaping. Again, it's easier to know what works for you by getting your hands on some examples at your local bike shop.
Bar Tape
Padded bar tape is often preferred on long-distance, off-road rides. Thinner tape is less likely to absorb surface vibration. This can result in sore hands and wrists, especially after longer rides. Padded tape insulates against shock on uneven surfaces. EVA polymer is the common, cost-conscious choice. Leather and cork options are also out there.
Leather
EVA Polymer
Cork
Pedals
If you're lucky, your new bike will arrive kit with decent pedals. Most likely though, pedals will be the first thing you'll replace.
Clipless
Many bikepackers will opt for 'clipless' pedals, which require the use of cycling shoes.
There are different systems of clipless pedal, with the most common being Shimano's 'SPD'. 'Time' pedals are also highly suited to rugged terrain, as they allow the rider to quickly click their shoe out to the side of the pedal. Clipless pedals are favored by many long-distance riders, for good reason.
Clipless Gravel shoes
Clipless Hiking Shoes!
Clipless Sandals?
Clipless pedals increase efficiency, especially on climbs, as they pull the pedals on the upstroke. Once you're accustomed to clipless, using them soon becomes second nature. Cycling shoes with recessed cleats are easier to walk in, but it's clear that you're at a disadvantage when it comes to walking your bike up a steep hill. Also, you'll probably need to pack a spare pair of shoes for all other walking duties.
Flat Pedals
Flats have certain benefits for bikepackers. You can easily dismount in unwieldy terrain, without having to 'clip' in and out. You only need to pack the one pair of shoes, if you'll also be doing some walking. In the occasional and unavoidable situation where you need to walk or carry your rig through a demon section or vertical incline, flats can be a lifesaver.

Flats over clipless? It's all up to personal preference
The main drawback with flats is that they're less efficient than straps or clipless, particularly on climbs.
Wheels
When you're buying a complete, new bike that's designed for bikepacking, it should come with wheels that are fit for purpose. On the other hand, you may have your eye on an 'all-purpose' bike, that you'll also use for commuting and errands.
Alternatively, you might be planning to buy a new bike (of any type) that suits your favorite terrain. This could include a gravel bike, mountain bike, hybrid, touring rig or cyclocross machine. In this case, it pays to take note of the wheel build specified. This is especially true if you are intending to adapt a hybrid or commuter, which are often intended for less demanding terrain than the average bikepacking journey.
Here are some things to look for in your wheelset:
Rims should be double-wall, for strength.
Spokes should be double-butted, for strength and weight reduction.
Spoke Count should not be below 28 (32 front / 36 rear is a good default)
Your bike's wheels need to be strong enough to carry cargo while weathering moderate impacts on crunchy trails.
Materials
A new bikepacking bike will either come shod with Aluminum or Carbon rims. Both materials work well and the choice is entirely based on preference. There are a few factors that may affect your choice.
Aluminum
+
Strong
Light
Affordable
Dented rims can often be repaired
–
Slight weight penalty
Some riders report flex on rough terrain
Carbon Fiber
+
Light
Stiff on trails
Strong
–
Can't be repaired if cracked
May flex under loads
Expensive
Tubeless
You can see our section on bikepacking tires (below), for more information on the tubeless question. Most new bikepacking bikes will come with 'tubeless-ready' rims that cater for both tubed and tubeless options. This allows you to make up your own mind about going tubeless, further down the road.
Sizes

Generally speaking, bikepacking bikes will either have 700c, 29" (29 inch), 650b or 27.5" (27.5 inch) wheels. 26" (26 inch) is found on fatpacking bikes. Other sizes are not unknown, but they are the exception.
A number of new bikepacking and bikepacking-appropriate bikes are offered with wheelsets in multiple sizes. These frames are designed to accommodate wheels of different sizes. Some bikes fit 29", 700c, 650b and 27.5" wheels. Others fit one, two or all of these sizes. Each of these rim sizes is limited to different tire widths, as the overall diameter of your wheel is equal to your rim and tire combination.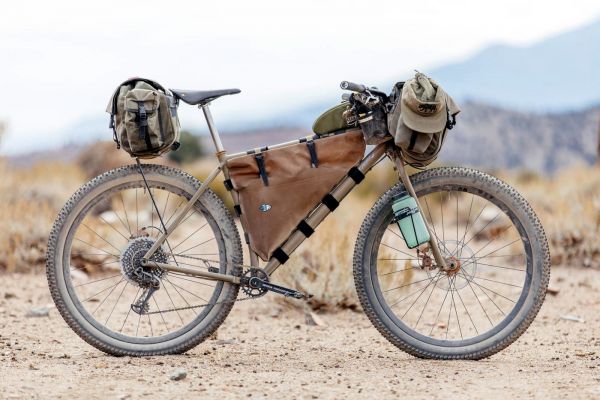 Staunch 29″
29" (or 29 inches) is the name used to describe wider 700c wheels, as found on 29 inch mountain bikes. They share the same circumference as 700c wheels but usually use wider rims. It's more appropriate to fit wider tires on these wider rims – and narrower tires on 700c rims.
With fat tires on 29" wheels, they can make some bikes too tall for shorter riders. This is the choice for fast-rolling adventure bikes with big rubber.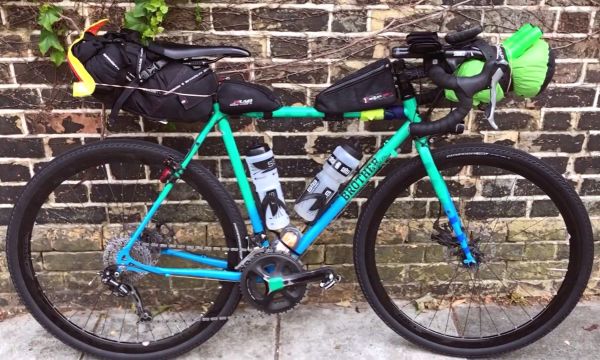 Fast 700c
700c is common on gravel bikes, touring bikes and bikepacking bikes based on these styles of riding. It's the same size as found on modern road bikes. Their large circumference allows them to roll quickly. They are less prone to jounce when passing over small cracks, bumps and debris.
Because of their size, they are less agile than smaller wheels and may be heavier than them. The weight penalty is balanced out by by the fact that they roll faster than smaller sizes. 700C rims are narrower than 29 inch rims and will accommodate narrower tires. Genuine cyclocross wheels are always 700c.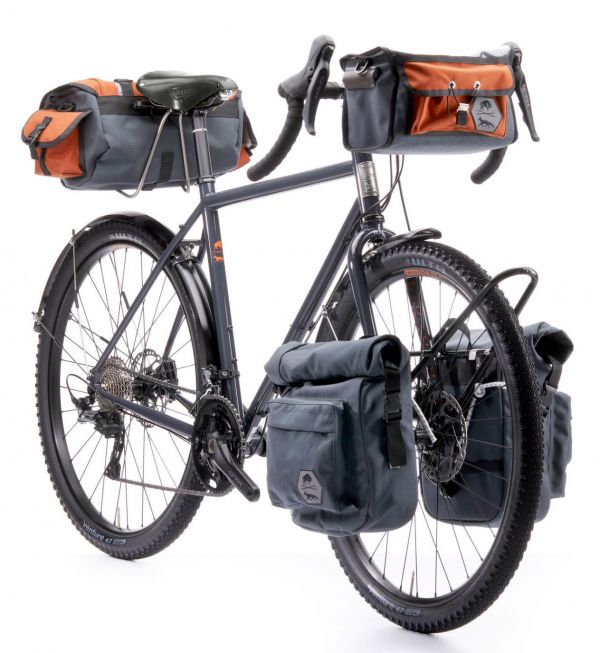 Versatile 650b
650b wheels are smaller in circumference than 700c, but larger than older style 26 inch mountain bike wheels. 650b has been popular with touring cyclists and randonneurs for many decades, but has recently gained a renewed appreciation and subsequent application to many bike types. This size is incredibly popular on bikepacking, gravel, monstercross and touring rigs.
Because of their smaller size, they may be slower than 700c when shod with narrow tires. However, a 650b wheel with a 47c tire is the same circumference as a 700c wheel with a 28c to 30c tire. This also means that these tires have more air volume, which translates to increased comfort and jounce-reduction on rough roads.
650b wheels are more agile than their larger 700c brethren – and they also accelerate faster. There is another benefit of these mid-sized wheels. Using 650b sizing, smaller bike sizes stay in proportion and allow a lower standover height.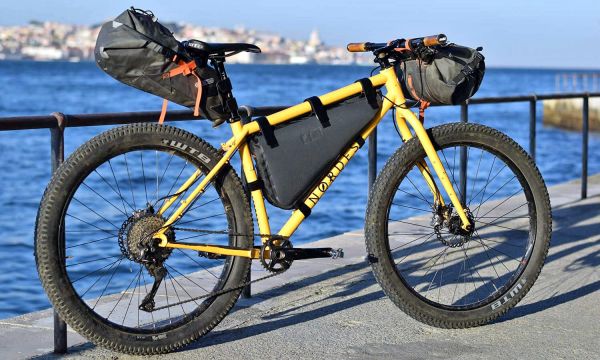 27.5" mountain bike goodness
27.5" wheels are the same circumference and diameter as 650b, but usually sport wider rims for larger tires and rougher applications. Rims will likely be tough.
This size is rife on mountain bikes and is shared by a great many bikepacking and 'monstercross' bikes. Some newer fatbikes are built around 27.5" wheels.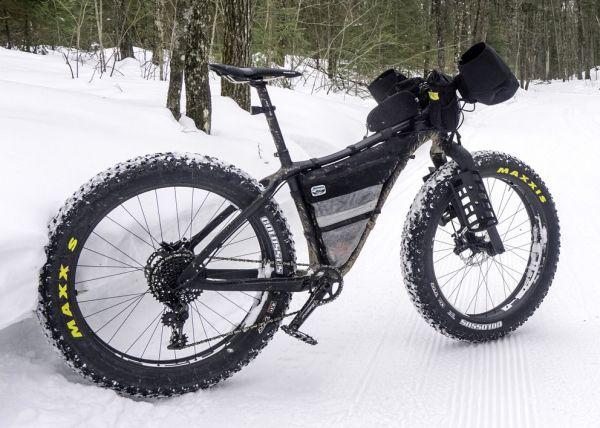 26" fatpacking radness
26" wheels used to be the mountain bike standard. Their smaller size makes them tough, agile and quick to pick up speed. However, they're noticeably slower than larger sizes over longer distances.
The only new bikepacking bikes that use 26″ are fat-tired adventure bikes.
With huge tires up to 5.2" wide on 50 to 100mm rims, wheel diameters are similar to those of 27.5″ and 29″ bikes.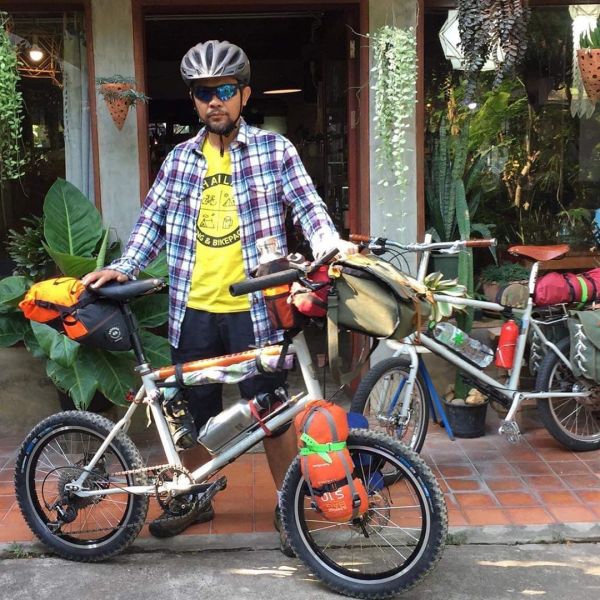 20″ portable seriousness
Smaller Wheel Sizes on bikepacking bikes do exist, in 24" and 20" sizes.
These travel-bikes suit 'multi-modal' transport on planes, busy trains, in cars and on the roofs of public buses.
Remember that you can often fit smaller wheels with fatter tires on a larger frame.
However, you can't change your mind and move up to 29″, if a bike is only built for 650b or 700c.
Tires
Bikepacking bikes can use a range of rubber, from mixed-tread and light gravel, to chunky mountain and fatbike tires. Widths vary massively; from 700c x 33-35c gravel and cyclocross tires, up to 27.5" x 4.5" fatpacking snowshoes.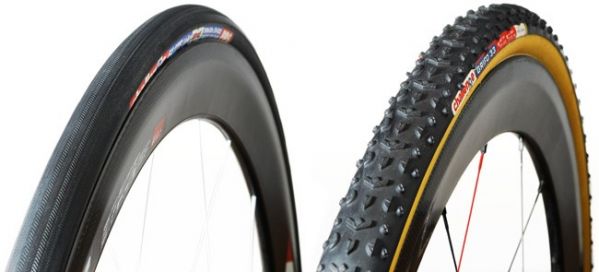 700c gravel and cyclocross tires
When choosing tires for any bike, including a bikepacking bike, the factors to balance are:
Comfort vs.
Speed vs.
Weight vs.
Traction.
Wider tires are comfortable and shock-absorbing. They are also heavier and slower.
Thinner tires are lighter, faster, less comfortable and more prone to punctures.
Chunkier mountain bike tires offer more traction for cornering on unstable surfaces such as loose rocks and pea-gravel.
Mixed tread / gravel tires have less tread, are lighter, faster and corner better on hardpack.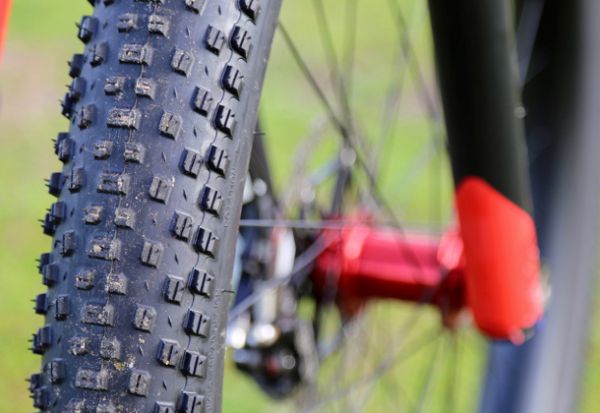 "Plus-size" tires roll fast on rough trails
Plus-Size Tires
These are roughly 2.8" to 3.25" on 35 to 50mm rims. They bridge the gap between standard off-road tires and fat tires, offering generous shock-absorbance and flexibility on a range of rough surfaces. Off-road, larger tires have lower rolling resistance than other tires, at lower inflation pressures.
Tubes and tires are heavier and more expensive than on smaller sizes. In addition, wider tires need wider rims – and this will add to the overall weight of your wheels. That said, on raucous wilderness trails and neglected forest roads, plus-size tires are plush and comfy.
Many people use rigid, non-suspension frames with plus-size tires at low pressures.
Fat Tires
At 3.25" to 5.2", these porkers are run at pressures as low as 5psi. They offer ample shock absorbance and flotation. They usually have chunky tread or snow studs spread over a large contact area, for maximum grip.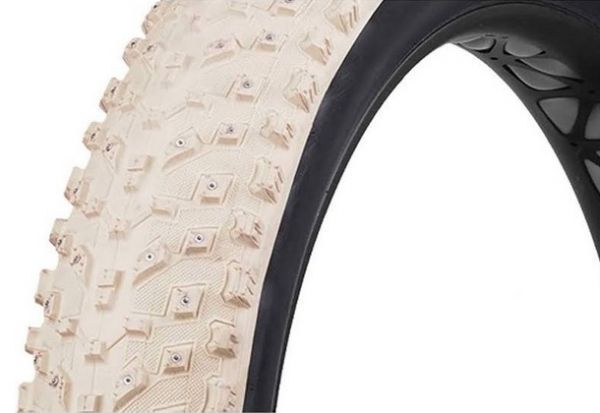 Fat tires studded for snow
Rims start at 2.0" (50mm), reach 3.95" (100mm) and often have 'cutout' holes in them to shed weight. This amount of rubber will set you back a pretty penny. It's easy to pay more than $120 for regular fatties and $200 for quality snow tires! Tubes are also expensive and heavy, making tubeless solutions popular.
While fat-tire bikes with suspension do exist, they are less common than rigid options and are strictly reserved for the most extreme of terrains. This is because they act as suspension in and of themselves. They're great for adventures through sand, snow and mud and are available on either 26" or 27.5" wheels. 26" is more common.
Tubeless or not Tubeless?
Tubeless tires use a sealant that fills small puncture holes and dries quickly, allowing you to continue riding. Large holes over 6mm will still flatten tires. The debate over whether or not to use tubeless tires is ongoing.
Tubeless tire setups generally result in less punctures. Some true believers praise the perceived weight savings, which may or may not be significant. Setting up tubeless tires is more involved and messy than changing a tube, but can result in less tire-changes in the long run.
If you are undecided, your best bet is to buy a bike with tubeless-ready rims. In a pinch, you can be assured that you can replace a tube when confronted with a puncture in a remote area. If your tubeless setup fails in the boonies, you could be left feeling rather deflated.
Bikepacking Tire Sizes and Widths
29" – 29 Inch
Twenty nine inch tires are abundant in the bikepacking world. Widths from 2.1" to 3.5" can be found on a bikepacking rig. 2.2" to 2.6" is a particularly popular range for tires on adventure and exploration bikes. At the top end, 3.0" are more common than 3.5".
700c
You wouldn't want to go much narrower than 33c on a bikepacking rig intended for off-road tootles. Tires this narrow are used by gravel racers and cyclocrossers. They don't suit rocky terrain, ravine-riven trails or heavy loads of cargo. Touring and 'all-road' bikes also use 700c.
Tires are not often seen with sizing above 700 x 50c (which is close to 29" x 2.0"). Above these widths, wider rims are required and you'll find these listed as 29" tires. There are a number of 700c tires between 40c and 50c that suit gravel and hardpack dirt roads.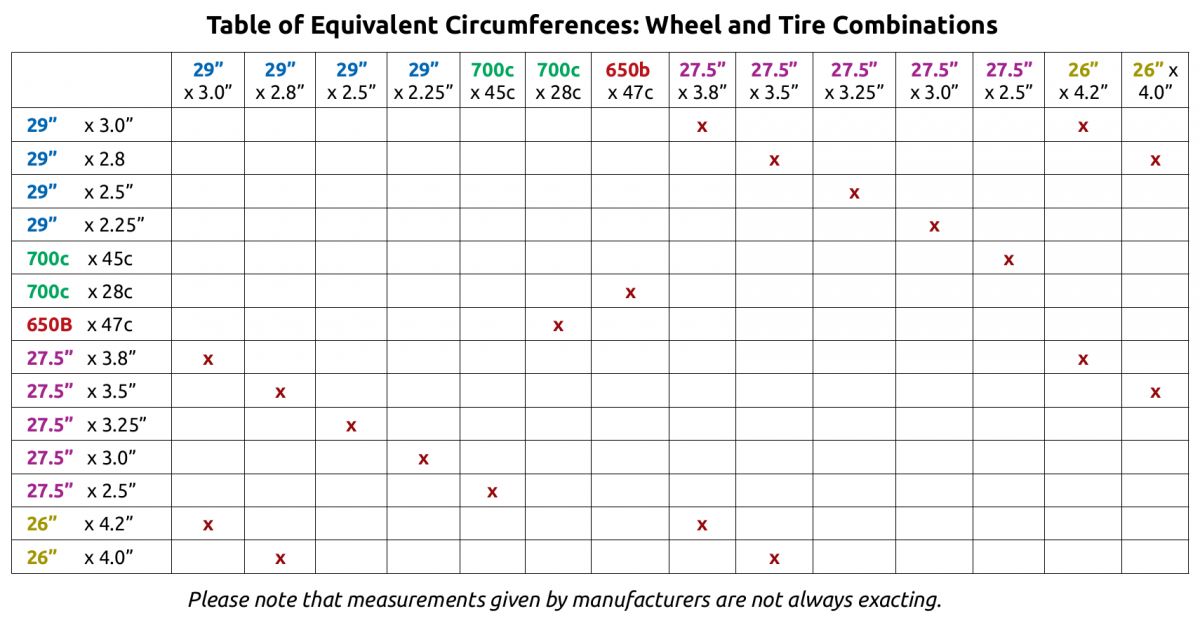 650b
650b rims are the same diameter as 27.5" rims, but are usually narrower. Thus, you'll find narrower tires in 650b sizes. 650B x 47c is popular on-road and is sold as a 'road-plus' tire. But 47c to 50c tires are also found on gravel-bred bikepacking rigs. '47c' is 47mm, '50c' is 50mm. Sizes 2" and over are described in inches. Randonneur and monstercross bikes often use 650b.
27.5"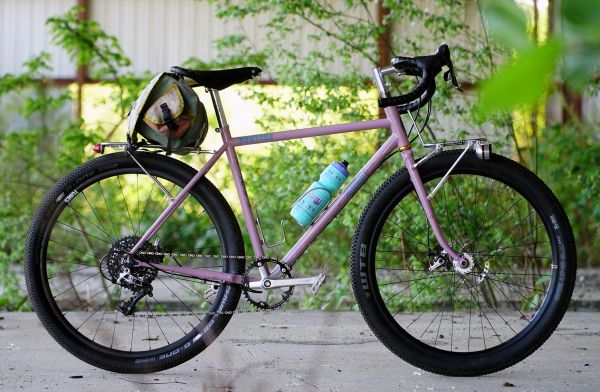 27.5" x 2.4" tires fit snugly on this rig
27.5" tires are common on various bikepacking, mountain and 'monstercross' bikes. 27.5" tires are usually 2.0" and wider. 2.1" is a very popular size, for coping with a variety of surfaces including somewhat-chunky trails. It's common to encounter widths up to 2.4", while bikes may have clearance for as much as 3.0".
27.5" fatpacking bikes are less common than 26" rigs, but may have tires between 3.25" and 4.5"!
26"
On new bikes, you'll mostly see these used on fatpacking models. For a decent wheel diameter, tires tend to start around 3.8". At their widest, they reach 5.2".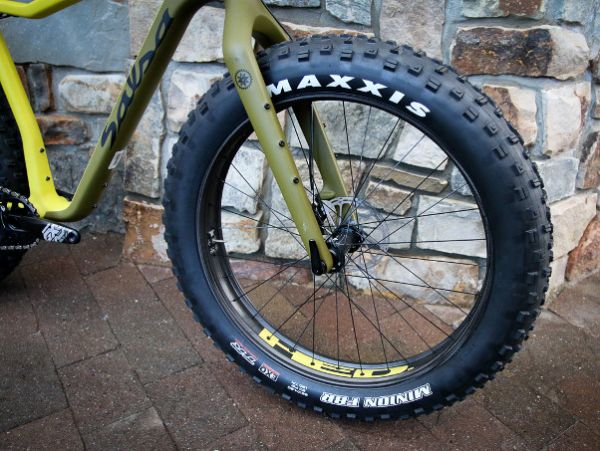 Fat tires (26" x 4.8") act as suspension
Suspension
Bikepacking bikes may or may not use suspension. Hardtails (bikes with front suspension) are not uncommon. They're great for broken roads and rocky terrain. Dual suspension bikepacking rigs also exist. These are less common, but are definitely useful for the most rugged of outings.
Keep in mind that suspension adds weight, complication and maintenance needs to a bike. This is definitely something to consider when things go awry in the boonies.
In a remote area, will it be possible to repair or find spare parts for your suspension?
These days, there are a lot of great big-volume tires that roll fast and act as ample suspension on gravel, hardpack, dirt roads and even trails. Fatbikes usually use rigid frames as plush, low-pressure tires act as a form of suspension.
Cargo Compromise
While it is possible to attach cargo and bottle cages to some suspension forks, it usually isn't an option. Additional weight on the lower legs can compromise fork function.
If you opt for full suspension, there is another massive compromise to be made. Due to the location of the rear shock, you are left with significantly less space for a frame-bag.
An aftermarket cargo solution
Rear suspension limits frame-bag space
You will find noticeable differences between suspension of differing qualities. For more detailed information, please refer to our guide to buying a new mountain bike.
Quality suspension increases the price of a new bike, with hardtails being more affordable than full-suspension options.
Bosses, Eyelets and Mounts – Oh My!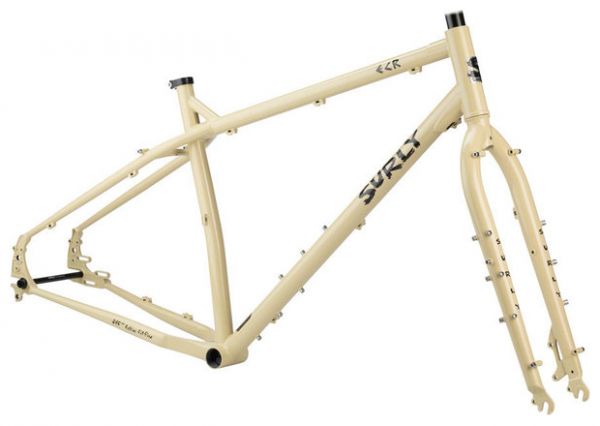 This frame is festooned with useful eyelets
Eyelets are threaded fittings that allow you to attach essential and useful accessories to your bike's frame. These mount-points are exceedingly important on touring and bikepacking bikes. Many of them are versatile and can be used to attach either bottles, frame-bags or cargo. Other eyelets serve as mount-points for fenders.
Cargo
It's useful to have mount points for cargo on both the frame and fork of your bikepacking bike.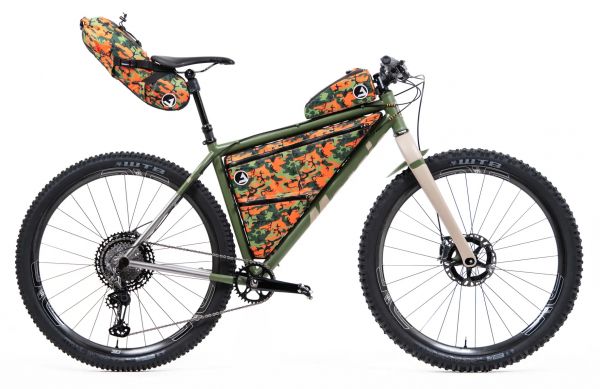 Integrated frame-bag and bento box
Frame mounts may allow you to attach integrated frame-bags, in a neat way that doesn't interfere with other attachments. This may be the case when attaching bags with straps or lacing. These fastening methods can also rub on and remove paintwork. Removing integrated frame-bags does require the removal of any bolts used to attach them.
On your fork, eyelets allow for the attachment of cargo cages or front racks.
Cargo cages can be used to store a variety of items, including waterproof, multi-purpose bags.
Front racks and panniers can be minimal in construction and weight, particularly if eyelets are provided on either side of each fork leg.

Fork eyelets can be used to mount bottle-cages, cargo-cages, front racks or a combination of these
Bottles
For longer rides, you'll want fixings for multiple bottle cages. Good travelling bikes fit three bottle cages. For some folk, two is enough. Bottle cages can be attached in many areas, but the most popular positions are; above the down-tube, on the seat-tube within the main triangle and on the underside of the down-tube. Triple bolts can allow you to attach an extra-long bottle cage and bottle.

Frames with three bottle mounts
Bottles and frame-bags compete for space in the main triangle of your bike. You'll need to prioritize your needs. There are no hard and fast rules for a bikepacking setup. There is a variety of options available to you, all of which are dependent on your bike's limitations and your personal preferences.
Some bikepackers choose to mount bottles on the front fork, near the handlebars, under the top-tube or even behind their saddle.

Innovative hydration-location solutions
Racks
Rear racks are a staple of fully-loaded touring bikes, but have become undesirable to many bikepackers. The light weight of modern camping gear has rendered them all but redundant on shorter trips. While rear racks have become the exception in the bikepacking world, you might want your new bike to have eyelets available on the seat-stays and near the rear dropout, just in case. This option expands the versatility of your bike and allows you to attach a rear rack if your needs change. Long-haul touring in remote areas can require more gear and increased self sufficiency.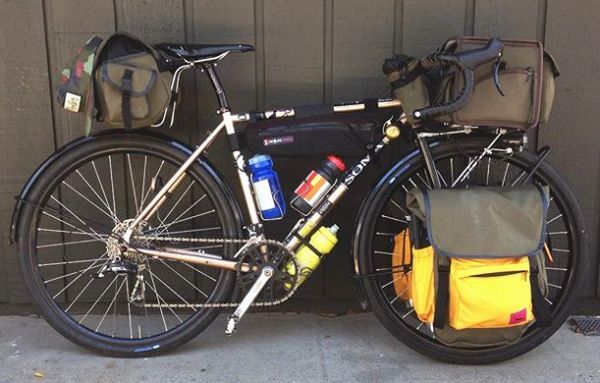 Room for full fenders, fat tires, three bottles and all the cargo
Front racks and panniers can be compact. They are still used by a number of bikepackers, as they balance out the weight of you and your frame-bags. This makes them less likely to negatively affect your bike's handling.
Fenders are another serious consideration, when it comes to all-weather riding. Your bike should come with fender eyelets front and back. A frame should have enough tire clearance to fit your preferred tire width, in addition to full-size fenders.
Good bikepacking bikes will come provisioned with eyelets for all of the attachments mentioned above.

Cargo Solutions
Handlebars
Cargo isn't just limited to racks and frame-bags. Handlebar bags and cradles can carry decent amounts of cargo, including sleeping-bags and mats. When choosing between a bike with flat, drop or swept handlebars, it's wise to consider how compatible they are with different cargo solutions.

Cargo can be strapped directly to your handlebars or via a cradle
Frame-Bags
Most frame-bags don't attach with eyelets. Leave that to the brands that supply custom-fit bolt-on bags for their own bikes. A majority of bags attach securely with straps or lacing. The popularity of frame-bags has increased as total cargo weight has reduced. New technology has reduced the weight of essential camping supplies such as tents and sleeping bags. As a result, a majority of the heavier bikepacking essentials can be stored in a frame-bag within the main triangle of your bike's frame.
Full-size frame-bag
Partial frame-bag
Full-suspension frame-bag
Unlike the positioning of cargo in panniers, frame-bags place the heaviest items centrally. Your off-road handling thanks you. Frame-bags can fill the entirety of your main triangle or they can be partial, allowing you to squeeze some bottles in there.
Saddle-Bags
This is another popular bikepacking cargo solution. Saddle-bags usually strap to the saddle rails and seatpost. They sometimes sit atop a saddle-bag rack. They're made to carry a moderate amount of cargo, with the most weight packed toward the seatpost. A saddle-bag can be found to fit almost any bike, so this needn't be a major concern in the choice of a new ride.

Saddle-bags without and with a saddle-bag rack
Budgeting
There is a huge range in prices for bikepacking bikes. At the cheapest end, a bikepacking bike is a hybrid, commuter or mountain bike that can fit wider tires and handle some off-road use. If you don't have the skrilla handy to buy a dedicated bikepacking rig, you can buy a multi-purpose bike that will accommodate cargo. It might also get you to work on weekdays.
Re-purposed rigid mountain bike
Custom Cro-Mo bikepacker
Carbon fiber fatpacker
On the other end of the price spectrum are dedicated bikepackers built from high-end steel, carbon fiber and titanium. Lightweight, expedition-ready fatbikes also don't come cheap. Money can buy a certain peace-of-mind, when your bike needs to stand up to abuse and massive loads. Especially in the wilderness. But it's important to remember that the bikepacking world is rife with expensive and alluring accessories. Unless your pockets are deep, be wary.

Choosing a Bikepacking Bike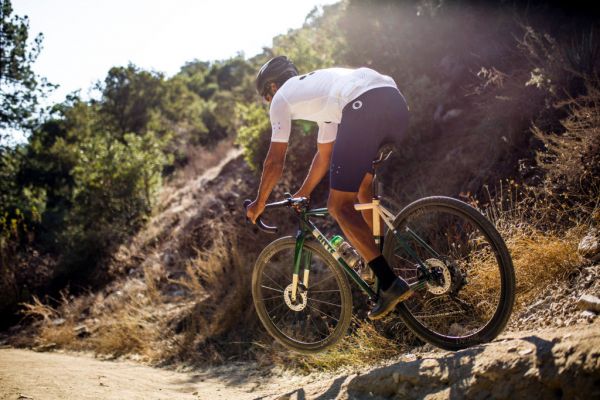 With maximum 43c tires, this rig rolls fast on gravel – but won't suit singletrack
When choosing a bikepacking steed, there are some key criteria worth considering.
Terrain
To a large extent, your intended terrain will dictate the type of bike you choose for bikepacking. Choose carefully, as a gravel bike will never survive crunchy trails. Conversely, a full-suspension fatbike will be straight overkill on hardpack dirt roads.
Gravel and Hardpack Dirt-Roads
These are usually compact, firm and mostly devoid of ruts and rocks. These bikes will suit.
Gravel – Fast. Good on-roads. More expensive. Limited tire clearance.
Touring Bikes – Sturdy and built to carry cargo. Tire clearance may be limited.
Cyclocross – Fast, four-season bikes. Limited eyelets and tire clearance.
Adventure and Monstercross – Versatile but also built to handle more rugged terrain.
Rigid Mountain Bikes – Just fine, but heavy-duty enough to tackle singletrack.
Rugged Dirt Roads
Also referred to as 'doubletrack', these trails include forest roads and soupy gravel. They call for something a little more rugged and fat-tired. Aim for these styles.
Adventure and Monstercross – Specialized for this terrain. Great cargo capacity.
Rigid Mountain Bikes – Lighter and simpler than a hardtail. Big tire clearance.
Hardtail Mountain Bikes – Heavier. Comfortable and stable on chunder.
Singletrack
Narrow trails, usually a bit raucous. Wide enough for one bike.
Rigid Mountain Bikes – Great with plus-size tires on moderate singletrack.
Adventure Bikes – Handle moderate singletrack with plus-size tires.
Hardtail Mountain Bikes – Front suspension handles consistently chunky trails.
Full-suspension – For consistently uneven and very off-road trails.
Fatbikes – Simpler. All-weather. Great for degraded trails. Heavy.
Snow, Sand, Mud, Volcanic Ash
Fatbikes – High flotation. Simple. Great cargo capacity.
Gearing
Your gearing set-up is open to personal preference. If it's a new, bikepacking-specific bike you're looking at, gearing will most-likely be fit-for-purpose.
A gravel bike will be built for lighter loads and faster speeds. Adventure bikes are made to haul big loads on varied terrain at moderate speeds.
New and complete bikes often come with multiple gearing options. Here are some basic pointers.
Drivetrains and Chainrings
1x – Single Chainring
A single chainring means no front derailleur. A 1x (pronounced "one-by") setup simplifies your drivetrain. With an 11 or 12-speed cassette, your bike may have a similar range to some drivetrains with two chainrings. However, you can achieve a wider gear range with a considered 2x setup.
11-speed (1×11)
22-speed (2×11)
18-speed (2×9)
Same bike…
2x – Double Chainring
A double-chainring drivetrain can offer extra-low gears for steep climbs. At the top end, a 2x setup might allow you to really 'stomp on it' through the flats. A 2x setup is more complicated than 1x, as the front derailleur requires maintenance, adjustment and tuning.
A number of new bikes are offered with both 1x and 2x setups.

Wheel and Tire Clearance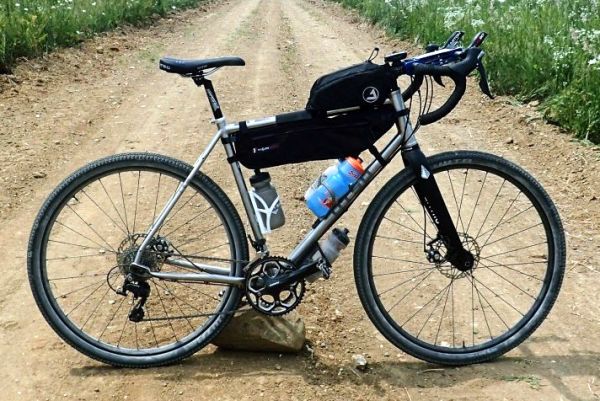 This bike has maximum clearance for either 700x50c, 650bx50c or 29×2.1 tires
Larger wheels will roll over small obstacles, debris and cracks with ease. Big wheels with large tires are both faster and more comfortable than smaller options. They are also heavier.
Gravel bikes usually have smaller tire clearance and narrower tires than adventure bikes, to save weight. The narrower tires are just fine for hardpack and gravel, where their nimble nature also comes into play.
It's wise to consider the wheel and tire combinations that your bike will allow. Some 700c cyclocross and gravel bikes may only have clearance for a maximum tire width of 35 to 43mm (35c-43c). Other bikes are more versatile. Examples include bikepacking-specific bikes that will fit:
A maximum tire size of either 700×48c or 27.5×2.0"
A maximum tire size of either 27.5×3.0" or 29×3.0"
If you'd like to experiment with different setups, the best bikepacking bike is a versatile option that works with a variety of wheel and tire combinations. A number of new bikes are available with either 650b or 700c wheels.

Tire Size
The same bike with 700c tires (left)
and 650b tires (right)
Bigger volume tires are heavier but can be run at lower pressures for more comfort. Narrower tires may decrease wheel diameters but are lighter and may be more agile. They will be less comfortable and more puncture-prone on rougher surfaces.
Smoother, file-tread tires suit gravel and hardpack. Chunky, mountain-bike tires offer more grip and bite on loose trails.
Frame Material
Frame material can radically alter the feel, weight and price of a new bike. Importantly, this choice can also mean the difference between the life and death of your frame, in the event of a critical failure. Please refer to the main section (above) for detailed information on bikepacking frames.
Suspension
As mentioned previously, suspension isn't always necessary. It adds price, complication and weight to a bike. But it can increase comfort and provide access to remote trails.
Rigid (No suspension)
Simpler, lighter and often cheaper than suspension.
Doesn't sap pedal power through suspension bob.
Handles many road and trail types.
Especially versatile with plus-size tires.
Extremely rugged in fatbike form (but heavier).
Not suited to consistently chunky and rough, technical terrain.
Room for a large frame-bag in the main triangle.
Hardtail (Front Suspension Fork)
Requires a less-attentive (and possibly less tiring) riding style on rough terrain.
More comfortable at faster speeds, on raucous chunder.
More tiring, due to weight and fork bob.
Heavier than a rigid bike.
Extra complication and maintenance than a rigid fork.
Allows room for a full-size frame-bag in the main triangle.
Full-Suspension
Handles almost any trails.
Much less room and less options for frame-bags in the main triangle.
Heavy, especially on climbs.
More complicated and difficult to repair, especially in remote areas.
Types of Bikepacking Bikes
Drop-Bar Mountain Bikes

All the fixings for intrepid adventures, from new
Build
Slackish angles with geometry designed for drop bars and with a larger main triangle.
Sturdy tubing.
Use
These bikes enable you to get down in the drops and push through some nasty doubletrack, singletrack and trails, confident in the comfort of larger tires.
Frame Material
Chromoly steel prevails. Carbon fiber, titanium and aluminum alloys also make appearances.
Wheels
29" is king. Some 27.5" drop-bar bikes come under this moniker too.
Tires and Tire Clearance
29" – 2.1" to 3.0"
27.5" – 2.1" to 3.0"
Mounts
For bikepacking; a good drop-bar mountain bike comes with all the needed eyelets for multiple bottle-cages, fenders and fork mounts.
Drivetrains and Gearing
1×11 and 1×12 drivetrains rule the roost.
Brakes
Discs, in both mechanical and hydraulic flavors.
Strengths
Efficiency – Rigid, often compact and fast for a mountain bike.
Comfort – Custom geometry for drop-bar off-road goodness.
Robustness – Tough enough for singletrack.
Compromise on…
Weight – Not as svelte as a 650b Gravel or Monstercross rig.
Intrepidity – Not quite as adventurous as fatbikes and full-suspension.
Monstercross
Unloaded, a real all-rounder
Loaded up, an off-road beast
Build
In structure, they resemble more-upright mountain bikes from the 1990s, but with drop-bars. Slightly sloping top-tubes and 68mm bottom-brackets are common.
Use
These are versatile bikes that handle gravel, hardpack, asphalt and moderate singletrack with aplomb.
Frame Material
Chromoly steel predominates here.
Wheels
700c
650b
26" on adaptations of older bikes.
Tires and Tire Clearance
700c – 38c to 45c
650b – 47c or thereabouts
27.5" – 2.0" to 2.4"
Mounts
New monstercross bikes should have all the eyelets needed for multiple bottles, racks, fenders and fork-mounted cargo attachments.
Drivetrains and Gearing
1×11 with a wide-range cassette is common. 2x drivetrains are also popular, allowing a wide range for mountainous travails.
Brakes
Discs are ubiquitous. Mechanical is the option for D.I.Y. repairs. Cantilever rim-brakes for the romantic cyclocross aficionado.
Strengths
Versatility – These rigs can be your do-it-all bike. They commute well.
Purpose-Built – Monstercross bikes will come ready-built for most bikepackers.
Compromise on…
Intrepidity – You can't smash full-on singletrack with some of the narrower-tired examples.
Adventure Bikes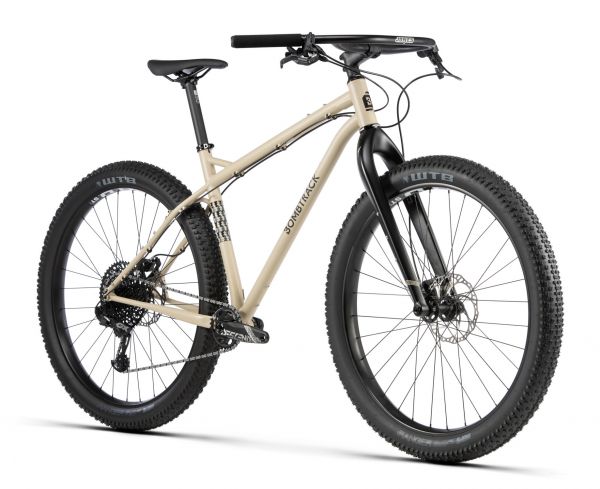 Ready-to-go, around the world,
on the back-roads
Build
Adventure bikes are almost always ready-built for bikepacking and touring. Frames are sturdy with more standover than a road bike. Geometry varies and can be comparable to that of touring bikes or mountain bikes.
Use
Adventure! They are intended for cargo-equipped, off-road, long-distance journeys.
Frame Material
Resilient, flexible and repairable chromoly steel is popular. Aluminum, carbon fiber and titanium also make appearances.
Wheels
Both 29" and 27.5".
Tires and Tire Clearance
29" – 2.2" – 2.6"
27.5" – 2.2" – 3.0"
Mounts
All the eyelets needed for racks, bottles, cargo and fenders.
Drivetrains and Gearing
Both 1x and 2x setups are common. Low gearing is a staple of new models and is necessary for loaded, off-road climbs. Some models use frames that are compatible with Rohloff internal hubs and carbon belt drives.
Brakes
Mechanical disc brakes are popular, for their ease of repair in remote areas.
Strengths
Built to Bikepack – These rigs are made for this.
Resilient – Adventure bikes are tough.
Weight – Optimal weight makes long distances easier.
Simplicity – Without suspension, things are simple.
Compromise on…
Intrepidity – You won't be able to go off-trail without fat tires or suspension.
Speed – But who's racing through the wilderness?
Gravel and All-Road Bikes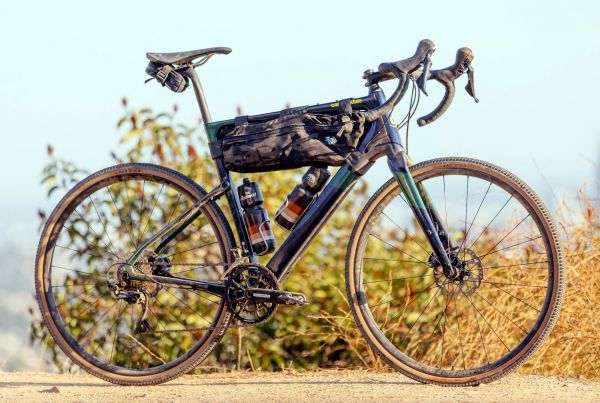 The speed-demon's choice, at least on hardpack and gravel
Build
Gravel and All-Road bikes share some of their DNA with road bikes. Their angles are slacker, to allow for better handling on loose surfaces. Standover is increased. Most models use drop handlebars. Frames are more robust than road bikes but less so than adventure and mountain bikes.
Use
These bikes are designed to be agile and fast on gravel and hardpack. With slick tires, they can double as a capable on-road bike.
Frame Material
Frames are regularly aluminum, not uncommonly carbon and sometimes chromoly steel.
Wheels
Many models use 700c wheels. 650B wheels are also used and are increasing in popularity. Many models are compatible with either wheel size. A few bikes accommodate 29" rims.
Tires and Tire Clearance
700c – 35c to 50c
650b – 50c to 52c
27.5" – 2.1" to 2.4"
29" – 2.1" to 2.4" (This brings bikes closer to 'Adventure Bike' sizes)
Mounts
Many All-Road bikes come kit with all the eyelets you could want. Some gravel bikes do not have fork mounts for cargo or bottles.
Drivetrains and Gearing
Single chainring drivetrains are the norm. Some gravel bikes are geared more for speed than fully-loaded hill climbs.
Brakes
Disc brakes are the standard. High-end gravel bikes will often come with hydraulic disc brakes. These offer superior performance but are harder to maintain and repair in remote areas.
Strengths
Speed -Gravel bikes are racy on hardpack and, well… gravel.
Versatility – With slick tires, gravel bikes still roll fast on asphalt.
Light – Nimble frames are built minimally.
Compromise on
Capability – Most gravel bikes are not built to tackle singletrack or rutted trails.
Mounts – A number of gravel bikes have less cargo mounts than other rigs.
Price – At the high end, they rival performance road bikes for price.
'Plus' Bikes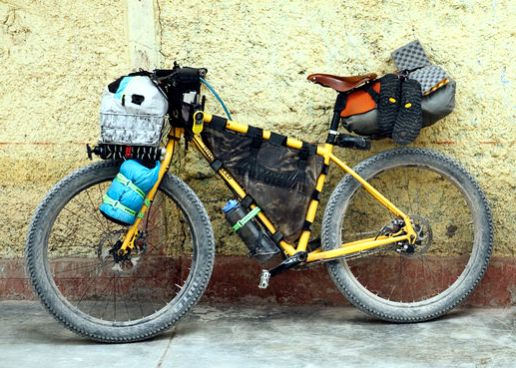 Plus-size tires are more than capable
Build
With either flat or drop handlebars, these bikes use a rigid fork and mid-fat tires to create a happy compromise between efficiency and off-road versatility.
Use
Plus bikes are more than capable on long rides and rough singletrack, running high-volume tires at lower pressures.
Frame Material
Chromoly steel is most popular. Titanium and carbon fiber examples are also easy to find. Aluminum, less so.
Wheels
Often 29", sometimes 27.5".
Tires and Tire Clearance
27.5" – 2.75" to 3.25" (between standard and 'fat' mountain bike tires)
29" – 2.75" to 3.8"
Mounts
All the mounts and eyelets for loaded bikepacking.
Drivetrains and Gearing
1×11 / 1×12 drivetrains with wide-range cassettes are popular.
Brakes
Discs, mechanical or hydraulic.
Strengths
Rugged – With ample rubber to handle rough trails.
Efficient – With rigid forks.
Compromise on…
Weight – Chromoly models are a bit heavier than Monstercross and Gravel bikes.
Price – Affordable models are available but many models are boutique.
Speed – On light gravel and hardpack.
Fatpacking Bikes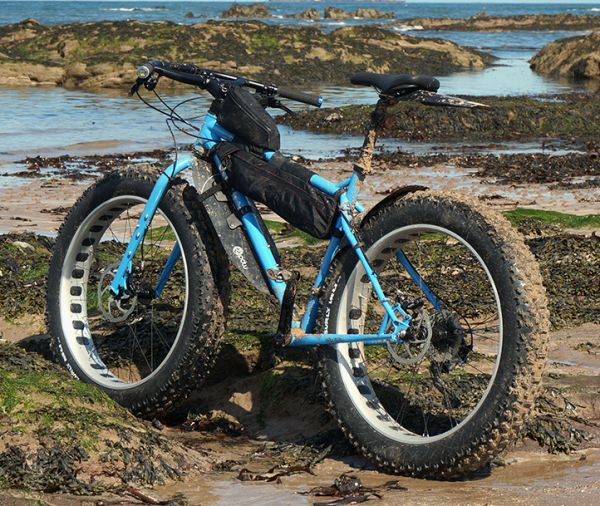 Fat tires can take you off-trail
Build
Sturdy tubing, massive tire clearance. Classic, slack mountain-bike angles.
Use
A fatbike will take you where no other bike has been before; snow, mud, sand and raucous trails. But not at blazing speeds.
Frame Material
Chromoly steel and aluminum are common and affordable. At the high-price and low-weight end of the scale are carbon fiber and titanium.
Wheels
Most wheels are 26". With massive tires, they have a similar overall diameter to 29" and 27.5" off-road bikes that use mid and plus-size tires. Rims feature weight-saving cut-out holes and are very wide (60mm to 100mm). They're made from either aluminum or carbon fiber.
Tires and Tire Clearance
26" – 3.8" to 5.2"
27.5" – 3.25" to 4.5"
Suspension
Most fatbikes are rigid (no suspension). They're also available as hardtails (front suspension fork) and in full-suspension models.
Mounts
Look for an 'expedition' style fatbike. These will have numerous fork mounts, bottle mounts and eyelets for fenders.
Drivetrains and Gearing
While many new fatbikes are '1x' setups, a 2x rig will make it easier to schlep that phat rubber over mountain passes and through rivers of mud.
Brakes
Hydraulic disc brakes are popular. They help to stop the immense rolling weight of these bikes. Mechanical discs are also an option. Rim-brakes are out of the question. They can't reach around these tires.
Strengths
Go-Anywhere – They can take you to places that are inaccessible on other bikes.
Comfort – Low-pressure plushness makes the fatbike the 'mattress of the trails'.
Simplicity – Full-suspension is a more complex option for off-trail riding.
Compromise on…
Weight – No doubting that these are Cadillacs, not Ferraris.
Cost – Huge tires and tubes ask high prices.
Brakes – Hydraulic disc brakes are less D.I.Y. in remote areas.
Full-Suspension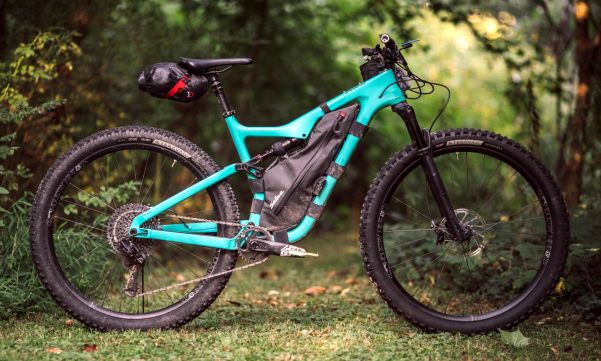 You can still squeeze a frame-bag in there!
Build
Built tough for rugged adventuring. Front suspension forks measure between 100mm and 140mm. Rear shocks range from 95mm to 120mm.
Use
A full suspension setup grants access to the chunkiest trails, allowing you to ride at moderate speeds with confidence.
Frame Material
Aluminum is common and most affordable. Carbon fiber options fetch higher prices.
Wheels
Almost all bikes use 29" and 27.5" wheels. Full-suspension fatbikes may use 26" wheels.
Tires and Tire Clearance
29" – 2.35" to 3.25"
27.5" – 2.25" to 3.0"
26" – 3.8"
Mounts
Many full-suspension bikes are not designed with bikepacking in mind. While you may find mounts for bottles and fenders, suspension forks won't have eyelets.
Drivetrains and Gearing
Most drivetrains are '1x', with a 30-32 tooth chainring. Double chainrings do exist and can make hauling a heavy bike easier uphills. 11 and 12 speed cassettes offer wide ranges in the region of 10-42, 10-50, 11-42 and 11-46.
Brakes
Disc brakes. Regularly hydraulic.
Strengths
Capability – Shocks give you the confidence to go very off-road.
Confidence – You can ride rugged terrain without 'tip-toeing' your bike.
Compromise on…
Weight – On long-hauls, all that tech can be tiring.
Mounts – A lack of fork mounts limits cargo options.
Cargo – A rear shock limits frame-bag space in the main triangle.
Complication – Extra parts means extra maintenance and more parts sourcing.
Direct Sales vs. Local Bike Shop

Buying a bike online is a world apart from the experience of choosing a bike from your local bike shop. The benefit of a direct sale from the manufacturer, is that you aren't paying for the middleman. If you're buying a bike from an online retailer, they don't have to pay for rent of premises and they don't pay an experienced, professional mechanic to assemble and tune your bike. For these reasons, you pay less.
Good online bike retailers will pre-assemble as much as 80% to 95% of your bike before shipping and will provide the tools required for the remaining adjustments.
Your local bike shop (or 'L.B.S.') will assemble, tune and fit your bike for you before you ride away. They will usually offer you a warranty deal and a minor servicing for free within the first few weeks of purchase.
Whatever route you choose, there are benefits and drawbacks.
Into the Wild!
Bikepacking is a relatively new and evolving pastime. Enthusiasts approach it from many different angles, using a range of bikes and equipment.
Because there are no hard-and-fast standards, it can seem overwhelming at first. But it doesn't have to be expensive and it's definitely meant to be fun.
Your new bike doesn't have to be a cutting-edge, purpose-built machine. It might even be a daily commuter, dressed up with frame-bags, cargo cages and some extra room for water bottles. It might be a mountain bike.
Work out what suits your needs, choose wisely and ride on!
Further Reading and Useful Links
Have questions about which bike to choose? Ask in our Forum.
Want to win a bike instead of buying one? See our bike Giveaway.
Find out more about BikeRide.
Sources
Bike Categories