The BikeRide Guide to Choosing the Best Road Bike
by Owen Jesse – updated August 16th, 2022

Contents:
What Makes a Road Bike?
Although technologies have rapidly advanced, road bikes have been ridden in a similar way for almost a century and a half. Road cycling is confined to even, asphalt roads that cater to consistently high speeds. This doesn't mean that riders are limited to urban environments. This is a sport that traverses impressive outdoor landscapes while embracing a strong social aspect and competitive spirit. These factors are reflected in the attributes of the modern road bike.
While there are different types of road bikes, they all share distinguishing features. All road bikes place the rider in the characteristically 'arched' posture that caters to a low-profile and athletic riding position. It's a style of riding that increases aerodynamics and strongly engages certain muscle groups, including hamstrings and quadriceps. So, how is the bike itself contributing to this ride experience?
Drop Bars are a fixture on road bikes, placing the rider in an 'athletic position' on descents and fast-flats. They also allow a range of hand positions and postures; depending on whether the rider is tackling climbs, descents or even terrain.

Only road bikes (left) are designed for the appropriate posture for high speeds and racing
Tires are skinnier on road bikes than for most other bike types. Traditionally, they measured 23-25mm in circumference, but wider-volume tires are becoming more common. Race bike tires can now be as wide as 28mm, with some endurance bike tires topping out between 30 and 33mm.
Generally, a road bike has no suspension, as low weights are paramount. Also, the native environment of the road bike is smooth asphalt, which requires very little compensation from the bike. The small amount of 'suspension' required is usually incorporated into the forgiveness of frame material or compensated for by wider volume tires.
However, recent trends suggest that this situation is changing. A few new models of endurance bikes are incorporating subtle suspension mechanisms. These allow a wider cross-section of cyclists to ride for longer, on more uneven roads.
Gears on a road bike are plentiful and cover a wide range. The most common arrangement consists of two chainrings running eleven or twelve cogs on a rear cassette, giving 22 or 24 'speeds' in all. The ratios of these gears will differ between endurance and road bikes but will be optimized for climbing, descending, and achieving high speeds.
There are other attributes that are universally pursued in road bike design. One of the most desirable is a low overall weight, which drops as prices rise.
Stiffness, in the form of minimal lateral flex, contributes to the conservation of pedaling energy. Frame-builders seek to couple this with 'vertical compliance', which refers to a desirable level of shock absorbance and vertical forgiveness. In layperson's terms, this means that the bike will hopefully absorb small bumps and imperfections in the road's surface, rather than vibrating up through the rider's body.
Minimalism goes hand-in-hand with the need to reduce weight. For this reason, you'll notice that serious road bikes will not have eyelets for racks and fenders. They probably won't have an orange flag or spokey-dokes, either.
Some features are common on road bikes, but not universal. Aerodynamic tube shapes are common on race bikes.
Integrated componentry can be found on many weight-shaving climbing bikes. These parts include the seatpost, stem and handlebar. The idea of consolidating parts that are usually separate, is to reduce weight and to increase aerodynamics and stiffness. Aesthetically, these parts look pretty darn cool too.

Race vs. Endurance

The differences between an endurance bike (left) and an aero Race bike (right) are visible
Most road bikes fall into one of two categories; 'endurance' or 'race'. There are significant differences in the geometry of these types.
Endurance bikes (also known by the name 'Sportive'), are designed with distance-riding and long-term comfort in mind. As such, these frames are more relaxed than race bikes, placing the rider in a more upright position that contributes toward stability.
On the other hand, Race bikes aim for aerodynamic design complemented by aggressive geometry for fast handling. The rider's torso is lowered over the bike to decrease drag. Speed is the goal here.

Choices, Choices
The search for a road bike needn't be daunting. There are a few considerations to help you narrow down your selection. Realistically, what kind of riding do you think you'll be doing in the future? What level are you at now?
If you aren't really going to achieve blistering speeds, is it necessary to invest in a high-cost bike that employs advanced aerodynamic design? These rigs are built to shave off every second possible. If you live in a flat area, maybe a race bike is more suitable, as higher speeds will be more attainable.
If your local area or intended terrain is mountainous, a lightweight climbing machine may be more your speed.
Budgetary considerations are another restricting factor that will make your choice easier. If you can afford any bike, then ride-style and comfort will be of utmost concern. But if you only want a faster commute to work, while reserving the possibility of a weekend jaunt – maybe a lower price-point is plausible.
With your needs – and these factors – in mind… Let the odyssey begin!

Types of Road Bike
Most road bikes fall into the two main categories of 'endurance' and 'race'. Either you're going full-pelt or long-distance. But there are specialized climbing rigs and flat-bar road bikes to consider as well. Let's take a closer look at the main types:
Aero
All road bikes aim to be lightweight. But for aero bikes, the minimization of drag is a higher priority than weight. Large, flat tubes are a characteristic of these bikes, with the focus being trained on speed.
In line with this aerodynamic obsession, wheels have rims that are deep, flat and (preferably) made of carbon. Higher-end models have undergone many hours of testing in wind-tunnels, in order to shave off any and every millisecond possible. Comfort is not a top priority.
Steering is sharp and handling is fast. Bikes are stiff, due to flatter aero tubing. The rider is stretched out, long and low, across the length of the bike. Some competitive female riders have suggested that increased flexibility allows women an advantage in adopting this aggressive riding position.
Sometimes, parts that would be otherwise separate on most bikes, are integrated together.
Brake and gear cables are usually internally routed through the frame, or at least recessed into it to reduce wind resistance. This has the extra perk of improving aesthetics.
In short, aero bikes suit speed-freaks; racers and sprinters. Be wary that the image of a tucked-in sprinter is alluring, but unless this is your main aim, these bikes might be unsuitable or uncomfortable riding over long distances.
Endurance
Endurance bikes are more focused on comfort than their racing counterparts. Because they're used over distances, they are designed with a more relaxed geometry that gives the rider a relatively upright stance. As lightning-fast handling is less important, the endurance bike is instead, honed toward increased stability.
In recent years, disc brakes have become the standard. Another new development is the emergence of vibration damping technologies, which will be discussed in more detail later in this article.
As tire volumes have increased, so have frame clearances for this extra rubber. Modern tire sizes are reaching 30-33mm in diameter.
Compact drivetrains are the norm for endurance – and will be detailed below. While drivetrains differ from aero and lightweight bikes, groupsets, wheelsets and materials remain similar.
While most entry-level road bikes can be placed in the endurance camp, not all high-end bikes are aero and lightweight climbers. Endurance bikes also have their place in the top-tier of high-priced machines.
Climbing
These bikes aim for the most efficient approach to climbing hills. This results in the pursuit of the lowest weight possible. While this might result in a bike that feels incredibly fast, they do not outpace a precision aero bike. Frame tubes on an aero bike are usually larger than those on climbing rigs, which adds some weight.
For climbing bikes, the hill is a bigger enemy than the wind. For this reason, climbing bikes focus on low weight and stiffness. A stiff bike is needed to ensure that pedaling effort isn't wasted through lateral flex – and that all possible energy is relayed into forward motion when tackling ascents.
Ideally, they are nimble, lively and smooth. A climbing bike will likely be more compliant than an aero bike, as tubes are rounder and better at absorbing road vibration.
Other characteristics exclusive to climbing bikes, include shorter headtubes and particularly short chainstays and wheelbases. These factors combine to give the feeling of more responsiveness when standing or leaning with one's weight further over the front wheel.
Compact drivetrains are more common on a climbing bike, where a compact 50-34 tooth chainring set-up is the standard. This means the bike has two chainrings; the larger sports 50 teeth while the smaller has 34.
This is often combined with a cassette that features cogs with a spread of 11 to 34 teeth. A drivetrain with this kind of gearing provides easier-pedaling gears that are more suited to climbing.
Pure climbing and lightweight bikes become available around $3000 to $5000, depending on the manufacturer. At this price point, road bikes leave the 'all-rounder' field and start to branch off into their specialized subcategories; aerodynamic, lightweight, and endurance.
Of course, there will be high-end climbing models that ask prices far in excess of this. You can pay as much as your heart desires.
Lightweight Bikes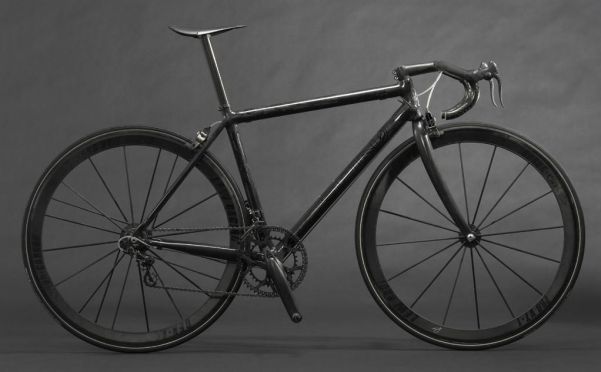 This record-breaker weighs in at 5.95lbs
While not all lightweight bikes are specifically tuned for climbing, they share many similar attributes. Some all-round racing bikes might be lightweight, as are those used by professional peloton riders.
Some ultra-lightweight and featherweight bikes are actually too light to be legally used in competition. These machines are often passion projects, built and used by members of the public. As such, they are not restricted to the minimum weight of 6.8kg (15lbs), as recognized by the Union Cycliste International.
The Union Cycliste International is the international cycling federation that sets and governs regulations. Manufacturers are building production bikes outside of competition and achieving weights below 11lbs. Private enthusiasts have successfully completed construction of a sub-6lb bike.
Flat-Bar Road Bikes
There isn't a huge difference between a standard road bike and a true flat-bar road bike. Gear shifting and the position of brake levers are clearly different. There are also limitations on the stances and hand-positions available to the rider.
The main draw of these bikes is the desire for an upright and visible stance without any compromise in weight or performance. A majority of users are commuters who wish to stay alert and seen in traffic, while maintaining high speeds and agile handling.

Frames
Road bike frames are predominately made from aluminum alloys or carbon fiber. High-end steels and titanium are seen in boutique and bespoke bicycles. Rarer materials include magnesium, bamboo and even hardwoods.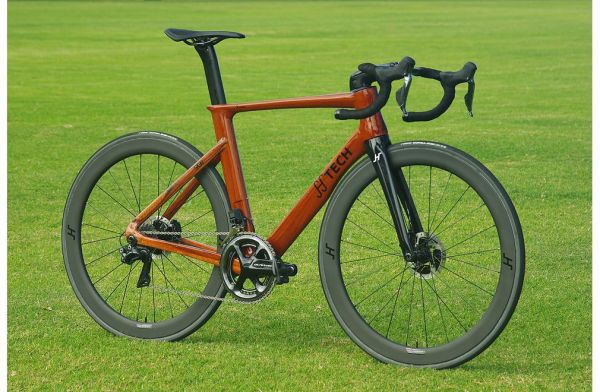 The Htech Svelter is built from Jarrah hardwood
Entry-level road bikes are almost exclusively aluminum. As prices increase, the quality of aluminum alloys improves and entry-level carbon frames become affordable. At even higher price-points; carbon fiber improves in quality, high-end steel enters the fray. Across all of these frame materials, there are general attributes that change with cost.
As prices go up, weight goes down. Frames become stiffer and more durable. As forks are often made of a different, lighter material than the frame, this material should also improve with higher costs.
Generalizations are best avoided, in reference to the qualities of particular materials. While it can be said that aluminum transfers more vibration than carbon fiber, it's also true that there is a range of aluminum alloys used in frame-building. These frames are also built using a range of methods, each with its own qualities.
The same can be said of carbon fiber and steel. There are a multiplicity of construction methods used to make carbon tubing – as there are also many different steel 'recipes'. Each of these methods, alloys, and treatments possess their own qualities, strengths, and weaknesses.
Carbon Fiber
A high 'stiffness to weight ratio' is one of the qualities most sought-after by frame-builders. Carbon fiber presents the best example of this. At professional levels, it is ubiquitous. It's strong, stiff and light. It can also be fine-tuned using incremental adjustments in the construction process.
Frame shapes are not restricted to straight or bent lengths of tubing. Unorthodox shaping is also unlikely to affect resilience or durability, as compared to other materials.
This malleability also allows for increased aerodynamic shaping, as frames can be molded around wheels or components seamlessly integrated.
Due to its tendency toward stiffness and ability to be aerodynamically shaped, carbon fiber is favored by racers and sprinters.
At the lowest possible price bracket for road bikes; from $650 to $1400, both aluminum and carbon fiber frames are available. However, it's likely that an aluminum frame will present better value for money than basic carbon.
Carbon fiber bikes can usually be found for prices above $1400. At over $2000, it accounts for a majority of frames sold.
Above $2800, the quality of carbon fiber improves markedly. You'll find that some of the best road bikes available will employ specially engineered types of carbon. This includes Cannondale's 'Ballistec' technology and EPS (Expandable Polystyrene System), as used on Rondo's HVRT.
One downside to carbon fiber is the fact that, in the rare event that it should crack, repairers are scarce and charge high prices.
Aluminum Alloys
Most road cyclists enter the sport with a bike made from some form of Aluminum alloy. Because it is easier to work and form, it's offered at lower prices and is ideal for the budget-conscious. There is a range of aluminum alloys used for frames – and these vary in quality and performance.
It's often less forgiving than carbon fiber or steel. For this reason, it's regularly coupled with a carbon fiber fork and possibly seatpost, to increase compliance.
Under $650, a dirt-cheap 'road bike' will be made from aluminum or low-quality steel. The fork may also be aluminum, or carbon fiber with an aluminum steerer.
At entry-level, between $650 and $1400, it presents a more favorable option than basic carbon fiber. Compared to a carbon fiber bike at the same price, an aluminum frame will be coupled with superior components. Like carbon fiber, it is lightweight and stiff.
At $1400 to $2800, expect to see a high-end aluminum frame with a carbon fiber fork. A disadvantage of aluminum is that it can crack – and when it does – it's often considered unfeasibly expensive to repair.
Titanium
Titanium is a rarity in the road bike world, but that doesn't mean it doesn't have its own allure. It's durable, resistant to corrosion and light. That's why it's popular in the aerospace industry.
One of the downsides of titanium is that it's rarer than steel, as a raw material. It's also difficult to work and shape. This ultimately gives it a high price that relegates it to high-end custom frames and boutique builders.
Steel
Steel has been the mainstay of bicycle frame construction since the 1800s. It is affordable and easy to source. There is a multitude of tubing types available that allow the frame-builder to customize the feel and ride of the bike. This may cause some confusion as to the quality and weight of this material.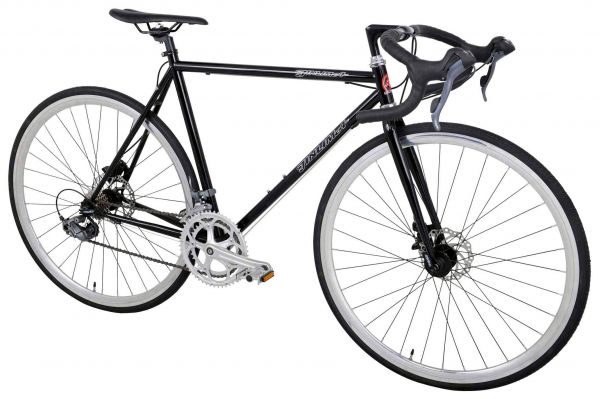 A low-cost Hi-Tensile 'road' bicycle
Low-end frames are usually constructed from 'Hi-Tensile' or 'Hi-Ten' steel. This material does not benefit from the qualities of additional alloys. It is the cheapest, heaviest and weakest type of steel frame. If you see a 'road bike' for sale at a price that seems too good to be true (roughly $650 and under), it's most likely 'Hi-Ten'.
'Chromoly' refers to a type of steel that is alloyed with chromium and molybdenum to decrease weight and increase strength. It is the most common type of steel used on higher quality and bespoke bikes. Some manufacturers will attribute numbers to tubing types (ie 725, 853) that indicate heat treatment.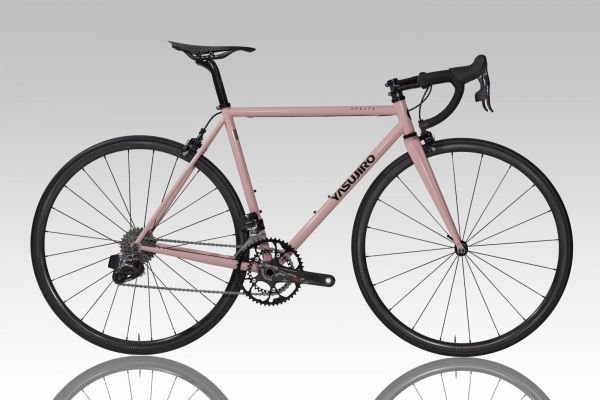 A high-quality, lightweight chromoly steel bike
It's important to understand the difference between the two most common steel types. Hi-Ten will be seen on bikes that are too heavy to be ridden in a racing or performance capacity.
Chromoly frames, while heavier than carbon fiber, are resilient and forgiving. Bespoke frames may cost as much as $5000 or more.
High-end steels are relatively expensive and easier to work or join by hand. They are also heavier than carbon fiber and many aluminum frames. As such, it is no longer the dominant material used for road bikes. Even so, it offers desirable comfort, aesthetics, and resilience. It will deform before failing and is repairable. For these reasons, handcrafted steel retains a strong following.

Components
Road bike components are highly specialized. They are intended to be light and precise. These components have been refined over the last 150 years, during road cycling's existence as an organised sport.

Drivetrains
A 'groupset' consists of the brakes and drivetrain of a bike. The 'drivetrain' is made up of cranks, chainrings, a chain, the cassette, derailleurs, and shifters.
Most road bikes have a similar drivetrain, using two chainrings on a front derailleur. By chain, these drive 11 cogs on a rear cassette that is attached to the hub of the rear wheel.
For bikes under $1300, the number of cogs may decrease to 10, 9 or 8. This results in fewer available speeds and larger gaps between them. Shifting will be clunkier than on an 11-cog cassette and will affect the rider's cadence.
When it comes to brand names, there are three companies that represent a majority of quality drivetrains on road bikes. These are Shimano, SRAM, and Campagnolo. Shimano is found on bikes at all price points, while SRAM is found on mid to high-range groupsets. Campagnolo is pricier and found on high-end bikes.
Chainrings
Most commonly, modern road bikes have two chainrings.
On older road bike models, triple chainrings were more common. While these provide ample gears for climbing, they increase weight and feature duplicated ratios. They are found on new bikes at the heavier, lower-end of the road bike market.
Increasingly, single chainring drivetrains (often written as '1x'), are appearing on road bikes. With the emergence of 12 and even 13-cog cassettes, the range offered is increased. Meanwhile, weight and complication is shed by jettisoning the front derailleur.


Single (1x), Double (2x) and Triple (3x) chainrings.
Drivetrains are often supplied as part of a complete groupset. As the price of a drivetrain increases, so does that drivetrain's efficiency, durability, and shifting performance. Concurrently, weight drops.
The quality of a drivetrain is reflected in the material that composes its parts. Entry-level groupsets are mostly low-grade aluminum and steel. This moves up to higher-grade alloys at mid-range and the highest-grade alloys, along with titanium and carbon fiber at the highest price points.
Gears
When we talk of 'gearing', we are referring to the ratios provided by the sizes of specified chainrings and cassettes. Depending on the intended purpose and sub-category of the road bike, gearing ratios will vary.
Two chainrings are the current norm on road bikes. The common original specification consisted of 10 speeds, gained from two chainrings and a 5-cog cassette (2×5). This has evolved toward a double chainring running 9 to 12 cogs. The most prevalent setup is 2×11.
Cranksets
When buying a road bike, you may well come across mention of 'semi-compact', 'compact', or 'standard' cranksets. The 'crankset' refers to the combination of the chainrings and cranks. The above terms refer to the sizes of chainrings, as they are specified with one another and certain cassettes. 'Chainset' is the British nomenclature. All of these cranksets use two chainrings.
A standard crankset consists of a large 53-tooth chainring and a smaller 39-tooth chainring. This offers larger gears for higher speeds and is usually used by racers and professional riders.
Compact cranksets are usually made up of a large 50 tooth and smaller 34 tooth chainring. This provides easier pedaling ratios and can assist with climbing ability.
Semi-compact cranksets are increasing in popularity. They still offer a wide range of gears but rely more on the rider's ability on climbs. This set-up is made of a large 52-tooth chainring coupled with a smaller 36-tooth.
Single chainrings have become the standard on mountain bikes in the last decade. This popularity first spread to gravel and cyclocross bikes – and is now being seen on road bikes. Advantages appear in the form of weight-shedding and simplicity. The front derailleur is done away with.
As technologies advance, cassettes with a greater number of cogs have been made available. By increasing rear cogs to 12 and even 13, the range offered is similar to that found on systems with double chainrings.
At present, most affordable 1x drivetrains use 11 or 12 cogs and will have larger jumps between gears than on a 2x system. Technology keeps progressing, however. A 1×13 groupset has just come to market but requires a specialized hub. The system is sold as a complete wheelset, between $2800 and $4900.
The triple chainring crankset is all but dead on the modern road bike. It is found on heavy and cheap budget models, using remnant technology and stock. It's mainly used for touring and recreation. The standard setup consists of a 50-tooth large, 39-tooth medium, and 30 tooth small chainring.
Cassettes
When you are looking at the specifications of a new road bike, under the category 'cassette' or 'sprocket', there will be a description akin to '11-28t' or '11-30t'. On an '11-30t' cassette, the smallest cog features 11 teeth. The largest has 30.
10 Speed Cassette
11 Speed Cassette
On 2×11 drivetrains, the smallest cog often has 11 teeth. Depending on what the road bike is used for, the largest cog will have 25 to 34 teeth. 11-28t cassettes are abundant on race bikes. On an endurance bike, a larger cog with more teeth is more likely. '11-34t' is common.
12 Speed Cassette
13 Speed Cassette
Ideally, the range of cogs on a cassette will offer a spread that caters to a smooth transition across gears. Laterally, the chain has to move further when there is a bigger difference between the smallest and largest cogs. This may reduce the rider's cadence (consistent pedaling speed) when changing gears.
For most applications besides racing, smaller chainrings are combined with larger-ratio cassettes to provide a greater spread of gears. For racing, chainrings are relatively larger while the cassette ratio is smaller. This allows for higher gears for faster riding and achieving top speeds.
In general, endurance bikes have larger cassette cogs to reduce the effort required to climb hills. Race bikes may have smaller cogs that combine with a larger chainring to achieve higher top speeds.
Smaller chainrings feature on 'compact' cranksets and require less pedaling effort. Larger chainrings require more effort to propel and allow cyclists to attain higher speeds.
Price Points
At the dirt-cheap end of the scale, 'road bikes' under $650 will often have a double or triple-chainring and a 7, 8, or 9-speed cassette. This provides 14, 16, 18, 21, 24, or 27 gears offering either plentiful or widely spaced pedaling ratios.
Moving to the $1500 – $3000 price range, most bikes will likely have a double chainring and an 11-speed cassette. This is written as '2×11'.
From $3000 to $5000, most drivetrains are 2×11 or 2×12 and will feature enhanced shifting capabilities. At this price, electronic shifting becomes available.

Over $5000, shifting is precise and electronic systems are commonplace.

Brakes
Brakes on road bikes are one of two types; disc brakes or rim brakes.
Rim Brakes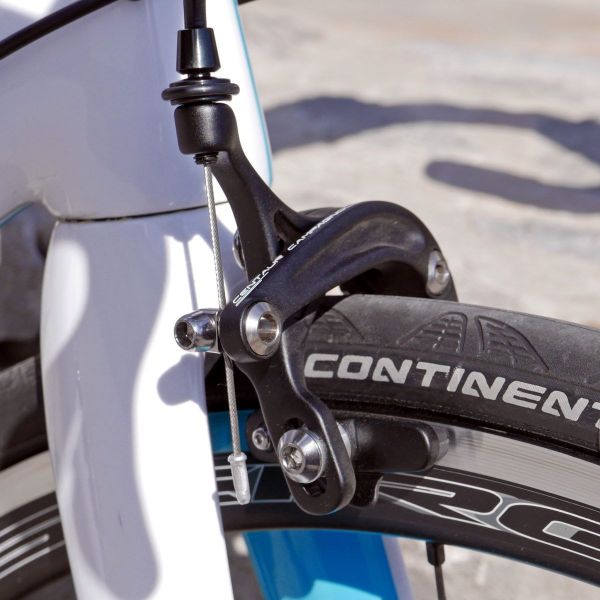 Side-pull caliper rim brake
Rim brakes were the original standard on road bikes. Until very recently, they have remained so. The style of rim brakes used on road bikes are 'caliper brakes'.
Rim brakes work by squeezing against a prepared surface on the outer edge of the rim. The 'braking surface' is prepared by being machined or textured to increase traction and adherence.
One of the advantages of rim brakes is that they are easy to maintain and adjust without professional assistance. High-end rim brakes are also unobtrusive and lightweight. On the downside, the stopping power of caliper brakes doesn't come close to that of discs, especially in wet weather.
On bikes under $650, cheap and heavy rim brakes are the only choice. However, there are still high-performance rim brakes available on high-end bikes.
Until very recently, caliper brakes were the universal choice for race bikes. But this is changing fast – as technology changes to allow for the move to…
Disc Brakes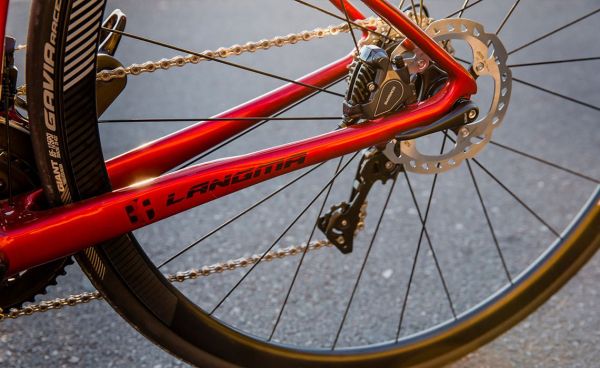 Road-specific Disc Brakes
While disc brakes have already found purchase as the standard amongst mountain bikers, numerous concerns left them relegated to the off-road world… until very recently.
Initially, road cyclists were wary of disc brakes, as their sudden stopping power delivered a somewhat harsher ride. In addition, they were heavier than lightweight caliper brakes, produced noise, and presented penalties to aerodynamics.
With refinements in design and technology, all of these factors have been reduced to a negligible level. They are now being adopted at an increasing rate, due to their many benefits.
These benefits include more consistent performance in all weather conditions and better control (leading to greater confidence and minimal brake-heat-induced problems for rims, tubes, and tires). Rims are not worn down so wheels last longer. In addition, tire clearance is increased for the use of wider rubber.
Discs are appearing on many new endurance bikes. It's important to realize that most bikes are made for either rim brakes or discs, and cannot be converted. Once you make your decision, you're stuck with it for as long as you ride that bike.
There are two kinds of disc brakes available; mechanical and hydraulic. Disc brakes use a cable attached to a caliper, that's mounted to the frame or fork.
On mechanical discs this is operated in a similar way to a rim brake, where pulling the brake lever pulls on a cable. This in turn applies the caliper to a rotor in the center of the wheel, creating braking force. Mechanical brakes are less powerful than hydraulics but are cheaper and easier to maintain.
Hydraulic disc brakes exceed mechanical discs in performance and function. They work by utilizing brake fluid, which is activated at a master cylinder located in the brake lever. When activated, this fluid is pushed through a hose and onto the brake caliper. The pressure of the fluid operates pistons in the caliper and clamps the brake pads onto the rotor.
While hydraulic brakes are superior in function, they are more expensive than mechanical discs. They are also more difficult and expensive to repair and maintain. On road bikes between $3000 and $5000, you can expect to have a range of hydraulic-equipped bikes to choose from.
Whether you choose rim brakes or discs; mechanical or hydraulic, it's important to be comfortable with your levers as well as the brakes themselves. Advice from female experts suggests that women should pay special attention to choosing appropriate hoods and brake levers, as many are designed for larger hands.

Wheels
A good set of wheels should be resilient and lightweight. Stiffness is favored for an efficient transfer of power, along with reliable hubs that operate smoothly. They should also be set up to provide for confident braking.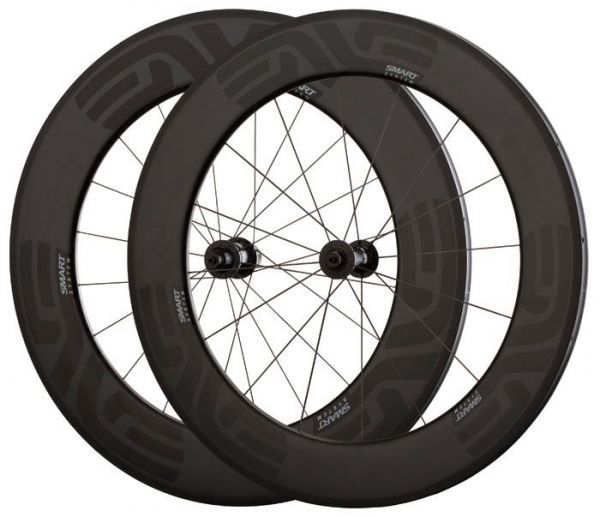 Deep-section aero wheels
The recent move to wider tires has been reflected in the increased width of wheel rims. Proponents suggest that wider rims improve aerodynamics. In combination with wider, bigger-volume tires, they also contribute to increased comfort.
Rim depth can also influence ride quality. Most aero bikes will use deep-section wheels, which clearly aid aerodynamic ability. A drawback of aero wheels is that they are more subject to crosswinds and subsequent lateral movement.
It's important to know how a set of wheels affects the cost of a new bike. As a general rule, your wheels can possess any two of the following characteristics:
Strength
Low weight
Low price
Cheaper road bike wheels are made from aluminum, moving up to carbon fiber at higher prices. At these higher prices, your money also buys you superior-quality hub bearings with increased durability. Comfort should also improve with cost.
Under $650, a 'road bike' will most likely have heavy wheels. The best that can be hoped for from wheels like these, is that they are tough. They can always be upgraded later to shed weight and increase the liveliness of your bike.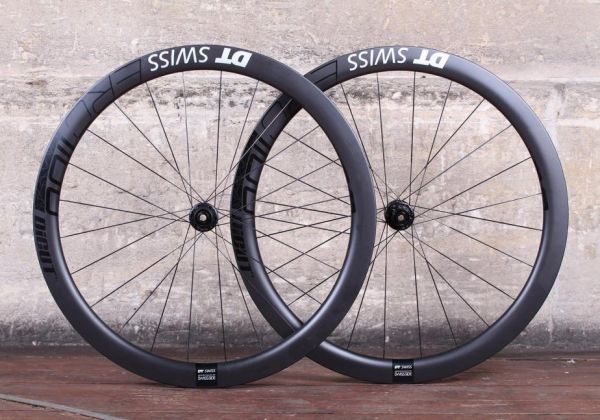 An endurance-focused wheelset
From $1500 to $3000, higher performance features come into play. At this price, bikes may feature deep profile wheels. Although there is a decent range in materials and quality in this price range, weight should show a marked decrease, while carbon fiber rims may become affordable.
Between $3000 and $5000, wheelsets are lightweight and aerodynamic. Carbon-fiber or high-end alloys are used in their construction. Above $5000, wheels are almost exclusively carbon fiber.

Tires
Traditionally, road bike tires have been narrow and sat between 23mm and 25mm in circumference. While they remain narrower than tires on bikes of other disciplines, the recent trend has definitely been toward increases in width and volume. Race tires may now be as wide as 28mm, while endurance tires are reaching 30-33mm in circumference.
Recent research hints at benefits relating to wider, lower-pressure tires that hold greater volumes of air. Previously, it was thought that the decreased pressure would lessen performance. However, there is now evidence that fatter rubber is more supple and offers less rolling resistance – which can only lead to higher speeds.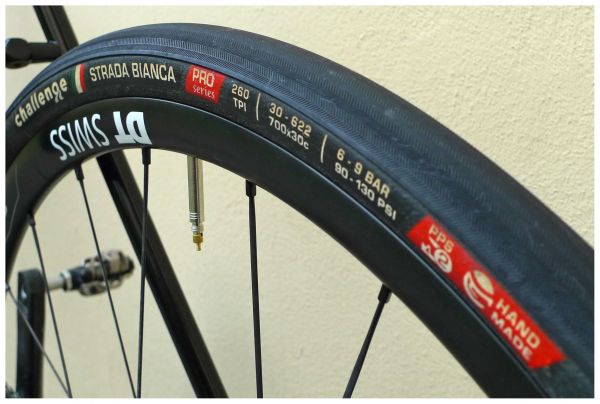 A fatter 30mm road tire
Fatter tires provide more comfort and traction, as well as a form of subtle suspension or inbuilt compliance. This is especially useful for endurance riding. In the past, caliper rim brakes limited the potential width of fitted tires to as little as 28mm. Now, with an abundance of lightweight disc brakes becoming popular on road bikes, this barrier has been removed.
All road bikes are provisioned with slick or semi-slick tires, to keep rolling-resistance at a minimum. If you wish to fit wider tires to your road bike, you need to ensure that the frame is built with ample clearance. Don't be too concerned if the tires on your new bike aren't ideal. They are one of the easiest elements to swap out.
As a general rule, race bikes favoring aerodynamics will skew toward skinnier tires. Endurance bikes seek more comfort and tend toward greater width, which also allows for greater speeds over uneven surfaces.
Three Main Types of Tires
Clincher tires use an inner tube and are much more common than other types. If your tube gets punctured, you will need to carry a spare tube or puncture repair kit to fix or replace it.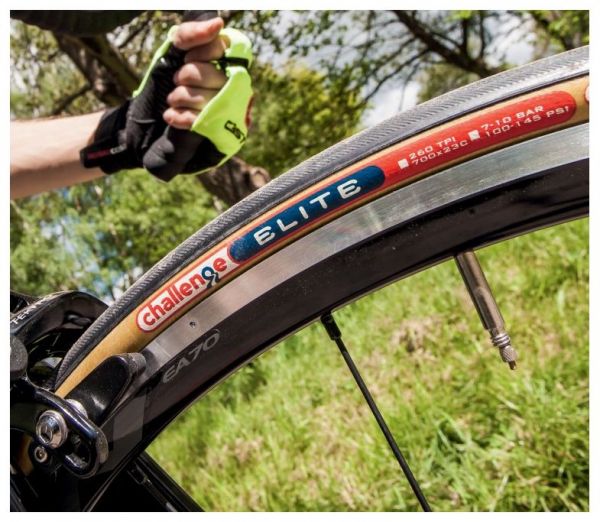 A Clincher tire in a narrow 23mm width
Tubular tires are designed with the professional racer in mind. They consist of a tire that is sewn together with a tube inside. They are then adhered to the wheel rim with a glue that must be allowed to dry overnight. If not correctly glued, tires may roll off rims and cause an accident.
While they're slightly lighter than clinchers, riders must carry an entire replacement tire in the event of a puncture. Good quality tubular tires are costly, while cheap versions are lumpy and uneven. For these reasons, tubular tires are relegated to the realms of professional racers with the luxury of a support crew.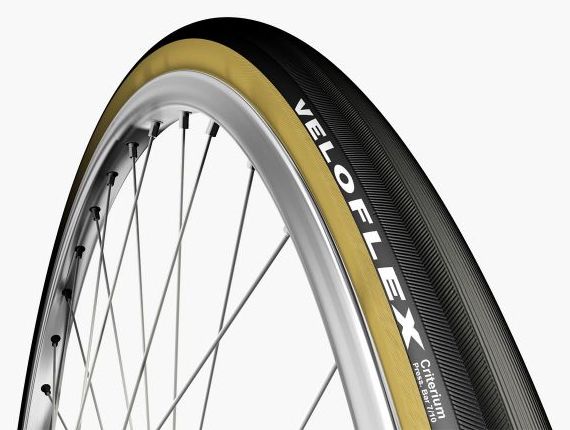 High-priced, high-end: Tubular tire for racing.
Tubeless tire technology has been the automotive standard for the last fifty years. It's popular amongst mountain bikers and has recently become popular on road bikes. In very simple terms, a tubeless tire is a clincher without an internal tube. The rim must be airtight, as a tubeless tire seals directly to the wheel rim.
In order to use tubeless tires, rims must be either 'tubeless-ready' or 'true tubeless'. A true tubeless system uses rims without spoke holes in the inner wall. The more common 'tubeless-ready' systems require a slimy sealant to create the initial seal and to guard against small punctures.
Benefits include reduced weight and long-term resistance to punctures. A drawback of tubeless systems is that they are fiddly to repair, especially on the road.

Saddles
Saddle comfort is highly subjective. Many buyers of a new road bike will change the saddle before upgrading any other part. If the stock seat isn't right for you, try a few out before settling on one. Take long-distance comfort into consideration (if you're riding endurance) and also long-term reproductive health.

Woman's saddle (left) Men's race saddle (right)
Women and men sometimes hold varying concerns when it comes to saddles. Female sit-bone width is generally wider than that of men. That said, some men's saddles are suitable for some women.

Pedals
Pedals are another component that is usually customized. Many road bikes do not come with pedals – or else they come with makeshift pedals that are intended to be temporary. Most road cyclists will use cycling shoes and a corresponding set of 'clipless' pedals.
Clipless pedals assist with control, cadence and climbing on the upstroke.

Toe-clips (left), Clipless pedal and shoe (right)
To avoid confusion, the older 'toe-clip' pedals were known as 'clips'. As a result, modern pedals that forgo these 'overshoe clips' are known as 'clipless', even though cycling shoes 'clip in' to the pedal.

Suspension?
At the top of the article, we said that one of the distinguishing features of road bikes is that they don't have suspension. It's possible that this situation is changing. Recently, production models of road bikes have emerged that incorporate vibration-absorbance and dampening systems. Coined 'micro-suspension', it's more likely to see these systems appearing on endurance bikes.
These systems include elastomer springs, hydraulic dampers and frame tubes that are not welded, but attached by a flexible system of bushings and bearings. Sometimes elastomers are incorporated into frame tubing. In other models, small suspension systems are embedded in the headtube or seatstays. Electronic calibration is often allied to these mechanisms.

This modern road bike features a cutting-edge electronic suspension design
The amount of 'travel' in suspension refers to the maximum distance 'traveled' by the shock when it fully compresses. On a mountain bike, this usually sits between a range of 80mm and 200mm. On an endurance road bike, suspension travel might be as little as 10mm. These systems are intended to provide subtle relief from long-term exposure to standard road vibration.
In the current climate, there are no hard and fast technological standards for road bike suspension. Many of these systems are innovative and experimental. It seems that, these days, there is less of a taboo surrounding dampening on road bikes and that interest in these systems is on the increase.

Fit
It's more important to get the fit of a road bike right, than it is for a casually-used commuter. As road bikes are aimed toward performance or endurance, the correct fit may make the difference between winning a race or making it to the finish line without undue discomfort.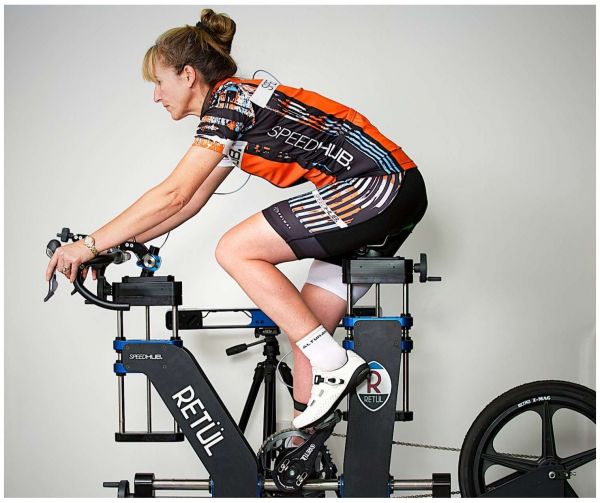 A professional fitting system
High-end bike stores will have fitting professionals that can take your measurements and ascertain the proportions of your ideal bike. This has the benefit of narrowing down your shortlist of suitable bikes.
Race bikes are designed with geometry that places the rider in a low-profile, stretched-out position with more weight over the front wheel. You might find this type of road bike more suitable if this posture matches your body type.
Conversely, endurance bikes favor a more upright stance with less weight over the front wheel. Any bike with a poor fit will be uncomfortable and most likely, discouraging. A cheaper bike with the right fit is a better ride than a mis-sized top-end machine.
You may come across 'fit charts' on manufacturer websites or elsewhere online. It's advisable that, as a first-time road-bike purchaser, you don't rely solely on these. Once you have been fit at a bike store – and have become familiar with your sizing, it will become easier and safer to purchase online. This is one of the risks of direct online sales.
It's important to get the right size frame. After this though, it's vital to adjust saddle and handlebar heights. Handlebar reach and angle are also important considerations.
Women will have particular concerns relating to reach, as smaller hands may mean that regular bars and levers are outsized. One expert suggests that older style handlebars of the 1980s and 90s are more comfortable.
In any event, a bike that is too big can not be adjusted to fit. A frame that is a little too small may be adjusted to fit by extending stems, seatpoles, and cranks. It's safest to get professionally fit and avoid the guesswork altogether.

Cost
From $200 to $7000, you can buy a bicycle with the physical attributes of a road bike. Anything for less than $650 is probably more suited to recreational riding than racing. If parts are durable they are likely too heavy for racing.
Between $1500 and $3000; performance bikes, with authentic race geometry, become attainable. Weight goes down as speeds go up. Endurance bikes may feature improved features relating to comfort.
Heading up to $5000 and bikes experience considerable weight loss. Above this price, improvements are incremental and largely subject to personal preference. Bikes over $7000 will be customized, bespoke, or perhaps a replica of a professional race rig.
A good road bike doesn't have to be exorbitant. $800 buys a decent entry-level steed. Anything over $1250 is probably beyond the needs of a beginner. The best bikes under $2500 are serious machines that can be raced with confidence. A recent change is that bikes under $3200 are now as likely to be endurance bikes as they are to be dedicated race bikes.
It's useful to know some of the main factors that affect cost. Aluminum is cheaper, less comfortable and generally, heavier. Carbon is lighter, more comfortable, and more expensive. Parts and wheels will be strong and cheap at lower prices but add significantly to the overall price as they become lightweight.

Direct Sales vs. Local Bike Store
Direct Sales
If buying a bike online seems like a cheaper alternative to buying in stores, it most probably is. When you buy directly from the manufacturer, the overall cost is reduced by cutting out the middleman.
Good online bike retailers will pre-assemble as much as 80% to 95% of your bike before shipping and will provide the tools required for the remaining adjustments.
Local Bike Store
Your local bike store (or "L.B.S.") will usually offer you a warranty deal and minor servicing for free within the first few weeks of purchase.
With either choice, there are benefits and drawbacks.
Finding Your Ideal Bike
When researching your prospective bike, you can look at online reviews by both customers and experts. Video reviews can also provide a well-needed visual element for understanding the perks and drawbacks of a model.
Don't restrict yourself to promotional material made by the manufacturer. Buyers and experts also make videos that aren't subject to monetary influence.
Other sources for reviews include magazines, websites, blogs, forums, and the comments sections attached to online reviews.
Always consider your budgetary limitations and the terrain that is available to you. Stay fast to your original intentions and try not to be swayed by a handsome machine. Fight the temptation to give in to current bicycle fashions, because they always change quickly. A good road bike could last you decades.

What Matters
The world of road bikes can get expensive and serious. Stay true to your own needs. It can be difficult to remember that some of the best factors of road cycling are not those that relate to equipment. Sometimes, the best parts of road cycling are those that include camaraderie, invigorating exercise and of course… the road!

Further Reading and Useful Links
Sources
Bike Categories