The BikeRide Guide to Choosing the Best Bike for a Toddler
by Owen Jesse – updated August 16th, 2022

Contents:
Where to Start?
As parents know, children between the ages of one and three years are growing through a lot of changes. Each toddler is different. While some appear to go through a 'growth spurt', others grow consistently and gradually.
As a result, the best bikes for toddlers are as varied as toddlers are themselves, with all their differences in height, size, weight, coordination and physical capabilities.
Many manufacturers will categorize their bikes by age bracket, so you may use these categories to narrow down your choices. But by far, size is the best yardstick by which to choose the perfect bike for your toddler.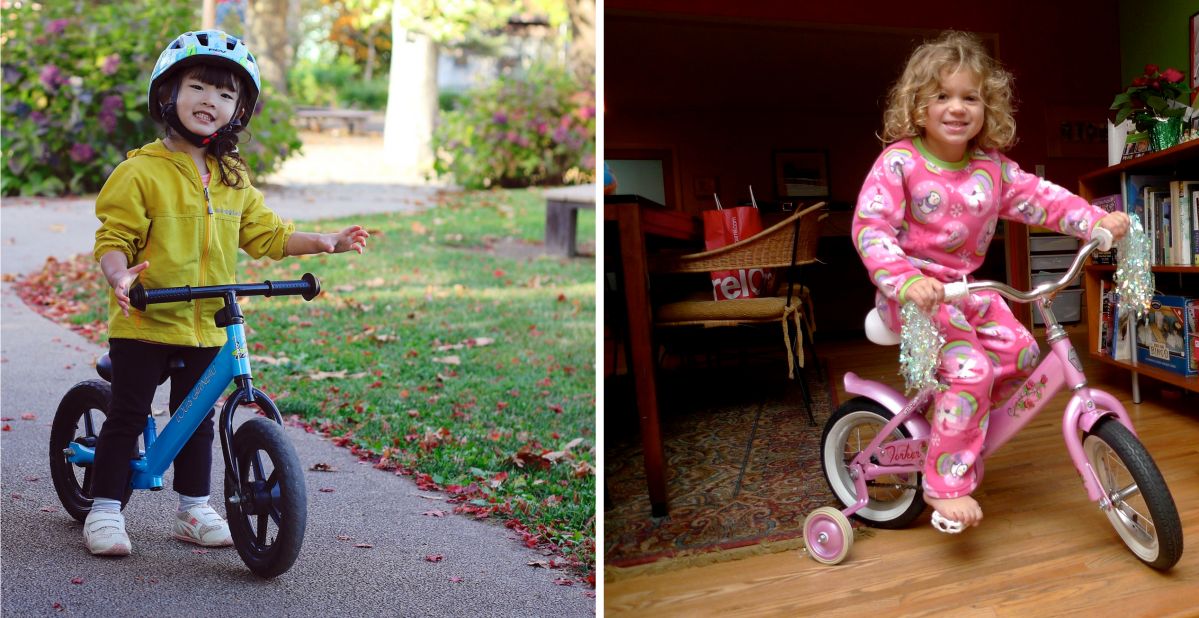 Balance bike or training wheels?
Depending on when your toddler starts riding and how interested they are in cycling, the perfect bike could be a balance bike, a pedal bike with training wheels or even a pedal bike with the training wheels off.
When it comes to choosing a toddler's bike, one thing is certain. Color, style and accessories are important. They can make all the difference in how excited your toddler is to start cycling. Quality is key, but appearance matters too.
For most toddlers, cycling is one of their first forays into a form of physical activity that requires them to rely on a device outside of their own body. For little ones, a bike combines the next level of independence with physical exercise and an exciting new form of play.
A First Bike
While all children develop in size and skill at different ages, a toddler's first bike is either a balance bike or a pedal bike with training wheels. Within the one to three-year age bracket, some toddlers even start to ride without pedals.

First bike: 10″ or 12″ wheels?
Child development and cycling experts both agree that there's little benefit in pushing a child to reach the point of pedaling on two wheels before they feel ready to. Encouragement is great, but the common consensus is that it's best to let a child progress through their riding skills at their own pace.
The youngest riders begin on a balance bike, from eighteen months old. The smallest of these use tiny 10" wheels but 12" models are the standard. Balance bikes have no pedals. They allow little riders to propel their bike with their feet, by walking or running. Riders learn to rely on their own balance while shifting their weight and using handlebars to steer, without the complication of pedals.
Many toddlers and small children move straight from their balance bike to a pedal bike without training wheels.
For some toddlers and parents of toddlers, a pedal bike with training wheels is the preferred option. Some children are riding pedal bikes from as early as two years of age. They usually graduate from a balance bike or pedal bike with training wheels to a 'real bike' (a pedal bike with no training wheels), any time between two and five years of age.
Sizing
When it comes to toddlers, wheel size is a good starting point as a general indicator of an appropriately sized bike. Most beginner bikes use 12" wheels and have a sloped top-tube that allows the smallest of children to comfortably stand over their bike's frame with both feet flat on the ground. Some bikes are now available in 10" wheel sizes. Bikes with wheels larger than 12" are too big for many toddlers.
Seat Height
For little riders, seat height (or saddle height) is one of the most important considerations for sizing up a bike, as toddlers need to be able to place their feet flat on the ground while seated. When seated on a pedal bike, a toddler's legs should be neither cramped when bent nor completely outstretched when extended at the bottom of the pedal stroke.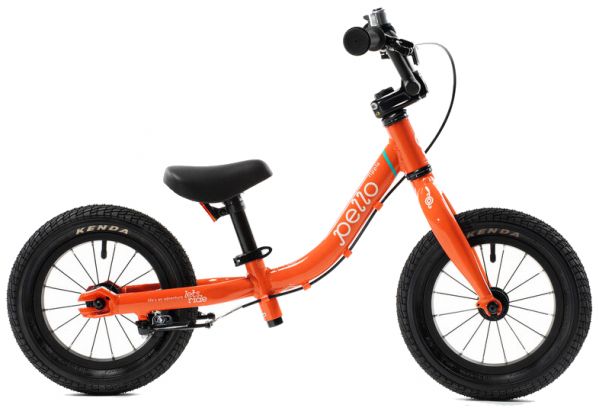 This bike has a low minimum seat height
Experts recommend that seat height is ½" to 2" less than your child's inseam. You'll also want a decent range in seat height adjustment for your growing toddler. To allow for room to grow, experts suggest that a bike offers a maximum seat height 2" inches taller than your toddler's current inseam.
As confidence increases, seat height can be raised so that the rider is only setting their toes and the balls of their feet on the ground. In this way, they learn to depend more on their own balance and to lift their feet completely off the ground, from time to time.
Like older riders on a pedal bike, they start to depend more on the use of their saddle and the shifting of their own weight to steer.
Inseam
Reputable manufacturers will often list the optimal inseam range that suits a model. This is the most important measurement to take. It will allow you to compare the suitability of prospective bikes by comparing their seat height range.
Online guides are available to describe how to record your toddler's inside leg measurement, in order to measure inseam length.
Standover Height
When it comes to pedal bikes, some manufacturers may list a bike's standover height. To make sense of that, you'll need that inseam measurement. If these measurements aren't listed, a good rule of thumb is to have 1¼" to 2" (3 cm to 5 cm) of room above a bike's top-tube when your child stands over it.

Standover is significantly higher on pedal bikes than on balance bikes
In cycling lingo, the distance between a bike's top-tube and the ground is known as the 'standover' height. By measuring your child's inseam, you can ascertain the maximum standover height that will work for your child. While many beginner bikes have a low standover height, most 12" BMX-style bike frames may have a larger 'main triangle' and therefore, a higher standover height. This is something to be wary of.
Bottom Bracket Height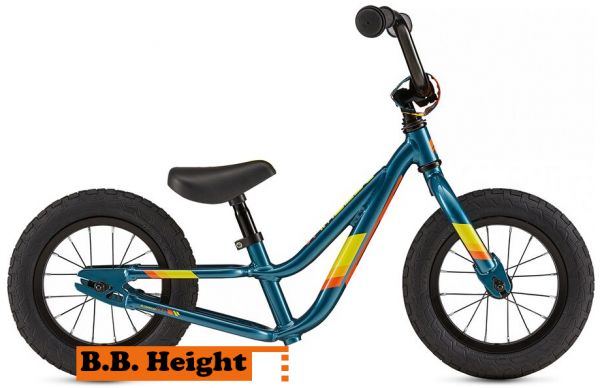 A balance bike with a very low bottom bracket
Bottom bracket height is another characteristic to look out for.
Some designs use a high bottom bracket. Because the entire frame of these bikes is set higher off the ground, standover heights are increased.
But more importantly, the whole bike has a higher center of balance which makes handling and steering more difficult for small riders.
Some parents aim for a slightly undersized bike, to make things a little easier for a child that's less able or less confident.
While toddlers' bikes are often categorized by wheel size, this is useful only as a general guide. Balance and pedal bikes with 12" wheels can vary a lot in size, with some only being suitable for children older than three or four.
Toddlers' Wheel Sizes
10" Inch Wheels – Balance Bikes
These are the smallest of all the wheel options. Until recently, almost all beginner bikes for toddlers were built with 12" wheels.
There are far fewer options available with 10" wheels, but there are two good reasons why you might consider a 10" bike. Firstly, you or your toddler might be eager and capable of starting out riding particularly early. Secondly, your child might be shorter or smaller than the average for most children their age. Most options are offered by child-specific brands and quality manufacturers.
Child Height
10" bikes usually suit toddlers from 32″ to 35″ – (2'8" to 2'11") in height.
Seat Height
Seat heights start at around 8".
Inseam
10" bikes generally fit children with an inseam measurement of 9.5" to 14".
Age
Children as young as 18 months old can start riding on a 10" balance bike.
You may find low-quality ride-on toys with 10" wheels. While some of these may resemble a balance bike, it's likely that they won't use quality bushings or bearings in wheel hubs and headsets. It's recommended to buy a 10" bike from a known bicycle manufacturer.
12" Inch Wheels – Balance Bikes and Pedal Bikes
This is the most common wheel size for balance bikes and early pedal bikes. Until recently, almost all beginner bikes for toddlers were built with 12" wheels.
Some bikes with 12" wheels can have very low seat heights and suit small toddlers, avoiding the need for a 10" bike. Other 12" bikes have taller, longer frames and seat heights that may only be suited to children over four or five years of age.
Child Height
12" bikes usually suit toddlers from 33″ to 40″ – (2'9" to 3'4") in height.
Seat Height
12" bikes generally fit children with an inseam measurement of 10" to 20".
Inseam
12" bikes generally fit children with an inseam measurement of 11" to 21".
Age
Children as young as 2 years old can start riding on a 12" balance bike.
Most balance bikes use 12" wheels. The smallest pedal bikes also use these wheels.
For early riders that use training wheels, it's common for them to start out on a 12" bike. They are most suitable for riders from two to four years old.
Lower-priced 12" pedal bikes may use a single coaster brake on the rear wheel. At higher prices, bikes may use a front rim brake operated by a hand lever. Higher-end models may feature both front and rear brakes operated by hand levers.
14" Inch Wheels – Pedal Bikes and Balance Bikes
Most bikes with 14" wheels have pedals and are suitable as a first 'real' pedal bike. Some taller three-year-olds fit better on a 14" pedal bike, than on a 12" model. These kids might never need a 12" pedal bike.
There are also some 14" balance bikes for children who are still learning at this stage, but they are far less common than 12" models. These are usually made and sold by specialist kids' bike manufacturers.
Child Height
14" bikes usually suit toddlers from 39″ to 43″ – (3'3" to 3'7") in height.
Seat Height
14" bikes generally fit children with an inseam measurement of 15.5" to 20".
Inseam
14" bikes generally fit children with an inseam measurement of 16.5" to 21".
Age
Some three-year-olds move on to 14" bikes. Kids up to five years of age may use 14" wheels.
14" is the biggest wheel size ridden by toddlers. By the time a child moves on to 16" wheels, most of them are pedaling without training wheels.
Appearance and Accessories
It can be easy to dismiss how important appearance can be, as an incentive to encourage a learner rider to get on their bike. If you are able to find a balance or pedal bike in your child's favorite color scheme, this can make riding that much more exciting.
If you find a great deal on a quality bike that isn't fire-engine red (like your daughter or son's entire bedroom and wardrobe), don't fret. You can use stickers or accessories (like handlebars, frame pads, pedals, saddles, etc.) to customize your toddler's ride.
Be wary of 'theme' bikes that use franchised characters and logos from popular cartoons or movies. These bikes can be low quality, badly designed and heavy. In these cases, looks have been prioritized over performance.
Types of Toddlers' Bikes
The two main types of toddlers' bikes are Balance Bikes and Pedal Bikes. Most toddlers are riding their pedal bikes with training wheels attached. Some kids are off riding on pedal bikes with no training wheels between two and a half to three years of age. Some technical features are shared by both balance and pedal bikes.
Due to the extra componentry involved with a drivetrain, there are more factors to be taken into consideration when buying a pedal bike.
Balance Bikes
Balance bikes are simple bicycles without any drivetrain. They have no pedals, cranks, chainring, chain, freewheel or cassette. This makes them lighter, simpler and cheaper than a pedal bike. For most toddlers, a balance bike is their first bike.
Once they get used to walking, running, gliding and stopping with their own feet, many children easily transition directly to a pedal bike without training wheels.
Benefits of a Balance Bike over Training Wheels
When it comes to teaching a toddler how to ride, most experts recommend that parents choose a balance bike over a pedal bike with training wheels. Training wheels encourage a child's tendency to lean from side to side, whereas a balance bike requires a young learner to steer by shifting their own weight.
Training wheels add around 1 lb of weight. In addition, a pedal bike's drivetrain and coaster brake will add at least another 2 lb. For smaller and younger toddlers, the light weight of a balance bike is much easier to get used to. Without training wheels or a push-bar, balance bikes allow little riders to learn to ride independently.
Bike Fit
Seat Height
Seat height should be low enough to allow your toddler to stand confidently, with feet flat on the ground. This height should allow for easy mounting and dismounting. There should also be enough range available in seat height adjustment to allow for around 2" of your child's growth.
Step-Through / Step-Over Height
Step-over: Higher standover height
Step-through: Lower standover height
Ideally, a balance bike has a low top-tube or single, combined top-tube/down-tube. This makes it easy for small riders to lift a leg over their frame when getting on and off their bike. If a fall does take place, it's easier for a toddler to step over their frame without tripping and falling.
Wheelbase
A long wheelbase makes for a more stable bike in general. The benefits of this are most noticeable on descents, on unpaved and uneven terrain and (if your toddler's adventurous) on jumps.
Longer wheelbase, longer reach
Shorter wheelbase, much shorter reach
Reach
Although quality frames are getting longer in order to increase wheelbases, it's vital to avoid an oversized reach. It's important to have enough room between the seat and handlebars to allow a child to quickly dismount without striking the handlebars.
Balance bikers need to be able to have arms slightly bent when seated. Arms should not be outstretched and little riders shouldn't have to lean forward to reach their handlebars. On the other hand, your toddler shouldn't feel cramped by having their arms folded against their body.
Fork Angle
Steeper fork angle: sharper steering
Relaxed angle: slower, more stable steering
A balance bike's fork should be set at a moderate angle. If it's too steep, handling could become 'twitchy', resulting in fast turns that lead to the front wheel 'flopping' from side to side.
A steep fork angle will shorten the bike's wheelbase, decreasing stability. Additionally, a rider's weight is pushed too far toward the front of their bike.
With a moderately angled and offset fork, steering becomes more relaxed and stability is increased.
Weight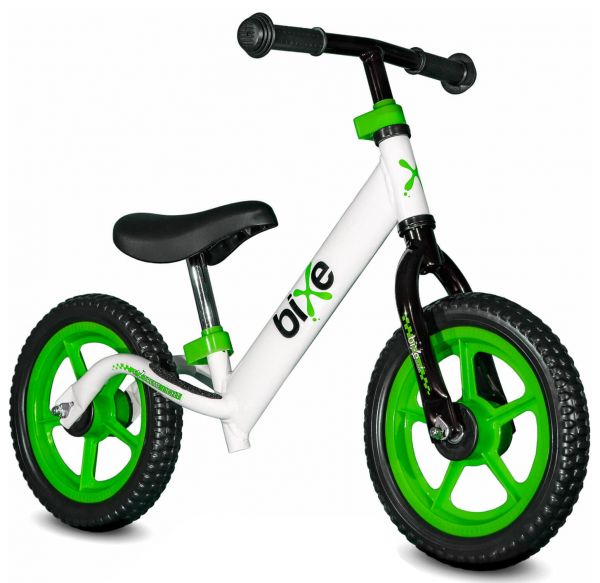 This lightweight bike weighs 4.6 lb
A heavy bike is cumbersome and will quickly discourage a young rider from continuing their interest in cycling. An enjoyable balance bike shouldn't weigh more than 25% to 30% of a toddler's weight.
The main reason for a manageable weight is to allow a little rider to easily propel themselves. However, kids sometimes pick up their bike if it has fallen over, or lift it over obstacles.
When your little one is plum-tuckered out after a big ride, you might have to pick up and carry both rider and balance bike. This is another reason to seek a lighter model.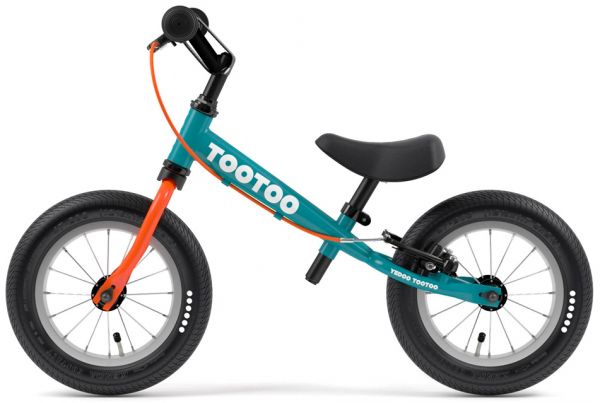 An 8.3 lb midweight bike
Light Weights – 6.5 lb to 6.7 lb
Most are under 7 lb but a few of the very lightest models currently available claim a weight of 4.6 lb.
Average Weight – around 8.3 lb
Heavy Weight – up to 11.7 lb
There are particular components and materials that are the most responsible for adding or subtracting bike weight.
Frame materials are lighter on higher quality balance bikes.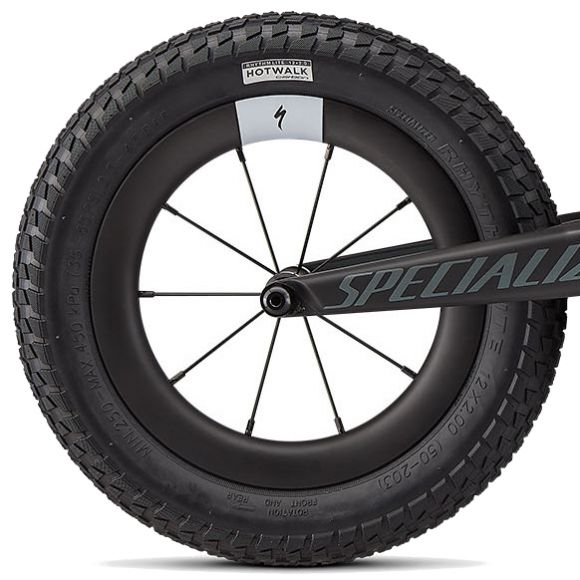 These carbon fiber wheels take a load off
Wheels are lighter on higher-quality bikes, using lighter rims and hubs.
Pneumatic tires offer superior performance but are heavier than foam options.
To save overall weight, lower-cost balance bikes will use foam tires.
Higher-quality bikes will use pneumatic tires with a lighter frame and components.
Components are lighter on higher-end bikes, without compromising quality.
This includes a balance bike's headset, handbrake, seatpost, saddle and handlebars.
Frame Materials
Balance bikes come with frames made from the same metals used in adult bikes. They may also be made from wood, composites, plastic or even carbon fiber.
Aluminum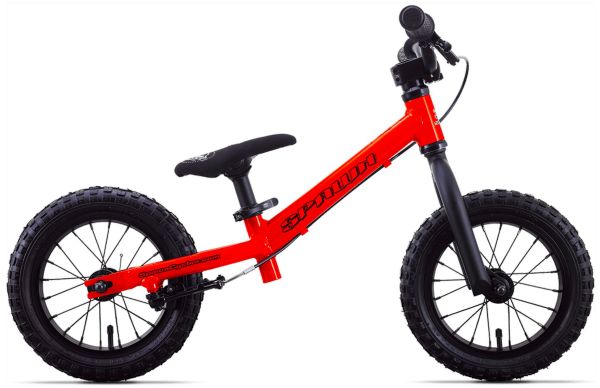 An aluminum frame and chromoly steel fork
Aluminum is used in various alloys, but '6061' is the most common tubing used on modern bike frames.
It's very light for a reasonable cost, while displaying excellent rust-resistance.
Compared to the steel used on most balance bikes, it's usually more expensive. For kid-based applications, it's sufficiently durable.
Steel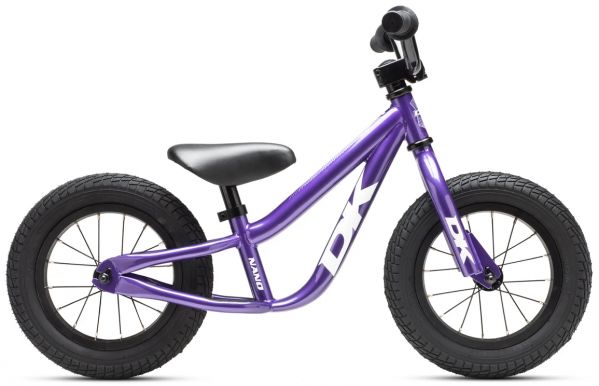 Hi-tensile steel frame weighing in at 10.56 lb
Steel frames can vary widely in weight and price. Steel balance bikes are usually made from hi-tensile tubing, which is relatively heavy, rigid and prone to rust. On the plus side, it's very durable.
Some higher-end aluminum balance bikes use a chromoly steel fork, to lessen vibration on bumpy surfaces. Chromoly tubing is lighter and more pliant than hi-tensile options, but its higher price restricts it to adult bikes.
Wood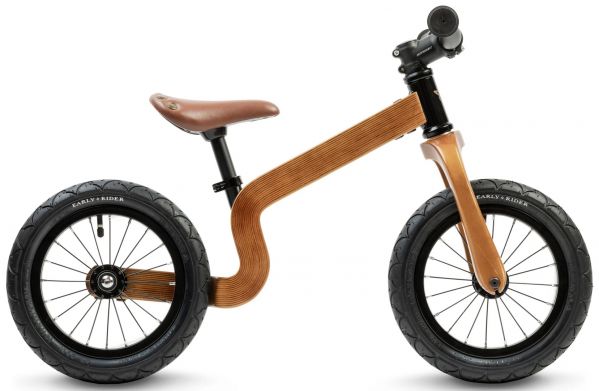 A birchwood bike weighing 8.27 lb
A number of balance bikes are made of wood. Weight and durability vary widely, depending on the type of wood used and how it's treated. As wood will be subject to the effects of weather, it will need to be treated. The safety and sustainability benefits of wood are somewhat offset by the necessary treatments and varnishes that are applied to wooden bikes.
Wooden bikes offer a moderate weight and ask moderate prices. While sustainability is enhanced by the ability to dispose of or recycle these bikes, they are unlikely to be passed down through siblings for as long as metal bikes. Most wooden bikes eventually succumb to the effects of outdoor weather.
Look for responsibly-sourced frames that have good reviews regarding their durability.
Plastic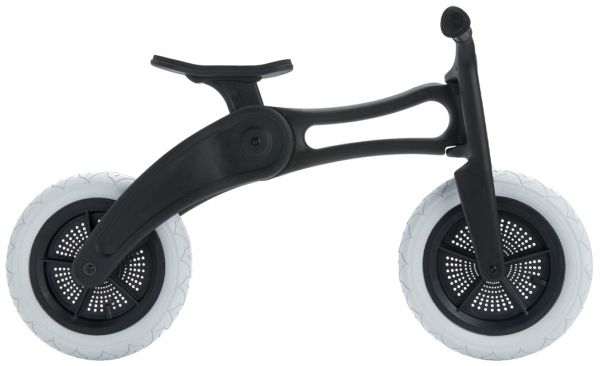 An 11 lb bike made from recycled plastic
There are a few plastic balance bikes out there. A number of the smaller, flimsier options are just 'ride-on toys', but others are better designed and more durable. Look for bikes that use a durable polymer and real components (hubs, headset, brakes, handlebars, seat etc.) Some plastic bikes have a tendency to flex when the seat is in a higher position, for taller riders. Good examples are weather and rustproof.
Composites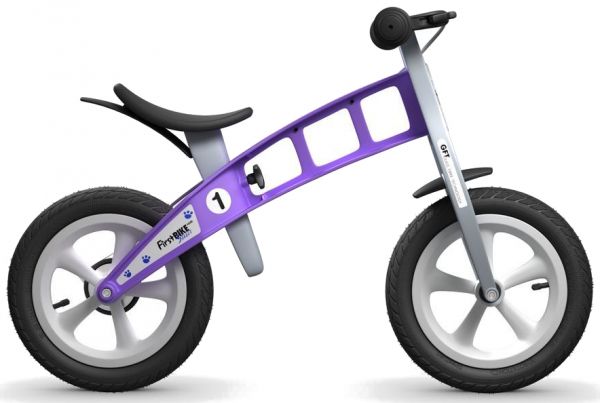 7.7 lb "glass fiber reinforced nylon composite"
Some balance bikes are made of glass-reinforced plastic composites (otherwise known as fiberglass™).
These bikes are quite weatherproof, relatively light and can be fairly tough.
Like plastic options, some models might display excess flex.
Well-designed, durable and high-quality options are available.
Carbon Fiber
Would you believe it?
Luxury carbon fiber models are available at the very highest end of the range.
If price is no object, you can buy a super-light, super-strong, super-comfortable, super-durable and super-cool carbon fiber balance bike for your little prince or princess.
Magnesium
You might run into some magnesium models.
This metal makes for a light bike but won't break any records over the lightest aluminum choices.
It can be molded into attractive shapes.
Mostly, magnesium frames are an enticing novelty, but the benefits aren't overwhelming.
Wheels
Higher quality balance bikes use wheels with real bearings, rather than bushings. Loose ball bearings are fine but require more frequent maintenance.
Plastic, nylon bushings
Carbon fiber, sealed bearings
Plastic, sealed bearings
If you're seeking the best toddler bike you can buy, look for sealed bearings, whether or not the wheels are made of plastic or aluminum. Sealed bearings ensure that your child's wheels roll smoothly without creating unnecessary resistance. Just as importantly, they keep out dirt, mud, sand and moisture. Your bike's wheels will last longer with less maintenance.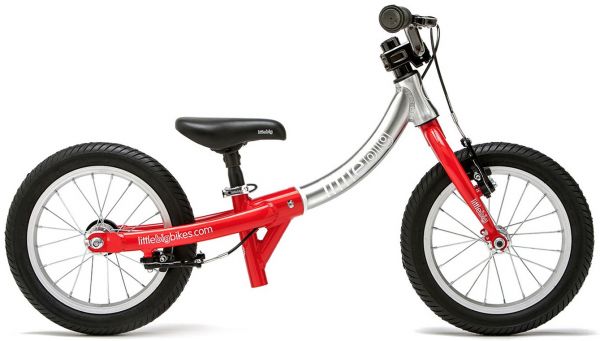 Alloy wheels with sealed bearings are common on quality bikes
Wheels that use aluminum rims, steel spokes and sealed hubs (like adult bikes) will be more durable and repairable than plastic options.
Higher quality wheels are lightweight and are built for pneumatic rubber tires. Pneumatic (inflatable air) tires act as suspension over bumps and dropping off curbs, as well as possessing superior traction. Look for tubes with angled valves that make it easier to fit a pump nozzle into small 12" wheels.
Axle Bolts
Recessed bolts
Low-profile bolts
Rounded bolts
Wheel axle bolts can be a weak spot on balance bikes. Thoughtful designs on available balance bikes include recessed, rounded and low-profile bolts.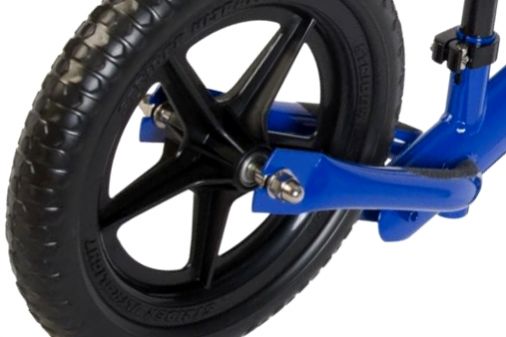 Protruding bolts: ouch
Little riders often run and stride past rear wheel axle bolts. If these bolts are sharp or protruding they can interfere with your child's motion and may scratch little legs or snag on clothing.
Some bikes have rubber covers over their axle bolts. This avoids scratches or snags, but they may still protrude.
Smaller, rounded or recessed axle bolts are much less likely to get in the way.
Tires
There are three types of tires used on toddlers' bikes; inflatable rubber (pneumatic), solid foam and solid rubber.
Inflatable Rubber Tires (Pneumatic)
Pneumatic tires are the best choice for traction and suspension when negotiating outdoor terrain, curbs and bumps. When inflated to the correct pressure, air-filled tires compress and deform over debris and when receiving small impacts (such as down a small curb or step). This gives your toddler a more cushioned and less jolting ride than that delivered by solid tires.
Pneumatic tires are made of rubber, offering superior traction on all surfaces, particularly in the presence of water. It's no exaggeration to say that these tires are the safest option for learner riders.
12" wheels are very small and can be difficult to access. Some tubes use bent valves that make it a lot easier to attach a nozzle when pumping your tires.
Pneumatic tires need to be inflated and kept at the correct pressure. Punctures are relatively rare on toddlers' bikes, but when they occur, tubes will need to be repaired or replaced.
Solid Foam Tires
Solid foam tires are lightweight.
They feature on lower-cost balance bikes that aim to shed weight.
When rounding corners, solid tires don't compress. This combines with a shiny, slippery finish that means these tires are not the best on wet or smooth surfaces. Due to this lack of traction, they don't perform well on polished wood.
Solid foam tires are unable to deform in order to absorb impacts, in the way that pneumatic options can.
Foam tires tend to bounce off bumps, curbs, objects and debris.
Solid foam tires are usually narrower and smaller in diameter than inflatable tires. This will also reduce their comfort over obstacles and debris.
On the plus side, they never puncture or go flat. Solid foam tires are inexpensive to manufacture and make for a more affordable bike.
Solid Rubber Tires
This is a rarer type of tire that is a compromise between solid foam and inflatable tires. One type of solid rubber tire is wide and grippy but does not offer the compression available in an air tire. They are completely puncture-proof.
Solid rubber tires
Solid rubber with air pockets
The other kind has no tube or valve but uses multiple air pockets enclosed within the tire. This offers both compression and grip, but without the option of altering air pressure. Punctures are highly unlikely.
Both of these options are cheaper than inflatable tires.
Brakes
For balance bike beginners, brakes are definitely optional. For the youngest toddlers, a handbrake can be too complicated. Littlest ones are usually happy to come to a stop with their feet.

This bike arrive brakeless, but with a mount to attach a single rear disc brake!
As riders progress, they will run faster. Confident riders lift their feet off the ground for longer, while their bike rolls freely. At this stage, you might want to introduce a handbrake. A number of models come with a handbrake included.
Handbrakes are recommended by many parents and experienced balance bike reviewers. Experts have observed that toddlers start to use them between the ages of two and a half and three years old. When first introduced, children tend to use their feet for a while as they get used to the handbrake lever.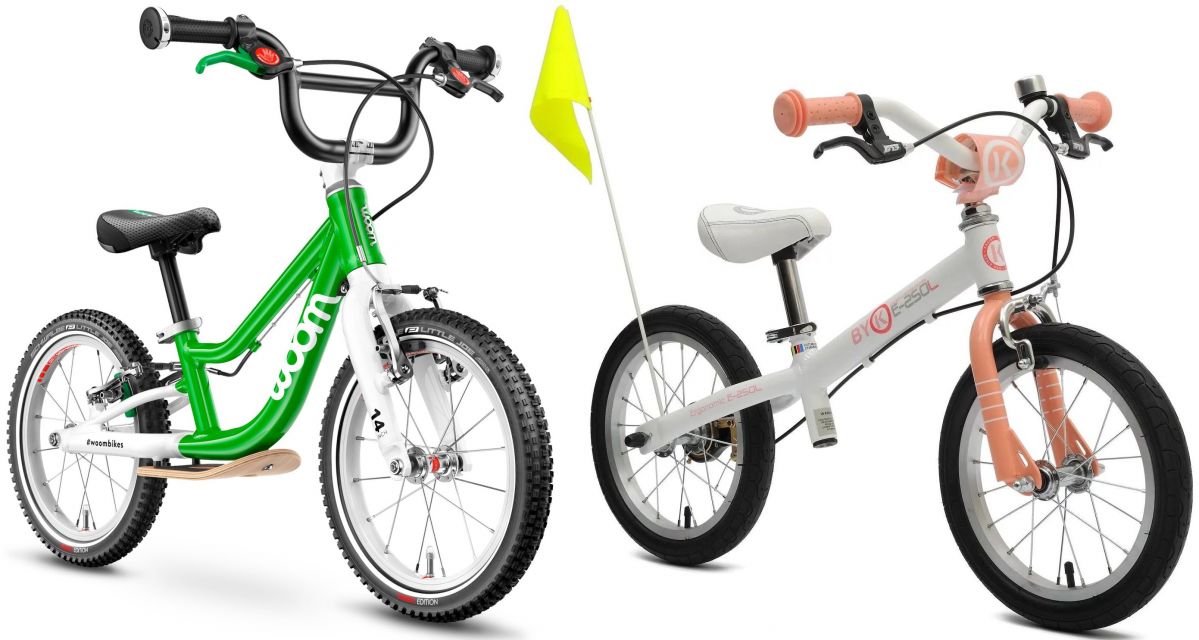 These bikes have front and rear brakes
Many models have a single handbrake connected to the rear wheel. If your child only had a front brake, there would be a risk of doing an 'endo' over the handlebars. Some high-end models have dual handbrakes.
If your child's balance bike has a handbrake present, the transition to a pedal bike is that much easier. Coaster brakes are heavy and prevent your child from pedaling backward to balance. So why not skip the coaster brake altogether by teaching your toddler to use a lever, before they're even pedaling?
For safety's sake, choose child-specific short-reach levers. All balance bikes should use them. Adult levers can be too hard for little hands to reach, in addition to being too firm to compress.
Components
Why are the best toddler bikes more expensive than other models? What makes them better than cheaper bikes? Besides the use of a lighter frame and lighter, higher-quality wheels (as we mentioned earlier), these higher-end bikes are specced with other components that are also lightweight and high-end.
Handlebars
Lightweight handlebars are made of an aluminum alloy. They usually use minimal rise or are close to flat, which allows your child to remain stable and maintain an upright stance. High-rise bars can raise your child's arms so high as to not be ergonomic.

This bike uses 19 mm handlebars with 19 mm ergonomic grips
Some balance bikes use narrow, 19 mm diameter handlebars that better fit small hands. If your little rider might be uncomfortable using standard 22.2 mm handlebars, seek these. Some 22.2 mm bars narrow down to 19 mm on the bar ends.
There are a couple of trendy models that use drop bars, to emulate adult road bikes. How this could be helpful to a toddler is anyone's guess. But if you want to get them started way too early, these models are available.
Balance bikes use different methods to allow for the adjustment of handlebar height. High-quality models use a threadless headset that lets you move spacers on the headtube to lower or raise your stem. This is a secure system.
Whatever system you opt for, adjustable handlebars ensure that a bike can grow along with its rider.
Headsets
Real threaded headsets are more reliable than cheaper headsets that use nylon bushings. They'll need less adjustment and be more durable.
Threadless headset with spacers
A headset using nylon bushings
Seek a model that comes with at least two spacers on the headtube. With these models, you have a considerable amount of adjustment available to raise or lower the handlebars.
Stems
A threadless stem attaches to a threadless headset. Some are slightly angled so that you can achieve a lower or higher handlebar position, simply by flipping the stem upside-down.

An angled stem can be flipped to adjust handlebar height
Stems can be angular, creating a hazard if your toddler falls forward. A few models come with a padded sleeve to protect against this. They can also be bought as an aftermarket product.
Seatposts
Seat height is one of the most important measurements to get right when picking a balance bike. So it makes sense to be sure that there is ample seat height range available in the seatpost and frame of your new balance bike. This will ensure that your toddler doesn't outgrow their first bike too quickly.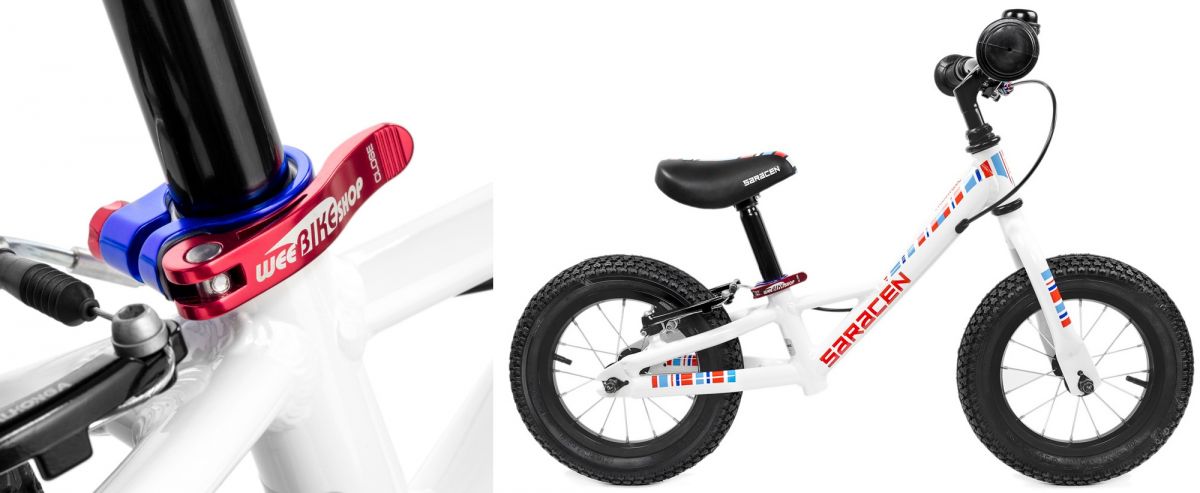 On some bikes, a quick-release lever is used to adjust seat height.
Some seatposts adjust via a quick-release lever. This makes it easy to heighten or lower your saddle without a tool. On the downside, kids could potentially loosen the lever by themselves. Other seatposts require an Allen key or spanner. While these mechanisms can't be adjusted by your child, they may use a protruding bolt that can scratch legs or catch on clothing.

These bikes use a seat clamp that fastens with an Allen key bolt
Saddles
A saddle should be moderately padded. Remember that many toddlers are still wearing diapers or training pants, so a saddle that is heavily padded may be excessive. If your toddler is no longer in diapers, a padded saddle is essential.

Reviewers said this saddle was perfectly sized, shaped and padded for little riders
Toddlers' saddles should be narrower than those made for adults, to fit their hip size.
Look for a range of adjustments in a saddle. Some are fixed in place, while others can be tilted up and down as well as offering a significant degree of horizontal movement.
Grips

19mm grips with rounded bar-ends
Grips should be narrow enough for your toddler to be able to comfortably wrap their hands around them. Some bikes use child-specific grips that are made to be used with child-specific handlebars that feature a 19mm diameter at the bar-ends. If a bike's handlebar uses the wider 22.2 mm diameter, these grips will not fit.
It might seem unnecessary to say, but grips should be grippy. Some grips lack ridges or are made of a slippery compound. On higher-end bikes, ergonomic grips are sometimes provided.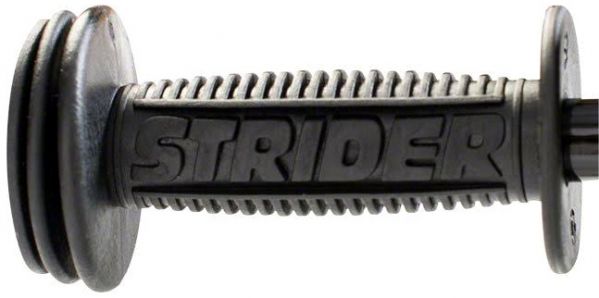 Large bar-ends protect hands, walls and floors
On all good balance bikes, grips should have rounded or flared ends. This prevents your child's hands from sliding off their bars. It also prevents any potential injury caused by sharp bar-ends.
Your walls, floors, furniture and car will thank you when your toddler bumps into them with rubber bar ends (rather than bare metal).
Footrests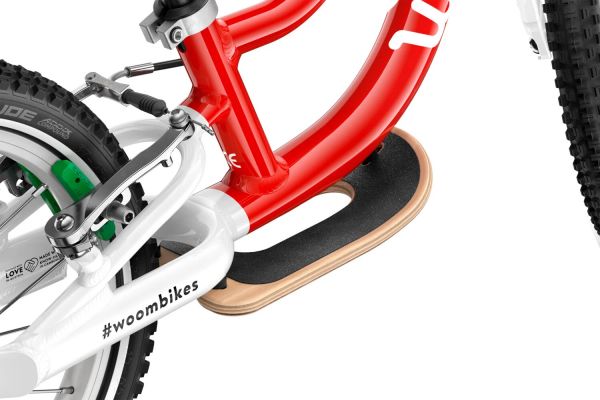 A removable footrest offers flexibility
A number of balance bikes come fitted with a footrest.
On a majority of models, the footrest is integrated into the frame. On some models, they are removable.
The idea behind them is that children like to lift their feet off the ground and rest them on the footrest as they coast at speed or down hills. They are most suited to faster, more confident riders.
On some balance bikes, poor designs actually get in the way of riders' legs as they walk or run. Some experts see them as unnecessary, saying that they act as a 'crutch' to riders depending on their own balance.
If you're unsure, seek a bike with a removable footrest. Good options use a grippy, non-slip surface such as skateboard grip tape, to ensure traction.
Turning Limiters
Turning limiters (also known as 'steering limiters') prevent balance bike handlebars from suddenly turning all the way to one side.
They can reduce crashes, prevent brake cables from becoming twisted and stop little legs from becoming trapped between either handlebars or a wheel and the bike's frame.
Turning limiters ensure that a bike is less likely to fall over as handlebars tilt or flop to one side, if a little rider lets go of their handlebars or props their bike up against a wall.
Detractors believe that turning limiters prevent little riders from learning how to correct their own steering.
Other critics say they make steering more difficult. If this is a concern, seek out a model with a removable limiter, which will allow your child to progress to 'big kid' steering as their skills improve.
There are different designs used for limiters and some are more successful than others. The most popular and highly rated of these uses a strong rubber loop attached to a fabric strap.
Size
Most balance bikes are built for riders aged from 18 months to 2.5 years. Others are sized to fit three, four or five-year-olds. As we mentioned before, children graduate from a balance bike to a pedal bike at different ages. They also grow at different rates and reach different heights at the same age.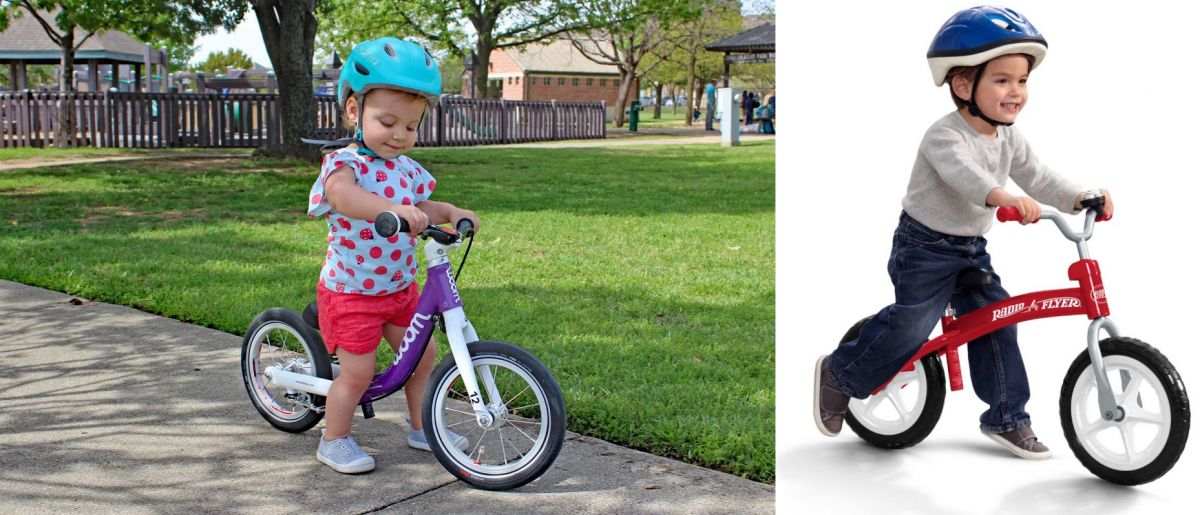 Both of these bikes use 12″ wheels, but are suited to riders of different heights
There is a common misunderstanding among first-time buyers, that all 12" balance bikes fit the same size children. The same goes for all 10" or 14" balance bikes. This is not the case. Read reviews from expert testers and source sizing details from manufacturers' websites. Some 12" bikes are longer and/or taller than others, by a significant degree.
Price
Balance bikes vary in price from as low as $40 and up to $230 for high-quality options.
At the very bottom of the price scale, bikes will have solid foam or even plastic wheels that may be slippery on hard or wet surfaces.
Bike geometry may be awkward or uncomfortable for your toddler. Cheap balance bikes are often light and flimsy or made of very heavy steel.
Mid-range bikes are usually made of aluminum or mid-weight steel. Some are wooden.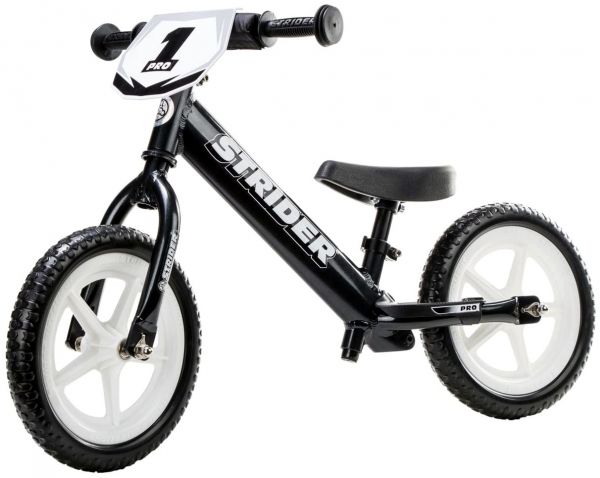 A mid-range option
They should employ comfortable geometry and decent components. Most use sealed wheel bearings which are protected from the elements and allow wheels to rotate smoothly.
A few considered touches should be present. These may include a brake and rounded handlebar grips. A good number of mid-range balance bikes use pneumatic rubber tires. Some are made of solid foam.
High-end bikes at the top of the price range should have all of the perks.
Wheels should use sealed bearings and tires should be pneumatic rubber. At least one handbrake should be present.
These bikes should use a real headset. Extras such as recessed or rounded axle bolts and a turning limiter should be included. Frames should be made of lightweight aluminum and geometry should be modern, resulting in a very comfortable ride for a little pedaler.
These are the kind of bikes that you would want to maintain and service. They should be resilient enough to pass on to younger children or to sell on, once outgrown.
When cost is no barrier, you can shell out up to $1000 or more on a carbon-fiber balance bike with lightweight wheels and componentry. Cutting-edge geometry is standard. Your toddler should be able to easily carry their own bike up the boarding ramp of the family Learjet.
Pedal Bikes
For some toddlers and parents of toddlers, a pedal bike with training wheels is the preferred option.
When it comes to an early rider's first 'real bike', a pedal bike with 12" wheels and no training wheels is a good fit.
This is a common choice when transitioning from a balance bike.
Age
Young riders usually start out on pedal bikes at a slightly older age bracket than for balance bikes. Most riders start out at two and a half to three years old. Precocious riders start as young as two.
For this age bracket, many experts recommend a balance bike instead. Of course, this choice is up to personal preference. If your child is an eager rider and they're progressing quickly, they might be ready to pedal away without trainer wheels in their late toddler years.
On many 12" pedal bikes, higher seat heights restrict these models to older and taller toddlers.
Sizing
At three years old, the average girl stands at 37″ (3'1") tall. The average boy is 38 (3'2"). Common heights range from 36" to 39" (3'0" to 3'3").
Average inseam measurements vary from 15" to 18".
Some taller three-year-olds fit a bike with 14" wheels. Most 14" bikes fit riders with an inseam that measures between 15.5" and 20". Seat height is still a reliable measurement for fitting a pedal bike. As mentioned previously, seat height should be around 1" to 2" less than your child's inseam, with a very minimum of ½".
Bike Fit
For the youngest learner-riders, seek ample reach and room in the 'cockpit' area of your child's bike, so they aren't cramped between their saddle and handlebars.
A low minimum saddle height is important, to allow toddlers to mount and dismount regularly, setting both feet flat on the ground when required.
A lower saddle height seats a rider 'within' their bike, contributing to a lower and more stable center of balance.
Standover
A lower standover is more important to consider for a pedal bike than for a balance bike, as pedal bikes use the traditional 'main triangle' that is present on bikes for older children and adults.
Some of these bikes use a step-through design that results in a much lower top-tube.
This bike has 14" wheels but a particularly low minimum standover of 14.37". Such a bike could grow with a toddler for years, into early childhood.
Bottom Bracket Height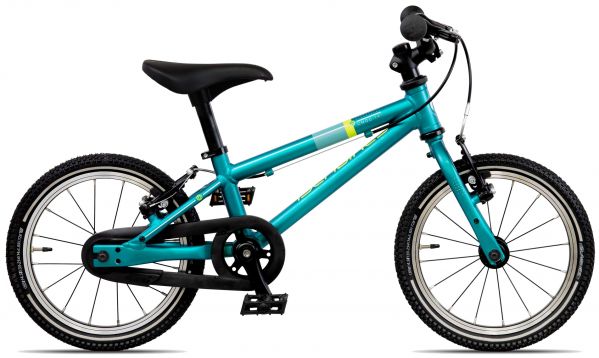 This bike is designed with a
lower bottom bracket height
One of the differences between balance and pedal bike geometry is the need for a higher bottom bracket, to prevent cranks and pedals from striking the ground. This may lift the bike's center of gravity, making it less stable than a balance bike.
Drivetrains and Bike Fit
A 12" pedal bike needs to incorporate a drivetrain. Combined with the physical mechanics of pedaling, this can make a 12" pedal bike far more cramped than a similarly sized balance bike, particularly within the 'cockpit' area (between saddle and handlebars).
If your child is tall enough, a bike with 14" wheels may provide a more ergonomic fit.
Wheelbases
Quality models use a design with a longer wheelbase. On the other end of the scale, some super-progressive designs may result in an outstretched ride position for some riders.
Comfortably long wheelbase
Radically long wheelbase
Short wheelbases result in a less stable and more cramped ride. They are common on cheaper 12″ bikes.
Seat Height
At their lowest, pedal bike seat heights should allow kids to start out with feet flat on the ground.
Seatposts should extend high enough to allow for real pedaling with knees slightly bent.
Low heights start out at 15" and suit the smallest of riders, with inseam measurements from 15.25" and up. Any seat height between 15" and 16.5" will provide a great starting height.
With a seat height range from 15" to 20", bikes such as the model pictured here can fit a rider until they're four or five years old.
Training Wheels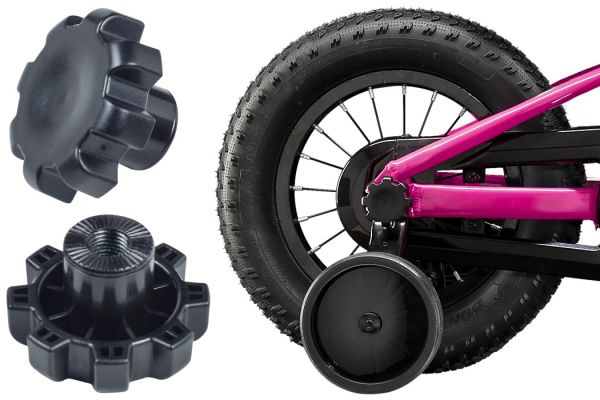 These training wheels attach and
detach with a single knob
While many parents are moving away from training wheels, they remain a choice for many buyers. Critics claim that some children actually lose balance when using training wheels, as they wobble from side to side. Training wheels add around a pound of weight, at minimum. So be sure to look for the lightest option available.
As your child progresses, you may want to remove and reattach training wheels, as a means to reducing dependency. Look for a simple mechanism that makes this easy.
You'll want training wheels that are easy to adjust up and down, as your child reduces their dependency upon them.
Brakes
Hand Brakes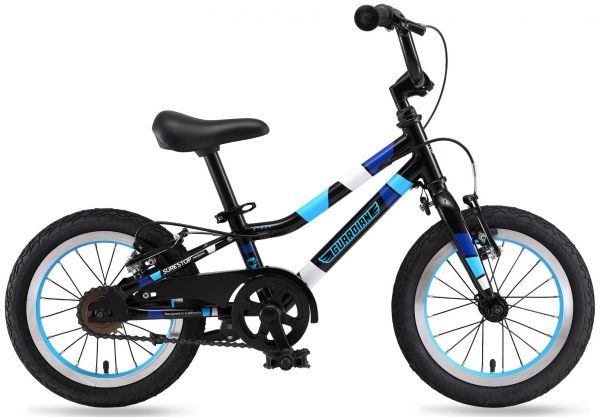 One lever operates both front and
rear brakes on this bike
Seek out a bike with a hand brake. The extra stability of training wheels provides a good opportunity for learning to use a lever-operated brake. This brake will continue to be used when training wheels are removed.
Some innovative designs use an easy-to-use 'dual braking' system, where a single hand lever operates brakes on both the front and back wheel, simultaneously. This prevents 'endos' from occurring when a front brake is slammed on suddenly. When this happens, a bike lurches forward violently on the front wheel, potentially sending its rider over the handlebars.
Coaster Brakes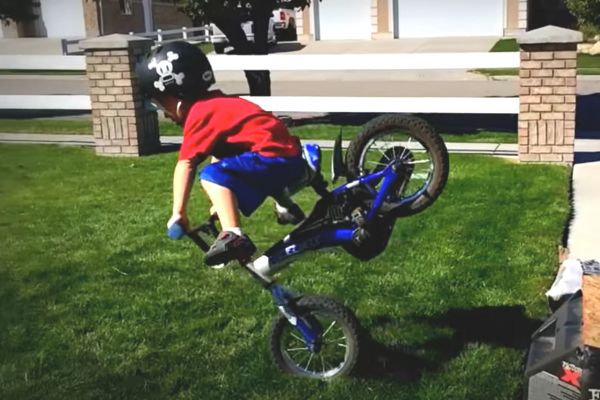 The dreaded 'endo'
Coaster brakes are not the best option. They prevent children from pedaling backward to maintain balance or while coasting. They're also heavier than hand-brakes, adding at least 1 lb of extra weight to a bike.
Coaster brakes are mandated by law on new 12" bikes that are sold within the United States. Better bike builders provide a coaster brake on the rear wheel and a hand brake on the front wheel. The best toddler bikes come with a coaster brake fitted but also provide a freewheel replacement kit to be used with a hand brake.
Wheels
The same concerns apply to both balance and pedal-bike wheels. Sealed bearings are superior for longevity. High-end bikes use lightweight aluminum hubs.
Tires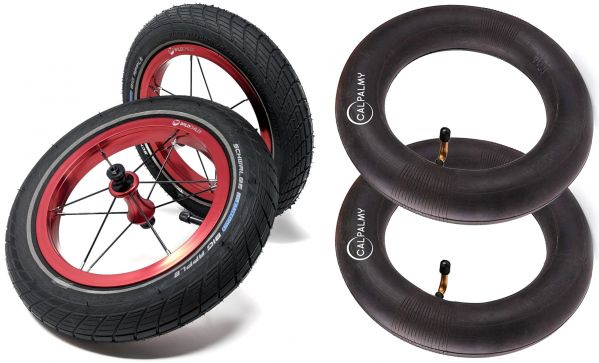 High quality tires and tubes with bent valves
Inflatable rubber tires are a must for outdoor riding on pedal bikes.
Rubber provides grip, while inflatable tires allow for forgiving shock-absorption over bumps and when dropping off curbs.
Wide tires offer extra stability, while some knobbiness of tread will ensure grip across varied terrain (be it pavement, dirt or grass).
Some tubes feature 'bent' or angled valves. On teensy 12" wheels, these make it easier to attach a pump nozzle when inflating tires.
Stems and Headsets
Seek a head tube that has enough room for a number of spacers. This will allow you to increase handlebar height by gradually moving more spacers beneath the stem as your child grows. Threadless headsets make this an easier process.
Drivetrains
For bikes with 12" and 14" wheels, drivetrains are always single-speed. Gears are a bit too complicated for this age group.
You can modify the gear ratio of your child's bike. A smaller chainring will make it easier to pedal, especially from a dead stop. A larger chainring will achieve faster top speeds.
Cranks
Quality children's bike manufacturers will use narrow cranks (with an appropriate 'Q factor'), that suit the hip width of small children. Please refer to our guide on how to choose and buy the best kids' bike for more details.
Chainguards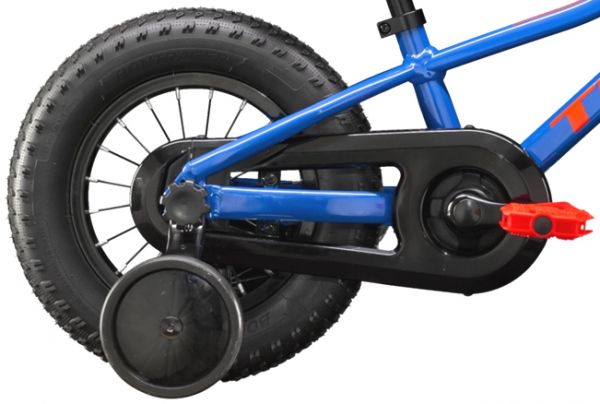 This chainguard covers the entire drivetrain
A chainguard covers the chain and usually the top of a bike's chainring. Some versions cover the entire drivetrain. They can be made from metal or plastic. Chainguards prevent children's clothing and legs from being caught in their chain and from being covered in grease. Curious children are less able to damage fingers (or what-have-you) in their bike's drivetrain.
Seek a lightweight model (preferably durable plastic) that does not rattle or rub on your bike's chain. You'd be surprised how common this is on new bikes.
Weight
A bike shouldn't be heavier than 40% of your child's weight. This can be a tricky calculation for growing riders, who only get heavier while their bike's weight stays the same.
Average Child Weights (United States)
Boys: 31 lb 12 oz / 31.8 lb
Girls: 30 lb 10 oz / 30.6 lb
Average Bike Weights (United States)
Given these average child weights, the best toddler bikes should exhibit these average weights:
Boys: 12 lb 11 oz / 12.7 lb
Girls: 12 lb 4 oz / 12.3 lb
When you're shopping around, you'll notice that some higher-end bikes match these weights but that most bikes are heavier.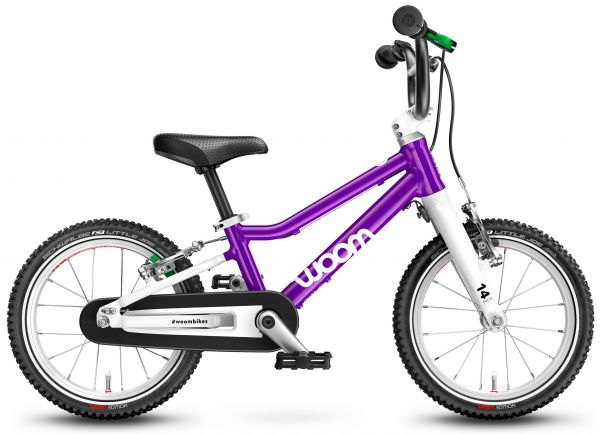 A 12.3 lb featherweight
It's true that most 12" pedal bikes are overweight, particularly for those toddlers that are just starting out.
In reality, this is how toddler bike weights average out:
Lightweight Bikes – 12.3 to 14.1 lb
These high-end bikes are significantly lighter than the next most affordable weight category.
Lighter Bikes – 14.2 lb to 14.4 lb
In this category, quality may differ significantly.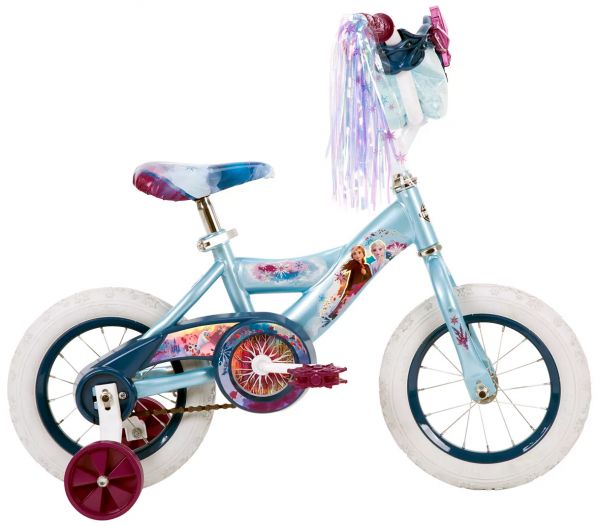 A husky 25.5 lb heavyweight
Midweight Bikes – 14.5 lb to 16.9 lb
Bikes in this category are more affordable or very durable, being intended for rougher use by growing children, aged 4 to 5.
Heavy Bikes – 17 lb to 22 lb and up
Budget (and not-so-budget) 12" bikes can weigh up to 25.5 lb! At this heft, a bike would weigh 80% of the weight of an average three-year-old.
Compare this to a 165 lb adult riding an average adult's commuter bike in the range of 24 lb to 30 lb. These bikes equal out at 15% to 18% of their riders' body weights.
Budget
For the earliest riders who are not yet pedaling, budget is something to consider when choosing between a balance bike and a pedal bike. For the same price as an average quality pedal bike, you will be able to afford a high-end balance bike.
Bike to the Future
The best bike for a toddler is a fun bike. They should be easy to use and not too heavy. It can't hurt if they look great too!
At this young age, it's inevitable that little riders will progress at different rates. Some kids might not click with their bike and then suddenly, one day, it becomes their best friend!
Whatever bike you choose, come to your purchase equipped with the facts.
Compared to adult bikes, toddlers' bikes are relatively simple and it isn't too tricky to get on top of the basics.
Whether it's a balance bike or a pedal bike with training wheels, choose wisely and roll on!
Further Reading and Useful Links
Have questions about which bike to choose? Ask in our Forum.
Want to win a bike instead of buying one? See our bike Giveaway.
Find out more about BikeRide.
Sources
Bike Categories