The BikeRide Guide to Choosing the Best Comfort Bike
by Owen Jesse – updated August 16th, 2022

Contents:
Above all, a comfort bike must be a pleasure to ride. They're friendly to your body's natural posture and reduce physical strain when riding.
Comfort bikes are ridden on roads, pavement and paths. They seat the rider in an upright manner, with a low seating position and high handlebars.
They generally use wide, large-volume tires that run at relatively low pressures. These tires are calibrated for comfort and stability, rather than speed.
Thick foam or gel saddles are standard. Seats may also use springs or elastomers for extra comfort.
A large number of comfort bikes are equipped with both a suspension fork and a suspension seatpost. Other models may use one or other of these bump-alleviating technologies.
Comfort bikes are not intended for performance or speed, so a low weight is not a priority.

Differences Between Comfort and Hybrid Bikes
Hybrid bikes are intended to be ridden both on and off-road (on mild dirt roads and paths), and are often used for commuting. They are usually less upright than a comfort bike, with narrower tires. This means that they are angled toward greater speeds and efficiency than a comfort bike.
Comfort bike
Hybrid bike
The wider tires of a comfort bike make them more suited to shorter rides at slower speeds, compared to the mid-width, higher-pressure tires found on hybrids. Front suspension is less common on modern hybrids than it is on new comfort bikes.

How and Where are Comfort Bikes Ridden?
Comfort bikes are designed to be ridden for pleasure, on relaxed and recreational outings. They're intended for short distance rides on undemanding terrain.
Generally, they're aimed at bike paths, pavement and asphalt. With some knobbly tires they can be ridden on flat dirt paths, but they're far more at home in urban surrounds.
Comfort bikes are ideal for family rides, grocery runs and ambling around town. They're the number one bike for tootles.
Comfort bikes suit riders who are less experienced or who, for whatever reason, possess a reduced level of flexibility. They offer a riding position that has the potential to reduce the lower back and neck pain experienced by some riders of road and mountain bikes. Some say it is more natural than a 'hunched and racy' or 'stretched-out' riding position.

Features and Characteristics of Comfort Bikes
Geometry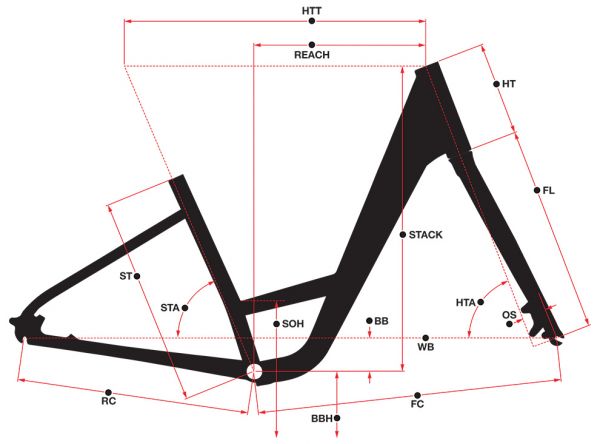 A comfort bike geometry chart
Comfort bike geometry is relaxed. Unlike performance machines, these bikes offer a casual, upright seating position. Your handlebars are above the height of your saddle and visibility is excellent, allowing you to see the path or road ahead.
Wide handlebars ensure that steering is comfortable, but slow. They are often 'backswept', placing riders in an ergonomic position, that allows wrists to bend at a natural angle. This results in a casual steering style.
Step-through and low step-over frames are abundant in the comfort bike world. They allow for easy mounting and dismounting of your trusty steed, in addition to accommodating a variety of clothing options (including dresses).
Wheelbase
Comfort is enhanced by a long wheelbase that incorporates long chainstays. This frame shape gives your bike a 'planted' feel and results in gradual acceleration and laid-back maneuverability.
Top-Tube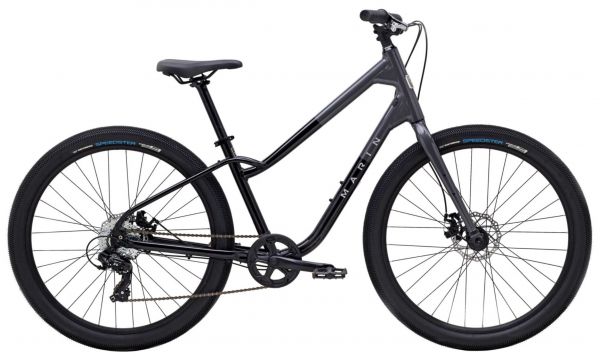 A sloping top-tube and 68.5° head-tube
Comfort bikes usually feature a sloping top-tube that is angled upward from the top of the seat-tube, toward the handlebars. This makes for a shorter 'reach' than on sportier types of bikes, which leaves you sitting upright with hands well above your saddle height.
Head Tube Angle
Head tube angles are conservative and usually sit between 69° and 70°. This leads to steering that demands minimal rider exertion but isn't twitchy (like a road bike). While some comfort bikes have head tube angles as low as 68.5° or as high as 72°, these numbers must be considered in conjunction with the amount of 'rake' offered by the offset of the fork.
Fork Offset, Rake and Trail
'Rake' more-or-less refers to how far a fork extends out from the head tube of your bike. In combination with your head tube angle, this creates a 'trail' distance, which affects the steering of your potential comfort bike. As you might expect, the generous trail of most comfort bikes results in relaxed steering.
Seat Tube Angle
Seat tube angles usually range between 70° and 74°, which lends that trademark upright posture to a comfort bike. Some cruisier models go as slack as 67°, placing the rider's feet further in front of the seat tube.
Stems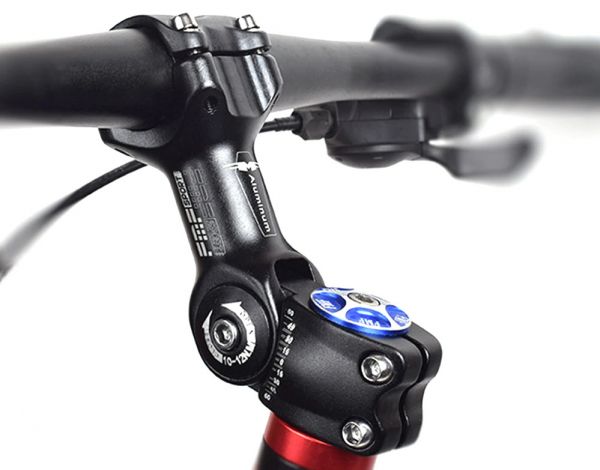 Adjustable stem
Comfort bikes often use a longer, more vertical stem than that found on sportier bikes, to assist the "high-handed" approach that is one its trademarks.
Adjustable stems are also very common. These allow you to tune your handlebar height to your perfect comfort level.
Bottom Bracket Height and Drop
Bottom bracket drop is fairly consistently close to 70mm, but as low as 60mm. Bottom brackets sit around 270 to 280mm above the ground.
In short, comfort bikes sit low enough to the ground to increase stability and allow a foot to be easily placed on the ground when needed.
Obstacle-clearing is not a priority, but pedals must have enough clearance so that striking the ground does not become a concern. The best way to assess this is via a test-ride.
Low Standover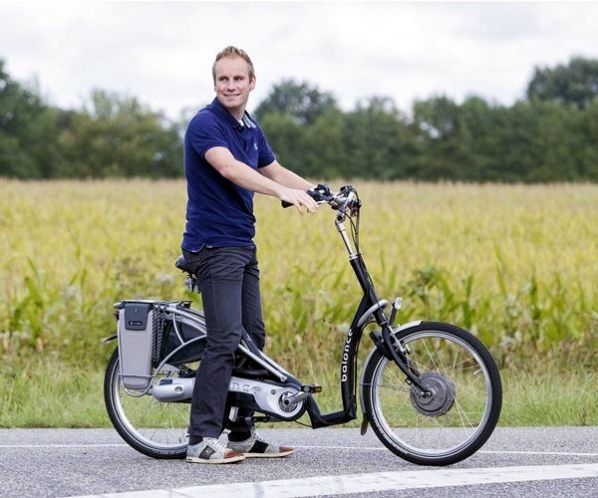 Ultra-low standover with the ability to plant both feet while seated
This is one of the non-negotiable build characteristics of a comfort bike. A low standover height is essential, for a few reasons.
Firstly, a low top-tube makes it a breeze to mount and dismount your bike.
Secondly, a low standover makes it easier to stop and start with stability, especially at traffic lights or whenever it's important to bring the bike to rest.
With their low seat height and standover heights, comfort bikes may be the safest type of bike to ride.

Frame Materials
Aluminum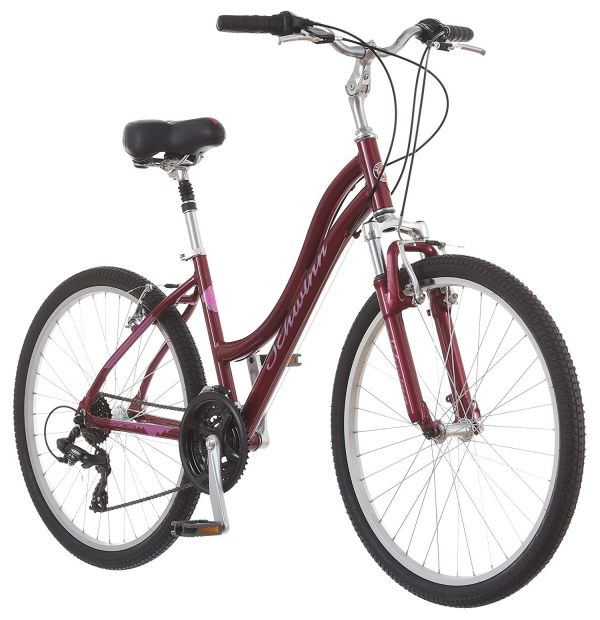 A more recent aluminum model
Aluminum is the most common material found on new comfort bike frames. It's lighter than most steel options and a lot more resistant to corrosion.
It's more costly than cheap and heavy steel alternatives, such as 'hi-tensile' steel. However, it's usually cheaper than boutique, lightweight steel tubing.
Aluminum has a tendency to be unforgiving over uneven surfaces. For this reason, it's often coupled with a suspension fork or a rigid fork made of a different, more compliant material (see 'Fork Material', below).
Steel
Few comfort bike frames are made of steel. It's a classic choice though, due to its durability and comfort. Steel frames can also be repaired. On the downside, they are heavier than aluminum.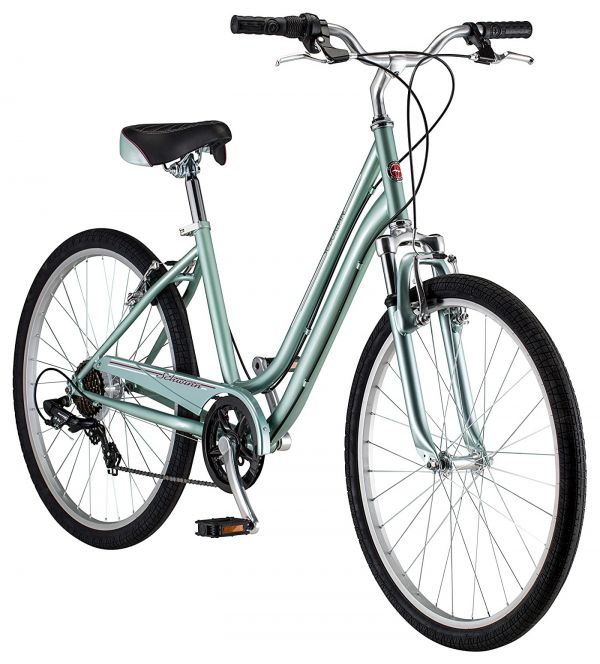 An older, hi-ten steel build
They're also not as rust-resistant, unless they've received a coating (such as electrophoretic deposition).
There are two main types of steel that you'll find on new bikes, and there are important differences between them.
Hi-Tensile
Otherwise known as 'hi-ten', this steel is used to make a few cheaper comfort bike frames. It's a low-cost option for a frame that can last a lifetime.
But it is heavier and less shock-absorbent than chromoly steel. The relative rigidity of hi-ten steel may be partially offset by wide, low-pressure tires and / or a suspension fork.
Chromoly
Chromoly is a steel alloy that incorporates chromium and molybdenum. It's also known as 'cro-moly', 'cro-mo' and by the numerical designation '4130' (as issued by the American Iron & Steel Institute).
It represents a lighter option, partially because it can be drawn into thinner tubing without compromising strength. This makes it more 'compliant' and comfortable than hi-ten, over bumpy surfaces. Its strength can also lead to it being more durable.
Chromoly frames ask a higher price than hi-ten. Because comfort bikes are a casual ride, some buyers might be happy to get by with the extra weight and lower price of hi-tensile steel. For others, this weight can be an additional and unnecessary strain.
Both chromoly and hi-ten steel comfort bikes are uncommon.
Carbon Fiber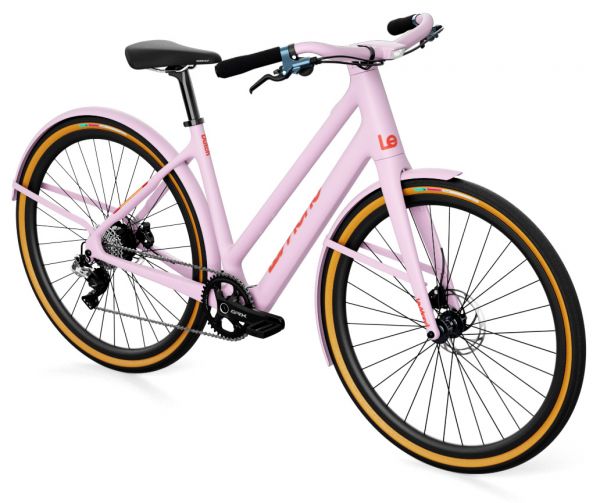 Full-carbon, electric comfort
Carbon fiber is lightweight, resilient, compliant and expensive. It's true that it's strong and absorbs road vibration.
On the other hand, it can be restrictively expensive and is usually only necessary on performance bikes, where speed is paramount. A carbon fiber bike is more likely to be stolen and will also be very costly or impossible to repair if cracked.
There are some electric comfort bikes available with a carbon fiber frame, as a weight saving measure. But pedal-powered comfort bikes are practically non-existent.
Titanium
Titanium is an expensive, light, durable, shock-absorbent metal that is almost rust-resistant.
When you want a casual and comfortable bike, it may not be the first material you think of. The best comfort bikes can be left locked up outside the corner store, cafe or library.
Even on the highest-end mountain and road bikes, titanium is boutique. But if you have deep pockets and want a nigh-indestructible frame that won't rust, you can find yourself a titanium comfort bike.
Wood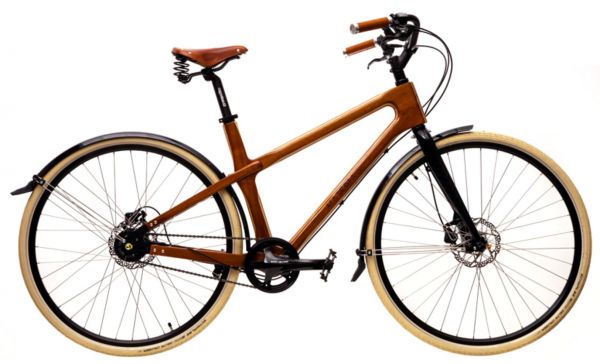 The Redwood option
What could be more comfortable than the natural warmth of wood? It is actually possible to choose a wooden comfort bike. Not only that, but you can select from models crafted from walnut, redwood, ash, beech-plywood and bamboo (amongst others).
It looks beautiful and can exhibit amazing properties of pliancy and shock-absorption. But wooden bikes don't just roll off the production line. The time taken in hand-construction is reflected in these bikes' prices.
Fork Materials
Many comfort bikes employ a suspension fork, to take the jounce out of bumpy roads and uneven surfaces. Suspension also allows you to stay seated, rather than rising out of the saddle to avoid the effect of bumps and rocks (on you and your bike).
Chromoly fork, aluminum frame
Hi-ten Fork, aluminum frame
Most comfort bikes are made of aluminum, which is stiff and light, but can be notoriously rigid and prone to vibration. If you have a suspension fork, this is of much less concern.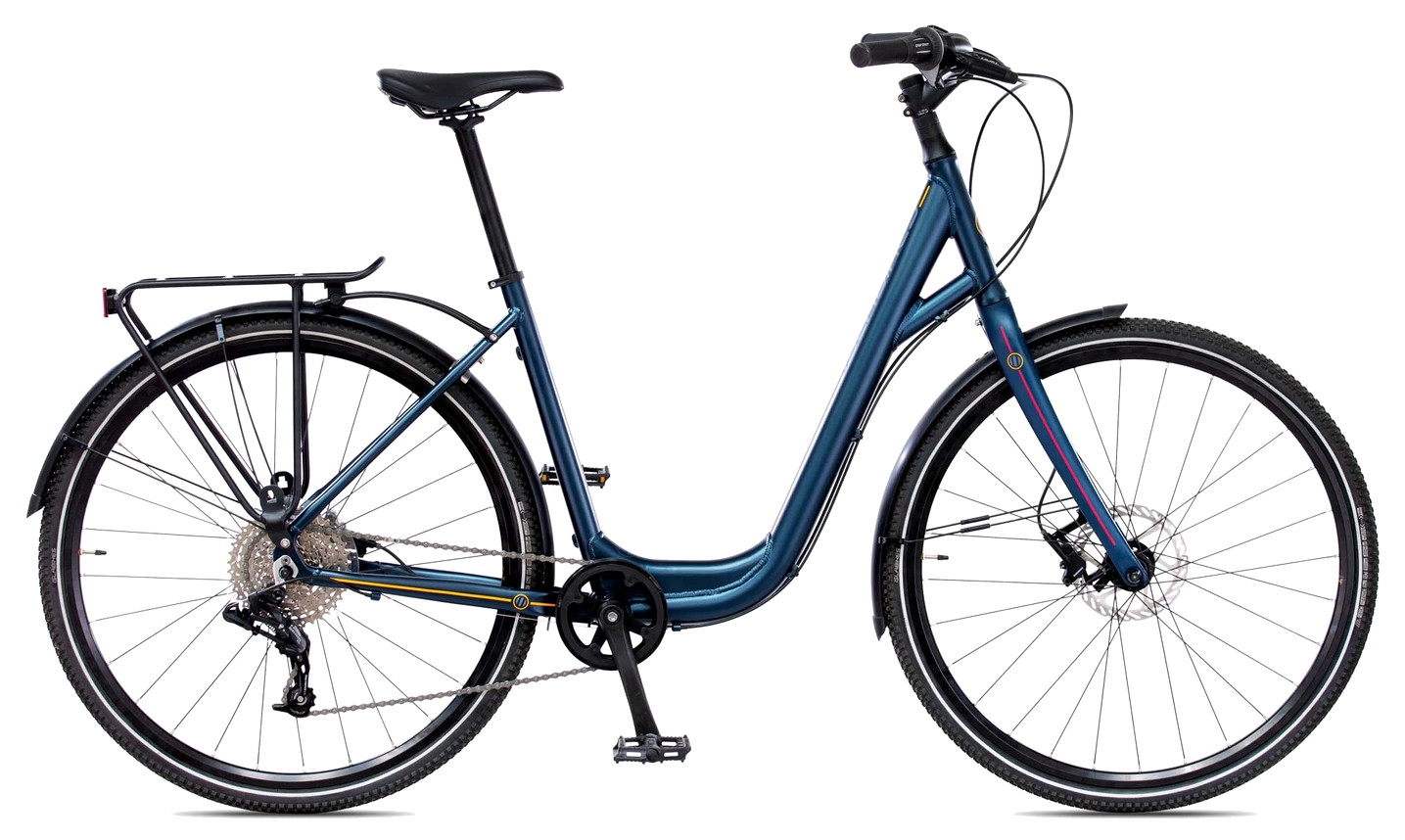 Carbon fiber fork, aluminum frame
Comfort bikes compensate for the rigidity of aluminum by using wide, low-pressure tires filled with generous volumes of air. But on their own, plush tires may not be enough.
For this reason, many rigid comfort bikes use a fork made from a material that is more pliant and shock-absorbent than their aluminum frame. This is usually steel, using either hi-tensile or chromoly alloys. In rare instances, it's carbon fiber.

Components
Components on seniors' bikes will vary in type, use and quality. It all depends on what type of riding you do, the type of bike you want and your budget.
Handlebars
Material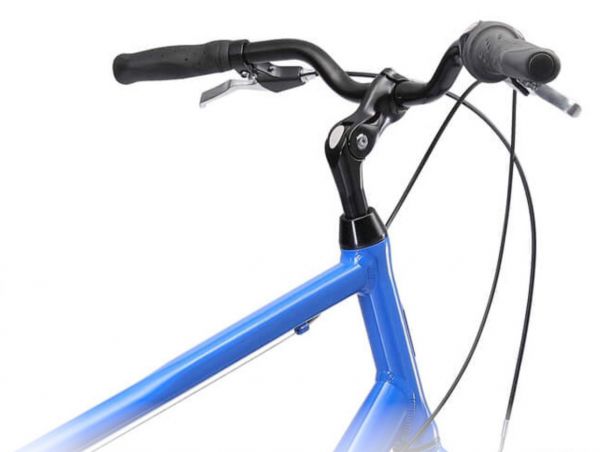 Steel bars with 50mm rise and 25° backsweep
Comfort bikes are made and sold with both aluminum and steel handlebars. Aluminum is lighter than steel, but will transmit more vibration from the road surface. Steel is heavier but more compliant.
Width
Comfort bike handlebars are fairly wide, with a usual range of 610mm to 660mm, but reaching 700mm on some models. This provides ample leverage and reduces exertion when steering.
Diligent manufacturers of quality models will fit proportionally wide bars, depending on the bike size chosen.
Shape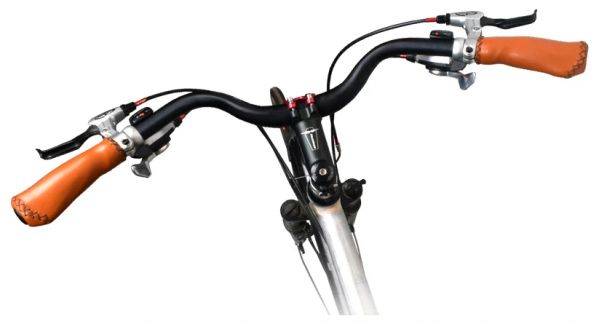 Aluminum 'swallow' bars, 660mm wide
Many Comfort bikes employ conservatively shaped bars, similar in shape to those used on mountain bikes. They may be straight or they could show a moderate amount of rise and maybe some backsweep.
Comfort bike handlebars are not racy, but you can use them to stand up when climbing hills, if the rest of the bike's geometry allows. You won't find drop bars on a comfort bike.
Sweep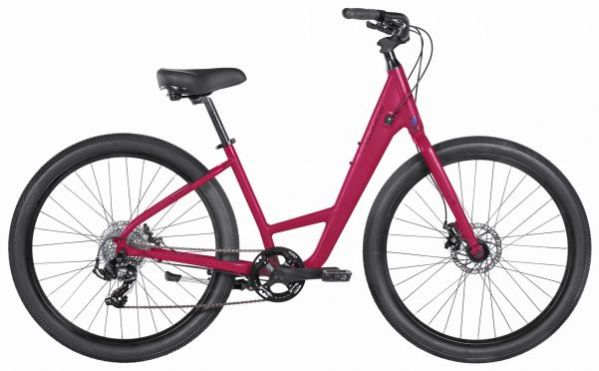 These bars rock 30° of backsweep
Some comfort bikes are fitted with swept-back handlebars. Backsweep can present an ergonomic advantage, setting a rider's wrists at a relaxed horizontal or vertical position (such as on 'North Road' style bars).
Another advantage of backsweep, is that you have infinite room for a basket or anything you might put on a rack, such as a crate, bag or box. On new models, backsweep is usually between 25° and 30°.
Rise
Comfort bikes usually employ nominal rise handlebars in conjunction with a tall stem or high-rise handlebars with a shorter stem. Either option leaves riders with a high hand position. New bikes are available with bars with anywhere from 10 to 60mm of rise. Reach is affected by handlebar rise, as well as stem height and frame geometry.
Brakes
Most new comfort bikes are provisioned with either disc brakes or 'V-brake' rim brakes. 'Comfort-adjacent' bikes may be equipped with drum brakes. These include the Dutch 'omafiets', traditional roadsters and cruisers.
Disc Brakes
Disc brakes slow the bike by squeezing pads onto a disc, which is attached to the wheel hub. Discs cost more than rim brakes, but are now more affordable than they have ever been. They are more powerful than rim brakes, especially in wet weather. This makes them more suited to those seeking comfort, as they require less effort and hand strength from the user, while delivering similar stopping power. They allow for the use of wider tires and don't wear down your rims. For this reason, they're popular on comfort bikes that are used year round.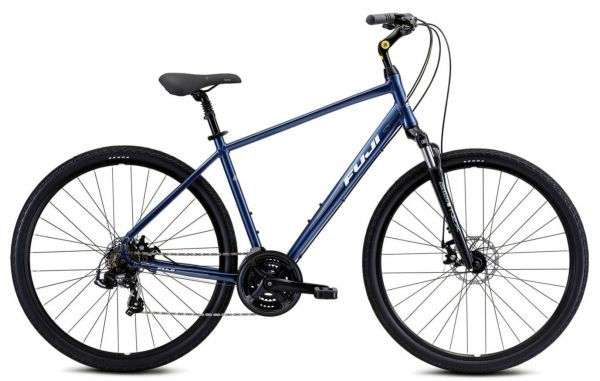 Dual disc brakes
Disc brakes add weight to your bike. They are also more complicated than rim brakes, when it comes to maintenance, adjustment and repair.
There are two types of disc brake; hydraulic and mechanical. Hydraulic brakes provide greater stopping power and use brake fluid to transmit force. They are more costly than mechanical discs and trickier to maintain.
If you live in a dry climate, you might consider cutting costs and using rim brakes. But if your priorities are power, performance and all-weather reliability, discs could be your preferred option.
Advantages
Require less effort to apply and inflict less strain than other brakes.
Strong stopping power in all weather conditions.
Allow the use of wider tires.
Protect rims from wear.
Powerful ability to stop the bulk of heavier bikes.
Disadvantages
Expensive.
Complicated and difficult to maintain.
Rim Brakes
V-Brakes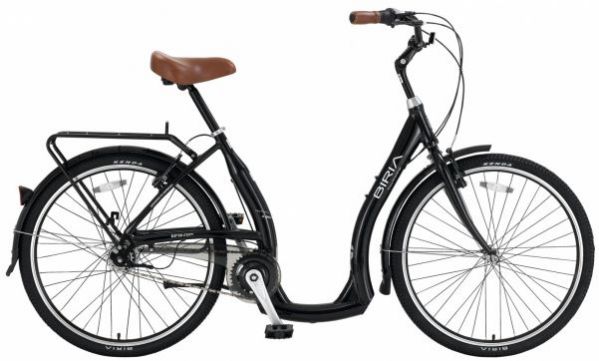 Dual V-brakes
Also known as 'linear-pull brakes', these are a type of cantilever rim brake that uses a single cable and two arms. They fit well around wider tires and are easily adjusted and maintained at home. That said, they can still be tricky to center. As far as cantilever brakes go, they're powerful.
Compared to discs, they lose some power in wet weather. Winter braking also wears down rims as grit and filth gets attracted to your brake pads.
V-brakes are cheaper than disc brakes and easier to adjust without professional help.
Caliper Brakes
These are rarely used on comfort bikes. These attach to the frame or fork by a single bolt. They use curved arms, which must be long and wide enough to fit around your tires. For this reason, they are better suited to bikes that accommodate narrow to mid-width tires.
Advantages
They are low-cost, reducing the overall price of a new comfort bike.
They're easy to adjust.
Disadvantages
Rim brakes lose some power in wet weather.
Winter braking wears down wheel rims as grit and filth gets attracted to brake pads.
Drum Brakes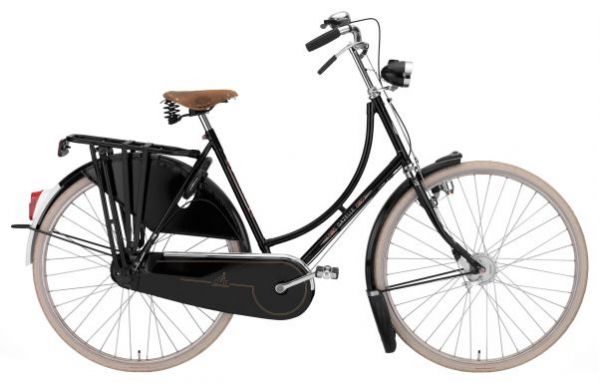 This 'omafiets' employs drum brakes,
front and back
Drum brakes are used by bike types that may share a similar geometry to comfort bikes. These include traditional roadsters, 'omafiets' and cruisers. Drum brakes are sometimes referred to as 'roller brakes' or 'hub brakes'.
They use an internal hub, but are cable-actuated in the same way that rim and disc brakes are. Drum brakes work by using a conventional brake lever and cable linked to a cam that presses brake shoes outward against the inside of a cylindrical drum, creating friction.
Drum brakes may be combined with an internally geared hub and / or a dynamo that's connected to your bike's lighting.
Advantages
They are easy to modulate.
Drum brakes are long-lasting and robust.
Mechanical components are sealed from the elements.
Drum brakes require infrequent maintenance.
Disadvantages
They usually require a mechanic to overhaul, when needed.
They're heavy.
They may "stick".
Braking is not as powerful or sudden as a disc.
Oversized drum hubs affect wheel building and alter spoke length.
A reaction arm needs to be detached to remove the wheel.
Drum brakes have poor heat dissipation, making them prone to brake fade.
Drum brakes are built into a hub. When one element of this hub is worn out, the whole unit needs replacing.
Coaster Brakes
Coaster brakes might be used as a rear brake on some comfort bikes. They're also known as 'pedal brakes'. You might remember them from childhood, when simple bikes required you to push your pedals backwards to stop.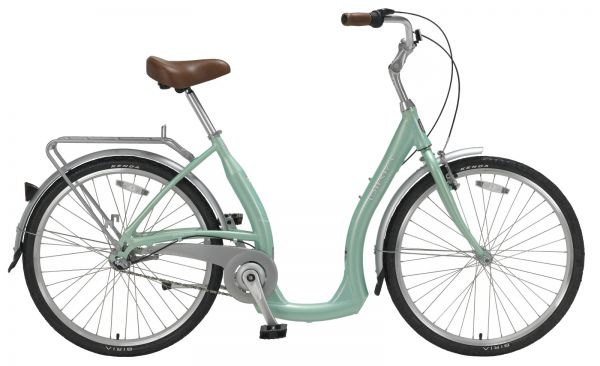 Rear coaster brake with a front V-brake
There are no pads or discs and braking takes place largely within the wheel hub.
Most coaster brakes provide somewhat inferior stopping power, compared to rim and disc brakes. But as with any other brakes, there is a wide range available in terms of quality and cost. Coaster brake hubs can also be internally geared; usually with 3, 7 or 8 speeds.
On its own, a coaster brake might not be practical or safe in hillier terrain or at higher speeds. Mashing a coaster can 'cook' the grease inside a coaster hub. The first mountain bikers had to repack this grease after every descent. Some new models use a rear coaster brake with a front rim or drum brake.
Advantages
Coaster hubs only need infrequent maintenance.
A coaster brake does not need cables or levers.
They give your bike a neat, clean appearance.
Disadvantages
Coaster brake hubs lack stopping power.
They can overheat on long, steep descents.
Coaster hubs may need repacking with grease.
Coaster brakes prohibit back-pedaling.
A 'reaction arm' needs to be detached and reattached to remove and fit the rear wheel.
Factors to Consider
A comfort bike with rim brakes will be cheaper than one with disc brakes. But because comfort is the name of the game here, disc brakes fit well with the 'low exertion, low strain' ethos of the comfort bike.
Cranks
Cranks on a new comfort bike should always use a 3-piece assembly. New 3-piece cranks use sealed bearings and a separate part for either crank and the spindle. They are lighter and stronger than 1-piece options, which can be easy to bend. In this instance, the whole assembly must be replaced. For a three-piece crank, only the bent crank need be replaced.
One-piece
Three-piece
There are different types of 3-piece cranks, with their own benefits and drawbacks. But compared to 1-piece cranks, they all possess superior qualities of strength and reliability. Some 1-piece versions can be tougher than others, but in general, three-piece setups are superior.
New bikes should have cranks of a length appropriate to your bike's size. If your legs are longer or shorter than the average, you can swap for cranks of a different length.
Gearing
In the interests of ease, comfort bikes will usually have a wide gear range. This ensures that you can always find a suitable gear, in any terrain, with the minimal amount of strain. It also allows you to remain seated for a majority of your ride.
A wide gear range can be the result of having many available gears or of having less gears spread over a wider range. This means that there is still a high high gear and a low low gear, but that the jumps between gears are larger.
On some new bike types, triple (and even double chainrings) are seen as excessive and redundant. Many new bikes use a single chainring with a relatively wide range of gears. This reduces weight and complexity.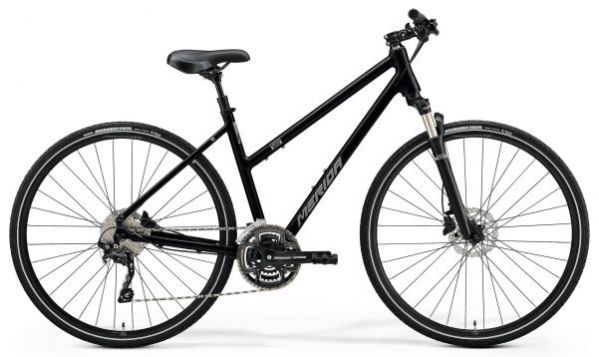 This bike offers 30 gears on a 3×10 drivetrain!
However, for comfort bikes (as well as touring bikes), triple and double chainrings remain popular. They ensure that almost any elevation can be tackled without exertion. Single chainring options are also available.
For a comfort bike, streamlining and weight-reduction are not priorities. It's better to have a bike that will provide the right gear to appease the knees.
External Gearing Using Derailleurs
Many affordable comfort bikes use external gearing. Derailleur-equipped comfort bikes are usually available with between 7 and 30 speeds. Bikes with 21 to 30 speeds use three chainrings and a front derailleur, making maintenance and adjustment significantly more complicated than the single chainring setups specced on 7, 8 and 9-speed bikes.
External gearing is exposed to rain and dirt, both of which rapidly deteriorate components. If you want to ride your new bike in the city in all seasons, an internally-geared option resists the elements and requires less maintenance.
Advantages
This is the most affordable standard.
External gearing can be adjusted by (some) home mechanics.
Disadvantages
External gearing is exposed to the elements.
More tuning and repair is needed than on an internally geared drivetrain.
Internal Gearing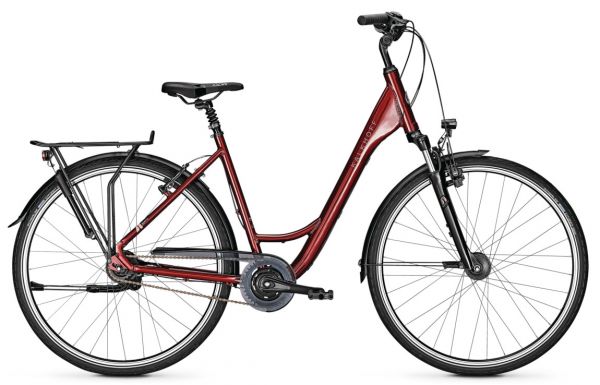 A comfort bike equipped with a
Shimano Nexus 8-speed hub
Internal hubs are low-maintenance, while protecting your gears from the elements and maintaining a clean look.
There are no derailleurs to adjust, maintain, bend or damage.
Internal hubs are available in 3, 7 and 8-speed options on new comfort bikes. There are also 'stepless' internal hubs that provide progressive gearing with a similar range to other brands' 8-speed options.
Advantages
Internally geared hubs are sealed from dirt and moisture.
External complexity is reduced by eliminating derailleurs.
Internal hubs present neatly.
They only use one shifter and one cable.
Internal gearing systems only require infrequent maintenance.
Disadvantages
When needed, maintenance can be complicated.
Gears complicate the rear hub, especially when combined with a drum brake and / or a dynamo for lighting.
Sturmey Archer and Shimano's 'Nexus' range are names to look out for. When it comes to internally-geared hubs, both are manufacturers of renown.
Belt Drive vs. Chain Drive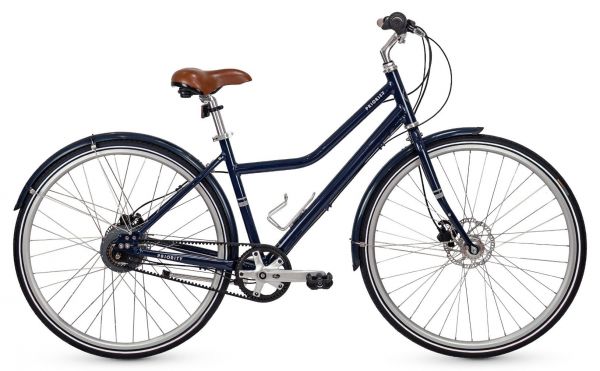 A stepless, progressive hub on a
belt drive drivetrain
Belt drives are a modern replacement for the traditional chain. They use a single-piece carbon belt that can't be separated. They are near-silent, greaseless and long-lasting. Because they are low-maintenance and won't soil clothing, they present an attractive option for the casual cyclist.
They require a specific frame type. In addition, they only work with internal hub gearing and may cost a little extra upfront (compared to chain-driven options).
Shifters
'Twist shift' style gear shifters are more common on comfort and hybrid bikes than on any other bike. They are produced under the 'Grip Shift' and 'Revoshift' brand names. These allow the rider to change gears by turning a barrel next to the grip. Aesthetically, the 'twist shift' resembles a motorcycle throttle.
SRAM 'Grip Shift'™
Shimano 'Revoshift'™
You might consider whether a twist shift or traditional 'thumb and forefinger' system is more ergonomically suited to your hands and flexibility.
The Contact Points
Saddles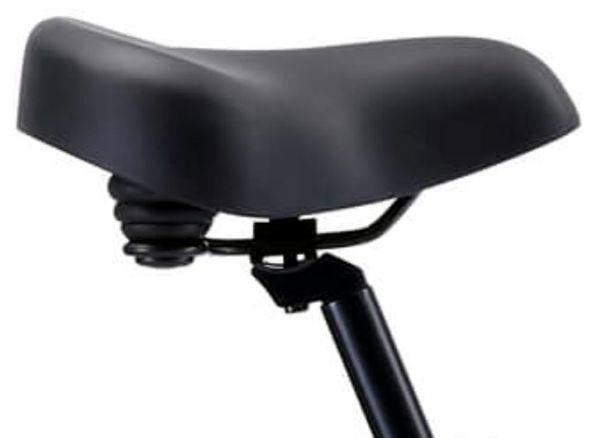 This well-cushioned saddle uses
elastomerized suspension
New comfort bikes generally arrive fitted with a wide, cushioned saddle. This is one of the characteristics that gives the comfort bike its name. A comfy saddle makes a lot of sense, because comfort bike geometry puts you in a position where a lot of your weight is resting on your behind.
Some cushioned saddles are well thought-out in their construction and shape. However, many plush, squishy saddles are only comfortable on shorter rides. Excessively cushioned saddles can be misleading. This 'squishiness' can lead to discomfort that's felt in the hips, thighs and bottom on longer rides. Numbness may result, due to restricted blood supply.
It's best to err on the side of moderation when considering saddle width. A number of female riders find that a moderately wide imprint is more suited to their body shape. Other riders will choose a standard saddle, as found on a commuter or hybrid bike.
The best way to choose the right saddle is to try a few out, in person.
Sprung Saddles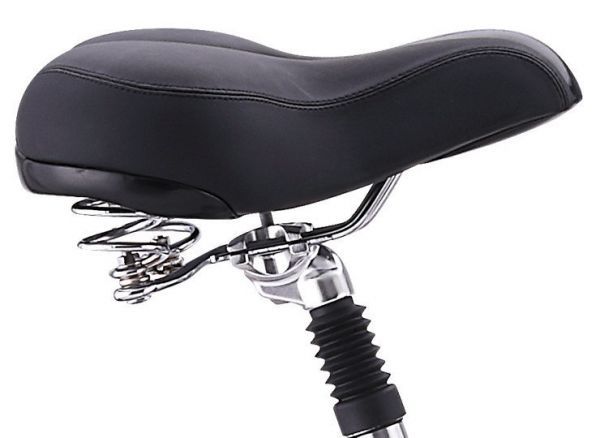 A traditional sprung saddle with
heavy cushioning
Sprung saddles are a common component on new comfort bikes, classic town bikes, roadsters and cruisers. They are an early, but still effective, form of suspension. These saddles usually feature two large, short springs under the seat. Some versions have a third spring beneath the saddle nose. Modern versions may use elastomers as a lighter-weight alternative to springs.
Sprung saddles are comfortable and provide relief on bumpy and uneven surfaces. But they're usually quite heavy.
Grips
Comfort Grips
Many comfort bikes use what are known as 'comfort grips'. These are usually round and employ a shock-absorbent rubber or foam compound. They should be of a decent width and provide adequate grip and cushioning.
Ergonomic Grips
These grips are comfortable and healthy for the natural shape of human hands. They are usually made with a material that provides adequate shock absorbance.
Faux Leather
Synthetic 'leather-look' grips are sometimes fit to new comfort bikes. They can be spongy and not too grippy. More expensive options may use quality synthetics or real leather. They may be more ergonomic and less slippery in sweaty conditions. Leather may be used purely for looks.
A good guideline for grips is to seek something that's comfortable but not too squishy.
Pedals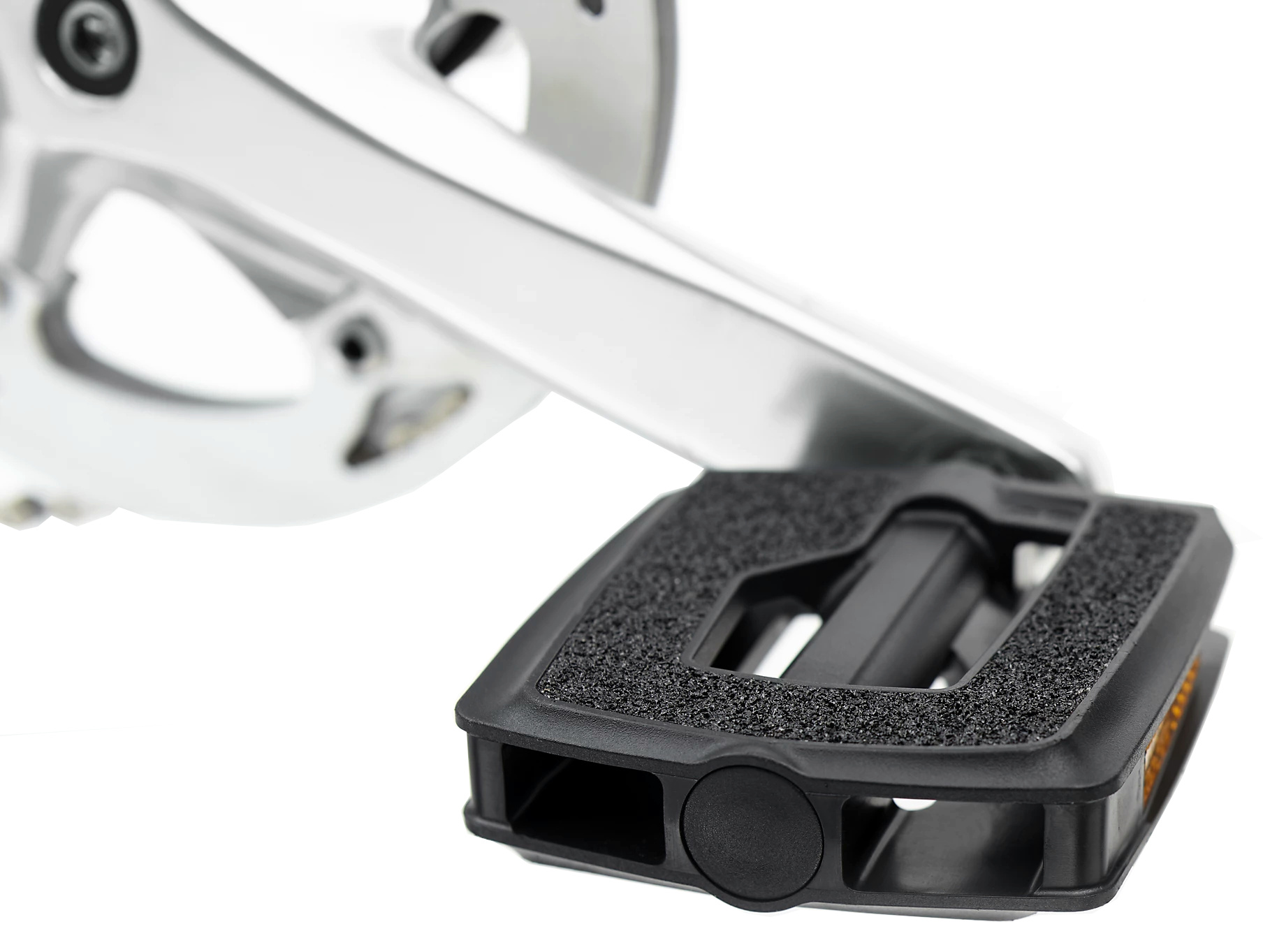 Grip-tape tread increases traction
Comfort bikes are usually sold with flat, plastic 'platform' pedals. Manufacturers describe these as made of nylon or 'resin'. Good examples use non-slip rubber inserts or grip-tape to improve traction. Platform pedals offer easy on / off action and foot-down when coming to a stop. They work well with casual shoes.
When choosing or replacing pedals, keep in mind that 'plastic' does not always equal poor quality. Polycarbonate examples can be long-lasting and may use high quality bearings.
Wheels
Materials
Aluminum alloy double-wall rims are the standard on new comfort, city and hybrid Bikes. Aluminum rims are strong, light, stiff and highly rust resistant. They're inexpensive too. If dented, aluminum rims can often be repaired.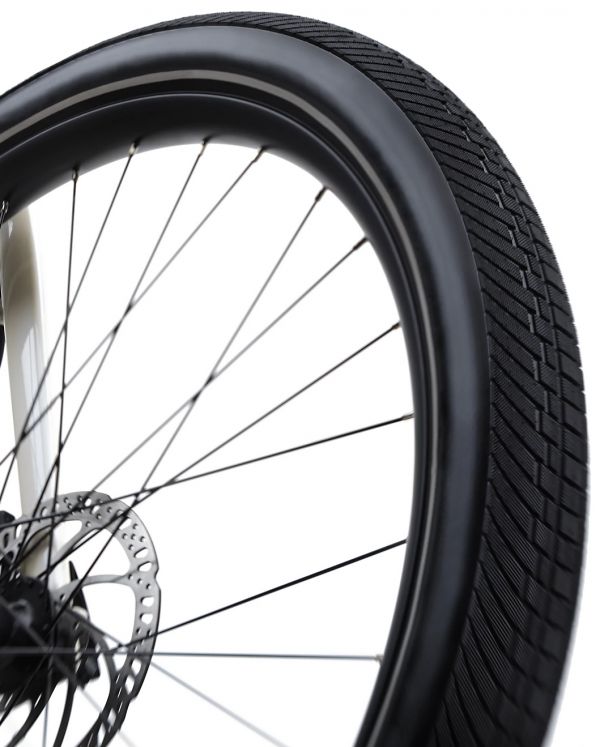 Alloy, 27.5″, 32 spoke. Sealed bearing wheel
Bearings
Your new comfort bike should use sealed wheel bearings. They roll smoothly and are protected from the elements.
Spokes
Comfort bikes usually use 32 to 36 spokes per wheel. Sometimes, a front wheel will use 32 spokes, while the rear uses 36. This saves weight, as a front wheel usually bears less load and takes less impact than a front wheel. The odd lightweight model uses 28 spokes to reduce weight. This isn't a problem if rims are strong and the build is reliable.
As a general rule, look for 32 spokes at a minimum, to provide support under a heavy frame and bike. Spokes should be made from stainless steel.
Sizes
27.5" inch wheels are the most common size on new comfort bikes. 700C wheels are not uncommon either. The older, smaller mountain bike standard of 26" is also still found on some new comfort bikes.
Bigger wheels achieve faster top speeds and are better at rolling over bumps and uneven surfaces. Smaller wheels may exhibit tighter handling and acceleration.
27.5" Inch / 650b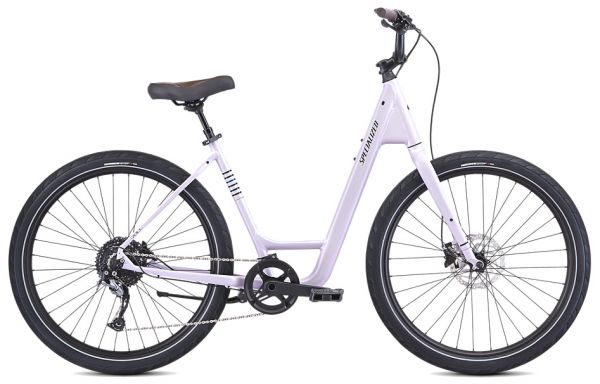 This bike is marketed as using '650b' wheels
Most comfort bikes use this size. These wheels can proscribe a tighter turn-circle than 700c wheels, on what is a comparatively long wheelbase bike. Most frames allow for wide tires. With large tires, the total diameter of your wheels is increased. '27.5 inch' is the mountain bike nomenclature. '650b' is usually used for touring and road bikes. Both are valid and refer to the same size.
27.5" is the most popular, current mountain bike standard. This means that there are plenty of spare wheels and rims available.
700c / 28" Inch / 29" Inch
This is the standard size for road bikes as well as many hybrids and commuters.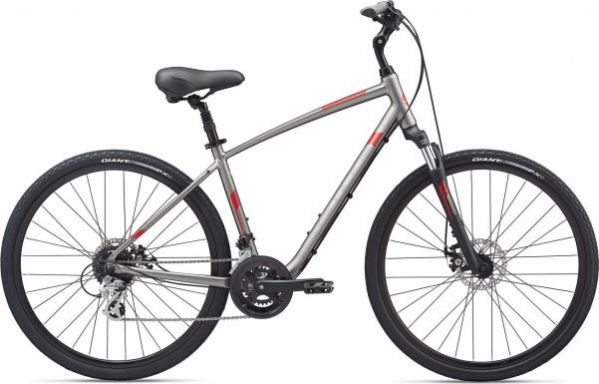 This step-over comfort bike uses
700c wheels with 45c tires
They may also be described as '28 inch' on European bikes. Being of a larger diameter, they roll faster. Wide, 700c rims are known as '29 Inch' in the mountain bike world, where they are the larger standard.
These big tires roll over small bumps without the need for such plump tires as on 27.5" varieties. Even so, you'll want ample rubber for comfort and grip. Your new comfort bike should sport tires at least 38c in circumference. New models are sold with tires between 38c and 45c wide.
26" Inch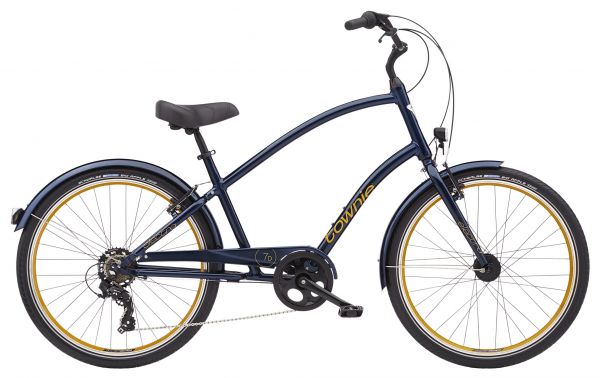 A current model that's still
sold with 26″ wheels
This used to be the standard on comfort and mountain bikes, before the mid-2000s. There are still a number of models that use 26" wheels, but they are becoming less common. Some folk find that the smaller wheels are more stable and allow for a smaller turn-circle, but this comes at the expense of top speeds and the ability to roll over small bumps without incident.
There are comfort models that use 26" wheels on smaller frame sizes and 27.5" wheels with larger frames, to maintain proportionality.
24" Inch
Comfort bikes for shorter riders and juveniles may use 24 inch wheels. These smaller wheels allow for a more proportionate build with smaller frame sizes.

Both of these 24″ models can also be bought in 26″ versions
Tires
Comfort bikes are designed for tires that:
Feature a wide imprint and contact patch to increase grip and stability.
Use a semi-slick or light tread, for use on sealed roads and pavements.
Hold a generous volume of air.
Are designed to be run at relatively low air pressures, for comfort.
Have superior rollover on bumps and debris.
These tires are designed to:
Be comfortable.
But not fast.
Bestow moderate traction.
Provide a low rolling resistance.
Tread
Comfort bike tires vary between a 'semi-slick' and a light tread. They aren't knobbly, like mountain bike tires. But they do have enough tread to easily maintain traction when cornering on paved surfaces in wet weather.

These tires use semi-slick treads that are typical of comfort bikes
In urban environments, you don't want your tires creating excess drag, but if you encounter a little sand when cornering, you may want some assurance. For this reason, these tires have more tread than those on road bikes, but significantly less than on mountain and gravel bikes.
Comfort Bike Tire Sizes and Widths:
27.5" Inch / 650b
Standard ranges are between 1.95" and 2.4".
Options narrower than 1.75" are less common and less comfortable.
700c
Standard ranges are between 38c and 45c.
28" x 1.75" ≈ 700c x 45c.
26"
Usually range between 1.75" and 2.0".
26 x 1.5" tires can be found, but are significantly less comfortable.
24"
2.0" is a common width.
Usually range between 1.75" and 2.125".
Suspension
Suspension is common on comfort bikes. Many options use a front suspension fork to iron out bumps and chatter. This level of comfort comes at the expense of speed, efficiency and weight.
Suspension seatposts are also a common occurrence on comfort bikes, as a means of alleviating road vibration that's transmitted through the bike's rear end.
The weight of true rear suspension negates any benefits for on-road use, so new comfort bikes are not available in full-suspension configurations.
Softer forms of suspension can include cushioned saddles with sprung or elastomer suspension (see our section on saddles).
Suspension forks were standard on comfort bikes of the 1990s and 2000s.
More and more new comfort bikes use a rigid fork and larger tires for cushioning
Suspension Forks (Front Suspension)
The suspension fork on a comfort bike should be lighter and less 'beefy' than those found on mountain bikes.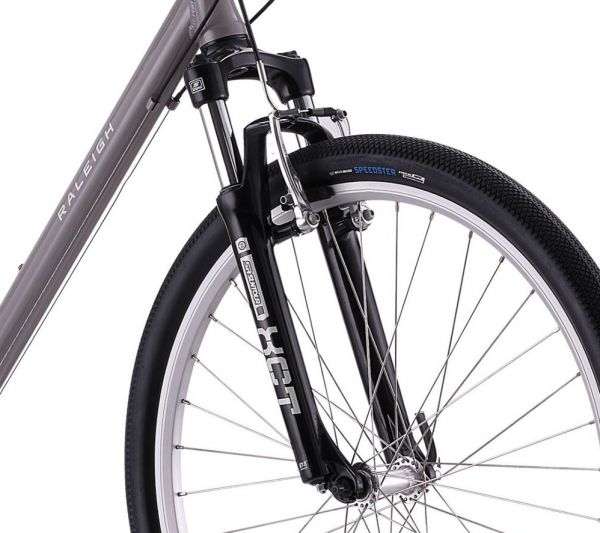 This fork offers a generous 80mm of travel
Less 'travel' is required than on a truly off-road machine. Most comfort bikes offer between 40 to 80mm of travel (the distance that the fork has to move up and down), while mountain bike suspension usually starts at around 100mm.
You may seek a fork with a 'lockout' option, which allows you to lock out the fork's suspension, preserving efficiency on flat ground.
A decent suspension fork can add significant cost to a bike, while suspension on cheaper bikes may be heavy and ineffective. These days, there are a lot of great big-volume tires that roll fast and act as ample suspension on rough city roads.
For many urban riders, suspension isn't necessary. It adds weight, complication and maintenance needs to a bike. For other riders, it provides necessary relief from uneven roads and surfaces.
Suspension Seatposts
Suspension seatposts usually offer between 10 and 50mm of travel and use one of three types of suspension; coil spring, elastomer or air. On new comfort bikes, a simple vertical suspension post will usually use a coil spring. Sometimes this coil spring operates in conjunction with an elastomer bumper.
Coil spring and elastomer suspension is most common on new bikes
Pivot suspension
Coil spring suspension posts have a tendency to decrease efficiency by robbing the rider of some pedal-power. More advanced elastomer models and options with more travel (up to 76mm), can be sourced as an aftermarket upgrade. Some of these have been proven, by testers, to be more efficient under pedaling pressures.
Bosses, Eyelets and Mounts
Cargo
Front Racks
Front racks can be attached to many comfort bikes. Many comfort bikes will have eyelets to attach the kind of front rack that you would attach to a touring bike, but a fair number do not. Look for at least one eyelet on the outside of either fork arm, about halfway up. Even if these aren't present, racks can be attached to the headtube and / or handlebars, using an aftermarket bracket.
Keep in mind that bikes with a suspension fork will not have mounts to attach a front rack. If you want to attach a front rack, aim for a bike with a rigid fork.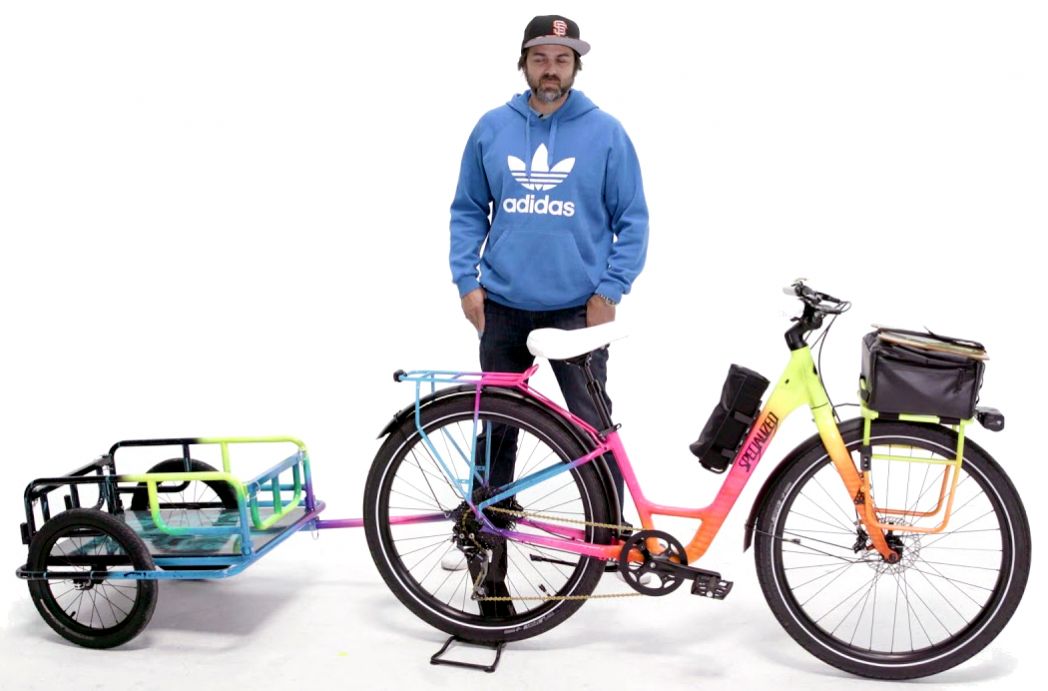 An off-the-shelf model equipped with every cargo option
Rear Racks
Many comfort bikes have mounts for a rear rack. Check for the appropriate eyelets or mount-points on the seat stays and near the dropouts of your potential new ride. Some comfort bikes come with a fitted rack.
Bottles
Most comfort bikes have mounts for bottles. If you plan on going on longer rides, keep an eye out for a model that allows two bottles to be fitted. A few comfort bikes sacrifice room for bottle mounts to prioritize step-through accessibility.
A bike equipped with bottle bosses
Without bottle bosses, alternatives are needed
Fenders
Some comfort bikes arrive fit with matching fenders. At the least, you'll want your bike to bear eyelets that allow you to fit some aftermarket options. These are located beside the rear wheel and front fork dropouts.

Step-Over and Step-Through

Many models, such as this one, are available in both step-through and step-over frame options
The main comfort bike variation is between two frame shapes. Step-over frames are arched and sit up higher from the ground than on a step-through frame. Step-through frames have a downward-sloping top-tube and a much lower standover height.
Step-through comfort bikes have some of the lowest standover heights of all bike types. Even step-over framed comfort bikes have a significantly lower standover height than most other bike types.
A Low-Entry step-through model
Traditionally, step-over frames were favored by male riders, while step-through frames were marketed to women. This is still predominately true (step-through frames do make it easier to ride a bike in a dress). But in reality, some shorter and less-able men choose step-through frames, while some taller women prefer a step-over frame. Many comfort bike models are available in both step-through and step-over options.
If you find it difficult to mount a standard step-through bike, you're in luck. 'Low-Entry' bikes make it easy to get on and off a comfort bike, even with reduced flexibility. They're popular with seniors.

Electric Comfort Bikes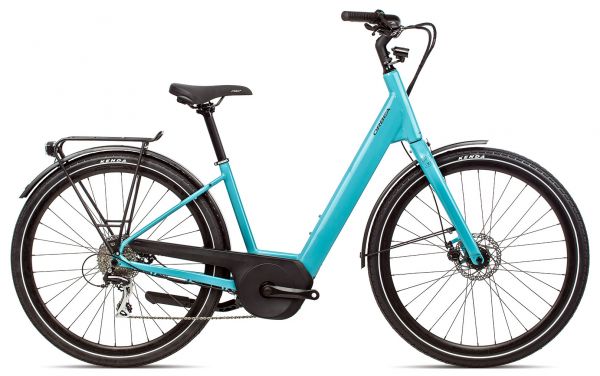 Electric comfort bikes are on the rise
The comfort bike aesthetic suits electrification.
Due to the extra assistance, there's little need to worry about the inclusion of weighty elements; such as front suspension, wide tires and suspension seat posts.
New models can be sleek and powerful. Good models allow the rider to choose their desired level of pedal-input and subsequent fitness.
For detailed information on the specifics of choosing an electric bike, please refer to our guide.

Similar Bike Types – C.B. or not C.B. ?
Urban Cruisers
These bikes share their relaxed geometry with beach cruisers.
They may employ classic curves or a more sturdy, angular framework. They usually use 26" wheels and may have exaggerated geometry, making them less comfortable than a comfort bike, in the long term.
They're often made of heavy, hi-tensile steel.
Commuter Cruisers
These bikes sport the trademark arched beach cruiser top-tube. While their geometry is laid-back, they have a greater standover than most comfort bikes, making them more difficult to mount.
Often, they use chromoly steel or aluminum tubing. This makes for a lighter, more comfortable commuter.
Unlike their flatland counterparts, they're geared. Models usually use 26" or 700c wheels.
Omafiets / Opafiets / Dutch Bikes
Omafiets and opafiets ('granny bikes' and 'grandpa bikes') are a traditional style of simple, upright, urban bike.
They've enjoyed over a century of use and popularity in countries such as Holland and Denmark. Outside of Europe, they are known as 'Dutch bikes'.
They mostly use a 700c x 38B tire size (28 x 1 ½ or 40-635) and are incredibly resilient. They are built of heavy steel, use drum brakes and are often fit with hefty racks. New models are available.

Accessories
Lights
Some comfort bikes come equipped with front and rear lights, from new. This is something to factor in when you're considering the value-for-money of your new comfort bike purchase.
Some new models are equipped with dynamo hubs, which use your bike's momentum to generate all the required power for your bike's lighting. With these hubs, you have no need to replace batteries or charge your lights.

Budgeting
Comfort bikes don't have to be expensive. They aren't performance bikes. A good comfort bike should cost significantly less than a high-end hybrid and much less than a high-end road or mountain bike. But keep in mind that bikes will ask a higher price for extended durability, increased safety and enhanced comfort. Not to mention; smooth operation in terms of gears, braking and handling.

All of these bikes are equipped with lights, fenders and a rear rack, from new
When considering the price of your new comfort bike, always factor in the inclusion of fenders, lights and racks. Some bikes come with all three! The convenience and peace-of-mind of having a bike that's "ready-to-go" must be worth a few extra dollars.

Direct Sales vs. Local Bike Shop
Buying a bike online is a world apart from the experience of choosing a bike from your local bike shop. The benefit of a direct sale from the manufacturer, is that you aren't paying for the middleman. If you're buying a bike from an online retailer, they don't have to pay for rent of premises and they don't need to pay an experienced, professional mechanic to assemble and tune your bike. For these reasons, you pay less.
Good online bike retailers will pre-assemble as much as 80% to 95% of your bike before shipping and will provide the tools required for the remaining adjustments.
Your local bike shop (or 'L.B.S.') will assemble, tune and fit your bike for you before you ride away. They will usually offer you a warranty deal and a minor servicing for free, within the first few weeks of purchase.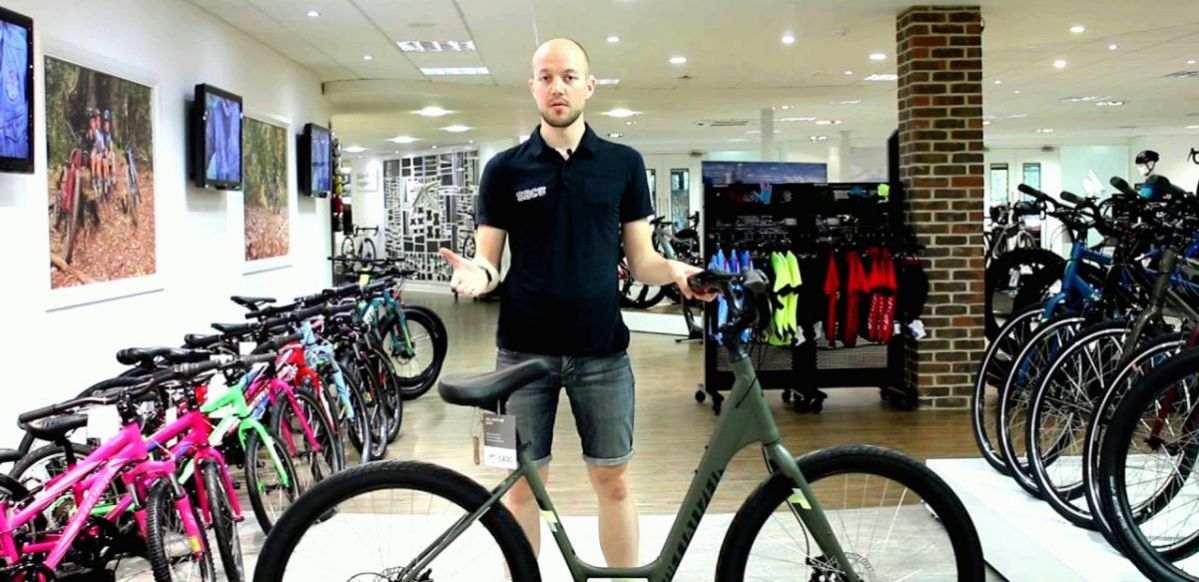 Whatever route you choose, there are benefits and drawbacks.

Find Your Comfort Zone
Whether you want to roll with your partner, friends or family, comfort bikes are the easiest and most ergonomic option.
Comfort bikes let you get on board and ride, without the level of strain and competition involved in other cycling disciplines.
If you want to stay fit but you're restricted in terms of mobility, a comfort bike could be your next sensible bike purchase.
So please, make yourself comfortable, choose wisely and roll on!
Further Reading and Useful Links
Have questions about which bike to choose? Ask in our Forum.
Want to win a bike instead of buying one? See our bike Giveaway.
Find out more about BikeRide.
Sources
Bike Categories