The BikeRide Guide to Choosing the Best Mountain Bike
by Owen Jesse – updated August 16th, 2022

Contents:
Where Do I Start?
Maybe you are buying your first mountain bike, or perhaps you're in the market for the first time in a long time. Either way, there's no doubt that the field can be overwhelming and confusing. There are all kinds of technical terms and jargon that may be unfamiliar. Not only that, but cycling is a sport where technology and equipment evolve quickly.
Once you talk to friends or peruse the internet, it's not uncommon for armchair experts to advise you to spend more, spend less or to aim for simplicity, reliability, longevity. Worry not. The easiest way to approach the purchase of a new mountain bike is to take it step by step.
With the following information, you'll be better equipped to know how to set a budget, define the style of riding you plan to do – and where you're going to be doing it.

What Is a Mountain Bike Used For?
Mountain bikes feature knobbly tires and beefy frames, for increased traction and strength in off-road conditions. If you're looking for a mountain bike, it's probably because you'll be riding on unpaved roads, dirt-tracks or trails.
Mountain bikes are too heavy to be practical or efficient for commuting or road-cycling. For a bike that can perform both on and off-road, you might want to look at a 'hybrid' bike, or any of the newer 'do-everything' bikes, that feature racing-style drop-bars and tires with increased tread.
Maybe you enjoy weekend trails or journeys over mountainous terrain. Perhaps you have your eye on high-speed, fast-paced domination of cross-country trails. It could even be that your sights are set on bombing gnarly descents or conquering dirt jumps. For all these reasons, you'll need a mountain bike.

Where Will I Ride My Bike?
This is an important question to ask yourself. Are you riding close to home – and if so, what is the terrain like in your local area? If you'll be restricted to a flatter area, you may be satisfied with less suspension and a narrower range of gears. If your hometown is mountainous, a rugged bike may be a necessity.
If you're getting into more specialized styles of riding or heading to mountain bike parks, you may want to look at a particular type of mountain bike. You might need to consider full suspension.

What Kind of Mountain Bike Do I Need?
If you're bewildered by the huge number of options and prices out there, you aren't alone. There are literally hundreds of bicycle brands producing every type of mountain bike you can think of. From the most basic beginner's or kids' bikes, to the weekend adventurer's 'dirt-road wanderer' – up to some of the best mountain bikes money can buy (including $10,000, full-carbon, downhill machines).
The easiest way to start your search is by asking yourself…

How Much Do I Want to Pay for a Mountain Bike?
If you're approaching your first mountain bike purchase (or maybe your first in a long time), you probably aren't looking to mortgage your house to pay for it. But that doesn't mean you can't afford a decent-quality machine with reliable components.
The amount of money you can or want to pay for a bike may define the kind of riding you can do. The best examples of this are 'full-suspension' mountain bikes.
After you have decided how much you are paying for your bike, you might have more idea of whether you are buying a bike without suspension, or with either front or full suspension.
For general use on a variety of trails, the most appropriate bike is a hardtail with front suspension. For more intense riding conditions and a larger budget, a full-suspension bike may suit. Keep in mind that full-suspension bikes are heavier and more difficult to ride uphills and on level ground.

Do I Want Suspension on My Bike? If So, How Much?
When it comes to suspension, there are three basic levels:
Rigid
Front
Full
Rigid: 'Rigid' refers to mountain bikes with no suspension, front or rear. You might think of suspension when you think of a mountain bike, but it isn't a necessity. If you're riding on unpaved roads without major obstacles, rocks or rutting, then a rigid bike will serve you well. Many modern bikes use fatter tires at lower air pressures. These can act in a similar way to suspension.
At lower prices, your money will buy you a rigid bike with decent components – or a front-suspension bike with cheaper parts.
Front Suspension / Hardtail: A mountain bike with front suspension and a rigid, suspension-free rear-end is known as a 'hardtail'. Hardtails can vary widely in price; from heavier, entry-level aluminum bikes with entry-level components – up to high-end carbon-fiber race bikes.
Full Suspension: When buying a full suspension bike, all the considerations listed above for front suspension, should be taken into account. Rear suspension usually has more options for adjustability, especially as quality and price increases.
Full-suspension mountain bikes under $1500 may have suspension that is compromised, superficial and heavy, making your cycling experience less enjoyable.
For all kinds of mountain bike, you will pay more or less for:
The quality and weight of components on the bike.
The material used to build the frame (ie aluminum / lightweight aluminum / carbon fiber).
For hardtail bikes, you will find differences in the suspension fork, relating to:
Damping: Damping concerns the rate at which your shock will compress and return to its full length after dealing with a bump. Higher quality suspension forks will feature damping that is not excessively harsh or bouncy. Better suspension forks allow the rider to adjust this damping according to needs.
Adjustability: Better suspension will allow for adjustment that is simple and wide-ranging. Many forks feature a 'lock-out' option, operated by a switch on the fork or handlebar. This gives you the option to close the damper and 'turn off' the suspension. This is useful for climbing or riding on flat surfaces.
Weight: A quality, lightweight suspension fork is reflected in the price of a hardtail.
Build Quality: Lower quality suspension forks are not as smooth and are less reliable in the longer term. They will use compromised internal parts and engineering.
The quality of the suspension fork will be reflected in the price of a hardtail bike. For an enjoyable and reliable mountain bike with front or no suspension, you can expect to pay a minimum of around $400, at entry-level.

Do I Need Disc Brakes?
Disc brakes are not essential. However, they've become standard on new mountain bikes in recent years, due to their increased stopping power and all-weather responsiveness. A lot of new road bikes still use rim-brakes (the older-style brakes that apply rubber pads to the outer rim of the wheel). These bikes use rim-brakes because they conserve weight and are sufficient to stop a lighter bike.
Mountain bikes are much heavier than road bikes, and are likely to be stopping in looser or muddier conditions. Importantly, disc brakes are more consistent throughout wetter weather.
There are two main types of disc brake; 'Mechanical' and 'Hydraulic';
Hydraulic Brakes use fluid, while mechanical brakes use cables. Hydraulic brakes are more powerful and require less maintenance, but in event of breakdown are more complicated and difficult to repair.
Mechanical Disc Brakes are still very powerful, but may require more frequent maintenance. However, they are easier to repair without assistance from a professional bike mechanic.
Put simply, disc brakes are recommended. Most new mountain bikes have them as standard. To buy a mountain bike with reliable disc brakes, expect to pay at least $450.

Sizes Are Confusing – How Do I Know Which Bike Fits Me?
Info given by the manufacturer: Most manufacturers will have a range of sizes available for each bike. This is given in inches. If you aren't an experienced cyclist, this may hold little meaning for you. Don't fret.
Basic sizes: will be given as: S / M / L / XL – or similar. Each of these sizes should have a height range associated with them (for example, M = 5'7" to 5'10"). These are great as a rough guide, however…
There's no such thing as an 'Average Medium': Sizing is not the same across all bikes and manufacturers. A 'Medium' on one bike can be the same size as the 'Large' size of another model. In addition, some of us have shorter or longer legs than others, in comparison to our full height. Some of us have shorter or longer arms or torsos. So what to do?
How can I be sure? The best solution to this problem is to visit your local bike shop, where they can offer you a professional sizing and match you to appropriate bikes. You can even test-ride a bike and get a feel for the size and type that suits you. With this in mind…

Direct Sales vs. Local Retailer
If you are looking for a new mountain bike, you have probably come across a lot of bikes that are available to you over the internet, posted directly to your door. The benefit here is that you aren't paying for the middleman – and you get a cheaper bike because of it.
Good online bike retailers will pre-assemble as much as 80% to 95% of your bike before shipping and will provide the tools required for the remaining adjustments.
Your LBS will usually offer you a respectable warranty deal and minor servicing for free within the first few weeks of purchase.
Whatever route you choose, there are benefits and drawbacks.
Why Are There Different Wheel Sizes – and Which Is for Me?
29" Inches: This is one of two new standard sizes. They are more efficient and can roll over bigger bumps. The larger size offers more contact with the ground and increased stability. In cross-country, where speed is king, 29" rules the roost. Some possible drawbacks include increased stopping distances and weight (on cheaper wheels). For some smaller riders, 29" wheels may make a bike too large and unwieldy, hence…
27.5" Inches: This size was revived from an older and less common size you may still see referred to as '650b'. It sits between 26" and 29" and offers a more engaged ride with the possibility of increased agility. It also allows for a lower standover height for shorter riders. On some bikes, 27.5" wheels are used with 'plus-size' tires. These are fatter tires with less air in them. This can act as a form of suspension on rigid bikes.
Some bikes are designed for both 27.5" and 29" wheels. This allows owners to choose or switch between either of these sizes. Usually, the 27.5" option is run with fatter tires, while on 29" wheels, tires will be narrower.
26" Inches: Once upon a time, all the best mountain bikes had 26 inch wheels. They were nimble and accelerated quickly, but weren't the best at managing large bumps or achieving high speeds. As lighter wheels became cheaper, 27.5" and 29" became standard. You may find 26ers on some dirt-cheap new bikes, but they're all but obsolete now. The exceptions are dirt jump bikes and fat-bikes. A fat 26" tire may have equal circumference to a 29" wheel with plus-size tires.

Tires. How Fat?
The average mountain bike tire now runs around 2.4 to 2.6 inches wide. Tires have got wider, since the days when they averaged 2.35 inches. Cross-country riding is the exception here, where narrower tires are favored for lower weight and traction.
Recent testing with the even-wider 2.8" tires, has found that increased air volume produces faster results and a calmer, smoother ride.
What does this mean for you when buying a new bike? It means you should expect tire sizes to increase. Your mountain bike should fit 2.6" tires, at the least. To be sure this is the case, your wheel's rims will have to be wide enough.
Rolling on fatties… 2.8" and 3.0" tires are considered 'mid-fat'. Anything over 3.0" is generally considered 'fat' and will usually be found on a 'fat tire' bike. These are specifically intended for use on very loose surfaces; such as sand, snow, mud or soft dirt. These tires can be quite expensive and require a rim 49-100mm wide.

Rims
Rims are more expensive and difficult to change than tires. That's why it might be a better deal for you to make sure, when buying a new mountain bike, that your rims are wide enough to accommodate a range of tire widths.
Less than 25mm: is considered narrow and would be best suited to cross country concerns.
Anything between 26mm and 30mm: can accommodate the most commonly used mountain bike tire widths; 2.2" to 2.7".
Rims over 31mm: can accommodate up to 'mid-fat' tires, with a range between 2.3" and 3.1"
Fat Tire bikes: use rims over 49mm and up to 100mm.
Gearing – Is Less More, More or Less?
Single Chainring (1x) on newer Mountain Bike
Triple Chainring on Vintage Mountain Bike
On older mountain bikes, it isn't unusual to commonly see as many as 27 gears on a mountain bike. Usually, bikes had 7 to 9 cogs on the rear 'cassette' and two or three 'chainrings' using the front derailleur.
If there are 9 cogs on the cassette attached to the rear wheel's hub – and 3 chainrings attached to the crank, then this bike has 27 gears in total. Some of the gear combinations are the same; so maybe a position on the biggest chainring with the middle cog, is the same as a position with the middle chainring on a smaller cog. This means that space is being wasted with duplicated gears.
When you're looking at new mountain bikes, you'll notice that a lot of them have only one chainring: So it may seem that there are more gears on the older bike with three chainrings, right? Not necessarily. As mentioned previously, gears will be duplicated. Also, if there are only seven cogs on the rear, there may be less range than the single chainring, which always has 10, 11 or 12 cogs in the rear.
This means the triple chainring is unnecessarily complicated and heavy. Newer bikes have more cogs on the rear cassette, giving a wide range of gears. There are less chainrings and no front derailleur (the device that moves the chain from one chainring to another) on a mountain bike with a single chainring.
Bikes with two chainrings are still common and parts are still widely available.
What this means for you as the buyer of a new mountain bike:
A mountain bike with a single chainring will be simpler, lighter and require less maintenance.
Triple chainrings are close to obsolete. They are complicated, heavy and harder to replace.
A double chainring is only needed for serious climbing or achieving high speeds.
In summary, if you are starting out and can afford it, seek out a mountain bike with a single chainring.

Women's Mountain Bikes
Is a women's mountain bike different from a man's mountain bike? In general, most mountain bikes are unisex. Women are, on average, shorter and lighter than men*, which means that women will often choose smaller sizes of most models, if they are available. Conventional shocks are tuned to compress for heavier riders.
Some companies have their own dedicated Women's mountain-biking brands, which will customize their models to these needs:
Lighter shock tuning: for lighter riders.
Grips: for smaller hands.
Narrower bars: for narrower shoulders.
Women's saddles.
Shorter cranks: for a better fit.
Keep in mind that it is not necessary to buy a bike described as a 'women's bike'. The parts that most men will customize, are similar to those that women may want to customize for a better fit. The most important consideration for women buying a new mountain bike, is to ensure that appropriate sizes are available.

Saddles – Does 'Plush' Mean Comfortable?
Many riders assume that a bigger, softer saddle will be more comfortable. If you were to sit down on a stationary bike, or to ride a short distance on a wide, plush saddle, it may feel very accommodating. But on longer rides these saddles often create soreness in hips and legs due to excessive movement.
The most important thing to consider is the shape of the saddle and its ability to absorb vibration.
Bigger does not mean better.
Hit the Trails
Now that you're saddled with information, you can go about choosing your ideal new Mountain Bike. Keep your budget in mind, going forward. But remember that the cheapest of bikes may cost you more in the long-run, taking repairs and upgrades into account.
It might seem daunting at first; but with some knowledge under your belt, the experience of buying a new bike can feel like a kid lost in a candy store. There are so many brands and models out there, competing for your attention.
The choice you make is an entree into a world of fun and fitness amidst the glories of nature.

Types of Mountain Bike
For more specialized styles of riding, you might look at other types of mountain bike:
Trail Bikes
Trail bikes are mountain bikes that can handle drops, berms, technical obstacles and rugged descents over rocky ground.
Full-suspension models are more popular and more widely available than 'hardtail' examples, while hardtail trail bikes maintain a loyal fanbase.
Suspension travel usually ranges between 120mm and 150mm, on both forks and rear shocks (where these bikes are full-suspension).
When most people picture a bike that can handle jumps, bumps and a modicum of abuse, they're thinking of a trail bike. They're the perfect tool for getting the most out of purpose-built 'flow trails'.
Experts emphasize that a trail bike will handle most areas that are available to mountain bikers. In recent years, they have only become more and more capable of tackling raucous and technical locales. For most mountain bikers, a trail bike is the only bike they'll need.
Cross-Country
Cross-country (abbreviated as XC) bikes are made for endurance and speed. Hardtail models are common but full suspension is also used on rockier terrain and descents.
XC bikes are usually optimized for weight and efficiency and are built to be race-ready. They have narrower tires and shorter suspension than other mountain bikes. Tires usually sit between 2.0" and 2.35" inches. Suspension, either front or rear, is limited between 80 and 120mm.
Features of XC frame geometry include longer stems and steeper head angles to create an efficient stance for pedaling. This may result in a bike that is harder to handle on steep descents. In addition, XC bikes are firmer and less forgiving on casual rides.
Frames are usually lightweight aluminum or carbon.
Enduro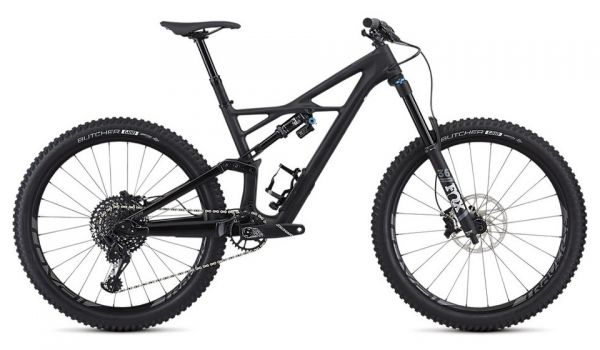 An Enduro / All-Mountain rig
With a standard 150mm to 180mm of travel, enduro bikes are designed to take big hits, big air and to handle big drops. They love to rip berms and gap jumps without concern.
The extra travel and frame reinforcement adds weight. Enduro bikes are, primarily, a downhill weapon. For this reason, powerful four-piston brakes (using big 180mm to 203mm rotors), are common.
Internal rim widths are wider than those found on trail and cross country bikes, at a standard 30mm. This allows for increased air volumes and lower pressures with less pinch-flats. Tire widths are similar to trail (2.3" to 2.8").
Downhill
Downhill bikes feature beefier frames and longer-travel suspension than almost any other kind of bike. They are built for descending gnarly terrain at speed. Huge jumps and difficult obstacles are standard. Downhill riders will walk, ski-lift or drive to the summit of a ride and do not pedal uphill.
Full suspension is standard, with around 200mm of travel both front and rear. Front suspension is often a double or triple-crown design, to withstand massive impacts. Frames are aluminum at the more affordable end of the spectrum and carbon for high-end models.
Fatbikes / Fat-Tire Bikes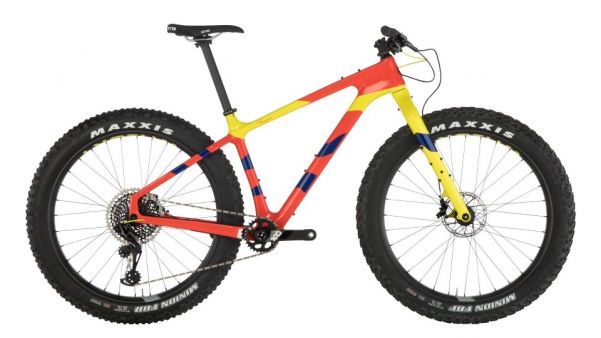 A Fatbike, replete with rack and bottle bosses
Fat-Tire bikes are popular for two reasons. Firstly, they provide access to extreme terrain like snow, sand, mud and powdery soils. Secondly, they're a lot of fun.
The most obvious feature is huge tires, measuring 3.5 to 4.8 inches, mounted on wide 50-100mm rims. These tires are run at low pressures and provide high levels of traction and flotation.
Because they're aimed at adventure, many models have multiple rack mounts, for strapping on gear. Fatbike frames are often rigid. Huge, low-pressure tires act as suspension, foregoing the need and weight of a suspension fork.
Dirt Jump Bikes
Dirt Jump bikes are built for big air; on dirt-jumps, pump-tracks or skate parks. They are incredibly tough and sit somewhere between a BMX and a mountain bike. They are the only mountain bike that still has 26 inch wheels. They are built from aluminum or chromoly steel and almost always have front suspension.
They're usually singlespeed, with a small 25-32 tooth chainring. Rear brakes are common but so are brakeless options!
Slopestyle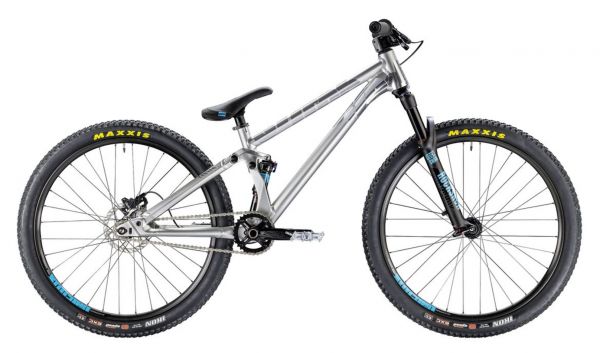 Full-suspension, Slopestyle
These bikes are similar to Dirt Jump bikes in some ways, but differ in that they also have 100mm of rear suspension, to enable huge air. Wheels are strictly 26" on strong, lightweight rims and with low-profile XC tires. Unlike dirt jumpers, slopestyler bikes may be either geared or singlespeed.
They are heavier than dirt jump bikes, but with a weight that contributes to gravity-assisted tricks.
Some slopestyle bikes have front and rear brakes.
Single-speed
Single-speeds are not widespread, but do have a cult-following from a dedicated fanbase. As the name suggests, they only have one gear.
New models are available but many single-speeds are custom-built projects.
Single-speeds are usually rigid (front-suspension only) or hardtails. They can be used for casual riding or dedicated races.
Electric Mountain Bikes
It has become impossible to ignore the rise of the electric bike in all areas of cycling. Electric mountain-bikes are increasing in popularity. They come equipped with both pedals and a motor that assists the rider's input.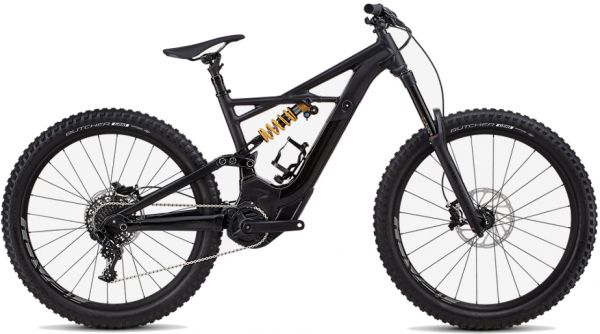 Enduro E-bike
Usually, the motor is controlled by a lever on the handlebar that switches between lower and higher settings.
Some traditional cyclists believe that e-bikes detract from physical fitness by using less energy. While it's true that they use about half the amount of energy of a regular bike, they allow riders to travel further without arriving at their destination in a sweat. This makes them perfect as a commuter's replacement for a car. When it comes to mountain-biking, electric motors allow riders to spend more energy on descents.
Sales of e-bikes increased by 145% in the United States in 2020 and outsold electric cars in 2021. In the Netherlands, they recently outsold regular bikes in the adult market, for the first time ever. It's clear they're only on the up.
Things to keep in mind: Electric mountain bikes that can tolerate serious Trail, Enduro or Downhill riding start in the mid-$5000s and can easily cost up to and exceeding $15,000.
You will find cheaper electric mountain bikes, but but they aren't suitable for hardcore trails or downhill riding. Budget fat-tire e-bikes are available in this price range (some of them with full-suspension); but these are not designed to handle drops, jumps or impacts. They are comfort bikes.
Trials
A trials bike is not recommended for your first mountain bike. But it is inspiring for every mountain biker, regardless of experience. Professional trials bikes have wide and high bars for maximum control. They use one very low gear for sudden bursts of power.
Brakes are incredibly tight and powerful, with an 'on/off' feel and may be on discs or hydraulic rims. They have a fixed-gear rear wheel and a freewheel in the bottom bracket! Wheels are 26" down to 20".
Geometry is unique – with frames looking like a tuning fork, a very long wheelbase, high bottom bracket, supershort chainstay and, ready… no saddle. 'Street Trials' bikes do have a seat and are a bit more conventional. However, no trials bike will efficiently serve as a commuter or grocery store go-to.
While trials may seem like an alien activity performed by superhumans, proponents stress that trials skills will help with mountain biking in all areas, especially on the trails.
Professional Trials
Street Trials
Further Reading and Useful Links
Sources
* CDC: Anthropometric Reference Data for Children and Adults: United States, 2007-2010, tables 4, 6, 10, 12, 19, 20
** Sample area: USA (multiple states). Sample period: 15 months 2/15 – 5/16. Sample size: 3074 riders (438 women, 2636 men)
Bike Categories