The BikeRide Guide to Choosing the Best Gravel Bike
by Owen Jesse – updated November 18th, 2023
Contents:
A Bike Just for Gravel?
A gravel bike uses drop handlebars, but rides on a range of off-road surfaces. This includes anything from hardpack to crunchy trails. They're not just limited to 'gravel'.
Gravel bikes are lighter and more agile than mountain bikes. This matches them to longer, less-technical rides at a more consistent pace. They're more robust than road bikes, with geometry that's more laid-back, to suit all-day rides.
The carefree nature of gravel riding differentiates it from road cycling. 'Gravel-grinding' races like the 'Dirty Kanza' are popular, but a lot of gravel riding is about outdoor exploration off the beaten track.
Some folk are happy to define the gravel bike as the missing link between road cycling and mountain biking. They're not far off.

Features of Gravel Bikes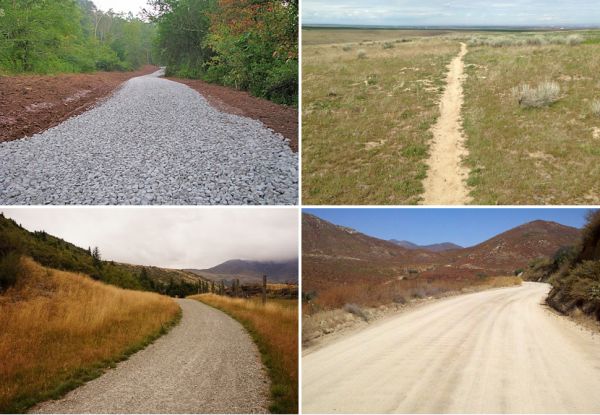 'Gravel' Bikes ride a variety of roads and trails
Road, mountain and cyclocross bikes are cousins of the gravel bike. So why not use your existing bike to ride gravel? Well, it's not quite the same.
Technological advances have led to materials becoming lighter and stronger. This has led to the emergence of a new kind of bike. It weighs less than a mountain bike and doesn't use suspension.
They resemble road bikes, with drop bars and relatively narrow tubing. At the same time, their geometry can lean toward the slacker angles of a mountain bike. But aside from these familiar features, gravel bikes are their own thing. Here's why.

Geometry
Although gravel bike geometries vary, most models share specific build characteristics. This is where they differ from your existing road, cyclocross or mountain bike.
Wheelbases
Gravel bikes have longer wheelbases than road and cyclocross bikes. This results in a stable ride on loose terrain. However, they're shorter than those found on adventure and touring bikes, which don't need to be as racy or agile.
Head Tube Angles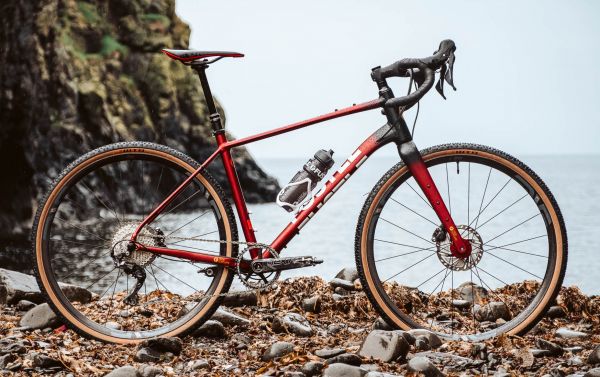 Slacker angles for shredding and trails
Compared to road and cyclocross bikes, gravel bikes employ slacker head tube angles and taller head tubes. This increases stability and makes for less 'twitchy' steering. Your stance on a gravel bike is less aggressive and more upright than on a road racing machine, while still being quick-handling.
Standard Ranges
Road – 73° to 74°
Cyclocross – 71.5° and 73°
Gravel – 70° to 72°
Some gravel bikes are more influenced by mountain bike geometry. They use a head angle between 67° and 69° and are apt to shred. They perform well on descents and trails.
Top Tubes
Top tubes on gravel bikes are generally shorter than the top tubes of road bikes. This creates a more upright stance that aids visibility.
Chainstays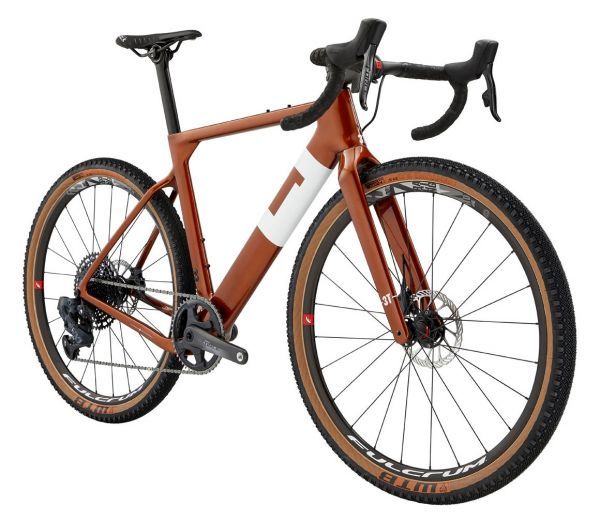 Steeper angles for a racier approach
Longer stays also contribute to stability. Shorter chainstays give a snappier feel, that comes across as faster to ride and accelerate. Here's how gravel chainstays compare:
Road: 405mm to 415mm
Cyclocross: ~425mm
Gravel: 415mm to 430mm
Touring: 420mm to 435mm
Bottom Brackets
These are lower than those on cyclocross bikes, to keep things steady on descents. Road bikes might use 65 to 74mm of 'drop'. A touring bike can have up to 80mm. For a gravel bike, expect 70 to 75mm of bottom bracket drop. A bottom bracket height of 260-280mm provides ample clearance on gravel.
Fork 'Trail'
This can be summarized as a measure of how casual your bike's steering is. More trail results in relaxed and stable handling. Less trail makes for a twitchy, agile bike. Gravel bikes usually have more trail than a road bike, but less than a touring rig.
When choosing your new gravel bike, be aware that there is a difference between the feel and riding style offered by different geometries of gravel bike. Some folk prefer a racier bike that employs steeper angles. Others stray closer to mountain bike geometry, where angles are slacker and trails are rougher.

Frames
Gravel bikes are sold with frames made from aluminum, chromoly steel, carbon fiber and titanium. These materials offer differing ride qualities and levels of durability.
Carbon Fiber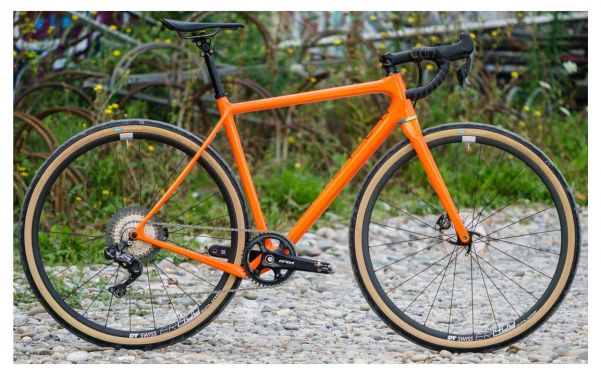 Full carbon rig
Carbon fiber is light and compliant. It's able to offer a degree of flex that adds to comfort, but doesn't compromise stiffness. The nature of carbon allows framebuilders to use aerodynamic tubing, whilst maintaining comfortable ride characteristics.
Carbon fiber isn't invincible. When a frame begins to fail, it can be hard to spot. Damage can start internally, making it difficult to monitor. When it hits, it can be fatal, causing a critical break or snap. These breakages may be irreparable or very expensive to have mended.
If you plan on longer, overnight rides in remote areas, carbon might not be your flavor. That said, breakages don't happen easily or soon. Carbon fiber is well-loved by manufacturers and gravel enthusiasts.
Steel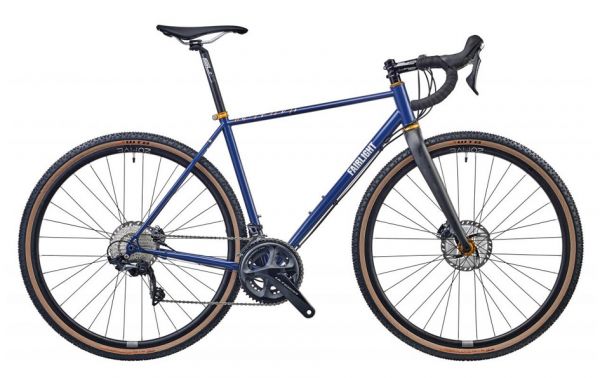 Compliant & tough.
853 steel and a carbon fiber fork
Higher-end chromoly steel recipes are used and favored by some gravel riders and framebuilders. Heavier, duller steels would be too tiring and cumbersome for long off-road rides.
Steels such as Reynolds 853, 725 and 4130 Chromoly exhibit a subtle degree of flex that reduces jounce on juddery roads and trails. Well-built steel frames are very tough, especially in 853 and 725 recipes.
These frames won't fail easily, but if or when they finally do, it will happen by slow degrees. You won't experience the sudden snap that can occur with aluminum or carbon fiber. Steel frames can be repaired by a decent number of technicians, at a price that is usually lower than for carbon fiber.
Steel will never be lighter than high-end carbon fiber, but it will probably beat it on price.
Aluminum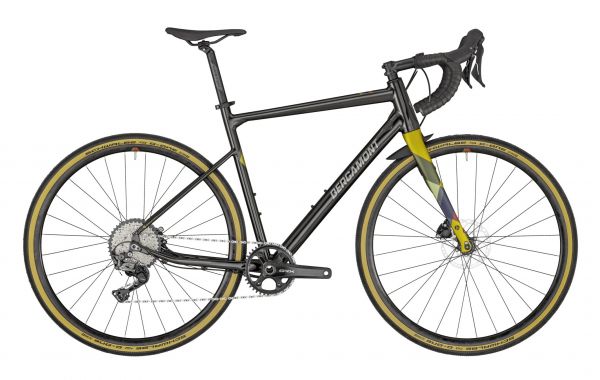 With a carbon fiber fork, this alloy bike received good reviews
Aluminum is lightweight and affordable. But it's also stiff. Often, it's inability to absorb vibration can make it too stiff for gravel riding. For this reason, it's best paired with a carbon fiber fork.
When aluminum fails, it can fail hard, by snapping in twain. It isn't economically feasible to repair an aluminum frame.
Overall, aluminum is less durable than the other materials mentioned here. But given it's price, it represents good value.
The stiffness of aluminum frames can be offset by:
A compliant fork in another material, such as carbon fiber.
A longer, flexible seatpost, made of a less stiff material.
High volume tires. This might mean a switch to 650b.
A good aluminum frame will give you years of lightweight riding pleasure.
Titanium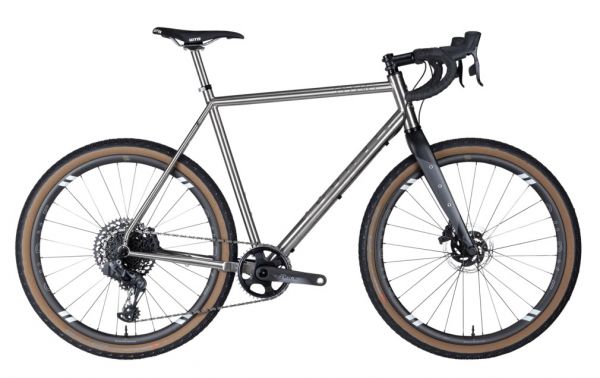 Titanium – perfect for the dream bike
Titanium is a good material for a custom-built dream-bike. It's light, compliant and comfortable, while being dent and corrosion-resistant. Titanium is very strong, which can make it perfect for a bike build that's intended to last a lifetime.
Titanium frame manufacture is challenging and expensive, which is reflected in the prices of framesets and complete bikes. For your first gravel bike, a titanium purchase might be a bit rash. Unless you're blessed with deep pockets.
Frames and Pricing
Aluminum frames make for the cheapest available gravel bikes. High-quality steel options are a step up in cost. You'll find them available for prices below and equal to that of some carbon fiber bikes. Titanium is always a serious investment, but more expensive carbon fiber choices are comparable.
Forks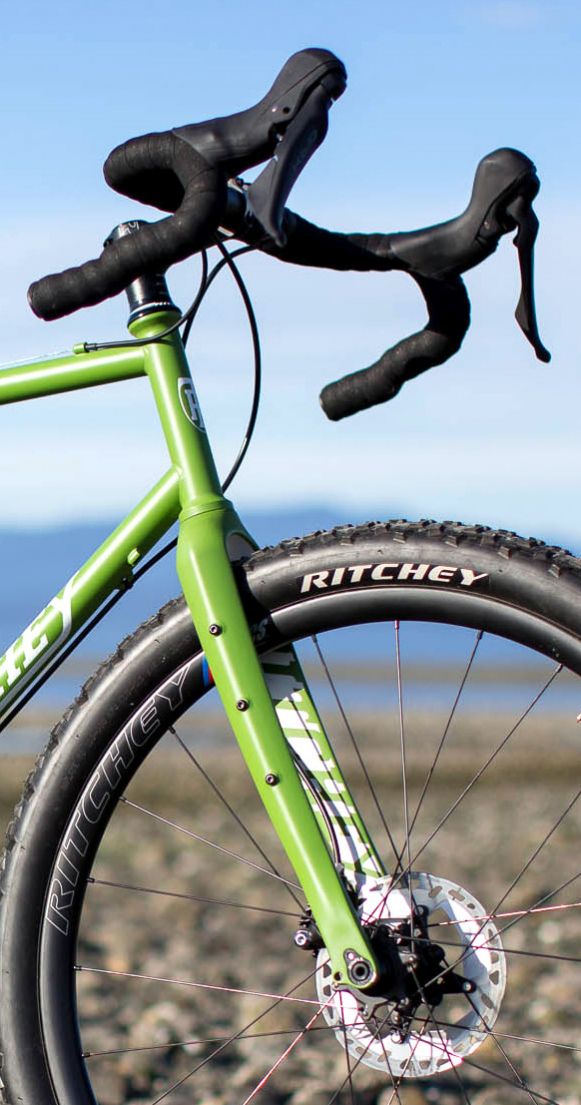 Carbon fork with eyelets for cargo
Your bike's fork should complement your frame. As was discussed in the section on frames (above), a stiff aluminum frame is best paired with a forgiving carbon fiber fork. However, some carbon fiber forks are not suited to carrying weightier loads. Read on.
Steel
Steel forks are either custom, high-end jobbies or heavy and low-end. Quality steel is compliant and welcomes cargo mounts for bottles and cages. It will be heavier than carbon. For this reason, some manufacturers pair their high quality steel frames with a carbon fork.
Carbon Fiber
Carbon fiber is the material of choice for mid-range and high-end gravel bikes, built of any frame material. A carbon fork decreases weight and absorbs vibration well.
Some carbon fiber forks are not drilled for bottle mounts. If you aim to take your gravel bike on long overnight expeditions, choose carefully. Many riders use lighter loads with a carbon fork.
Aluminum
Your fork will take a lot of the brunt of impacts, with your weight bearing down on it during descents. Aluminum does not absorb vibration well. For this reason, you'll want to avoid it as a fork material. An aluminum fork makes for a an uncomfortable ride over gravel. You'll see many aluminum gravel bikes paired with a carbon fiber fork.

Components
Gravel bike components are usually highly specialized. Because gravel cycling is still a young genre, these components are hard to find in a 'bargain-basement' variety. But on the plus side, most gravel components are of good to excellent quality.
Handlebars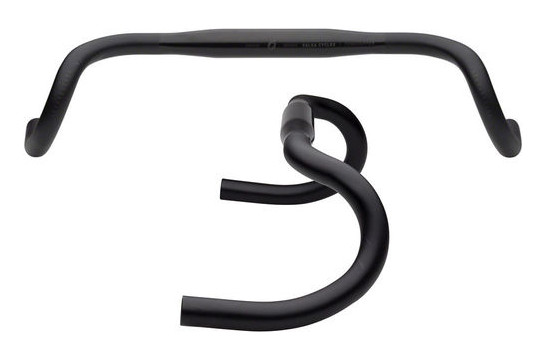 Wide Flare + Moderate Drop = Gravel Bars
Gravel bikes use drop bars. These suit riding at a faster and more consistent pace than is desired on technical mountain-biking trails (where riders seek upright visibility whilst negotiating obstacles). On your gravel steed, you might find yourself needing to really 'mash it', 'grind it' or even to 'stomp it'.
In this case, you will be in need of drops.
"But drop bars have been around forever", you say, "How are gravel bars any different?"
Width
The general rule is to match your handlebar width to your shoulder width. That said, some gravel riders chuck a couple of extra centimeters onto the width of their road bars, for extra control offroads. For clarity, gravel and road handlebars are always measured in centimeters, even in the U.S.A.
You'll find most handlebars available in varying widths, from around 38cm to 52cm.
Flare
Flare is one of the main factors that stands out as a characteristic of gravel handlebars. Road bars employ negligible degrees of flare. Gravel bars, on the other hand, frequently feature flare between 12º and 16º. More extreme examples reach 25º. The flared angle allows room for the wrists, while pointing the elbows outward at a naturalized angle. This aids stability and control, by assisting leverage when you need it.
Rise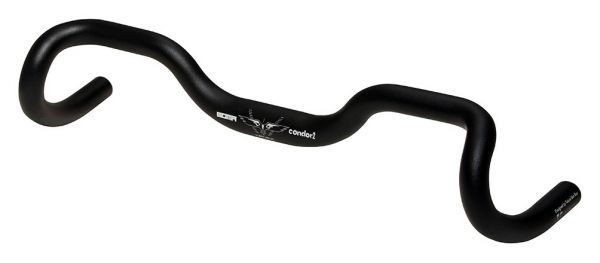 50mm of rise makes this a 'Gravel X MTB' bar
Rise hasn't been such an important factor on gravel bars, until recently. Conservatively, those bars with rise use between 10mm and 20mm. Recent experimentation has seen this, er, rising to 50mm.
Bend
Gravel bars use a variety of shapes, varying in subtle and not-so-subtle ways. There are many types of bend available, for different hand positions. After you've ridden for a while with the bars specified on your new gravel bike, you will be able to better assess what factors you like and dislike. If you're looking for a replacement bar, you will have a better idea of what it is that gives you the best combination of comfort and control.
Flats
You'll use the flats of your drop bars when standing up on climbs and negotiating technical terrain. The flats can use different shapes. Some are ovalized, while others are thin, flat and aero. This type makes attachment of accessories more difficult.
Sweep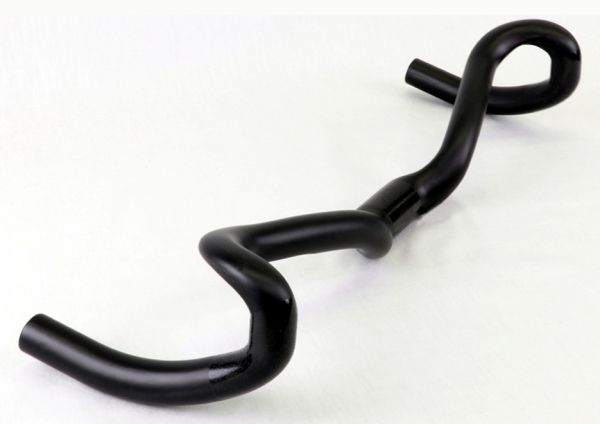 Bars using sweep, rise and minimal drop
Sweep isn't common on the drop bars of new gravel bikes, but adopters of these bars give favorable reviews. Manufacturers claim that 5º to 10º of sweep aids ergonomics on climbs.
Drop
'Drop' is the distance from the stem clamp to the end of the bar. On gravel bikes, this varies between 110mm and 150mm. Gravel bars are often more compact than road bars. This avoids an extremely bent position, while maintaining 'aero' shaping in the hoods.
Reach
This is the distance from the stem clamp area to the furthest point of the drops. More reach pulls you forward. The average range here is between 56mm and 80mm.
Material
Most gravel bars are offered in either aluminum or carbon fiber.
Aluminum is affordable and light but can be stiff and lead to fatigue.
Carbon Fiber is light, tough and exhibits flex. It's also more expensive and easy to scratch.
Things to consider
Positions. Do your bike's bars offer comfort in the drops, flats and hoods?
Bags. Do your bars let you strap bags or attach a cradle?
Cabling. Some bars feature channels for discrete cabling.

Brakes
Disc brakes are now the universal standard on new gravel bikes. The reasons for this are manifold.
Stopping Power is superior to that of rim brakes.
Untrue and Dented Rims will not affect disc braking in most situations.
Rim Surfaces are not worn down by rim-braking.
Confidence is increased in hillier areas.
Long-Lasting Brake Pads can keep riders going for thousands of miles.
Even so, there are drawbacks to disc brakes:
Disc Rotors are susceptible to bending during transportation.
Contamination can occur from oils, lubes and other fluids.
Spare Parts can be hard to obtain in remote locations.
Repair and Adjustment is more complex than on rim brakes.
Noise can be generated; when contaminated, bent or dirty.
Most gravel cyclists believe that the benefits of discs far outweigh the drawbacks.
Hydraulic Disc Brakes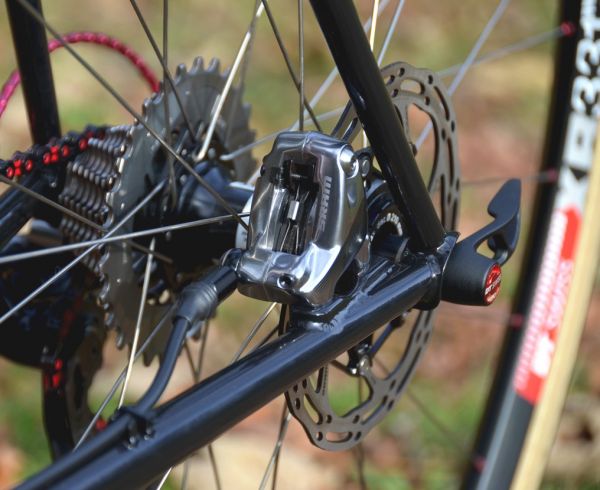 Hydraulic disc brake
Hydraulic brakes use fluid or oil in an enclosed system and are the most powerful option available to gravel cyclists. They offer one or two-finger operation. Riders and reviewers report that modulation is superior, increasing the ability to 'feather' the brakes and to make minor adjustments in braking force.
The calipers of hydraulic brakes self-adjust in response to brake pad wear. But hydraulic brakes are not without complications. Installation and initial adjustments are not simple and require specialist tools. It's best left to bike mechanics at your local bike shop. These brakes require regular bleeding using a 'bleed kit'.
It will be difficult to source parts in remote areas, so if you are planning on longer journeys they may not be for you. Without a doubt, hydraulic brakes are more expensive than their mechanical counterparts.
Cable-Actuated Hydraulic Disc Brakes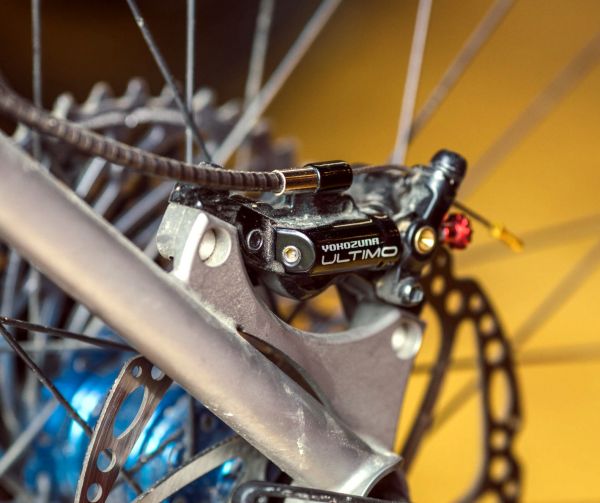 Cable-Actuated Hydraulic disc brake
Cable-actuated hydraulic brakes seek to solve some of the problems encountered by hydraulic brakes. They use an enclosed hydraulic system that is actuated by a cable, making them a hybrid of hydraulic and mechanical systems.
They are easily adjustable via cable and don't require regular bleeds.
Users have described them as being just as powerful as hydraulic brakes, while being well-suited to remote riding. Like mechanical brakes, they are compatible with any cable-actuated road brake lever.
While they are not self-adjusting (like hydraulic systems), they do offer an easy method for adjusting calipers.
Mechanical Disc Brakes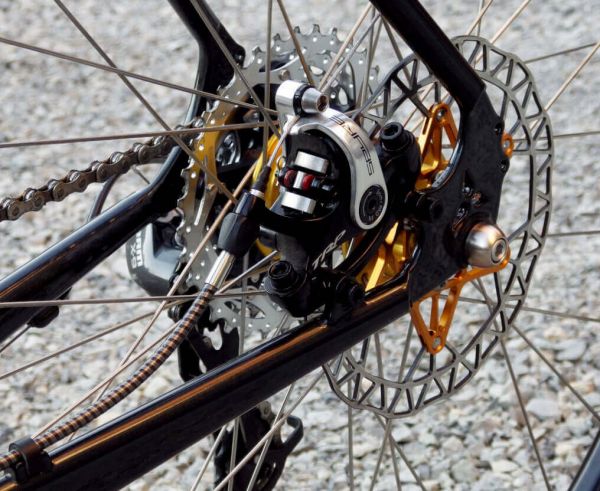 Mechanical disc brake
Like rim-brakes, mechanical disc brakes use cables to clamp brake pads onto a rotor. Compared to hydraulic disc brakes, this makes them easier to adjust and repair. They don't use oil or fluid, and therefore they don't require regular bleeding.
On the downside, mechanical disc brakes are less powerful than hydraulics. They are not self-adjusting and may stick in mud.
Braking Considerations
When you're looking at brakes on new gravel bikes, there are some factors that will add or detract from your bike's braking power and cost.
Rotor Size
New gravel bikes will come specced with systems built for either 140mm or 160mm brake rotors. Bigger pads offer more power and cost more. It's common to see bikes with a 160mm front brake and 140mm rear.
Brake Pads
There are two types of disc brake pads, Organic and Sintered (metallic). Different pads are suited to different applications in different conditions.
Sintered Brake Pads
Last longer in all conditions, especially mud and winter weather.
Wear down discs more quickly than organic pads.
Have less 'bite' than organic pads.
Are more resistant to 'heat-fade', which improves performance on long descents.
Organic Brake Pads
Offer more bite in all conditions.
Are not as long lasting in mud and wet weather.
When looking at brakes on new bikes, you may want to keep an eye out for examples that are easily upgradable and also easily adjusted on-the-go, especially on mechanical examples.
Flat Mount disc brake
Post Mount disc brake
Aim for bikes that use the Flat Mount Standard, which is the most modern means of mounting disc brakes to a bike's frame (unless you find a great deal on an older model that uses Post Mount Disc Brakes).
Gearing
What Makes Gravel Gearing Unique
Gravel gearing differs from road bike gearing in a few major ways. Riding on unpaved surfaces creates more friction, which makes pedaling that much harder. Also, gravel bikes use bigger tires than road bikes, creating a larger overall wheel diameter. Bigger wheels roll faster. In addition, gravel riders tend to encounter steeper climbs than the average road rider.
Gravel bikes go much lower in gearing than do road bikes, in order to haul big wheels up steep, slippery climbs. In order to get there, gravel drivetrains sacrifice a few of the highest gears found on road bikes. In the end, gravel bikes tend to have a wider gear range than road bikes.
Gravel drivetrains come in both 1x and 2x setups. That is, your new gravel bike may be offered with a single chainring ('1x' or 'one-by') or double chainring (2x). Some manufacturers offer their gravel bikes in both 1x and 2x.
1x Drivetrains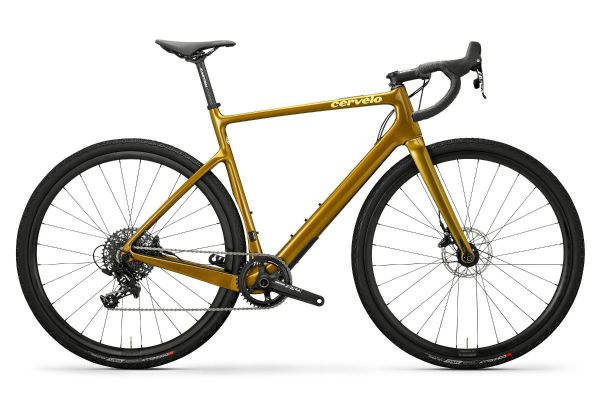 1x with a 40t chainring and an 11-42t cassette
The gravel bike scene is responsible for a spike in the popularity of 1x setups. Although these have been a staple of mountain bike builds for decades, they offer benefits specific to this style of riding.
A 1x setup jettisons the front derailleur and thereby simplifies operation, adjustment and maintenance of your drivetrain. It will also shave some weight off the overall build.
Generally speaking, 1x setups easily attain low gears for climbing. On the downside, the gaps between gears are larger than on a 2x drivetrain. This makes for a slightly clunkier gear-change experience. Many gravel cyclists are happy to make this sacrifice for the sake of simplicity and a lower 'granny gear' (your lowest gear).
Chainrings on 1x setups will mostly be 38 to 42 tooth in size. 40 tooth chainrings are popular.
Cassettes usually use cogs from 10 to 50 teeth in size, with 11-speed options being the standard. Popular examples are:
2x Drivetrains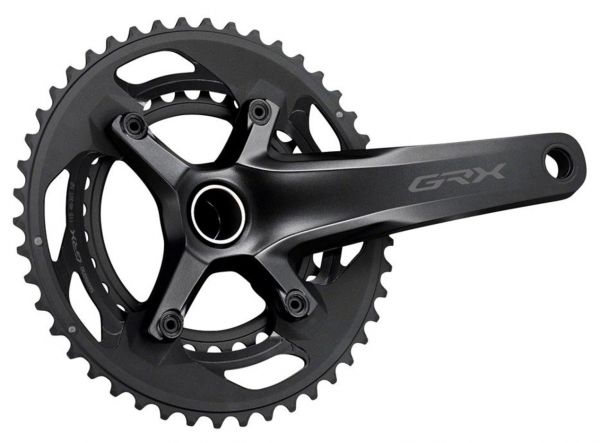 Gravel-specific 46/30t crankset
The double chainring is still the option for many a gravel racer and rider. On more level surfaces, 2x setups combine with close ratio cassettes to produce closer gaps between gears. Although many 1x devotees seek simplicity, modern front-derailleurs are very reliable.
A 2x drivetrain is usually capable of offering a wider overall gear range than 1x. Although, 1x gear ranges on compact cassettes are approaching those available in 2x setups.
You may want to stick with 2x for long journeys on very hilly terrain. It will also suit better if you plan on using the one bike for both gravel and road riding.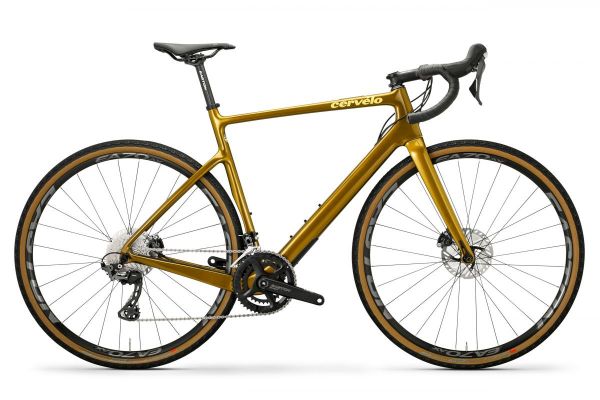 2x with 47 / 32 tooth chainrings and an 11-34t cassette
Chainrings vary widely with preference, but expect to see most larger chainrings between 46 and 48 teeth. 50 teeth is more of a road size and will be too high for most gravel applications. Combinations on new bikes include:
48 / 32
48 / 31
47 / 32
46 / 34
46 / 33
46 / 30
42 / 28
Cassettes usually use close ratios and mostly sit in the range of:
10 to 33
11 to 32
11 to 34
11 to 36
The Contact Points
The 'contact points' are the three places where your body comes in contact with your bike. These parts are not technically complex but are still incredibly important to the ride quality of your bike. Adjustments to their quality and personal suitability can make huge differences to your level of comfort.
Saddles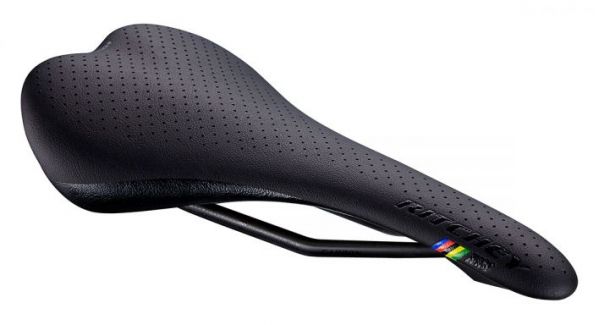 Race saddle with carbon rails
Saddle choice is important on long distance rides. The best gravel bikes come with a decent quality saddle. Even so, it may not suit your particular body shape.
For most riders, comfort comes to mind as the main priority here. However, it's important to consider your long-term groin and reproductive health. Specially-designed saddles take these issues into account by relieving pressure on the perineum.
A poorly designed saddle can cause numbness due to a restricted blood supply. Moderate padding is ideal, ensuring that your weight is supported by your sit-bones.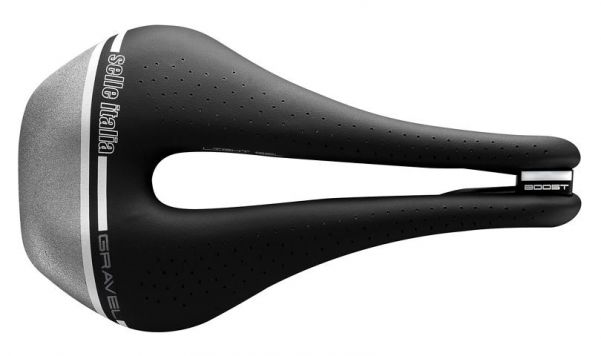 What's good for the gooch
is well worth a gander
There are numerous materials used for the construction of the saddle body and rails. Carbon fiber sheds weight in both areas. For rails, everything from chromoly to aluminum and titanium can be found. Consider your budget and your priorities (e.g. weight over cost etc.), when making a choice.
It probably wouldn't be wise to base your choice of gravel bike on the saddle it comes proffered with. Saddle choice is highly subjective and most riders will change the seat on their new bike. The easiest way to choose a new saddle is try a few out at your local bike shop.
Bar Tape
Padded bar tape is often preferred on long-distance, off-road rides. Thinner tape is more likely to absorb surface vibration. This can result in sore hands and wrists, especially after longer rides. Padded tape insulates against shock on uneven surfaces.
Synthetic / EVA polymer tape is the usual specification on new bikes. Quality examples will have a foam or gel core that is comfortable and durable.
Padded synthetic tape
Comfy cork
Cork provides ample padding which results in a thick wrap. It's porous nature gives it a tendency to absorb perspiration and grime.
Leather will take some breaking-in, but will become supple with time. Also, it's aesthetically impressive. Keep in mind that it's more difficult to wrap around your bars.
Leather: rugged
Fabrics get quirky
Fabric bar tape comes in funky designs but tends to be thin. It isn't the best at absorbing off-road vibration.
Pedals
If you're lucky, your new bike will arrive kit with decent pedals. Most likely though, they will be the first thing you'll replace.
Clipless
Most gravel riders opt for 'clipless' pedals, which require the use of cycling shoes.
There are different systems of clipless pedal, with the most common being Shimano's 'SPD'. 'TIME' pedals are also highly suited to rugged terrain, as they allow the rider to quickly click their shoe out to the side of the pedal. Clipless pedals are favored by many long-distance riders, for a reason.
TIME gravel pedals
Clipless gravel shoes
SPD pedals
Clipless pedals increase efficiency (especially on climbs), as they pull the pedals on the upstroke. Once you're accustomed to clipless, using them soon becomes second nature. There is a large range of gravel-specific clipless shoes now on the market. Most of these have chunkier tread than road bike shoes, for those moments when you need to walk and / or carry your bike over gnarly terrain.
Wheels
When you're buying a complete gravel bike, it should come with wheels that are fit for purpose. Most gravel bikes are made for moderate off-road use, but not for full-on trails.
You'll need to consider how 'hard' you intend to go on your gravel bike. You may want an off-the-shelf bike that can ride real mountain bike trails, in addition to hardpack (firm dirt roads) and gravel. In this case, you may be better off looking at adventure, monstercross or drop-bar mountain bikes, which will come kit out with wider rims to fit fatter tires.
The rims of gravel wheels are stronger and wider than their road bike counterparts. This means that they are considerably heavier, out of necessity.
If you intend to carry large loads on multi-night bikepacking trips, you might avoid carbon rims, as they've been known to flex in these conditions. You might even be better off considering a bikepacking bike.
Available new with 700c alloy wheels…
…or 650b hoops in carbon
New gravel bikes will either come shod with Aluminum or Carbon rims. Both materials work well and the choice is entirely based on preference. Carbon fiber rims will add considerable cost to a new gravel bike. Here are a few factors that may affect your choice.
Aluminum
+
Strong
Light
Affordable
Dented rims can often be repaired
–
Slight weight penalty
Some riders report flex on rough terrain
Carbon Fiber
+
Light
Stiff on trails
Strong
–
Can't be repaired if cracked
May flex under loads
Expensive
Rim Width
This is one of the most important factors to consider about the wheels of your new bike. Along with your frame's tire clearance, the width of your rims will dictate the maximum tire width available to you.
This 19mm road rim fits a max. 26mm tire…
…while this 27mm rim fits tires 47c and above
The size you are looking at is your wheel's internal rim width. Different models vary in their recommended capacities, but there are general guidelines.
On 700c Wheels
The internal widths of gravel rims usually sit between 21 and 27mm
The internal width of gravel rims rarely exceeds 30mm
21mm rims can potentially fit tires up to 42mm wide
27mm rims can potentially fit tires up to 54mm wide
On 650b Wheels
24 to 28mm rims can potentially fit tires up to 54c and 27.5×2.2"
Spokes
Between 28 and 32 spokes is recommended on gravel bikes, for strength considerations.
Tubeless
You can see our section on gravel tires (below), for more information on the tubeless question. Most new gravel bikes will come with "tubeless-ready" rims that will cater for both tubed and tubeless options. This allows you to make up your own mind about this contentious issue, further down the road.
Sizes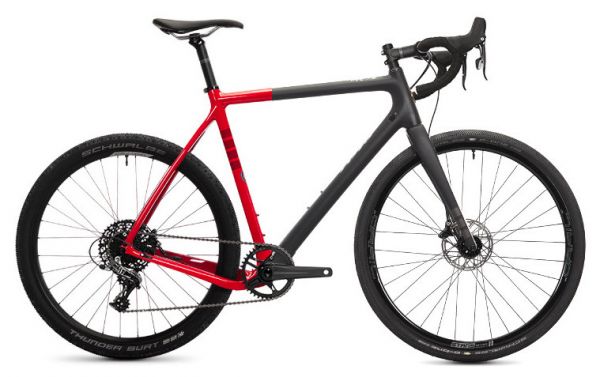 With a 53mm tire, a 650b wheel (left) nears the diameter of this 700c wheel (right)
Generally speaking, gravel bikes will either have 700c or 650b wheels. Some bikes will allow for a wider tire on wider rims. A wider 700c rim is called 29 inch (29"), while a wider 650b is called 27.5".
A number of new gravel bikes are offered with wheelsets in multiple sizes. These frames are usually designed to fit both 700c and 650b wheels.
700c
This size is very common on gravel bikes. It's the same size as found on modern road bikes.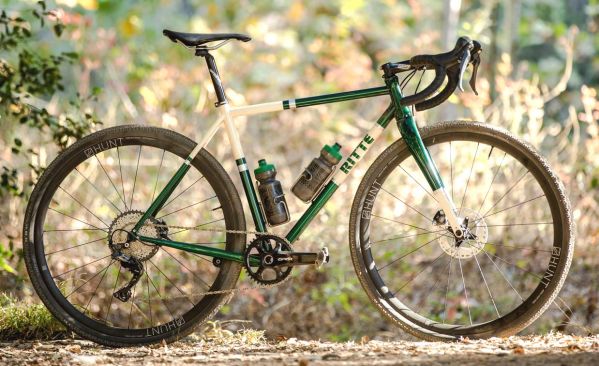 This 700c rig has clearance for a 40c tire
Most gravel bikes are designed around an optimal tire size of around 40-42c. For this reason, they suit hardpack, smooth gravel and also asphalt.
Because of their circumference, they are less agile than smaller wheels and may be heavier than them. The weight penalty is balanced out by by the fact that they roll faster with narrower tires. They also have a better rollover capability than smaller sizes, when passing over debris.
700c rims are narrower than 29 inch rims and will accommodate narrower tires.
650b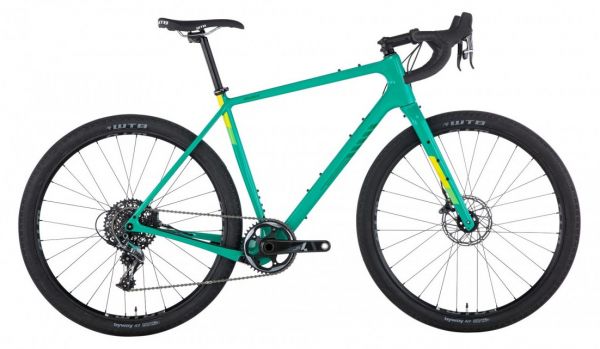 650b wheels, optimized for 47c tires
Smaller, 650b wheels are increasingly popular. With bigger volume tires, they provide a more supple ride. With 47c rubber, they have a similar diameter to 700c wheels with 30c tires. The large tires and agile steering makes them great for singletrack, rutted gravel and broken-rock trails.
Using 650b sizing, smaller frame sizes stay in proportion and allow a lower standover height.
29"
This is the choice for fast-rolling adventure bikes with big rubber. They share the same circumference as 700c wheels but usually use wider rims. It's more appropriate to fit wider tires on these wider rims than on 700c rims.
27.5"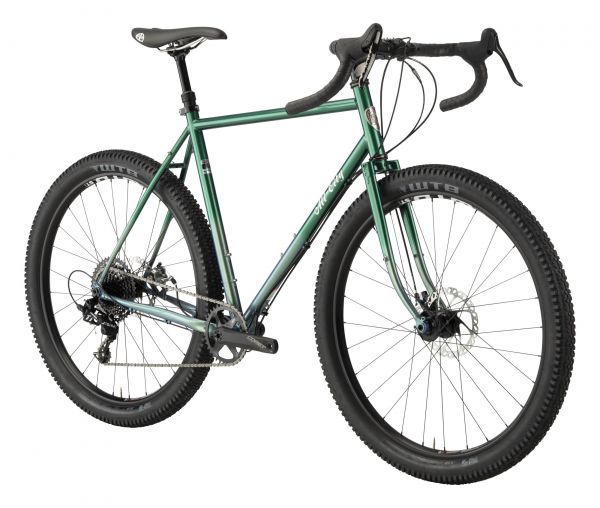 27.5 rims and room for 2.4" wide tires
27.5" wheels are the same circumference and diameter as 650b, but usually sport wider rims for larger tires and rougher applications. Rims will likely be tough. This size is rife on mountain bikes and is shared by a great many bikepacking and 'monstercross' bikes. A number of gravel bikes are built to allow tires up to 27.5 x 2.4".
Tires
Gravel tires can vary. 700c bikes might sport tires as narrow as 35c. 650b gravel bikes will regularly use plump, 47c rubber. Along with a considerable range of sizes, there is a marked difference in the amount of tread available on gravel tires.
When choosing tires for any bike, including a gravel bike, important factors to balance are:
Comfort vs.
Speed vs.
Weight vs.
Traction.
Wider tires are heavier, slower, more comfortable and act as shock-absorbance. Thinner tires are lighter, faster, less comfortable and more prone to punctures.
Knobblier tires offer more traction. This is ideal for cornering and slippery surfaces such as loose rocks and pea-gravel.
Light-tread and mixed-tread tires have less bite, but are lighter, faster and better for cornering on hardpack.
Tubeless or not Tubeless?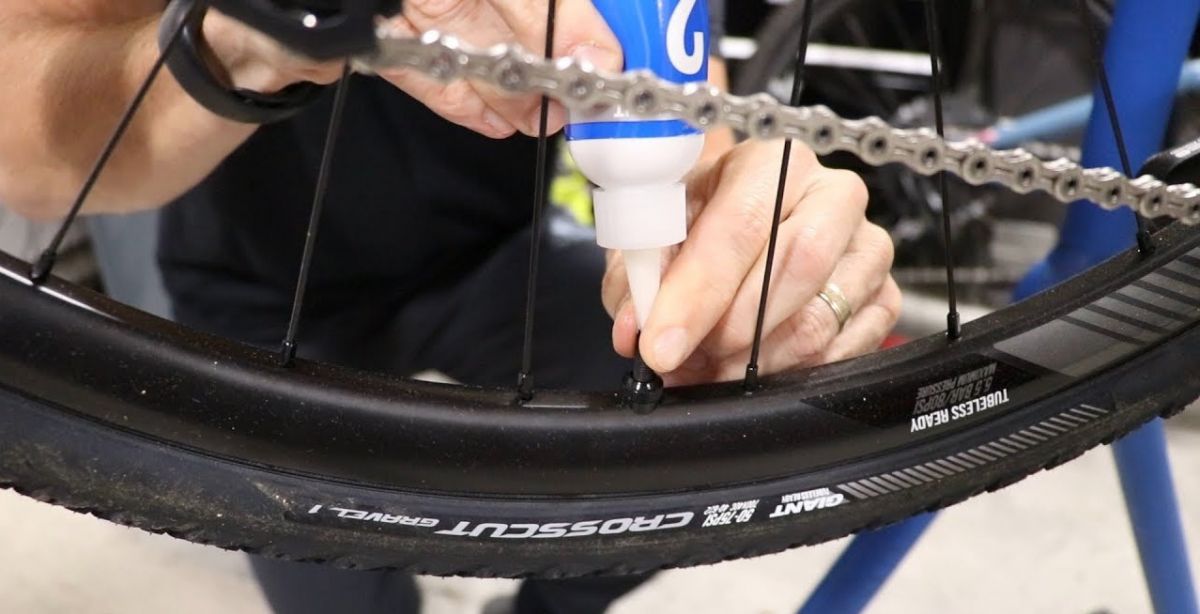 Tubeless tire setups use sealant to fill punctures as they occur
Tubeless tires use a sealant that fills small puncture holes and dries quickly, allowing you to continue riding. Large holes over 6mm will still flatten tires. The debate over whether or not to use tubeless tires is ongoing.
Tubeless tire setups generally result in less punctures. Some true believers praise the perceived weight savings, which may or may not be significant. Setting up tubeless tires is more involved and messy than changing a tube, but can result in less tire-changes in the long run.
If you are undecided, your best bet is to buy a bike with tubeless-ready rims. In a pinch, you can be assured that you can replace a tube when confronted with a puncture in a remote area. If your tubeless setup fails in the boonies, you could be left feeling rather deflated.
Gravel Tire Sizes and Widths
700c
Tires don't come much narrower than 35c on gravel bikes. Anything smaller won't cope well with uneven terrain and loose surfaces. Higher volume tires roll at lower pressures and provide more cushioning.
Tires are not often seen with sizing above 700 x 50c (which is close to 29" x 2.0"). Above these widths, wider rims are required and you'll find these listed as 29" tires. There are a number of 700c tires between 40c and 50c that suit gravel and hardpack dirt roads.
650b
650B x 47c is a very popular size for gravel and 'all-road' riding. Gravel bikes often have clearance for tires up to 50c in width. Big volume tires cope well with raucous forest roads and trails. Sizes 2" and over are usually described in inches.
700 x 38c knobbly
650b x 47c light tread
29" – 29 Inch
Twenty nine inch tires are fatter 700c widths, designed for wider 700c rims. They are rarer on actual gravel bikes. 2.2" to 2.6" is a particularly popular range for tires on adventure and exploration bikes.
27.5"
27.5" rims are the same size as 650b rims, but wider. 27.5" tires start where 650b ends. 2.1" is a very popular size, for coping with a variety of surfaces including chunky trails. Some bikes at the nexus of gravel and monstercross will support widths up to 2.4".
Bosses, Eyelets and Mounts
Eyelets are threaded fittings that allow you to attach accessories to your bike's frame.
Mount-points are important if you head out on long rides or bikepacking trips. In these situations you'll be seeking multiple bottle cages and cargo-housing solutions. If you find yourself heading out for multi-night camping trips, you might be heading more in the direction of a bikepacking bike.
Many mount points are versatile and can be used to attach bottles, frame-bags or cargo. Other eyelets serve as mount-points for fenders.
Bottles
All-day gravel-grinding can be thirsty work. To stay slaked, seek fixings for multiple bottle cages. For some folk, this means three bottle cages. For others, two is enough.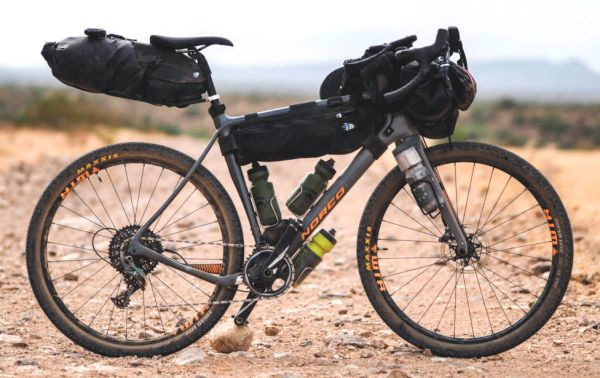 Ample bottle cages
Bottle cages can be attached in many areas, but the most popular points are on your fork, above the down-tube, on the seat-tube within the main triangle and on the underside of the down-tube
Bottles and frame-bags both compete for space in the main triangle of your bike. This is more of an issue on bikepacking bikes, where big loads are the order of the day. You'll need to prioritize your needs.
There are many ways to set up your gravel bike's carrying systems, all of which are dependent on your bike's limitations and your personal preferences.
Cargo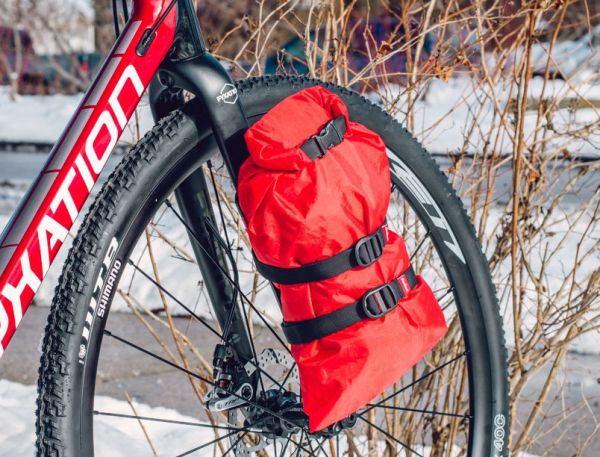 Fork Mounts can be used to carry cargo
On your fork, eyelets allow for the attachment of bottle cages, cargo cages or front racks. Cargo cages can be used to store a variety of items, including waterproof, multi-purpose bags.
Front racks and panniers can be minimal in construction and weight, particularly if eyelets are provided on either side of each fork leg.
You may want to have mount points for cargo on both the frame and fork of your bikepacking bike. Frame mounts can allow you to attach integrated frame-bags, in a neat way that doesn't interfere with other attachments. This may be the case when attaching bags with straps or lacing. These fastening methods can also rub on and remove paintwork. On the other hand, removing integrated frame-bags requires the removal of any bolts used to attach them.
Racks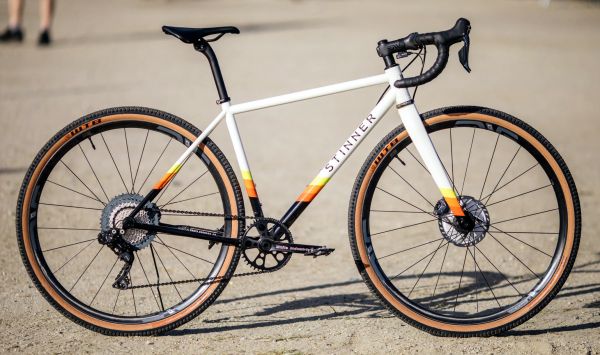 All race? No fork or rack mounts here
Racier gravel bikes may not have eyelets on the seat stays to attach racks. Racks aren't regularly used or needed by gravel riders.
They're still a staple of fully-loaded touring bikes but have even become redundant to bikepackers. This is due to the fact that gravel rides are only infrequently camping trips, and because camping gear has become more minimal.
Even so, you might want your new bike to have eyelets available on the seat-stays and near the rear dropout, to expand your gravel bike's versatility. This could allow you to take-on long-haul touring trips or to commute to work with extra supplies.
Front racks and panniers can be compact. They can balance out the weight of you and your frame-bags, making them less likely to negatively affect your bike's handling.
Fenders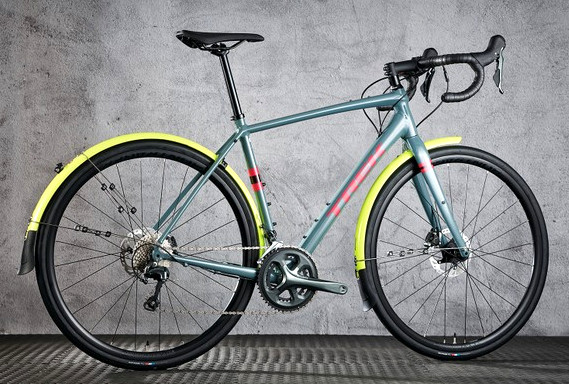 Mounts for full fenders
Fenders are another serious consideration, when it comes to all-weather riding. Your bike should come with fender eyelets front and back.
A frame should have enough tire clearance to fit your preferred tire width, in addition to full-size fenders.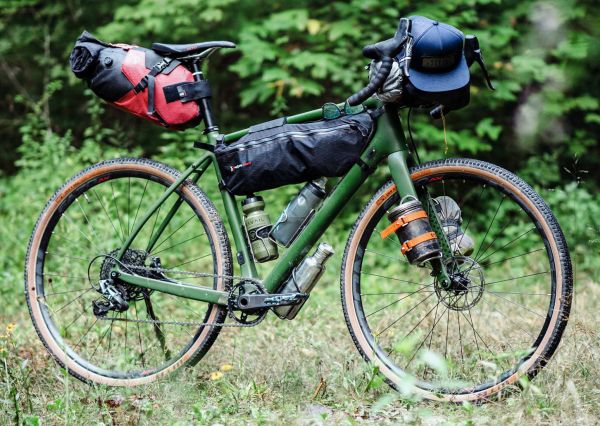 All the mounts you could seek
Some gravel bikes will come equipped with all of the attachments mentioned above. Racier gravel bikes may lack mount-points on the fork and / or eyelets for rear racks.
It pays to consider your cargo requirements before buying your new gravel bike. Work-around solutions can be inadequate and impractical.

Cargo Solutions
Handlebar Bags
Cargo isn't just limited to racks and frame-bags. Handlebar bags are popular on gravel bikes and there are many compact options available. They provide quick and easy access to snacks and essentials.

Top-Tube Bags
Also known as 'bento boxes', these are small bags that store readily-accessible items. They attach to your bike's top-tube and steerer.
Frame-Bags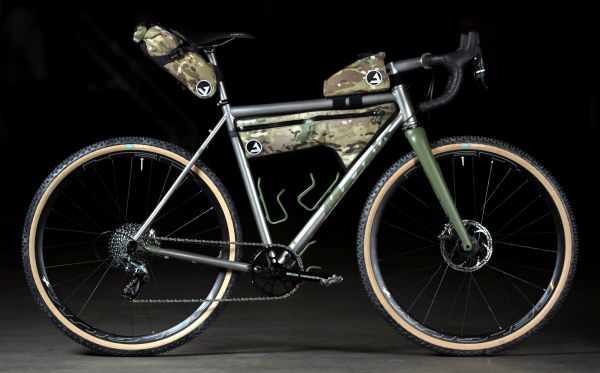 Partial frame-bag, bento box and saddlebag
Frame-bags store cargo within the main triangle of your bike's frame. Most frame-bags don't attach with eyelets. Leave that to the brands that supply custom-fit bolt-on bags for their own bikes. A majority of bags attach securely with straps or lacing. The popularity of frame-bags has increased as new technology has reduced the weight of essential supplies.
Unlike the positioning of cargo in panniers, frame-bags place the heaviest items centrally. Your off-road handling thanks you. Frame-bags can fill the entirety of your main triangle or they can be partial, allowing you to squeeze some bottles into your bike's main triangle. Many gravel riders use partial frame-bags, while bikepackers roll on multi-night adventures and are more likely to need full frame-bags.
Saddle-Bags
This is another popular cargo solution. Saddle-bags usually strap to the saddle rails and seatpost. They sometime sit atop a saddle-bag rack. They're made to carry a moderate amount of cargo, with the most weight packed toward the seatpost. A saddle-bag can be found to fit almost any bike, so this needn't be a major concern in the choice of a new ride.

Budgeting
Gravel bikes range in price from affordable to astronomical. You might want a bike that can also cover your commuting needs. If you'll be locking this bike up in public areas, you might seek something mid-priced.
Supple steel can be a steal
Affordable in aluminum
At the affordable end, you might be looking at a 16-speed, 700c rig in all-steel or all-aluminum. Most reliable examples start around $700. Many of these come with the geometry and eyelets you seek. You can always upgrade to a carbon fork and fancier drivetrain, somewhere down the (gravel) road.
For your dream bike, you're looking at vehicles up to and above the eye-bleedingly steep $10,000 mark. At this top-end of the gravel market are aero race rigs with wireless electronic shifting. Carbon fiber is nice but Titanium rigs may present a sounder high-dollar investment. They are less likely to crack than a carbon frame and can, therefore, last a lifetime.
Top-tier titanium
High-modulus carbon
Choosing a Gravel Bike
When you set out to buy yourself a new gravel machine, consider these factors:
Terrain
Are you happy to roll fast on hardpack and crunchy, flat gravel roads? Or do you want something that can fit wider tires (2.1" to 2.4") and handle some trails? Is this a bike that you also intend to ride on roads with slick tires? For these reasons, consider your new bike's geometry and tire clearance.
Gravel and Hardpack Dirt-Roads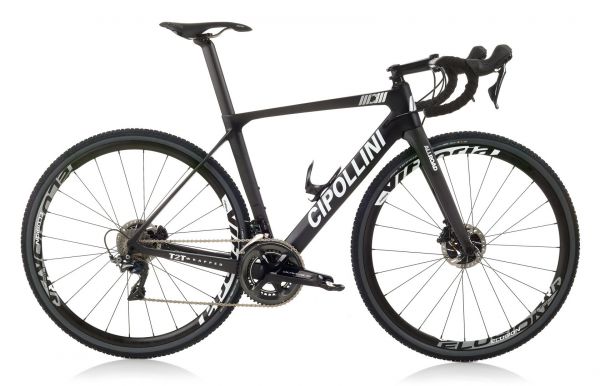 Tight, racy geometry and maximum 40c tires
These roads are usually compact, firm and mostly devoid of ruts and rocks. For this kind of riding aggressive, road-influenced frame geometry and narrower tire clearances will suit. These bikes are sometimes referred to as 'All-Road' bikes.
Rugged Dirt Roads
Also referred to as "doubletrack", these trails include forest roads and gravels both soupy and rutted. They call for something a little more rugged and fat-tired. Aim for a 650b or 700c gravel bike with clearance up to 50c.
This includes the new trend toward Drop-Bar Gravel Shred bikes. Other gravel bikes blur the line between gravel and Monstercross. These will fit 27.5" tires, sometimes up to 2.4" wide. Adventure Bikes are more stable, a tad slower and accommodate fatter tires than any of these bikes. They're well suited to bikepacking journeys.
Singletrack
At present, singletrack is still the domain of the mountain bike. Rigid, Drop-Bar Mountain Bikes can handle trails, but are usually used for very off-road touring.
The gravel scene is evolving fast and this has seen the emergence of Drop-Bar Gravel Shred Bikes, with very slack geometry designed around drop bars and tires no wider than 50c. These bikes handle somewhat-raucous trails. Some Adventure Bikes also cope with intermediate singletrack.

Gearing
If you aim to race, you might want a compact 2x drivetrain with a narrower-range cassette. This will allow you to achieve smoother gear changes with smaller gaps between gears.
On the other hand, you might be tackling technical, undulating terrain that could be better served by a 1x drivetrain with a lower end.
Drivetrains and Chainrings
1x – Single Chainring
A single chainring means no front derailleur. This simplifies your drivetrain. With an 11 or 12-speed cassette, your bike may have a similar range to some drivetrains with two chainrings. However, you can usually achieve a wider gear range with a considered 2x setup.

Same bike, different drivetrain – 11-speed, 22-speed and 18-speed
2x – Double Chainring
A double chainring drivetrain can offer extra-low gears for alpine climbs. At the top end, a 2x setup might allow you to really 'stomp on it' through the flats. A 2x setup is more complicated than 1x, as the front derailleur requires maintenance, adjustment and tuning.
A number of new bikes are offered with both 1x and 2x setups.

Wheel Size and Tire Clearance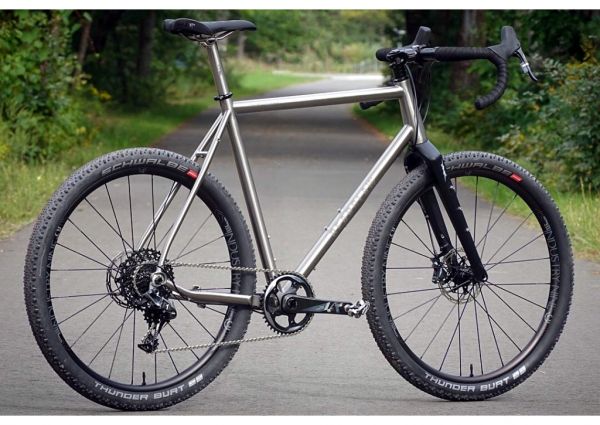 Rubber up to 27.5" x 2.4" fits here
Larger wheels will roll over small obstacles, debris and cracks with ease. Big wheels with large tires are both faster and more comfortable than smaller options. They are also heavier. 700C bikes can have less tire clearance and narrower tires than 650b gravel bikes, to save weight. The narrower tires are just fine for hardpack and gravel, where their nimble nature also comes into play.
It's wise to consider the wheel and tire combinations that your bike will allow. Some 700c gravel bikes may only have clearance for a maximum tire width of 43mm (43c) or 40c with mudguards. Other bikes are more versatile. For example, one gravel bike may fit 50c tires in both 700c and 650b. Another might fit maximum tire sizes of either 700x48c or 27.5×2.0".
If you'd like to experiment with different setups, the best gravel bike would be a versatile option that is open to a variety of wheel and tire combinations. A number of new bikes are offered with either 650b or 700c wheels.

Same bike, different wheels
Tire Size
Bigger volume tires are heavier but can be run at lower pressures for more comfort. Narrower tires may decrease wheel diameters but are lighter and may be more agile. They will be less comfortable and more puncture-prone on rougher surfaces.
Smoother, file-tread tires suit gravel and hardpack. Chunky, mountain-bike tires offer more grip and bite on forest roads and loose trails.
Frame Material
Frame material can radically alter the feel, weight and price of a new bike. Importantly, this choice can also mean the difference between the life and death of your frame, in the event of a critical failure. Please refer to the main section (above) for detailed information on bikepacking frames.

Types of Gravel Bike
Gravel Race / All-Road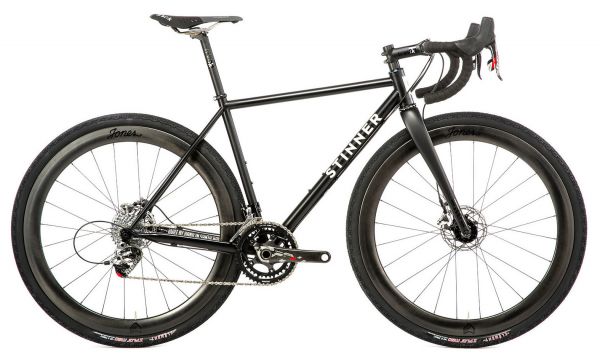 Equally capable at play or on race day
Build
Gravel and All-Road bikes share some of their DNA with road bikes. Their angles are slightly slacker to allow for better handling on loose surfaces. Standover is increased. Short chainstays make for twitchy, whippy handling.
Use
Hardpack, gravel roads without major rutting or large rocks. With slick tires, they can double as a capable on-road bike.
Frame Material
Carbon Fiber, Steel, Titanium, Aluminum with a carbon fork.
Wheels
Mostly 700c. Some 650b.
Tires and Tire Clearance
700c – 38c to 45c
650b – 47c / 48c
Mounts
At least two bottle mounts, often three. Sometimes lacking fork mounts or eyelets for rear racks.
Drivetrains and Gearing
1×11 and 2×11 drivetrains predominate.
Brakes
Discs, preferably hydraulic (price permitting).
Strengths
Speed – Fast on flats, fast to accelerate.
Versatility – With slick tires, gravel bikes still roll fast on asphalt.
Weight – Usually built light, to be nimble.
Compromise on…
Robustness – Not made for anything close to mountain bike trails.
Comfort – Due to lower-volume 700c tires and aggressive geometry.
Mounts – A number of bikes have less cargo mounts than other rigs.
Price – At the high end, they rival performance road bikes for price.
Monstercross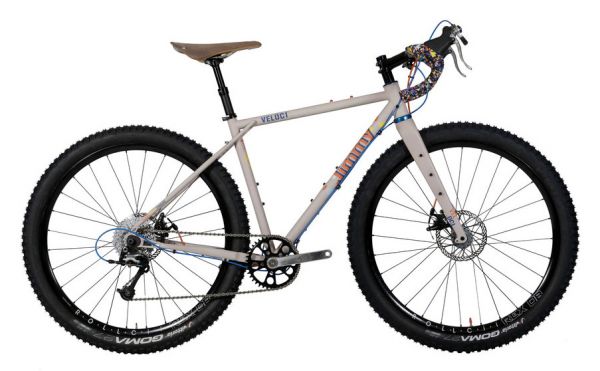 Part cyclocross, part off-road beast
Build
Closer to a road bike than a modern mountain bike. Their geometry resembles upright mountain bikes from the 1990s, but with drop-bars. Slightly sloping tob-tubes and 68mm bottom-brackets are common.
Use
These are versatile bikes that handle gravel, hardpack, asphalt and moderate singletrack with aplomb.
Frame Material
Chromoly steel predominates here.
Wheels
Tires and Tire Clearance
700c – 38c to 45c
650b – 47c or thereabouts
27.5" – 2.0" to 2.4"
Mounts
New monstercross bikes should have all the eyelets needed for multiple bottles, racks, fenders and some other cargo attachments (on the fork).
Drivetrains and Gearing
1×11 with a wide-range cassette is common. 2x drivetrains are also popular, allowing a wide range for mountainous travails.
Brakes
Discs are ubiquitous. Mechanical is the option for D.I.Y. repairs. Hydraulic Discs are definitely an option.
Strengths
Versatility – These rigs can be your do-it-all bike. They commute well.
Purpose-Built – Monstercross bikes will come ready-built for most bikepackers.
Compromise on…
Agility – These rigs are a little bulkier than your average gravel-grinder.
Adventure Bikes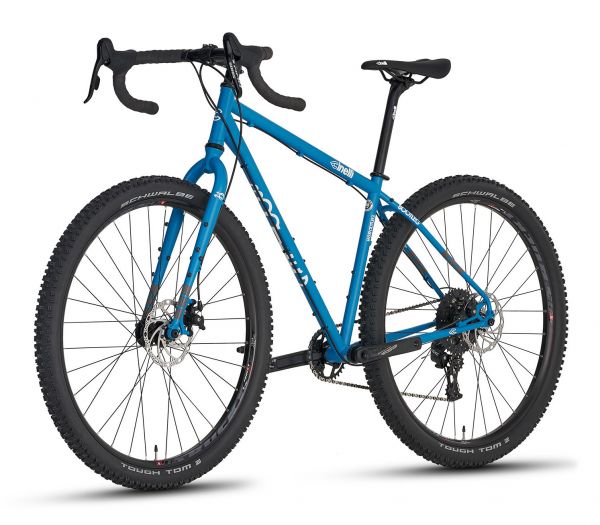 Ready-to-go, around the world,
on the back-roads
Build
Adventure bikes are almost always built for bikepacking. Frames are sturdy with more standover than a road bike. Geometry varies and can be comparable to that of touring bikes or mountain bikes.
Use
Adventure! They are intended for cargo-equipped, off-road, long-distance journeys.
Frame Material
Resilient, flexible and repairable chromoly steel is popular. Aluminum, carbon fiber and titanium also make appearances.
Wheels
Tires and Tire Clearance
29" – 2.2" – 2.6"
27.5" – 2.2" – 3.0"
Mounts
All the eyelets needed for racks, bottles, cargo and fenders.
Drivetrains and Gearing
Both 1x and 2x setups are common. Low gearing is a staple of new models and is necessary for loaded, off-road climbs. Some models use frames that are compatible with Rohloff internal hubs and carbon belt drives.
Brakes
Mechanical disc brakes are popular, for their ease of repair in remote areas.
Strengths
Built to Bikepack – These rigs are made for this.
Resilient – Adventure bikes are tough.
Simplicity – Without suspension or carbon everything, things are simple.
Compromise on…
Weight – This is a heavy option for a gravel bike.
Speed – But who's racing through the wilderness?
Drop-Bar Shred Bikes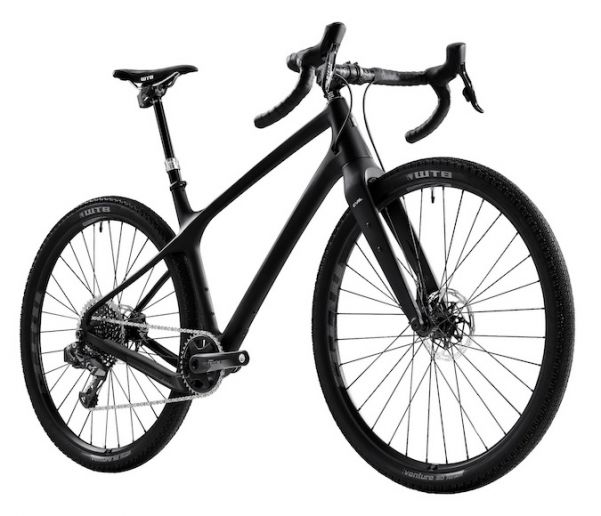 Still gravel, just a tad meaner
Build
This is the newest evolution of gravel, with angles as slack as a mountain bike, but room for tires no bigger than 50c. Built light, often from carbon fiber.
Use
Shred. These bikes can ride just fine on level gravel and will work as commuters. But they really impress with their ability to be equally at home sliding through loose rock and filth on singletrack and wrecked forest roads.
Frame Material
Carbon fiber is the best material for strength combined with low weight. Other options include steel and an aluminum frame / carbon fork combination.
Wheels
700c and 650b.
Tires and Tire Clearance
700c" – 45 to 50c
650b" – up to 50c
27.5″ – up to 2.1″
Mounts
Fork mounts. Multiple bottle mounts. Probably no eyelets for rear racks.
Drivetrains and Gearing
1x setups are more resilient on raucous outings but 2x setups are an option.
Brakes
Hydraulic discs are preferred, for increased responsiveness and higher performance.
Strengths
Fun – Exciting, fast and unprecedented ride style.
Versatile – Works over long distances or as a commuter.
Tough – Great for more off-road expeditions.
Weight – Light carbon construction.
Compromise on…
Price – The bleeding edge of geometry could bleed your wallet dry.
Speed – These bikes are not made for gravel-grinding, long-distance races.
Direct Sales vs. Local Bike Shop

Buying a bike online is a world apart from the experience of choosing a bike from your local bike shop. The benefit of a direct sale from the manufacturer, is that you aren't paying for the middleman. If you're buying a bike from an online retailer, they don't have to pay for rent of premises and they don't pay an experienced, professional mechanic to assemble and tune your bike. For these reasons, you pay less.
Good online bike retailers will pre-assemble as much as 80% to 95% of your bike before shipping and will provide the tools required for the remaining adjustments.
Your local bike shop (or 'L.B.S.') will assemble, tune and fit your bike for you before you ride away. They will usually offer you a warranty deal and a minor servicing for free within the first few weeks of purchase.
Whatever route you choose, there are benefits and drawbacks.

Back to the Grind!
Gravel biking is filling the gaps between road cycling and mountain biking. Its evolving quickly in exciting directions.
Sometimes it can look like a bewilderingly elite genre that is filled to the brim with overpriced tech, and this is partially true. But you don't need the most high-end option to get out rolling all-day on gravel and dirt roads!
Choose wisely and ride on!
Further Reading and Useful Links
Have questions about which bike to choose? Ask in our Forum.
Want to win a bike instead of buying one? See our bike Giveaway.
Find out more about BikeRide.
Sources
Bike Categories