The BikeRide Guide to Choosing the Best Hybrid Bike
by Owen Jesse – updated August 16th, 2022

Contents:
What Is a Hybrid Bike?
'Hybrid' bikes were originally a fusion of a mountain bike and a road bike. In the 1990s, mountain-biking experienced huge growth in popularity and was exploding into public consciousness as an exciting and accessible sport.
There were features of mountain bikes that recreational and commuter cyclists wanted to incorporate into their everyday rides. Some folk just rode a mountain bike as their everyday ride or commuter.
However, over-sized frames and wide, knobbly tires proved to be overkill for use on roads. These elements made them excessively heavy, leading to certain features of mountain bikes being combined with narrower tires and lighter frames to create the 'hybrid' bike.
They are sometimes also known as 'cross' or 'fitness' bikes.

The Modern Hybrid
Hybrids are suited to commuting or leisurely riding on weekends, holidays or with the family. They are more resilient than road bikes, which feature lighter and more delicate frames intended for high speeds.
A good hybrid is built to manage city roads of varying conditions, including the occasional pothole. Most hybrid owners would also like their bike to hold up to the occasional gravel track or dirt road. For singletrack and rutted paths with obstacles, a mountain bike is recommended.
Mountain bikes have wide, knobbly tires and sturdy frames designed to absorb impact, which makes them too heavy for roads. In comparison, hybrid bikes are lighter and more efficient, to aid commuting.
Flat bars are a standard feature on most hybrids. They allow the rider to maintain an upright position and clear visibility when riding through traffic. This is the reason that most bicycle messengers use them.
Touring bikes have influenced the design of modern hybrids, more than any other kind of bike. Mounts for racks, bottles and mudguards are also useful for hybrid users. They also share similar gearing.
Tires are wider than those found on road and touring bikes, but narrower and less knobbly than on mountain bikes. This happy medium gives them optimum traction and comfort, making them suited to varied terrain and weather conditions.
Components must be tough enough to withstand everyday use and wear in urban conditions. With this in mind, let's take a closer look at the characteristic features and components of hybrid bikes.

Features of Hybrid Bikes

Flat bars – for comfort and visibility
Handlebars
Almost all hybrid bikes feature flat handlebars to allow the rider to remain upright.
This has two benefits:
Comfort: The rider does not have to assume the 'hunched' posture of the road cyclist.
Visibility: Flat bars allow the rider to sit upright and maintain visibility through traffic.
Geometry
Hybrid bikes are designed with a more relaxed / less aggressive geometry than road bikes. However, they are less relaxed than a mountain bike and have a lower bottom bracket.
Mountain bikes need a higher bottom bracket to allow clearance for obstacles, while hybrids must be lower to allow for frequent stopping and starting in traffic, which requires the rider to regularly put their feet on the ground.
Gearing
If you see manufacturers mentioning the 'drivetrain' of their bikes, they are referring to all the elements that contribute to gearing. This includes the chainring/s, chain, derailleur/s, cassette and cogs.
Gearing for hybrids must be ample for the needs of your riding area. If you are using your bike in an area with moderate elevation, eight speeds will probably serve you well. If you ride in a hilly or mountainous area, you may want to consider eleven or more speeds.
Single chainrings are increasingly common on new bikes and now have a large range of gears. What this means is that the rear cogs are both larger (easier) and smaller (harder, faster) than those on older bikes.
A double chainring can provide more gears, but is also heavier and more complicated than a single chainring.
A double chainring with a front derailleur
A single chainring, no derailleur
Internal hubs are not uncommon on hybrids. With these systems, gears are tucked away from damage and usually require less maintenance than derailleurs. The downside is that they are often more costly and less D.I.Y. when they do require repairs.
Belt-drives are also found on these hybrids. These carbon-fiber belts replace chains and do not require lubrication. This means no fear of greasy pants on the way to work. They do require a certain kind of frame design known as a 'split-frame' and also a single cog on the rear wheel. This limits them to internal hubs.
A carbon fiber belt-drive
An internally-geared hub (using a belt-drive)
When looking at gears, the brand names Shimano and SRAM dominate the market and are indicative of quality and reliability.
Suspension
In the past, many hybrids have featured a front suspension fork. For most of the needs of hybrid riders, these aren't necessary. They add weight and complication to a bike, in exchange for a level of comfort that isn't usually required for urban or weekend riding on gravel roads.
If your riding needs include some rougher terrain, keep in mind that a decent suspension fork adds significant cost to a bike. Suspension on cheaper bikes will probably be heavy and ineffective.

Brakes
These are one of the most important elements to consider when buying a hybrid bike. For a safe and enjoyable ride, effective brakes are essential. Hybrid brakes are similar to those found on mountain bikes and will usually come in two types:
V-brakes: These are a type of rim brake that are cheaper than discs and easier to adjust without professional help. That said, they can still be tricky to center. The most important consideration with v-brakes is that they lose power in wet weather.
Discs: Discs will cost more than rim brakes, but are now more affordable than they have ever been. They are more powerful than rim brakes, especially in wet weather.
They allow for the use of wide tires and don't wear down your rims. On the downside, they add weight to your bike and are more complicated to maintain, adjust and repair. There are two types of disc brake; hydraulic and mechanical. Hydraulic brakes provide greater stopping power and use brake fluid to transmit force.
They are more costly than mechanical discs and trickier to maintain. If you live in a drier climate, you might consider cutting costs and using v-brakes. If you can afford it, disc brakes are recommended.

Saddles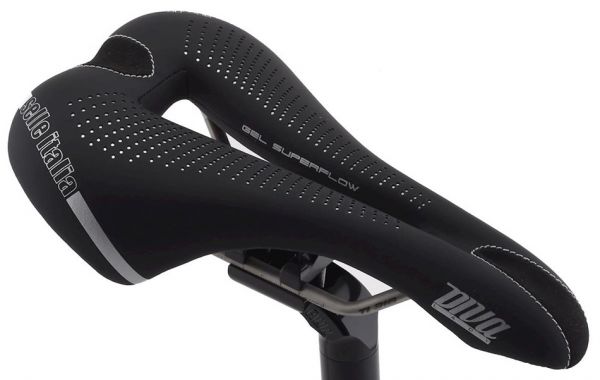 An ergonomic women's saddle with gel padding and air channel
Riders of commuter, hybrid and cruiser bikes often choose plush and squishy seats. However, excessively cushioned saddles can be misleading. This 'squishiness' is uncomfortable on longer rides and will be felt in hips, thighs and bottoms on longer rides. This can cause numbness due to restricted blood supply.
Moderate padding is ideal, ensuring that your weight is supported by your sit-bones. You might also want to consider ergonomic and health-conscious seats that take reproductive and groin health into account. Saddle choice is highly subjective and most riders will
change the seat on their new bike.

Tires
Hybrids are not usually used on rugged singletrack or mountain-bike trails (It isn't really possible to make a bike that performs equally well on the road and in rough environments, due to weight considerations).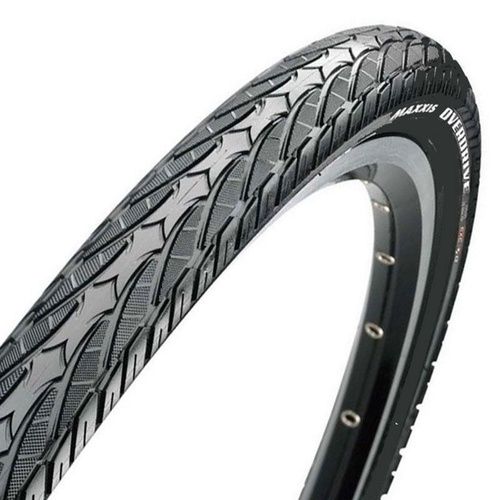 Not too knobbly, not too slick
Mountain bikes need wide, knobbly tires to maintain traction and 'bite' while cornering. Hybrids are best equipped according to your personal needs. If you ride almost exclusively on asphalt, slick tires are best.
For mixed riding on both asphalt and the occasional gravel-track, a 'semi-slick' or mixed-tread hybrid tire will be more versatile. These are often less slick, more grippy and have some knobs for cornering bite.
Hybrid tire sizes usually sit between the widths of 28mm and 35mm, and are designated as '28c' or '32c'. Anything over 35c is heavy and suited to mountain bikes. Less than 28c is intended primarily for speed and will be more unforgiving and susceptible to punctures.

Wheel Sizes
Most hybrid wheels are 700c. You might occasionally run into a hybrid bike that is described as having 29 inch wheels. In reality, they are the same size. 29" is usually used to describe wider rims and tires used for mountain bikes. Keep in mind that wider tires require wider rims and are unnecessary on hybrid bikes.
Some hybrid bikes use smaller wheels, designated as either '650b' or '27.5"'. These often allow room for fatter tires that provide more cushioning. Their smaller size is also suited to shorter cyclists.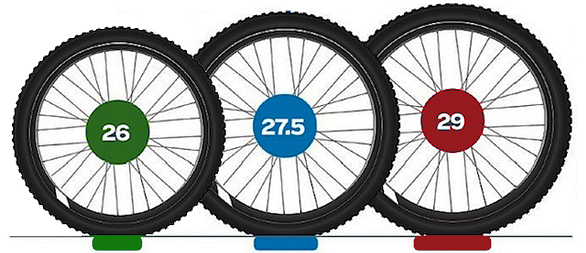 The obsolete, the intermediate & the new standard
In the past, 26" tires were more common. This was the older standard for mountain bikes but is now almost obsolete. 26 inch wheels are not recommended as they are less efficient and less capable at rolling over obstacles.

Frames
Alloy is you ally. Aluminum alloys are the most popular frame materials for hybrid bikes. Their compromise between price and weight is attractive.
On the downside, they are rigid and tend to vibrate, rather than absorbing impact. For this reason, alloy frames are sometimes coupled with a carbon fork. Another downside is that, in the rare instance where the frame cracks, repairs are difficult and expensive.
In general, aluminum is lightweight, affordable and durable.
Carbon Fiber will only help reduce your carbon footprint, but it may also reduce your bank account. It's true that it's impressively lightweight and strong, as well as being excellent at absorbing road chatter.
On the other hand, it can be restrictively expensive and is usually only necessary on road bikes, where speed is paramount. Keep in mind that a carbon fiber bike is also more likely to attract thieves and will be very costly or impossible to repair if cracked.
Steel yourself, if you like old-fashioned reliability and superior shock-absorbance. Good old steel is still available on new bikes, and will appear in two forms:
Hi-Tensile: This is cheap, heavy and has inferior shock-absorbance qualities. It will often only be labeled as 'steel', with no mention of the words 'Hi-Tensile' or 'Hi-Ten'.
Chromoly: Chromoly steel comes in a variety of grades and recipes. It can be relatively lightweight, has a superior ability to absorb vibration and can be easily repaired.
In terms of cost, Hi-Tensile bikes should be cheap. Chromoly frames will be comparable in cost to aluminum, or more expensive for lighter, high-end versions.

Mounts, Eyelets, Bosses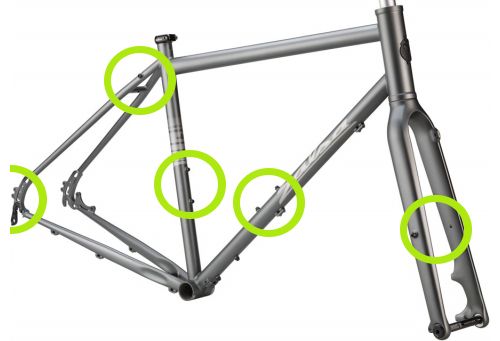 Plenty of eyelets for bottles, racks and fenders
These are the words used to describe drilled holes or mount-points on the frame, provided as a means for attaching accessories.
Many hybrid users are commuting or riding for leisure on weekends. Either way, it's highly likely that you'll want to attach fenders and racks. You'll also want holders for your water bottles.
Most hybrids will come provided with all or most of the fittings you'll need for accessories.

Accessories
There are a few accessories that are almost essential for the hybrid commuter:
Lights: When looking at your options, consider USB-chargeable lights. They reduce waste and don't require removable batteries. Another battery-free option are dynamos, which use the motion of the wheel to generate electricity. They sit against the rim or are incorporated into a wheel hub.
Locks: Your treasured new ride needs to be secured. A hefty 'D-Lock' or similar is recommended.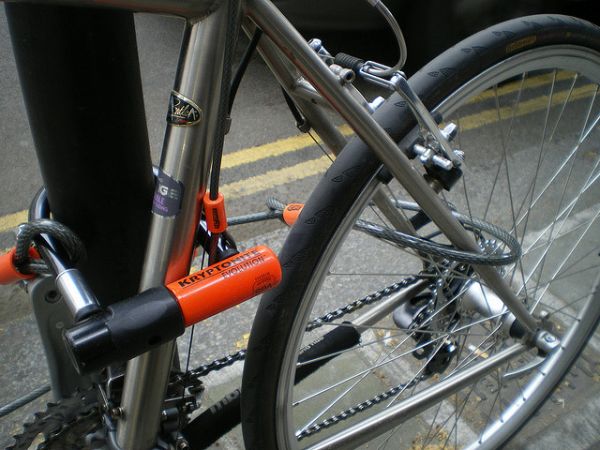 A hefty D-lock is the minimum requirement for city riding
Fenders: It's pretty important to consider the mud and the slosh. Few of us can avoid all the rain.
Racks rock. If you need to carry more than a backpack or want to move weight off your shoulders, racks are the solution. Consider whether you need panniers –
and if you need a front, rear or both racks.
Some hybrid bikes will even come equipped with racks and fenders, which is definitely something to keep in mind when considering your budget.

Your Budget
The main thing to consider when buying a new bike, is value for money regarding durability. If some models seem almost too-good-to-be-true, it's possible they are.
Super-cheap bikes often come equipped with low-quality components that won't last. They can also make your ride experience miserable. As the parts fail, you'll end up spending more money on upgrades and repairs. This money could be better spent on a higher quality bike that you can trust.
Hybrids are usually a mid-range bike, because they are used for commuting and daily wear. They are also prone to thievery in urban areas. Even so, there is a big price difference between the cheapest and the dearest hybrid.
At the top-end of the range, some of the best hybrid bikes are carbon-fiber 'flat-bar road bikes', which can cost over $1800. They should have high-end drivetrains and a forgiving ride (absorb bumps easily).
In the mid-range are bikes from $600 to $1800. These may have a carbon fork and will feature a quality drivetrain. Alloy frames may be of superior and lightweight manufacture.
For the most budget conscious buyers, decent hybrids can be had for as little as $400. Even at this price, bikes will feature disc brakes and an aluminum frame. Some components may be mid-range and moderately heavy, but still reliable. As long as the fit is right, these bikes can be comfortable rides.

Sizing
Most manufacturers will have a range of sizes available for each bike. This is given in inches. If you aren't an experienced cyclist, this may hold little meaning for you. Don't fret.
Basic sizes will be given as: S / M / L / XL – or similar. Each of these sizes should have a height range associated with them (for example, M = 5'7" to 5'10"). These are great as a rough guide, however…
There's no such thing as an 'Average Medium': Sizing is not the same across all bikes and manufacturers. A 'Medium' on one model can be the same as a 'Large' in another model.
In addition, we all have differing proportions, in comparison to our full height. Some of us have shorter or longer arms, legs or torsos.
So… how to be sure? The best solution to this problem is to visit your local bike shop, where they can offer you a professional sizing and match you to appropriate bikes. You can even test-ride a bike and get a feel for the size and type that suits you.
As your local bike shop employee will advise you; on a hybrid you will likely be spending a fair amount of time stopping and starting in traffic. As such, the size of your bike should allow for a comfortable 'stand-over height'. This is the height of the top-tube when you are stopped, with a foot or two on the ground.
Direct Sales vs. Local Bike Shop
Remember that there are differences between buying your hybrid online from the manufacturer – and from your local bike shop ('LBS'). The benefit of a direct sale from the manufacturer, is that you aren't paying for the middleman – and you get a cheaper bike because of it.
Good online bike retailers will pre-assemble as much as 80% to 95% of your bike before shipping and will provide the tools required for the remaining adjustments.
Your LBS will usually offer you a respectable warranty deal and minor servicing for free within the first few weeks of purchase.
Whatever route you choose, there are benefits and drawbacks.

Getting on the Road

With this information under your belt, you can feel less bamboozled and better equipped to choose a hybrid bike. Remember that hybrids aren't usually high-end performance machines. It doesn't have to be the best, but if you're going to be commuting it shouldn't be sub-par either.
What most riders want from their hybrid, is a tough yet efficient bike that isn't delicate – and doesn't require constant attention and adjustment. If it's too flashy, it won't survive the mean streets. Too cheap – and it won't deliver the effortless cruising bliss that you deserve.
Further Reading and Useful Links
Have questions about which bike to choose? Ask in our Forum.
Want to win a bike instead of buying one? See our bike Giveaway.
Find out more about BikeRide.
Sources
Bike Categories