How to Choose and Buy the Best Trail Bike
by Owen Jesse – updated August 16th, 2022


Contents:
What Is a 'Trail' Bike?
They're the all-rounders of the mountain biking world; tough enough to handle chunky terrain and trails at speed, while being light and efficient enough to pedal on climbs and cross-country trails.
A trail bike is a mountain bike that can handle drops, berms, technical obstacles and rugged descents over rocky ground.
Full-suspension models are more popular and more widely available than 'hardtail' examples (which use a suspension fork but no rear shock). Nevertheless, hardtail trail bikes maintain a loyal fanbase.
Originally, trail bikes were aimed at recreational off-road riding and non-competitive, cross-country travails. Nowadays, they can also tackle many enduro trails.
Many trail riders like to challenge themselves and one another to conquer big drops, beat their best downhill times and conquer rock gardens. The trail bike is the perfect tool for getting the most out of purpose-built 'flow trails'.
Experts emphasize that a trail bike will handle most areas that are available to mountain bikers. In recent years, they have only become more and more capable of tackling raucous and technical locales.
For most mountain bikers, a trail bike is the only bike they'll need.

How Does Trail Compare to Other Disciplines?
Cross Country (XC)
Trail bikes are beefier and more capable than cross country bikes. Cross country bikes are lighter and more nimble than trail bikes, which makes them faster on climbs and flatter terrain. Trail bikes can handle bigger obstacles, features and drops.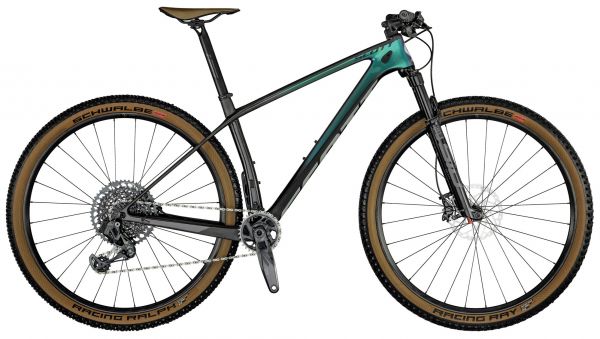 Cross Country Hardtail
The modern XC bike uses a 29" inch wheel as standard. In the trail world, 27.5" inch still has its place. XC geometry also differs from trail. Top tubes are shorter and head angles are steeper, for faster handling.
Suspension travel usually ranges between 90mm and 100mm, on both forks and rear shocks (where these bikes are full-suspension). The average range for trail bikes is between 120mm and 150mm.
XC frames are aluminum on the cheaper end, moving to carbon fiber on mid-range and high-end options. Weight is a higher priority than on trail bikes, which are more likely to use aluminum on lauded mid-range models. Traditionally, XC bikes used rigid aluminum or carbon seatposts, with dropper posts only becoming more popular recently. On the best trail bikes, dropper posts come standard.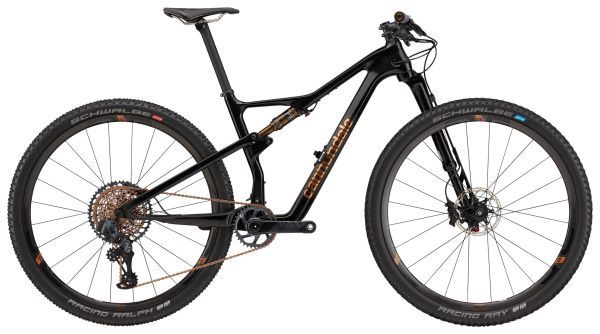 Cross Country Full-Suspension
In the name of speed and agility, XC tires are narrower than 2.2" in width, stopping where trail rubber starts. From 2.3" to 2.8" (and up to 3.0" on 'plus' models), trail tires have a greater air volume and can be run at lower pressures. They're also wider and knobbier for increased traction. XC tires have a lighter tread to achieve lower rolling resistance at speed and whilst climbing.
In short, trail bikes are a burlier and more capable option for an all-rounder ride. Cross country bikes are designed for high-speed riding and agility, both uphills and down. Big hits and drops are not on the menu.
Enduro
Some prospective buyers find themselves torn between slimmer, lighter trail rigs and heavier, burlier enduro steeds.

Enduro Full-Suspension
With a standard 150mm to 180mm of travel, enduro bikes are designed to take big hits, big air and to handle big drops. They love to rip berms and gap jumps without concern.
The extra travel and frame reinforcement adds weight. Enduro bikes are, primarily, a downhill weapon. For this reason, powerful four-piston brakes (using big 180mm to 203mm rotors), are common.
Internal rim widths are wider than those found on trail and cross country bikes, at a standard 30mm. This allows for increased air volumes and lower pressures with less pinch-flats. Tire widths are similar to trail (2.3" to 2.8").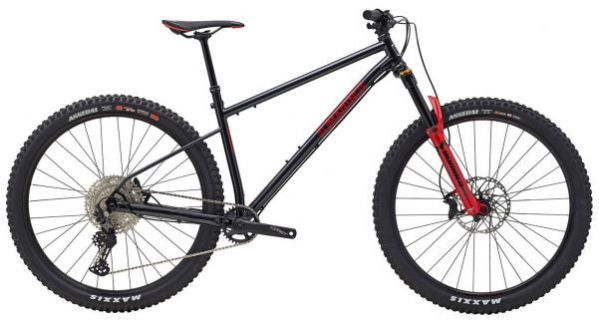 Enduro Hardtail
Trail bikes are more compact, with shorter chainstays and reach than enduro options. This can mean that they're more agile when tackling a trail's most technical obstacles.
Experts and pro riders have argued that modern trail bikes are so capable that most riders don't require the extra reinforcement provided by an enduro bike. Trail bikes can be ridden on many enduro trails.
Some new bike designs have started to blur the lines between trail and enduro.

Features of Trail Bikes
Change is constant in the mountain biking world. Geometry, components and materials are always evolving, with different preferences falling in and out of fashion and remaining the subject of constant debate. That said, there are modern trail bike characteristics to take note of and look out for.
Geometry
Wheelbase
Wheelbases have been stretching out over the last few years, offering increased stability when descending at speed.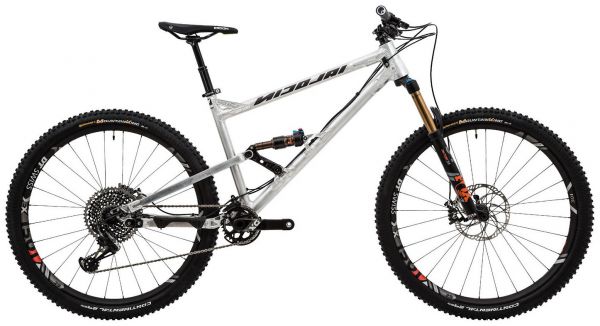 Stretched to the limit: 1270mm wheelbase
Size medium
Currently, average wheelbase length sits around 1195mm for a bike with 27.5" inch wheels. Most bikes sit somewhere within the range of 1151mm to 1218mm.
For 29" inch bikes, the average wheelbase length is approximately 1202mm. Measurements at the shorter and longer ends of the range vary from from 1160mm to 1278mm.
Generally, a longer wheelbase is more stable. However, a radically long wheelbase may be more difficult to maneuver through tight turns, especially at slower speeds. But for some, the longer the wheelbase, the better.
For predictable handling, seek a moderate wheelbase in the median range.
Seat Angle (Seat Tube Angle)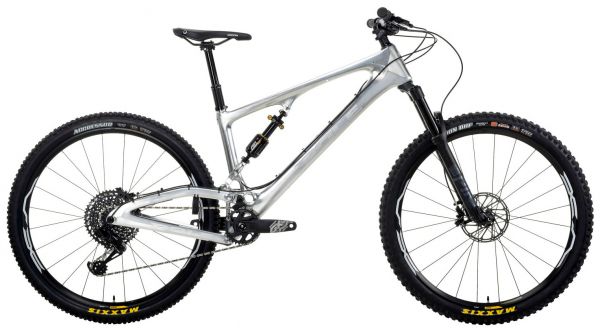 Steeper, steeper… 78.6° effective seat angle!
'Actual seat angles' may be deceptive, when considered by themselves. Experts stress that seat tube angles should be taken into consideration in conjunction with a number of other factors. This measurement is known as the 'effective seat angle' (ESA).
Seat angles sit at an average of 74° (reaching 75°).
Seat angles have become steeper in recent years, helping to center the rider over their bike and bottom bracket. A slacker seat angle makes it more difficult to keep the front wheel planted on climbs. A steeper angle is more efficient in all regards, including climbing.
Head Tube Angle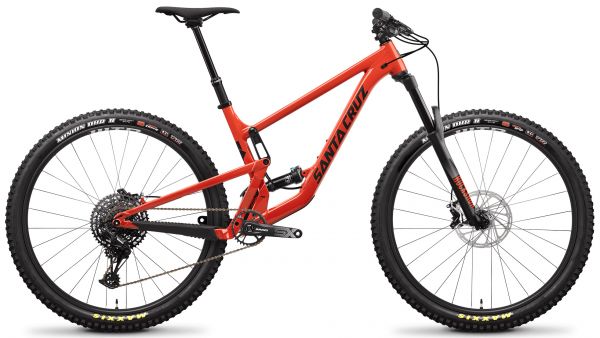 Slightly slacker at 65.5°
While seat angles steepen, head angles slacken. Most modern trail bikes sit in the range between 65° and 68°. 66° is a happy average. Slacker head tube angles place the front wheel further out in front of the rider, increasing stability.
Too slack, and the front wheel will wander at slow speeds and on climbs. Too steep, and bikes become sketchy on descents.
Reach
Reach increases with frame size. It's a good indicator of how comfortable you'll be with the room available to you, as you sit or stand with hands on the bars.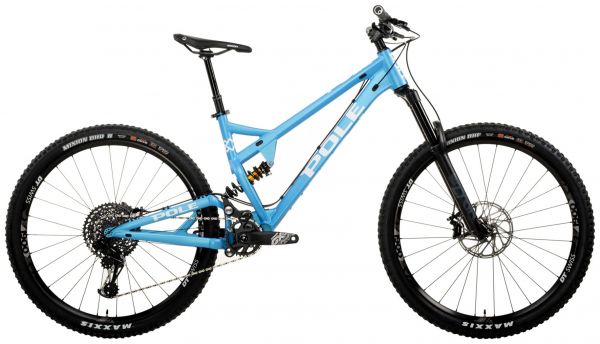 Long reach: 480mm in a medium
The trend is toward increasing reach distances. At the same time, stems have shortened. This results in a heightened degree of control, due to the sensation of direct steering input.
On large size models, the average trail bike reach sits around 460mm for a 29" bike and 455mm for 27.5" models. A short reach would be considered to be 440mm to 445mm. Long reach bikes offer as much as 475mm. Outliers can have as much as 490mm of reach, in a medium size.
Chainstays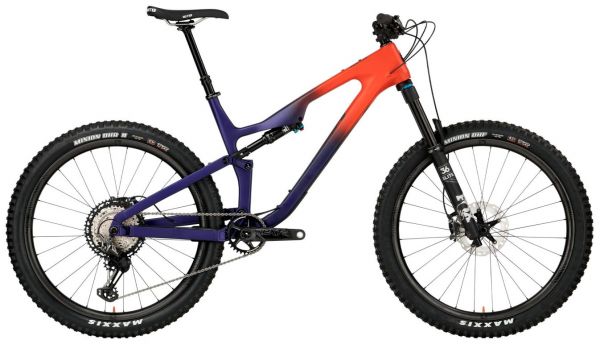 With boost spacing, these shorter-than-average chainstays measure 425mm
As a rough guide, 430mm to 450mm is the norm on 29ers, with 436mm being the dead-on average. For 27.5" bikes, 425mm to 435mm is standard.
Shorter chainstays make it easier to flick a bike around corners, as well as to perform manuals and wheelies.
Longer stays increase stability and help to keep the front end down on climbs.
Bottom Bracket Height
The lower one's bottom bracket height, the lower their center of gravity.
Lower bottom-bracket heights also contribute to greater agility, decreasing the amount of effort required to move into and out of turns. But take heed, too low and you'll be scraping your pedals on obstacles. Keep this in mind, when considering how much this will be affected by your suspension's sag.
BB height: 337mm | BB drop: 18mm
BB height: 337.7mm | BB drop: 37mm
For both 27.5" and 29" bikes, bottom bracket heights sit close to 440mm. Some manufacturers may list 'bottom bracket drop', which is a measurement of the distance that a bottom bracket sits beneath an imaginary line connecting the centers of both wheel axles, and the ground. The bigger this number, the shorter the distance between ground and bike.
Fork 'Trail'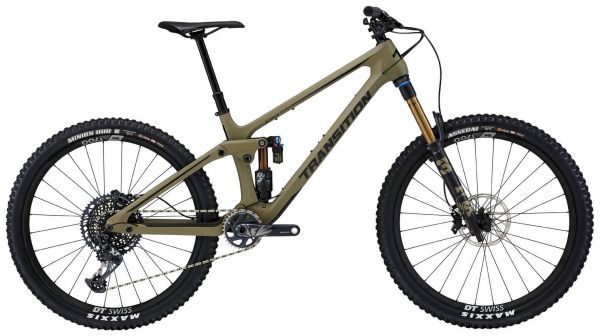 New-style trail geometry
More trail results in more stable handling, but will require greater input on turns. Less trail makes for a twitchier, more agile bike. Trail mountain bikes will have a greater mechanical trail distance than hybrids or light-use recreational mountain bikes.
Stack Height
Stack height determines the maximum possible height that you can raise your handlebars to. This affects your stance on your potential new bike purchase and determines either how 'hunched over' or upright you'll be.
It's important to consider stack height when examining geometry charts, as you could be limiting the amount of adjustability available to you, if an incorrect frame size is chosen.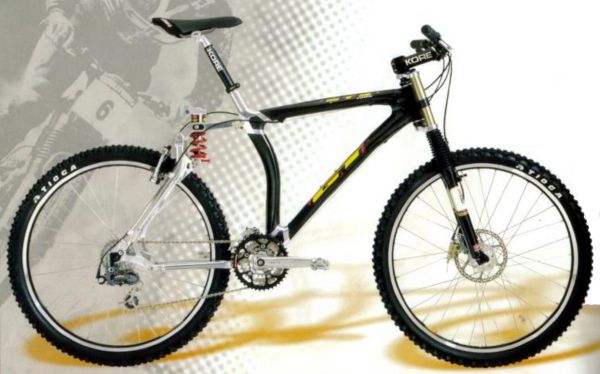 Old school geometry, circa 1998
If you want to enjoy the most recent developments and evolutionary advances in the design of trail bikes, it's a good idea to take note of the newest trends in geometry.
Older model bikes and bikes with outdated geometry are usually cheaper. You might consciously make this choice, to save money. But don't get caught out paying top dollar for old tech.
There are budget choices available with mid-range componentry and brand new geometry.

Frames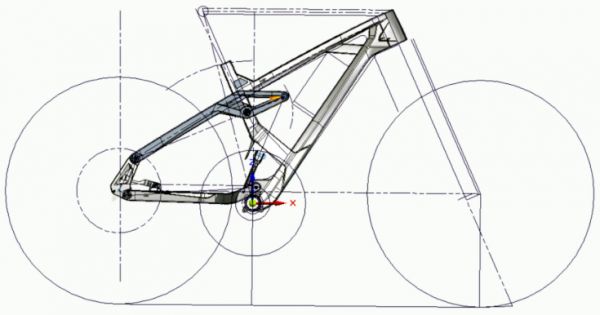 Intelligent frame design
When it comes to frame materials, there are two common options with wide availability. These are aluminum and carbon fiber. High-end, high performance frames are almost always made from one of these two materials.
Ride quality is not only affected by the material used, but also by the level of intelligence incorporated into frame design. Methods of frame construction work to complement the material used, to achieve the best results.
Although metal tubing is referred to as being made of 'aluminum', 'steel' or 'titanium', all metallic materials used for framebuilding are alloys, which are blended with other metals in smaller amounts. Carbon fiber stands apart from these metals, as discussed below.
When we refer to the 'stiffness' of a frame material, we're describing the potential of that material to return to its original form under load. Stiffness increases along with tubing diameters. This allows tubing walls to become thinner as diameter increases. 'Damping' refers to a material's ability to absorb vibration.
Tougher materials, such as steel and titanium, tend to bend, rather than break, under pressure. In comparison, quality carbon fiber has a tendency to 'bounce'. Without question, carbon fiber is the lightest frame material, without exhibiting any compromises in strength.
Aluminum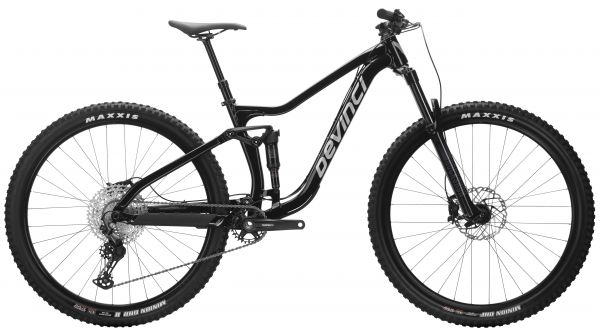 Full-suspension aluminum design
Aluminum is affordable, but it's also suited to high-performance frame builds.
Aluminum is low cost, largely because it's easy for manufacturers to work with. It needs to be formed into larger diameter tubes (up to 30% larger than steel) and must use more material (twice as much as steel) to achieve a similar strength. But this doesn't affect overall frame weight, as an aluminum frame weighs approximately 30% less than a steel frame of similar strength. Aluminum is about 1/3 of the density of steel, but needs to be 'overbuilt' to combat its inherent brittleness.
Experts point out that, as a buyer, you can save money with an aluminum frame and spend the savings on superior componentry. This presents an advantage to shelling out for carbon fiber.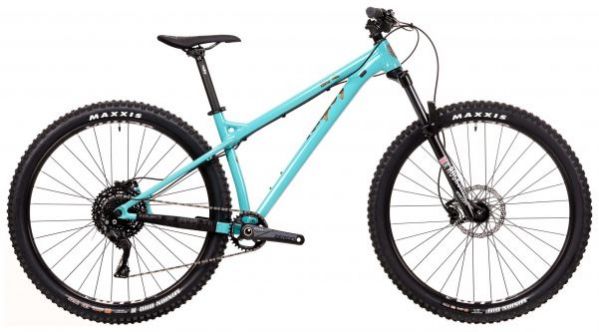 Aluminum trail hardtail
If an Aluminum frame does fail, it may crack suddenly with little prior warning.
Aluminum exhibits excellent stiffness, but this has given it a reputation for harshness in the face of vibration. However, high-end frames now reduce jounce using various means, including smoothing of weld areas to reduce excess material.
Pros
The second-stiffest material, behind carbon fiber.
Lightweight
Affordable
Stiff
Cons
Can deliver a harsh ride.
It's brittle and may crack.
Not affordable or practical to repair.
Not as strong as other materials.
Carbon Fiber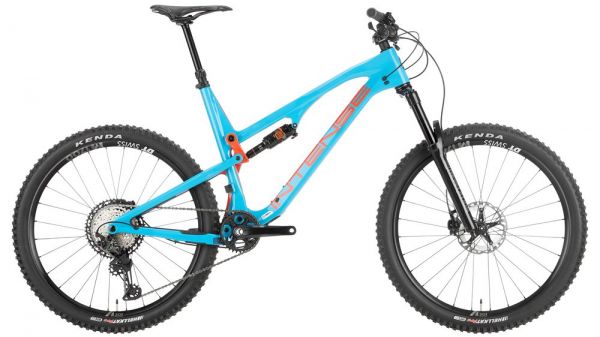 Full-suspension, carbon fiber
The material known as 'carbon fiber' is a combination of fibers and epoxy. These fibers are 'woven' together into sheets, which are bonded with epoxy.
While metals are equally strong in all directions, carbon fiber is 'anisotropic', meaning that it can be customized to exhibit strength in certain directions.
Most manufacturers use uni-directional sheets of carbon fibers that are pre-impregnated with resin. Strength is concentrated in the direction of travel of the fibers in the sheet. These sheets are known as 'pre-preg'.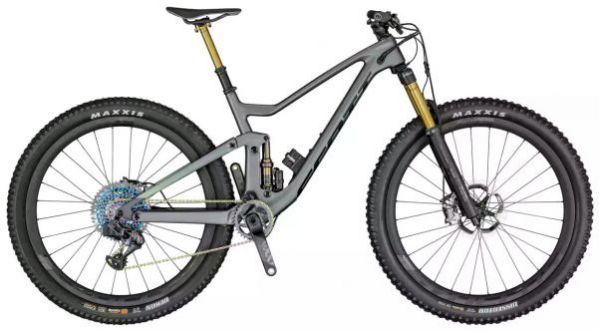 High-end carbon fiber frame
These sheets are built up in multiple layers, which are arranged at different angles to withstand loading from different directions. This arrangement is referred to as the 'layup'. Carbon fiber is highly workable, allowing it to be formed into any number of fluid, purpose-specific frame shapes.
Ride quality is highly modifiable and can be finely tuned, according to the selection and placement of materials. At the same time, poor workmanship can result in the potential for critical failures. The necessity for quality workmanship is reflected in the high price of carbon fiber frames.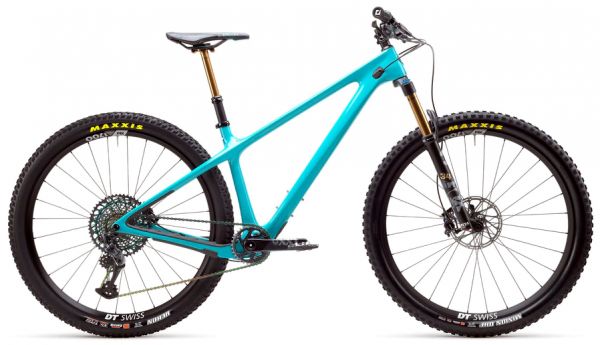 Carbon fiber hardtail
Failure of carbon fiber frames isn't common, but when it happens it can be sudden and critical. Carbon fiber exhibits a limited ability to elongate, meaning that it can't naturally 'deform' and return to its original shape, as does steel and titanium. Repairing carbon fiber frames is expensive and often impossible. It's recommended that you buy from a reputable source. Bargain-basement frames have a track record of causing real injury.
Another benefit of this material is its ability to maintain torsional stiffness, resulting in more pedal power being transferred directly into forward motion, creating a snappier ride.
Carbon fiber may not be for the beginner who has a limited budget.
Pros
High strength.
Very stiff.
The lightest material available.
Excellent ability to damp vibration.
Torsional stiffness.
Cons
Expensive
Possibility of sudden, critical failure without warning.
Some describe its vibration absorption capabilities as delivering a less lively, 'dead ride'.
Steel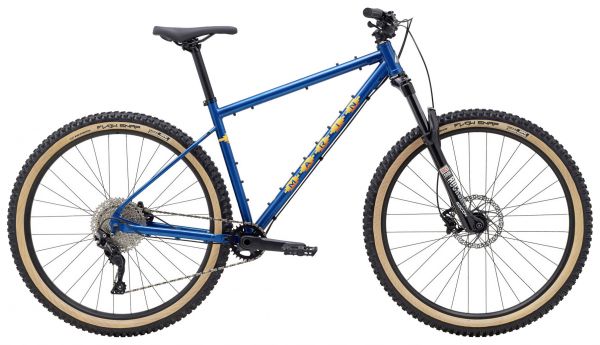 Steel hardtail frames can be pliant
In the trail sphere, steel is less common. It's more likely to be seen on hardtails and full-suspension offerings from boutique manufacturers.
Strength has been increased by new alloys and the implementation of double-butting, allowing for lighter, thinner tubing. Even so, it's noticeably heavier and denser than the competition.
Most steel mountain bikes use a chromoly (4130) alloy, such as Reynolds 525 and 725. These are similar to chromoly, but 725 is heat treated to attain some additional properties.
Some 'artisan' framebuilders use different alloys for different tubes, depending on the stress, weight and impact placed on these areas, as well as the desired amount of flexibility sought from this part of the bike.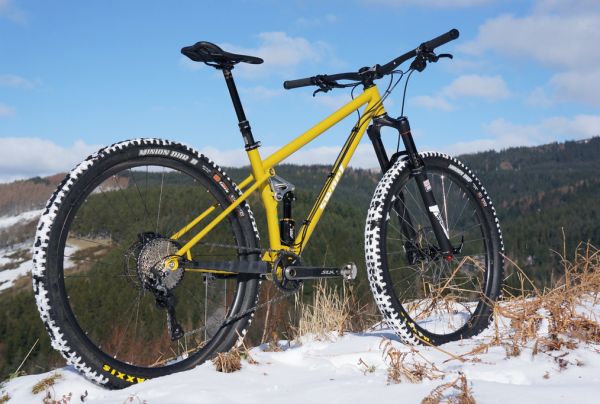 Full-suspension steel frames are now a rarity
Steel is preferred by riders who favor durability and the feel of a very forgiving ride. In the event of failure, it will give ample warning via bending and buckling. If they aren't made from stainless steel tubing, or haven't received a resistant coating (such as EDP), steel frames are prone to rusting.
Steel has a dedicated following. It's currently enjoying a popular resurgence with smaller builders and on some hardtails from bigger brands.
Pros
High strength.
Great damping properties.
Durable
Affordable
Repairable
Stiff
Failure is gradual and noticeable.
Modifiable
(with eyelets, mounts etc).
Cons
The heaviest option.
Prone to rust.
Titanium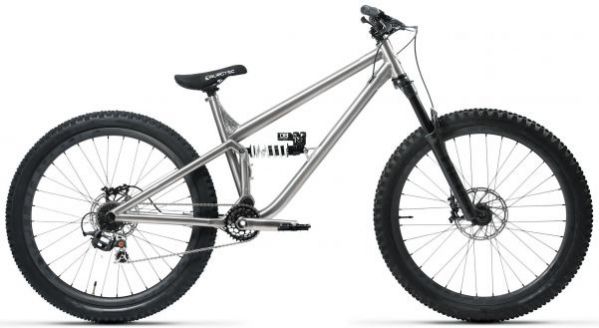 Titanium. So rare, so durable, so shiny
Of all the available materials, titanium is the most boutique. It's as strong as steel, at 55% of the weight. It exhibits outstanding vibration absorbance and a level of stiffness between that of steel and aluminum. Its ability to resist corrosion is almost total, making titanium a very real choice for a frame that lasts a lifetime.
Nevertheless, it is difficult to extract, refine and for manufacturers to work. As a result, it demands a restrictively high price. Due to its density, it's heavier than both aluminum and carbon fiber.
In the mountain bike world, titanium is a lot more common on cross country hardtails.
Pros
Can last a lifetime.
Virtually corrosion free.
Excellent damping properties.
Delivers a smooth ride.
Lighter than steel.
Cons
Expensive
Heavier than aluminum and carbon fiber.
Which Frame Material is Best?
Aluminum makes for a cheap and light choice, while still having the potential to deliver race-level performance.
It might seem that all the best trail bikes are made of carbon fiber. It is the lightest option available, while also being one of the strongest. However, it is also the most expensive.
Steel may be a sentimental and nostalgic choice, but it's also impressively pliant.
Titanium beats out other options for durability.
Bosses, Eyelets and Mounts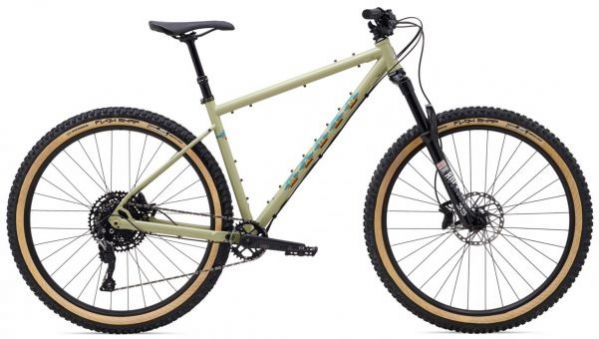 This frame is kit with ample bosses,
eyelets and mount-points
Eyelets are threaded fittings that allow you to attach accessories to your bike's frame. Mount-points are important if you head out on long rides or bikepacking trips. In these situations, you'll be seeking multiple bottle cages and cargo-housing solutions.
Many mount points are versatile and can be used to attach bottle cages, frame-bags or cargo. Other eyelets serve as mount-points for fenders.

Components
Trail bikes are ridden hard. Because of this, components must meet certain requirements relating to strength, resilience and durability. The parts found on a big-box, entry-level mountain bike won't do. Those bikes are intended for weekend jaunts on hardpack dirt and rail trails. When you rocket downhill and through the air, you place your faith in your componentry.
Suspension
Forks
Suspension forks usually use two legs, with telescopic stanchions moving in and out of 'lowers' that are attached via a brace. One-legged suspension is rarer, but also exists.
Most modern trail forks use air suspension. Usually, air chambers are housed in one leg, while damping and oil reservoirs are contained in the other.
What to Look For on New Trail Bikes
Single-crown forks.
100mm hub spacing at normal widths.
110mm hub spacing at boost widths.
A 15mm (standard) or 20mm (boost) thru-axle.
120mm to 150mm of travel.
Similar travel to the rear shock.
A 'lockout' switch to stiffen the fork on climbs and stretches of road.
A weight of around 2kg.
Availability in both 27.5" and 29" inch.
As Price Goes Up, Expect These Characteristics
Increased adjustability (e.g. using volume spacers to alter air pressure).
Consistent and reliable performance.
Less flex.
Lighter and tougher components and materials.
Higher quality seals and cartridges.
A stiffer build.
Stanchion coatings for smooth operation.
Over time, brand names like RockShox, Fox, Marzocchi and Manitou have remained reputable. For budget options, consider offerings from X-Fusion and Suntour.
Rear Shocks
As with suspension forks, almost all rear shocks for trail bikes are air sprung and oil damped. They should feature a compression lockout, to ease climbs. Reputable bike manufacturers will vary shock sizes, tunings and fittings, according to the frame size chosen.
Characteristics and Features of Quality Rear Shocks for Trail
A lightweight build.
A balance of efficiency and traction.
Able to climb and pedal decently, even in the shock's 'open' setting.
Features a rebound dial.
Features a two to three way compression damping switch that offers tunable settings for riding on climbs, trails and / or descents.
Many of the manufacturers of quality suspension forks are also responsible for building reliable rear shocks.
Handlebars
The main factors to consider when looking at handlebars are width, material, shape and diameter. These factors will affect your level of comfort and degree of control. Carbon fiber bars ask a higher price than aluminum options.
Rise
Most trail bars use between 10mm and 40mm of rise. More rise results in a rider's weight being shifted rearward, which provides extra confidence on descents. Less rise shifts rider weight forward, helping to keep the front wheel down on climbs.
Options with 20mm to 30mm of rise present a good compromise between performance across gradients, uphills and down.
Sweep
Upsweep
Upsweep describes the vertical angle of your handlebars at the grips. This will also affect rise. Generally, upsweep varies between 4° and 6°, providing a healthy and neutral wrist angle.
Backsweep
This is the measure of the angle of your bars as they sweep toward the rear of your bike. Backsweep averages at around 7.5° but can vary from 5° to 9°.
Width


This carbon fiber bar / stem combo measures 800mm tip-to-tip
Wider bars require less input to achieve the same steering force as narrower bars. They also increase stability by dispersing rider weight over the front wheel.
The average modern width for trail mountain bike bars is 760mm. However, bars can vary between 685mm and 800mm (27" to 31.5"), according to frame size and rider preference. Generally, bars on the narrower end of this scale are more likely to be found on cross country bikes, while 800mm bars are more common on enduro bikes.
There is a logical limit to bar width. Bars that are too wide can create shoulder rotation issues. If you have a shoulder injury or shoulder pain, opt for narrower bars.
Remember that you can always cut your bars down but you can't make them bigger. If you're experimenting, start wider and work toward narrower bars to find your sweet spot.
Diameter


This bar's diameter at the clamp (center of the bars) is a wide 35mm
Most new mountain bike bars are 31.8mm in diameter, where they clamp to a bike's stem. This provides increased stiffness over the previous standard of 25.4mm. A new, girthier 35mm size has recently been introduced.
35mm bars are intended to increase strength and stiffness over 31.8mm options. They also allow for a lower clamping pressure at the stem, which could prolong the life of carbon bars.
Some riders believe that the wider 35mm option reduces flex and increases weight over 31.8mm bars. Keep this in mind when buying a bike, as changing bar width will also require swapping out your stem.
Material
The main choice in bar material, is between aluminum or carbon fiber. Titanium can be an aftermarket option.
Aluminum


This aluminum bar weighs 325g (11.5oz)
It's the popular and affordable choice, while being harsher and heavier than carbon fiber. Higher-end alloy bars are butted, to allow the use of thinner walls in some parts of the tubing, while others are thicker to increase strength.
Pros
Stiff
Strong
Light
Affordable
Cons
Transfers more vibration than the competition.
Carbon Fiber


This carbon fiber bar weighs 180g (6.35oz)
Carbon fiber is the lightest, strongest choice and is the preferred option for most trail riders who can afford it. In the uncommon event of failure, less warning will be given than on aluminum options, which could result in a clean crack.
Pros
Excellent vibration damping.
Lightest option.
Very strong.
Cons
Expensive
Must be installed using the correct torque.
Cracks in the event of failure.
Brakes
Braking may be the most important control factor of your new mountain bike. Hydraulic disc brakes are the standard on new trail bikes.
When comparing new bike options you'll be comparing these factors:
Power
Reliability and consistency.
'Consistent lever feel'.
Weight
Modulation (the range of 'adjustability' available to you during active braking).
Some brands are consistently recommended by experts. At the moment, many riders consider SRAM options to offer superior modulation (even in cold weather). However, they exclusively use DOT fluid, which is corrosive. Shimano uses mineral oil. It costs more but is non-toxic and friendly to your bike's frame, the environment and your own skin. Other companies that offer reputable brake options are Hayes, Magura and Clarks.
Hydraulic Disc Brakes
Hydraulic brakes use fluid or mineral oil in an enclosed system. They are the most powerful option available to mountain bikers. Braking modulation is superior, allowing riders to 'feather' their brakes and to make minor adjustments in braking force. The calipers of hydraulic brakes self-adjust in response to brake pad wear.
Installation and initial adjustment is not simple and requires specialist tools. They require regular 'bleeding' using a 'bleed kit'. It's best left to bike mechanics at your local bike shop.
Pistons
New trail bikes will come fit with either two or four piston brakes.
Four Piston Brakes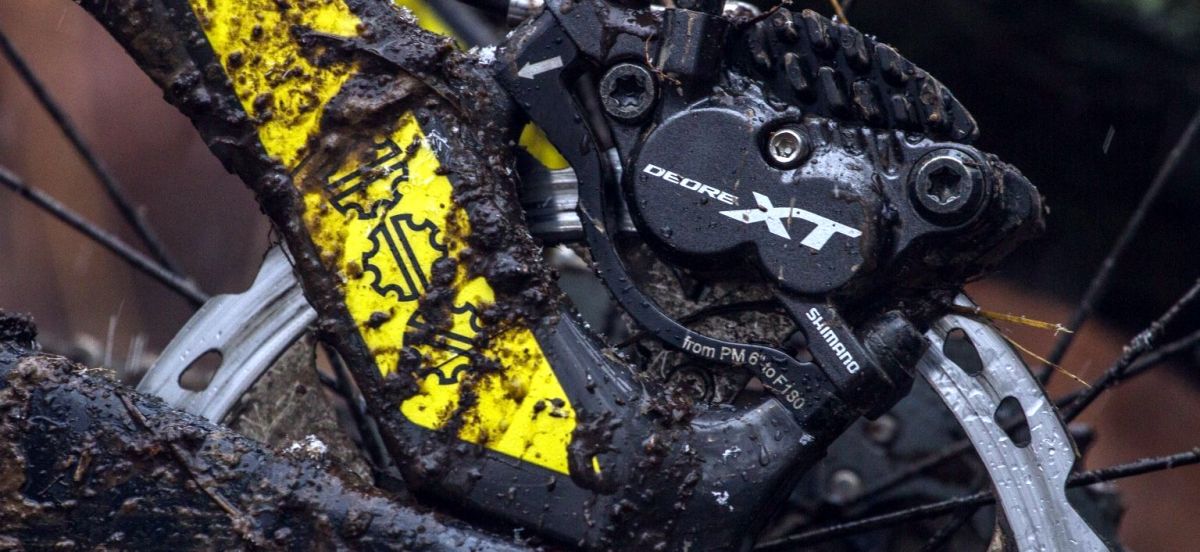 A four piston brake caliper at work
Higher quality bikes may be fit with four piston brakes. These use four pistons to press a caliper that is physically larger than those found on two piston brakes. Subsequently, brake pads on four piston brakes are also wider. Four piston brakes offer superior modulation, due to the increased amount of fluid used and to their wider braking area.
Four piston brakes shed heat well, resulting in reduced 'brake fade' (loss of braking power) on descents, compared to two piston brakes.
Two Piston Brakes
Two piston calipers use one piston a side
Four piston calipers use two pistons a side
Two piston brakes are common on new bikes and help to keep costs down. They can definitely do the job on beginner rigs but you may seek to replace and upgrade them as your riding skills come to demand more braking confidence.
When comparing bike prices, consider which of these options is fit to a new bike.
Rotors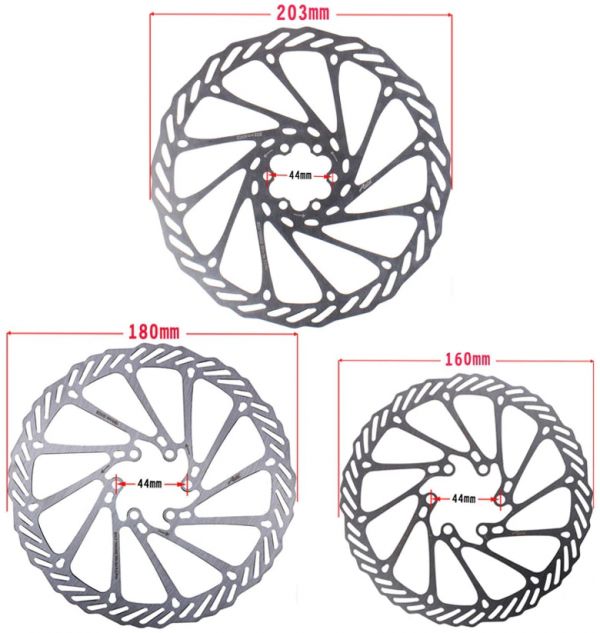 The most used rotor sizes
Rotor size is another factor to consider. It's widely agreed that at least one, but preferably both of your brake rotors should measure at least 180mm in size. Generally, front rotors are larger than rear ones, as they receive a larger share of braking time.
Some experts consider that 180mm should be the minimum, front and back, while others prefer the larger 203mm size. There are new trail bikes that have a 180mm front brake rotor and 160mm in back. While bigger rotors will be more powerful, they may offer decreased modulation and increased weight. These are the options you're likely to confront on new bikes:
203 front / 203 rear
203 front /180 rear
180 front / 180 rear
180 front / 160 rear
Generally, 180mm rotors will prove adequate for most recreational trail riders.
Brake Pads
Sintered / metallic brake pads
Organic / resin brake pads
Brake pads are generally one of two types. Sintered brake pads use metal shavings and show better performance on long runs, while Organic pads provide more bite. Pads are probably not a factor that should affect your choice of bike, as they will wear out and aftermarket options don't represent a huge cost.
Gearing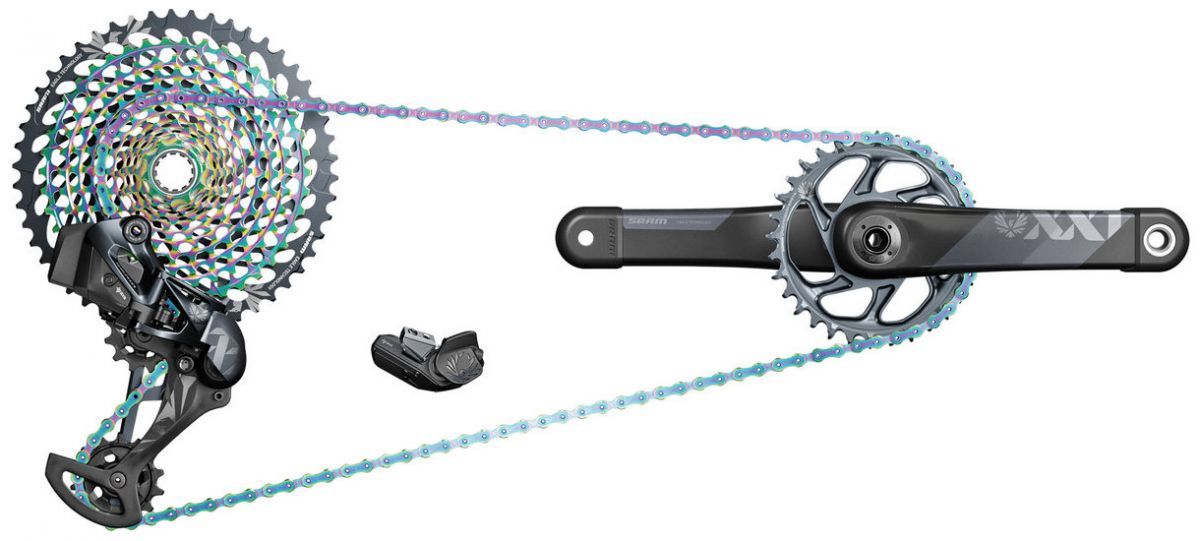 A 1×12 drivetrain
Trail bikes run 1x ('one by') drivetrains. They keep things simple by shedding the front derailleur and using a single chainring. Looking at gear ranges on your potential trail bike, you'll want to consider three main factors.
Chainring size.
The gear range of your bike's cassette.
Wheel size.
Cassettes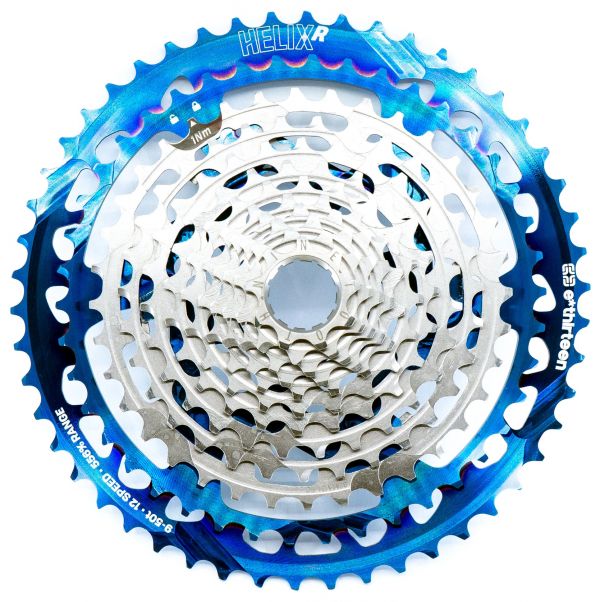 A 12-speed, 9-50 tooth cassette
Trail bike cassettes generally come with 11 or 12 individual gears. Older or budget models may still be 10 speed.
It isn't so much the number of gears available, as it is the range offered by those gears, that's important.
On the following examples, the lower number represents the highest gear, while the largest cog (indicated by the largest number) represents your lowest gear. You can see that there are 12 and 11 speed options that both offer an 11-50 tooth gear range, while there are 10 and 11 speed options offering an 11-42 tooth range.
12 Speed
11-50 teeth
10-45 teeth
10-50 teeth
10-51 teeth
10-52 teeth
9-50 teeth
11 Speed
11-42 teeth
11-46 teeth
11-50 teeth
10-42 teeth
10 Speed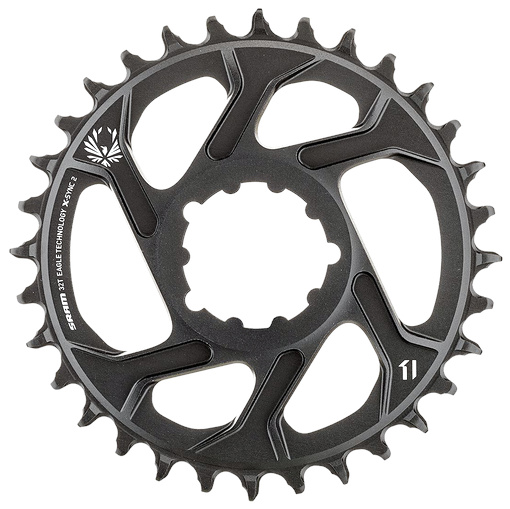 A 32 tooth chainring
Chainrings
The smaller your chainring, the less effort you have to exert in your lowest climbing gear. The larger your chainring, the faster you can go in your highest gear.
You will have to choose where your priorities lie. Do you value a balance of ease and power on both ascents and descents, better climbing ability or high downhill speeds? As far as 'number of teeth' go, most chainrings fall in the range of 28 to 34.
Wheel Size
Wheel size affects your gearing too. Gears are harder to pedal but propel you further on a 29" inch wheel rig (as opposed to a 27.5" option).
If you're moving to 29" inch wheels and aim to maintain a similar ratio to your 27.5" inch bike, choose a chainring with two less teeth.
The Contact Points
These three points constitute some of the lowest cost componentry on your trail bike, but can radically alter your levels of comfort, control and fatigue.
Saddles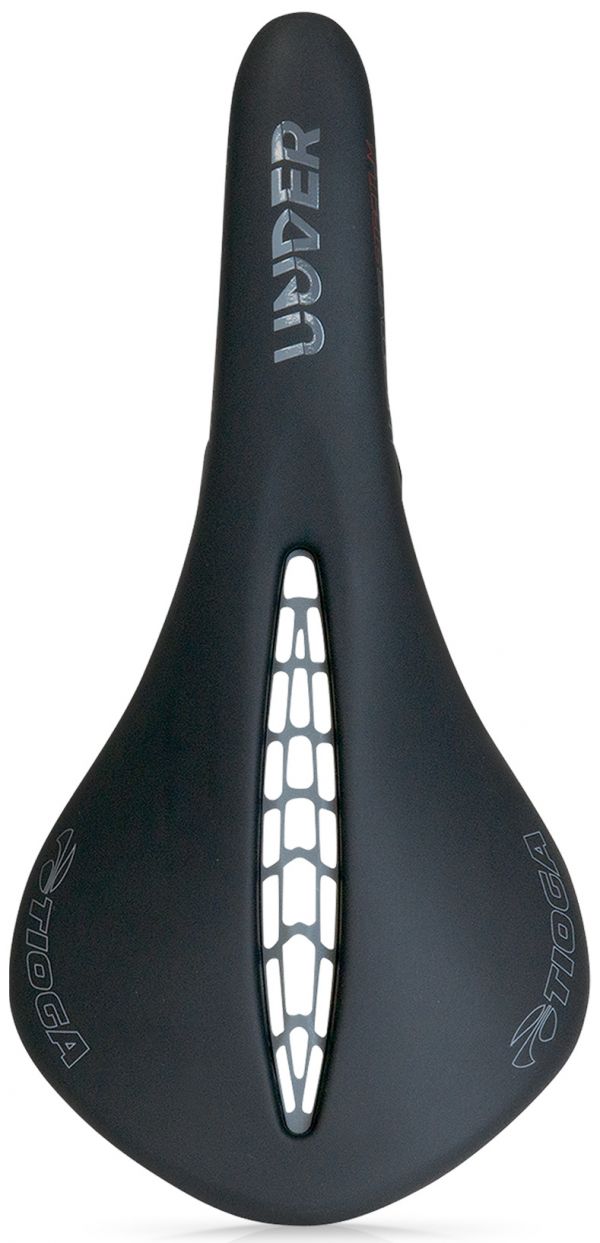 This saddle has been lauded, by experts, for its considered shaping
On mountain bikes, saddles play a significant part in steering, particularly when lowered by a dropper post. Due to the standardization of dropper posts on trail bikes, saddles need to perform in multiple positions. A quality saddle is able to flex on impact from big hits. Here are some elements of saddle design that are worth considering.
Rails
Rails can be made from carbon fiber, aluminum, titanium or steel. Each of these materials has its own weight penalties, strength and level of flexibility.
Cover
This is usually synthetic, but the presence of kevlar edging may prolong saddle life.
Padding
Usually EVA foam, padding improves general comfort and helps to handle the impact from big hits.
Width
Saddle width plays a large factor in fit and comfort. Every rider's body shape and sit bones are different.
Height
Lower profile saddles provide more room to run a longer dropper post.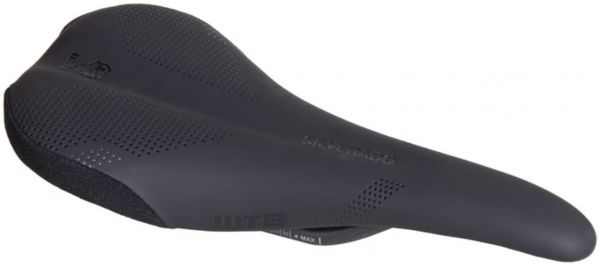 This saddle is available in two widths and with carbon, titanium, chromoly or steel rails
It's hard to find something that fits every rider, so saddle customization and replacement is common. For this reason, it probably isn't wise to base your choice of bike on the saddle it comes specced with.
That said, a higher quality bike is more likely to come fit with a high quality saddle that doesn't call for immediate replacement.
Grips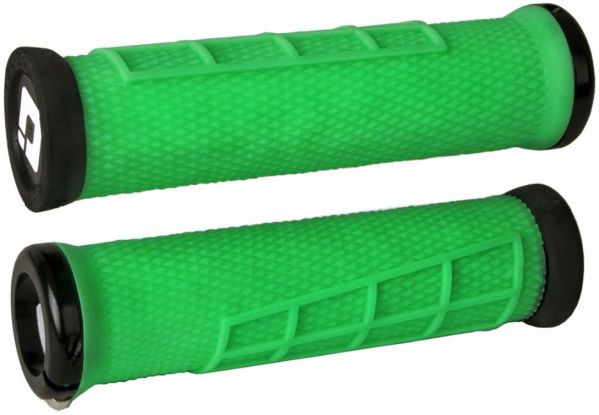 These grips use padding that has been praised for reducing fatigue on long rides
Grip preference is highly subjective. Being one of the most inexpensive components of your new bike, it's easy and likely that you hastily replace and upgrade to something perfect for you.
For your money, a high quality bike should use grips made from a durable yet forgiving compound that exhibits significant vibration damping qualities. They should be of a suitable size and shape to aid control and comfort, while locking (for 'lock-ons') or adhering (for 'slip-ons') securely to your handlebars.
Grip choice can be the deciding factor after a long day of riding, as to whether or not your hands ache from fatigue.
Pedals


Clipless or platform? Pedal choice is personal
New trail bikes don't usually come fit with pedals. Bargain-basement budget models may come fit with make-do models that are virtually disposable. In either case, pedal choice is personal. Manufacturers are aware of this, so upon receipt of your new bike you are free to attach your 'old reliable' pedals or to attach your new favorite style, be they clipless or platform.
Dropper Posts
Dropper-post equipped
Riding tech before the dropper-post
Dropper posts allow trail riders to drop and raise their seat by 65mm to 200mm, with 125mm to 175mm being the most popular range for modern trail bikes.
They allow riders to shift their weight lower and further back on downhill runs, while remaining upright on climbs. The variety of riding positions made available by dropper posts, has seen them become a standard on new bikes.
Seek a bike with a dropper post. If none is present, aim for a bike with a seatpost diameter of at least 30.9mm, so you can upgrade easily.

Wheels
Materials
Most rims on entry to mid-level bikes are aluminum. High-end bikes may use carbon fiber, which increases stiffness and cost, while significantly reducing weight.
Aluminum


30mm aluminum rims and hubs in standard or boost spacing
For
Strong
Light
Affordable
Dented rims can often be repaired.
Against
Some riders report flex on rough terrain.
Heavier than carbon.
Carbon Fiber
29″ at 1580g
28 hole / 29mm carbon rims
Carbon fiber wheels can be built to a very low weight, while exhibiting incredible stiffness.
For
Strong
Light
Increased stiffness to weight ratio.
Some say stiffness gives less flex on trails.
Against
Expensive
High stiffness may be less forgiving.
Can crack fatally on heavy rock strikes – and can't be repaired.
Tubeless vs Clincher
Most new trail bikes will come with 'tubeless-ready' rims that will cater for both tubed and tubeless options. Most trail riders now set up and ride tubeless.
Weight
Lighter weight wheels will make climbs easier. In the interest of resilience in the face of drops and impacts, its wise to compromise on strength and weight. Descent-centric bikes, like enduro and downhill rigs, are more likely to employ wheels that are heavy but strong.
Rim Width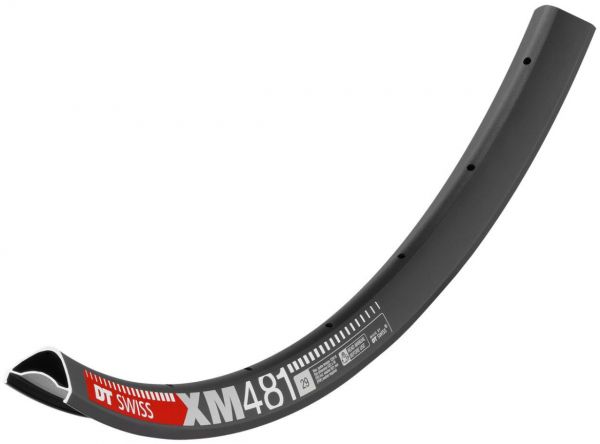 This 30mm rim is available with 28 or 32 (spoke) holes
In the past, 25mm rims may have been sufficient for an all-rounder mountain bike. These days, trail bikes are taking on more rowdy terrain, which demands tires 2.3" inches and wider.
Experts are recommending 30mm rims, which allow your 2.3" to 2.4" inch tires to spread out, creating a wider contact patch and enhancing grip. They'll house tires as narrow as 2.25" inch and as wide as 2.8".
If you want to buy a future-proofed trail bike, seek 30mm rims.
Spokes
Material


An aluminum, straight-pull spoke
Stainless steel spokes are the most common and affordable option. Spokes can also be made from aluminum, carbon fiber and titanium. All of these options save weight and increase price.
Number
For trail bikes, aluminum rims are usually coupled with 28 to 32 spokes. If you're a heavier rider, you might seek a 36 hole wheel in the rear.
Wheels with stronger carbon fiber rims may use from 24 to 32 spokes, for trail applications.
Shape and Construction


The traditional stainless-steel, J-bend spoke
Spokes are either 'J-bend' or straight-pull. J-bend spokes are 'hooked' at one end. They're the standard and are easier and cheaper to replace than straight-pull spokes, which require a specific hub. J-bend spokes are reputed to suffer more breakage issues, due to wheel-building errors. Wheel-builders insist that either type can be built to equal strength.
Bladed spokes are flat along the central part of the spoke. They're forged, creating a denser and typically stronger spoke. Most mountain bike spokes use a 14 gauge thickness. Double-butted spokes are usually 14 gauge with a 15 gauge center. Double-butting increases the strength of the spoke at either end, where breakage usually occurs.
Hubs
A 142mm wide, 32h, 12mm axle rear hub
The 148mm wide boost version
Until recently, standard hub widths sat at 100mm for front wheels and 142mm for rear wheels. Recently, boost spacing has introduced a new, wider standard at 110mm (front) and 148mm (rear). The wider hub spacing does three things.
Boost Spacing
Increases wheel stiffness.
Can allow for a wider front tire.
Allows frames to be built with shorter chainstays (for whippier handling and acceleration).
Wheel Sizes
29" Inch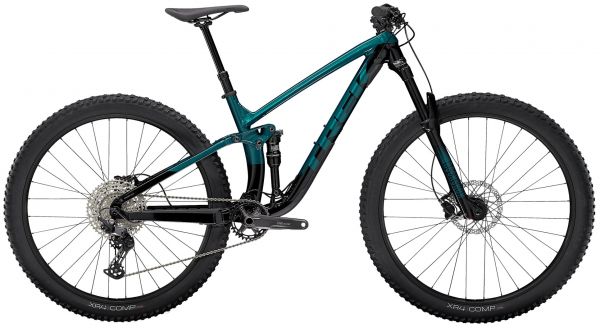 This bike offers 29″ wheels on sizes S to XL
29" inch wheels are increasing in popularity. Some mountain bike retailers claim that 90% of their sales consist of 29" inch bikes.
They roll faster than 27.5" inch wheels and take small to moderate bumps and chatter in their stride. Traction is increased due to an increased surface area. They're the standard on cross country rigs, but haven't definitively replaced 27.5" inch wheels in the trail world.
On the downside, these big hoops take longer to get up to speed and are less nimble than their 27.5" inch siblings. It's also more difficult to lift 29" inch wheels off the ground.
If you're of shorter stature, 29" inch options may be too large.
27.5" Inch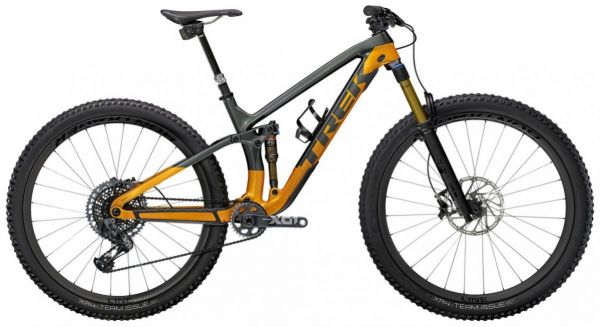 This bike offers 27.5″ wheels on sizes XS to S
26" inch wheels use to be the mountain bike standard. They were tough, nimble and accelerated quickly. But they weren't the best at steamrolling over mid-size rocks and judder. Nor could they attain amazing top speeds (without considerable effort). Enter 27.5" inch.
The 27.5" inch size was revived from '650b', a name which some experts still adhere to. It offers an engaged ride with a compromise of speed and agility. It also allows for a lower standover height for shorter riders. On some bikes, 27.5" inch wheels are used with wider, 'plus-size' tires.
Some bikes are designed to run both 27.5" and 29" inch wheels, allowing owners to choose or switch between either size. Usually, 27.5" inch options are run with fatter tires, while 29" inch tire options will be narrower.
Tires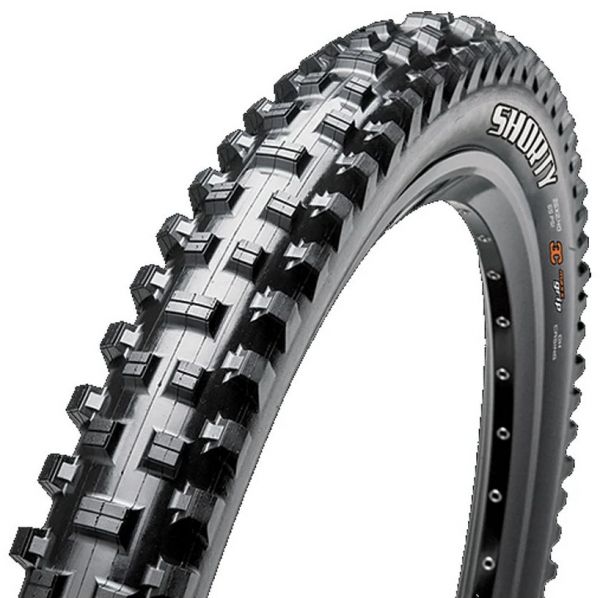 These tires rate highly with winter riders
Your new bike should come with tires that are fit for purpose. They should be 2.3" to 2.8" inches wide (or up to 3.0" in plus-size). Skinnier tires are better suited to cross country. Front and rear tires have different requirements. To simplify, you're seeking extra traction up front and durability in back.
Tire preference is highly personal and subject to myriad factors. Most likely, after you've burnt through the tires that came specced on your new bike, you'll work out what you do and don't like. On your next upgrade, you can look for something specific to your preferences and the areas you ride.
Tubeless or not Tubeless?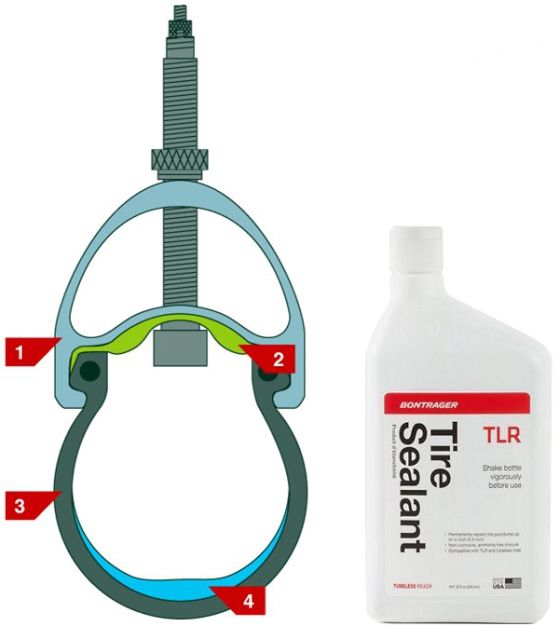 Anatomy of a tubeless tire: 1. Rim
2. Rim strip and Valve 3. Tire 4. Sealant
As the name suggests, tubeless tires do not use an inner tube. They rely on tight tolerances and air pressure to create an airtight seal. Tubeless tires use a sealant that fills small puncture holes and dries quickly, allowing you to continue riding.
Tubeless tires can be run at lower pressures, allowing them to create a larger contact patch which can deliver greater control. Lower pressure tires act as suspension and have the ability to envelop small objects, delivering a more comfortable ride.
Tubeless tire setups result in less punctures. True believers praise the perceived weight savings, which may be significant. Setting up tubeless tires is more involved and messy than changing a tube, but results in less tire-changes in the long run.
If you are undecided, your best bet is to ensure that your bike is fit with tubeless-ready rims. These will allow you to use either a tube or a tubeless setup. Today, most mountain bikers are tubeless converts.
Casing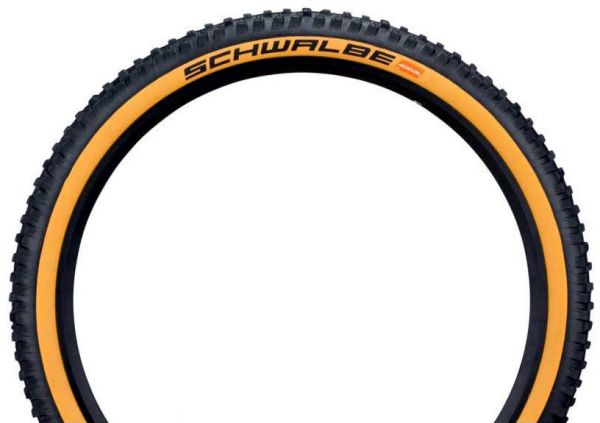 Strong casings allow for lower pressures
A sturdy casing ensures that you can run your tires at lower pressures without running the risk of pinch flats. If you're paying for a quality bike, ensure that the strength of your sidewalls and center tread is up to snuff.
Compound
On better examples, multiple compounds are combined to eke out different qualities. Factors to consider are; rolling resistance, durability and grip.
Profile
The tread pattern of your tires is a very real concern. Your bike's tires should have distinct differences between shoulder (cornering), transition and center knobs. 'Open' patterns, with gaps between larger knobs, are more suited to wetter and mushier surfaces. 'Closed' patterns call for drier climes.
Plus-Size Tires
Plus-size tires are not fat (like fatbike fat), but they're on their way there. If 2.8" to 3.25" tires are your thing, you might aim for a bike that comes kit with plus-size rubber from new. Otherwise, you can aim for a bike that fits tires both standard and plus-size. Plus-size tires allow you to roll over roots and rocks at speed, using low air pressures.

Hardtail or Full-Suspension?
This is one of the main decisions you'll have to make. Hardtail bikes have a suspension fork and no rear shock. Full-suspension bikes use an air or coil rear shock that's housed within a system of pivots and links. Full-suspension geometry compensates for changes made by a rider's weight.
Both have their benefits and drawbacks, but there is a marked difference in the capability and ride experience between bikes with and without rear suspension.
There's some terrain that can only be tackled with a full-suspension rig. And there are some hills that can only be climbed on a hardtail.
Hardtail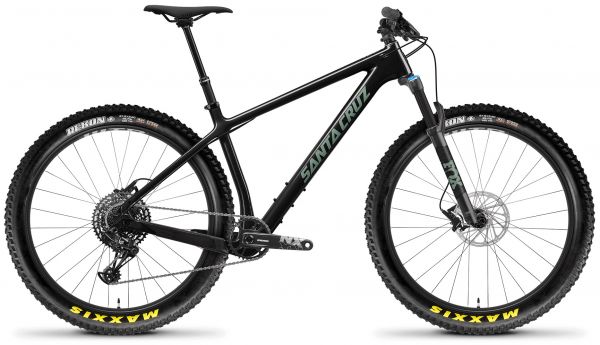 This carbon trail hardtail weighs
only 28.75lbs (13.04kg)
Cost
Because they use fewer moving parts, a mid-range hardtail bike will be considerably more affordable than a mid-range full-suspension bike. Hardtails are cheaper to purchase, repair and to buy replacement parts for.
Weight
Hardtails are lighter than their full-suspension counterparts, allowing you to climb further and ride longer, with more cargo strapped to your bike.
Simplicity
They have less moving parts, meaning that there's fewer systems to repair and more that you can repair yourself.
Efficiency
A hardtail rider is not dealing with the sag and lag delivered by the back-end of a full-suspension bike. This results in efficient acceleration and reduced fatigue.
An Active Ride
Because there's no suspension to soak up bumps on dodgy line choices, the hardtail rider needs to pay extra attention. Many riders live for the active and engaged ride-style required by these bikes. Riding a hardtail will improve every mountain biker's skills. On trails, riders are forced to choose the right line and an appropriate body position.
Cargo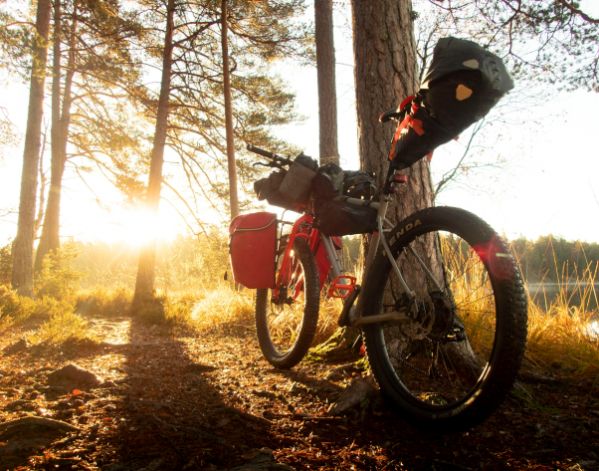 Some hardcore hardtails can haul cargo
If you are traveling longer distances on your mountain bike, you might like to carry bikepacking bags and extra bottles. Full-suspension bikes lose room for these items in the main triangle, as well as being heavy to begin with.
And the Downside?
What are hardtail riders missing out on? Only full-suspension trail bikes can smash the most rugged downhills. Only the most highly skilled riders can land big doubles and drops without damaging themselves and their bike.
Hardtails are wicked fun, but they may restrict you to certain terrain.
Full-Suspension
So, why shell out the extra bucks for rear travel? Is all that extra linkage worth the weight?
Pros
You'll be able to conquer a wider range of raucous terrains.
Tires stay in contact with the ground more often, increasing traction.
You can ride faster on reckless trails.
You can land bigger doubles, risk bigger air and take bigger drops.
Full-suspension is forgiving. With less technical skills, you can be less careful and take bigger risks.
Cons
All that gear in back adds up to a heavier bike.
Extra parts mean extra complication when it comes to maintenance.
These rigs are more expensive to buy, repair and upgrade.
A reduction in pedaling efficiency. Although, with modern lockouts and linkage / pivot technologies, this is becoming less and less of a concern.


From 1985 to the current day, suspension designs continue to evolve
The humble hardtail has undergone it's fair share of changes, but full-suspension technology moves forward at a rapid rate, with all of its many moving parts subject to imminent obsolescence and whimsy.
You might find that your hardtail remains relevant and upgradeable, for longer.
Direct Sales vs. Local Bike Shop
Direct Sales vs. Local Bike Shop
The benefit of a direct sale is that you aren't paying for the middleman.
If you're buying a bike from an online retailer, they don't have to pay for the rent of premises.
Neither do they have to pay for an experienced, professional mechanic to assemble and tune your bike. For these reasons, you pay less.
Good online bike retailers will pre-assemble as much as 80% to 95% of your bike before shipping and will provide the tools required for the remaining adjustments.
Your local bike shop will assemble, tune and fit your bike before you ride away. They will usually offer you a warranty deal and a minor servicing for free, within the first few weeks of purchase.
Whatever route you choose, there are benefits and drawbacks.

Blaze a Trail
When most people picture a bike that can handle jumps, bumps and a modicum of abuse, they're thinking of a trail bike. Mountain bike tech gets more advanced, refined and complicated with the passage of time. But getting out there and hitting trails should be a simple thrill.
Trail bikes are a mixed bag, from steel hardtails to full-suspension, carbon fiber rigs. But in the end, it isn't about price, weight or the flashiest gear. It's about what bike delivers the biggest thrills, out on the trails.
Find that bike, choose wisely and ride on!
Further Reading and Useful Links
Have questions about which bike to choose? Ask in our Forum.
Want to win a bike instead of buying one? See our bike Giveaway.
Find out more about BikeRide.
Sources
Bike Categories