How to Replace a Freewheel
Demonstrates how to remove and install a traditional thread-on freewheel cluster.
Video updates
01:21 - Apply a thin layer of grease to the hub threads before installing the freewheel.
In this tutorial we'll learn how to remove and install a freewheel on your bike. You may remember a while back when we covered cassette removal and installation. For this job you'll need a notched freewheel remover and a large wrench or vise clamp.
Here's how the two systems differ: a cassette is a series of gears that slides onto a freewheel unit. This is a better system because it allows you to replace worn sprockets without having to replace the freewheeling component (freehub body). A freewheel on the other hand, contains both the sprockets and freehub in a single unit that threads onto the outer flange of your hub. We'll be covering removal and installation of this style today.
Click on this image to visit Sheldon Brown's page on this topic: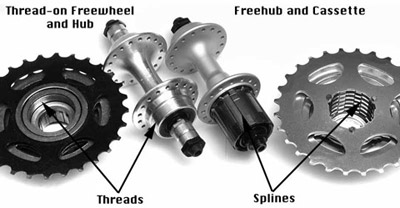 Freewheel Removal
First you'll have to remove the rear wheel from your bike. Then in some rare cases the axle nuts will be too big to allow the freewheel tool to slide into the freewheel, so you'll have to overhaul the hub to remove them first. Now slide the freewheel remover into the freewheel and loosen it with your large wrench by holding the wheel on the firmly on the ground and turning your wrench counter clockwise.
If your freewheel is really tight, you may need to mount the tool in a vise clamp so that you can use the wheel as leverage. I don't have a clamp to demonstrate this, but once mounted in the vise, you can easily turn the wheel counter-clockwise to loosen the freewheel.
Freewheel Installation
Before installing the new freewheel, inspect the threads on the hub to make sure they aren't damaged. Be careful threading the new freewheel on, as you don't want to cross-thread it. If it feels unusually tight right away, back the freewheel off and try again until it threads on smoothly.
Tightening
To tighten a freewheel, all you have to do is get it finger tight and then re-install your wheel and go for a ride. The freewheel will tighten itself while you're pedaling!
Related Links
Recommended Tools
Categories