How to Remove and Install Your Wheels
Demonstrates how to release brake cables and operate front and rear quick release axles.
After last week's flat repair tutorial, I received a lot of comments from people who thought I should've included wheel removal and installation instructions. This tutorial will cover the removal and installation of both front and rear quick release wheels.
Remove Front Wheel
When removing the front wheel, the first step is to disconnect your brake. Most brakes will have a simple mechanism that allows you to unhook the cable without any tools. If you cannot easily disconnect the cable you can always let some air out of the tire until it clears your brake pads. Now pull back on the quick release lever and with your other hand on the cap, spin the lever counter-clockwise a few times until your wheel comes free.
Quick Release Components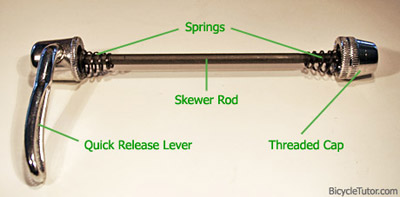 Install Front Wheel
You should always remember to apply a thin layer of grease along the entire length of your skewer rod.
When installing the front wheel, simply slide the axle evenly up into the fork dropouts, with the quick release lever on the left side of your bike. Holding the cap with one hand, spin the lever clockwise, making sure the side marked 'Open' is facing outwards. When tightening the lever, it should meet resistance at about the halfway point, with the lever pointing straight out. Now tighten the lever all the way down.
When the lever is tight, check to make sure it says 'Close' on the outside surface. I like to position the lever so that it is tucked in close alignment in front of the left fork blade. This gives you something to grip while tightening and loosening the lever.
Re-attach your front brake and check to make sure the pads are lined up correctly with the rim.
Remove Rear Wheel
Removal and installation of the rear wheel has a few extra steps because of the gear cluster. Just like the front wheel, you'll need to release the rear brake by unhooking the cable or deflating the tire. Next, adjust your rear shifter until the chain is on the smallest sprocket. Then loosen the quick release lever and carefully removed the wheel.
Install Rear Wheel
To re-install the rear wheel, first place the chain back onto the smallest sprocket, and then slide the axle evenly up into the rear dropouts. Tighten the quick release lever the same way as the front wheel, with the lever on the left side of the bike. Make sure the lever is safely tucked in between both of the left chain stays. Re-connect your rear brake and once again check to make sure the pads are lined up correctly with the rim.
Related Links
Recommended Tools
Categories