How to Replace a Cassette Cluster
Applies to most Shimano cassette/freehub combos (not freewheels).
Today we're going to replace a common rear cassette cluster. It's actually quite a straight forward procedure, but you will need a couple of special bike tools for the job: a chain whip and a lock ring tool. Some lock ring tools have a built in handle, but the one we are using today is most common, and requires the use of a large wrench or vise clamp to hold it in place.
Cassette Removal
The first step is to wrap the chain whip around one of the bigger sprockets. This basically holds the cassette body firmly in place while we loosen the lock ring. Next, insert the lock ring tool into the lock ring's inner notches and place a wrench securely over the hexagonal fitting.
As you can see in the video, I've positioned both tools to give me maximum leverage. Now simply push the handles toward each other until the lock ring loosens. Once you remove the lock ring the rest of the cassette should easily slide up and off the freehub body. Since the cassette is removed, it's a good idea to check the freehub body to make sure it spins freely and is not loose.
Click on this image to visit Sheldon Brown's page on this topic: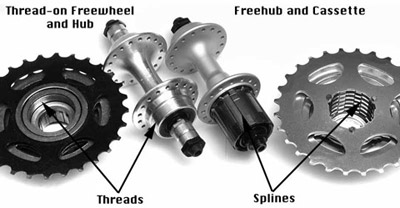 Cassette Installation
Installing the new cassette is basically the opposite procedure. Take a close look at the splines on the freehub and cassette. You'll notice that one of the notches on the body and cassette is wider than the rest. Once the notches are lined up, simply slide on the cassette body, spacer and outer sprocket, and then thread the lock ring into place.
This time we only need the lock ring tool for tightening. We certainly don't want the cassette coming loose, so it's a good idea to stand the wheel up, so we get enough downward leverage to tighten it properly. You'll hear the lock ring ratcheting as it tightens.
Once installed, check again to make sure the cassette spins freely and is not loose. It's also a good idea to examine your sprocket spacing to make sure all of the sprockets are correctly positioned. If it all looks good then you're ready to reinstall your wheel and go for a ride!
Related Links
Recommended Tools
Categories