0
Best Single-Speed Bikes
No results found. To expand your search, please remove filters.
The BikeRide Guide to Choosing the Best Single-Speed Bike
by Owen Jesse – updated November 14th, 2023

Contents:
What is a Single-Speed?
A single-speed is any bicycle with a single gear ratio. They are one of the most uncomplicated types of bicycle available.
Single-Speed simplicity!
Did someone order a 'bike with everything'?
There are no cassettes, additional chainrings, gear cables, derailleurs or gear levers on a single-speed. This means that:
They are easier and cheaper to maintain and upgrade than a geared bike.
A single-speed transfers pedal-power directly and efficiently.
A simple and resilient drivetrain is suited to all-weather riding.
A mid-priced single-speed is usually lighter than a mid-priced, geared bike.
Nevertheless, riding single-speed does present some challenges. You can't change to lower gears to make hill-climbs easier – and there are no higher gears to increase speeds on flat grounds and descents. There are four main reasons to buy a single-speed:
Simplicity.
Terrain – you live in a less hilly area and one gear is all you need.
To increase your level of fitness and cycling strength.
Because you already possess a high level of cycling fitness.
What are the Characteristics of a Single-Speed?
All single-speeds have one gear. This is the only characteristic that they all share. There are single-speed commuters, single-speed road bikes, single-speed mountain bikes, single-speed cyclocross bikes, single-speed town bikes, single-speed cruisers and adult-sized BMX bikes.
That said, most of the new single-speed bikes out there are urban bikes. They are usually intended for short commutes, errands or trips. These bikes are usually built on frames that share road-bike geometry, while often being built a little sturdier. That's because a road bike is a speed-machine. Whereas an urban single-speed needs to struggle with unkempt urban roads, potholes and curbs.
They usually have flat handlebars and a riding position that varies between semi-upright and upright. This helps with maintaining visibility when negotiating traffic.

Single-Speeds Come in Many Flavors
Even though flat-bar urban bikes dominate the single-speed world, there are no standards. Many riders prefer to use curved drop-bars, as seen on road bikes. Some cyclists like aggressive track-bike geometry. Some riders are happy to ride their single-speed for 60 or even 100 miles, at a stretch.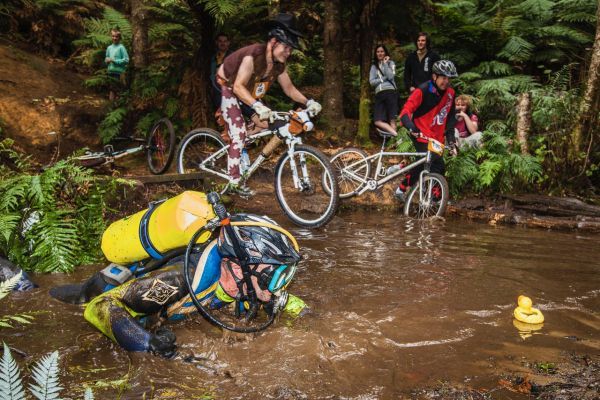 The Single-Speed World Championships have been held around the world since 1995
Single-speed bikes are some of the most customized bikes on the road or track. It's easy and fun to modify and personalize them.
It would be remiss to overlook the dedicated following that single-speed mountain biking has enjoyed. This type of riding can be highly demanding, especially in mountainous areas.
Since 2007, single-speed cyclocross has increased in popularity with the advent of the Single-Speed Cyclocross World Championships.

Frames
Steel frames are widely used on new single-speeds. But not all steels are created equal. On bicycles, steel comes in two main flavors:
A Chromoly Steel bike weighing 19.4 lbs
This Hi-Tensile Steel bike weighs 35.0 lbs!
Chromoly (sometimes stylized as 'CrMo' or 'chromo') displays superior shock-absorbance qualities. It's relatively lightweight and easy to have repaired. Chromoly steel comes in a variety of grades and recipes.
Hi-Tensile steel is low-cost, heavy and has inferior shock-absorbance qualities. It will often only be labeled as 'steel', with no mention of the words 'Hi-Tensile' or 'Hi-Ten'.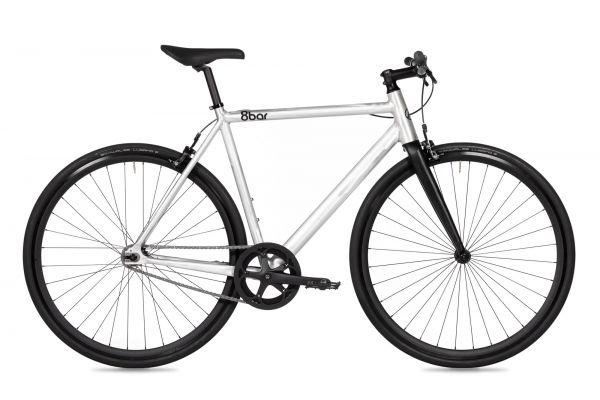 An aluminum, flat-bar single-speed
Aluminum alloys are also used to build some new single-speed bikes. The compromise between price, strength and weight makes these frames attractive.
Compared to other tubing materials, aluminum can be somewhat rigid. It tends to vibrate, rather than absorbing impact. To alleviate this, some bikes use a carbon or steel fork with an aluminum frame. In the rare instance where the frame cracks, repairs are difficult and expensive.
In general, aluminum is lightweight, affordable and durable.
Carbon Fiber is lightweight, resilient, compliant and expensive. It's strong and absorbs vibration well.
It can be restrictively expensive and is usually only necessary on performance bikes, where speed is a priority. A carbon fiber bike is more likely to be stolen and will be costly or impossible to repair if cracked. Carbon fiber single-speeds are rare.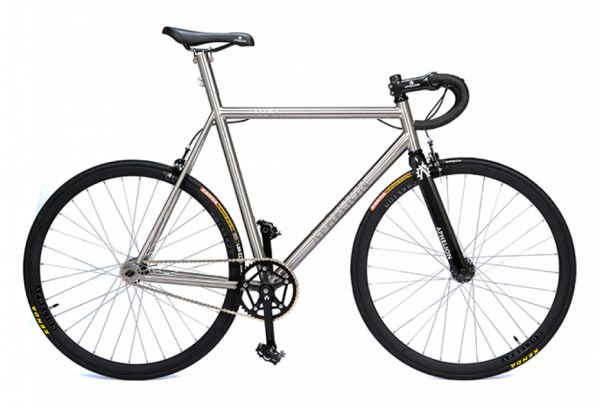 The rare titanium single-speed
Titanium is a boutique frame material that's used in aircraft construction, due to its low weight and high strength. It's rarer than other materials, because it's more difficult to work with. A titanium bike frame can easily last a lifetime. It's lighter than steel and has superior shock absorbance. On top of that, it's highly corrosion resistant and close to rust-proof. It won't age and isn't prone to catastrophic failure, as can be the case for carbon fiber.
It's more appropriate for performance bikes. Complete titanium single-speeds are uncommon.
Frames and Pricing
In terms of cost, Hi-Tensile bikes should be cheap. Most chromoly frames will be comparable in cost to aluminum. Lighter, high-end chromoly tubing is more costly than aluminum but cheaper than carbon fiber or titanium.
Frame Construction
A majority of new single-speeds are urban bikes that are built with geometry similar to road bikes or touring bikes. Tubing is often a little heavier, sturdier and thicker than on road bikes. This is to cut down on price, but also to assist with resilience on day-to-day commutes in urban areas.
'Track Fork Ends' are usually integrated into single-speed frames, where the rear wheel attaches to the rear triangle of your bike. This is the main structural difference between most single-speed and geared frames. These 'rear-facing fork ends' allow single-speed owners to easily adjust the tension of their chain, by moving the rear wheel forward and backward. On a geared bike, the rear derailleur continually adjusts tension across shifting gear ratios. Geared bikes use a vertical 'dropout'.
Horizontal fork-ends are used on most single-speed frames
Vertical dropout on a geared bike
Geometry
Single-speed frames often have a more relaxed and less aggressive geometry than road bikes. Alternatively, some models can be aggressive and racy, putting the rider down low on the drop bars.
On town bikes and cruisers, riders sit almost 'bolt-upright'.
Short to Medium distance rides call for a semi-upright riding position. This stance is more upright than a road bike, while still requiring the rider to lean forward a little. This gives the rider good visibility through traffic, while being able to gain speed and handle efficiently. Most single-speeds fall into this category. This aids good posture and reach distances. Most single-speeds put the rider in a more casual position than do road bikes.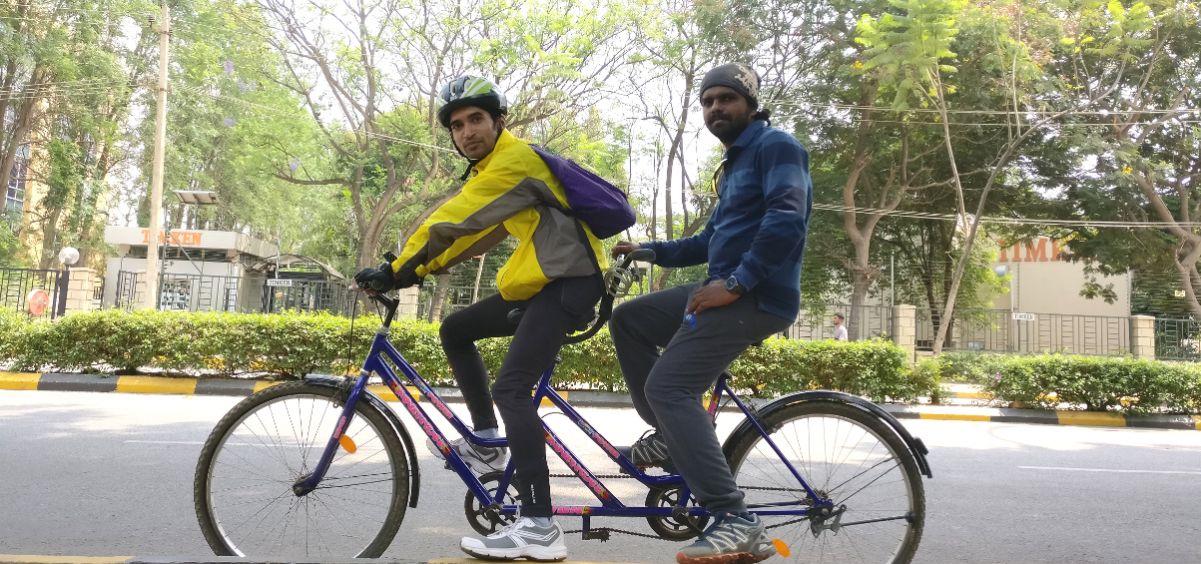 On this single-speed tandem, flat-bars place the front rider in a semi-upright position, while the cyclist in the rear uses swept-back handlebars and is in an upright position
Shorter distances can easily be cycled on a bike with more relaxed geometry. Good examples are classic step-through bikes and cruisers. They often have swept-back handlebars and a very upright seating position, with excellent urban visibility. 'BMX cruisers' have a laid-back ride position with wide bars and a lower saddle height.
Wide-bar cruiser
Upright town bike
Low seating on a BMX cruiser
Longer distances welcome a more aggressive position, for those who want to get fast and low on drop bars. It suits long slogs where you won't need to constantly monitor dangerous traffic. In this category, we find aggressive single-speed and track frames. Track frames are built for velodrome use.
Single-Speed racing in aggressive posture
Track racers down in the drops
Components
Due to their simplicity, single-speed bikes use less components than other bike types. Drivetrain components can be put under more stress than those on geared bikes, so they're often built tougher. What other factors make single-speed components unique?
Handlebars
Single-speed bikes can use any type of handlebars. Most often, they have flat bars to allow the rider to maintain an upright stance. These bars have two main benefits:
Comfort. Riders avoid the 'hunched' posture of the road cyclist.
Visibility. Riders sit upright, maintaining visibility through traffic.
Shorter bars can help with negotiating traffic. It's advised to keep them no narrower than shoulder width, to maintain ergonomic comfort.
Flat bars for visibility
Drop bars for speed
Some riders prefer drop bars. This reduces upright visibility but aids speed. Track frames are built to be ridden with drop bars, on a velodrome.
A variety of 'swept-back' and angled bars are available. These can be easier on the wrists or offer a more casual ride position. North Road bars are a popular urban style that uses sweep.
North-road bars are ergonomic and 'upright'
Bull-horns aid climbs and sprints
Another style that you'll see on single-speeds are bull-horns. These offer a flat surface for upright urban riding, along with curved ends. These curved ends allow riders to move their weight forward on climbs and to gain speed in a pursuit stance.
Brakes

Caliper brake
For a safe and enjoyable ride, effective brakes are essential. Single-Speed bikes may use any type of brake.
There are three main kinds; Rim, Disc and Coaster Brakes. Rim brakes are most common on urban single-speeds. Their low cost and simplicity matches the low cost and simplicity of single-speed bikes. Rim brakes use rubber pads to squeeze against the wheel rim, in order to slow it. They come in a few varieties.
Rim Brakes
Caliper brakes are attached to the frame or fork by a single bolt. They use curved arms, which must be long and wide enough to fit around your tires. For this reason, they are suited to accommodating narrow to mid-width tires. They are common on a variety of urban single-speed bikes, including town bikes and cruisers. Shimano and Tektro offer reliable mid-level to high-end options.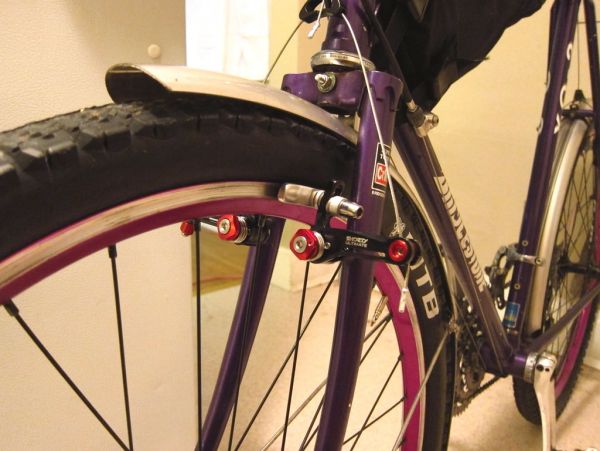 Cantilever brake
Cantilever brakes use two separate arms, attached to bosses on the bicycle frame. They easily accommodate wider tires. As such, they were popular on older mountain bikes and are now used on modern cyclocross machines. Newer models are powerful, precise and easy to maintain. They are the recommended winter rim brake.
Linear-pull brakes (also known as 'V-brakes') are a type of cantilever rim brake that uses a single cable and two arms. They allow room for fatter tires and may be found on offroad single-speeds, cruisers, town bikes and BMX cruisers. They are easily adjusted and maintained at home. That said, they can still be tricky to center.
The most important consideration with rim brakes is that they lose some power in wet weather. Winter braking also wears down rims as grit and filth gets attracted to your brake pads. However, they are cheaper than discs and easier to adjust without professional help.
Disc brake (cable-actuated hydraulic)
Linear rim brake (a.k.a 'V-brake')
U brakes are powerful caliper brakes that are sometimes used on 29" BMX cruisers and older mountain bikes. The pivots are mounted directly to the frame and fork.
Coaster Brakes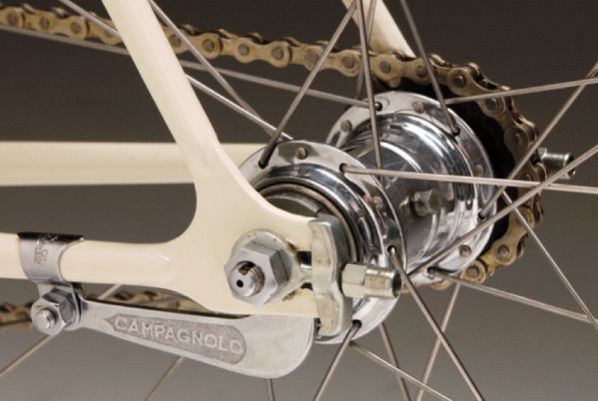 Ye olde Coaster brake
Coaster brakes are also known as 'pedal brakes'. You might remember them from childhood, when simple bikes required you to push your pedals backwards to stop. They can be found on some new single-speeds, especially cruisers and town bikes.
There are no pads or discs and braking takes place largely within the wheel hub. Most coaster brakes provide somewhat inferior stopping power, compared to rim and disc brakes. But as with any other brakes, there is a wide range available in terms of quality and cost.
When using a coaster brake, it's recommended to combine it with a front rim or disc brake. This insures against failure.
Disc Brakes
Disc brakes slow the bike by squeezing pads onto a disc, which is attached to the wheel hub. Discs cost more than rim brakes, but are now more affordable than they have ever been. They are more powerful than rim brakes, especially in wet weather. They allow for the use of wide tires and don't wear down your rims. Many single-speeders are attracted to simplicity, frugality and a low total weight. For this reason, discs are less common on urban single-speed bikes.
The power offered by disc brakes is more applicable to off-road use. It isn't uncommon to see them used on single-speed mountain bikes.
Disc brakes add weight to your bike. They are also more complicated than rim brakes; as pertains to maintenance, adjustment and repair.
There are two types of disc brake: hydraulic and mechanical. Hydraulic brakes provide greater stopping power and use brake fluid to transmit force. They are more costly than mechanical discs and trickier to maintain.
If you live in a drier climate, you might consider cutting costs and using rim brakes. But if your priorities are performance and all-weather resilience, discs could be your preferred option.
Gearing
If you see manufacturers mentioning the 'drivetrain' of their bikes, they are referring to all the elements that contribute to gearing. On a single-speed, this includes the chainring, chain and a single cog. This cog is either incorporated into a freewheel (which has its own bearing housing) or it is attached to the freehub of a rear wheel that was designed for a geared cassette.
A single-speed drivetrain using a freewheel
A freehub using a cog
Either way, single-speed drivetrains are much simpler than drivetrains on a geared bike. You've only got one gear! For this reason, it is important to get your gear combination right for all your riding needs. The correct single-speed gearing is known as a 'ratio'.
Ratio
Usually, a new bike comes with a ratio suited to an average rider on moderate terrain. You will need to ride your new single-speed for a while before working out if you want an easier or more difficult ratio. You can then consult your local bike shop for help in modfying your ratio. Many single-speed enthusiasts also enjoy learning how to modify their own gearing, as it's a good introduction to D.I.Y. bicycle mechanics.
A solid starting point for an on-road single-speed ratio is within the range of:
2.3:1 to 2.75:1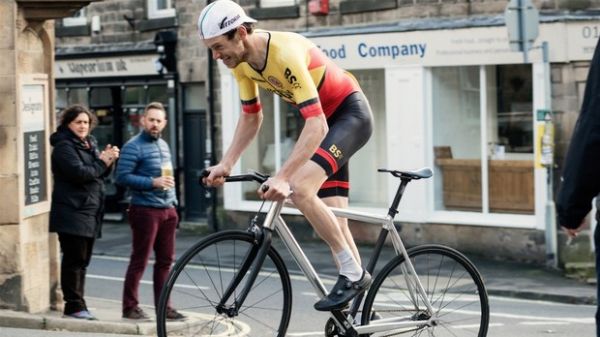 Hill climbs on one gear can be brutal
Common street ratios on moderate terrain often use a chainring between 42 and 44 tooth. This is combined with a rear freewheel around 16 to 17 tooth. A single-speed with a 44t chainring and 17t freewheel is written as: 44:17. This is equal to 2.6:1.
Single-Speed gearing is usually a trade-off. It's impossible to find a gear that is easy on climbs and fast on flats. But when a comfortable compromise is found, it can feel just right.
Most cyclists can't ride a single-speed in hilly or mountainous areas. This is an endeavor reserved for the fittest and most ambitious cyclists. However, if you aspire to improve your level of fitness in general – or to train for geared riding – a single-speed is the way to go.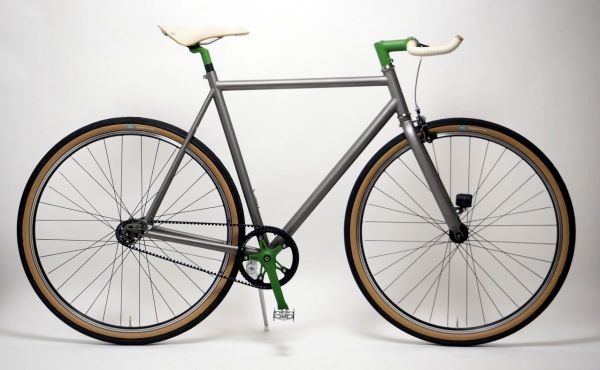 Belt-drive 1×1
Belt drives use a carbon-fiber belt in place of a chain. They don't require lubrication and won't leave oil on your clothing or legs. Belt drives are smooth and silent.
They do require a certain kind of frame design known as a 'split-frame' and use a specialized cog or freewheel.
While they can be expensive, carbon belts are usually longer-lasting than chains. They are more common on higher-end single-speed commuters.
Drivetrain Components
On a single-speed, there are less parts than on a geared bike. There are no derailleurs, no gear shifters, no cassettes and no gear cables. This makes maintenance, repairs and upgrades a lot easier and cheaper.
However, it also means that the single chainring and freewheel are under a lot of stress. On a geared bike, this pressure and wear is distributed across multiple chainrings and cogs.
For this reason, it is important to make sure that your new bike uses quality drivetrain components.
Bottom Brackets
The bottom bracket sits between your cranks and is attached to the frame. It allows the cranks to rotate. The modern standard is a sealed cartridge bottom bracket with BSA thread. 68mm is the standard on road-going bikes and will be the easiest to upgrade and replace. Very low-end bikes may still use loose-bearing bottom-bracket systems. If the manufacturer does not specify a sealed cartridge bottom-bracket, be wary. The bottom-bracket takes the brunt of a cyclist's force.


Where a bottom bracket fits into your bike – and what it looks like
A 73mm bottom bracket is more common on a mountain bike. For mountain bikes, they may use a variety of types, including press-fit bottom-brackets and models with external bearings. These are usually more varied, specialized and higher-cost than basic urban models.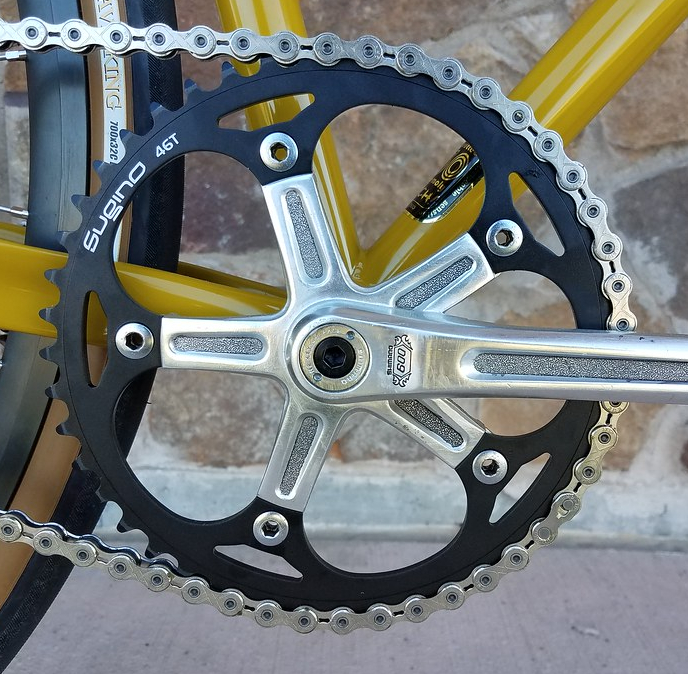 A 46-tooth chainring in place
Chainring
Your single chainring is the only sprocket being continually worked, day-in and day-out, whenever you ride. Traditionally, single-speeds used a 1/8" width chainring that was wider and tougher than the 3/32" chainrings used on geared bikes. These days, 3/32″ can be more than ample. Look for reliable brands. These include Shimano, FSA, Sugino and Miche. You don't need the best on a new bike, as you can replace it. But it should be straight and strong, to be safe.
Chain
Both 1/8" and 3/32" width chains are standard on singlespeeds. KMC provide a lot of reliable, entry-level chains on new bikes. There are a number of other brands available too.
Cranks
Quality "three-piece" cranks will be branded. Avoid bikes with no-name parts. They need to be well-machined and strong, especially for climbs – where all your weight is bearing down on them. Some ultra-cheap single-speeds come shod with cranks that bend or even snap. Snapped cranks have been known to cause terrible injury. There are many decent brands and most are made in Taiwan and China. Reliable names include Shimano, FSA, Sugino and Miche.


A 'crankset' on and off the bike. A crankset usually includes both cranks and a chainring
Freewheels
Most new single-speed bikes use a freewheel. This device has teeth and looks like a cog. It threads on to the rear wheel hub and does all the drivetrain work at the back end of the bike. It's different to a fixed gear cog because it contains internal mechanisms.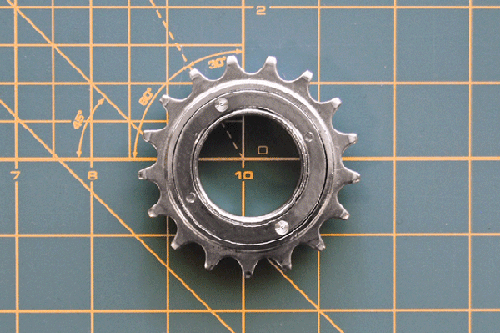 A freewheel and its internal mechanisms
Within the freewheel, there are bearings to allow it to rotate smoothly. In addition, there are teeth that engage on parts called 'pawls'. This is what makes the rear wheel engage as you pedal, propelling you forward. Like your chainring, this component endures a lot of pressure and wear and should be decent quality. On poor quality single-speeds, these can fail to engage and slip. Shimano is a reliable default brand. Dicta make a cheaper entry-level model that works fine, but isn't as durable.
The Contact Points
The 'contact points' are the three places where your body comes in contact with your bicycle. These parts of the bike are not as technically complex as the drivetrain or bottom bracket. Nevertheless, they are incredibly important. Customizing the contact points is relatively inexpensive and can make a huge difference to your level of comfort.
Saddles
Most urban single-speed bikes use the narrow saddles familiar to road bikes. A single-speed mountain bike may use a more padded and robust saddle, that aids comfort and steering on rougher terrain. Riders of cruiser and town bikes sometimes choose plush and squishy seats. However, excessively cushioned saddles can be misleading. This 'squishiness' is uncomfortable on longer rides and will be felt as pain in your hips, thighs and bottom. This can cause numbness due to restricted blood supply.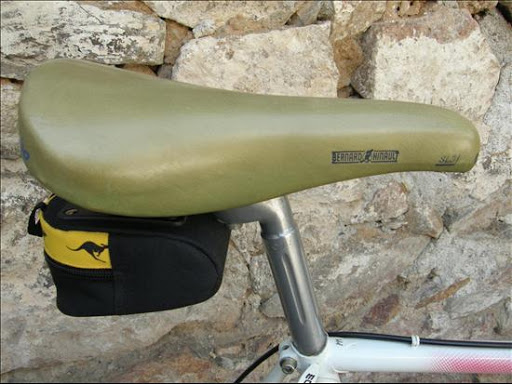 Generously padded road-style saddle
A road-style saddle with a little extra padding is a popular style for urban single-speeds.
Moderate padding is ideal, ensuring that your weight is supported by your sit-bones. You might also want to consider ergonomic and health-conscious seats that take reproductive and groin health into account. Saddle choice is highly subjective and most riders will change the seat on their new bike. The easiest way to choose a new saddle is try a few out at your local bike shop.
Grips and Bar Tape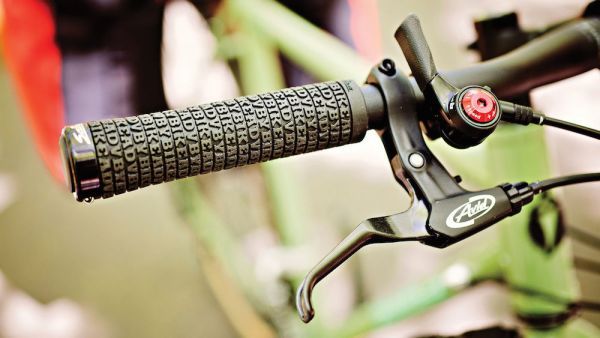 Mountain bike grips suit flat bars
Good Grips contribute a lot to comfort. Thin or uncomfortable grips can result in soreness or fatigue. Cheap grips can be made of poor material that wears out quickly. Some riders are partial to ergonomically shaped grips. Again, it's easier to know what works for you by getting your hands on some examples at your local bike shop.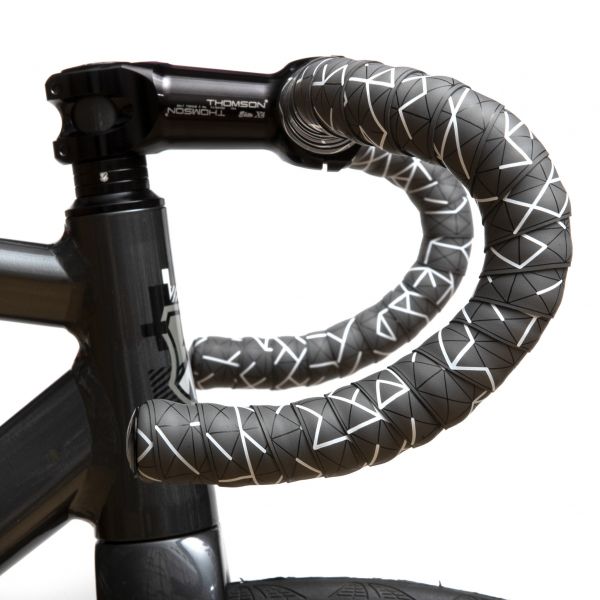 Tape adds padding and flair
Bar Tape.
On single-speeds, bar tape is used on curved 'drop bars' (like you see on track bikes) and on 'bull horns'. Thinner bar tape is more likely to absorb road vibration. This can result in sore hands and wrists, especially after longer rides. Padded bar tape is more likely to insulate against shock on uneven surfaces. An added bonus is that bar tape comes in a variety of colors and patterns, giving you options to stylize and coordinate the look of your bike.
Pedals
If you're lucky, your new bike will arrive kit with decent pedals. Most likely though, pedals will be the first thing you'll replace. Even high-end bikes can come with cheap plastic pedals intended for temporary use. Some of the best single-speed bikes are not supplied with pedals at all. Why is this? Pedal preference is very personal and manufacturers expect you to customize them.
Also, what's the deal with cycling shoes? Are they necessary?
Flat (or 'platform') pedals can be made of plastic or metal and usually have some level of grip. You can easily move your feet from the pedals to the ground and back again, without having to 'clip' in and out. With flats, you can wear your everyday shoes and there's no need to carry or store a spare pair at your destination. The main drawback is that they are less efficient than other pedals, particularly on climbs.
Flat pedals are stable
Pedal Straps use your existing flat pedals
Pedal Straps attach to your flat pedals. They are an alternative to clipless pedals and cycling shoes. Pedal straps became popularized during the spike in interest in fixed gear cycling, where they're useful for skid-stops. For single-speed riders, they offer lift on the upstroke, while being comfortable and easy to wear with casual shoes.
'Clipless' Pedals require cycling shoes to use. There is a 'cleat' on the sole of cycling shoes, that requires riders to 'click' in and out of pedals when removing their foot from them.
There are different systems of clipless pedal, with the most common being Shimano's 'SPD'. 'Time' pedals are also highly suited to commuting as they allow the rider to quickly click their shoe out to the side of the pedal.
'Time' clipless pedal
Shimano 'SPD' clipless pedal and shoe
Clipless pedals increase efficiency, especially on climbs, as they pull the pedals on the upstroke. This is particularly useful on a bike with only one gear. Some cyclists see clipless pedals as daunting, but it takes a very short amount of time to become familiar with them. Once you're accustomed to clipless, using them soon becomes second nature. You can even buy cycling shoes with recessed cleats. You can walk comfortably in them, without 'clip-clopping' along.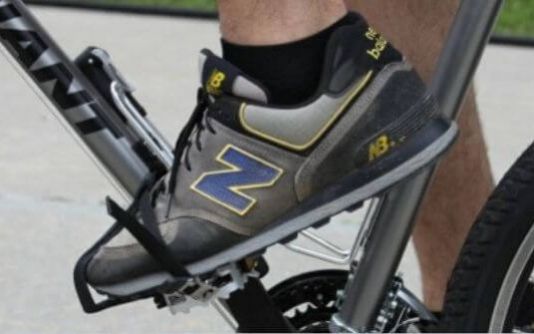 Toe Clips let you wear your own shoes
Toe Clips are the precursor to clipless. They feature a 'cage' over the pedal that allows you to insert any shoe and achieve a similar upstroke pull to clipless pedals. They aren't quite as efficient as clipless and can be more difficult to use. They need to be snug, but riders also need to slide their shoe backward out of the pedal cage before stopping. A number of cyclists are still dedicated to these pedals.
Along with tires, the contact points are the first parts that owners are likely to replace on a new bike. It's an easy way to personalize the comfort, feel and style of your new machine. If they feel good straight-out-of-the-shop, there's no need to swap them out. However, customizing the contact points can radically improve your comfort-level. Saddles, pedals, grips and bar tape are all inexpensive to replace and easy to adjust for novices.
Wheels
There are three main materials that wheels are built from; alloy, carbon fiber and steel.
Alloy is plenty light and very common. Most commuter wheels use alloy rims.
Carbon Fiber is light, expensive and strong. It's rare on single-speed wheels.
Steel wheels are heavy and rarer on new bikes. Some roadster-style bikes still use them.
What Size Wheels?
A single-speed bike can have wheels of any size. However, most urban single-speeds will use 700c road wheels. These larger wheels translate your single-geared pedal power into the most distance available. Off-road single-speeds may have 29", 27.5" or 26" wheels. There is no standard, but some sizes are much more common. Here's the run-down of wheel sizes you'll find on single-speeds:


700c is the most common wheel size found on single-speeds. It's the same size as found on modern road bikes. Their large circumference allows them to roll quickly. They are less prone to jounce when passing over small cracks, bumps and debris. Because of their size, they are less agile than smaller wheels and may be heavier than them. The weight penalty is balanced out by by the fact that they roll faster than smaller sizes.
29" (or 29 inches) is the name used to describe wider 700c wheels, as found on some hybrids, BMX cruisers and mountain bikes. They share the same circumference as 700c wheels but usually use wider rims. It's more appropriate to fit wider tires on these wider rims – and narrower tires on 700c rims. With fat tires on 29" wheels, they can make some bikes too tall for shorter riders. Keep this in mind when sizing up a new bike.
650b wheels are smaller in circumference than 700c, but larger than older style 26 inch mountain bike wheels. 650b has been popular with touring cyclists and randonneurs for many decades, but has recently gained a renewed appreciation and subsequent application to many bike types.
Because of their smaller size, they may be slower than 700c when shod with narrow tires. However, it's important to note that a 650b wheel with a large 47c tire is the same circumference as a 700c wheel with a 28c or 30c tire. This also means that these tires have more air volume, which translates to increased comfort and jounce-reduction on rough roads.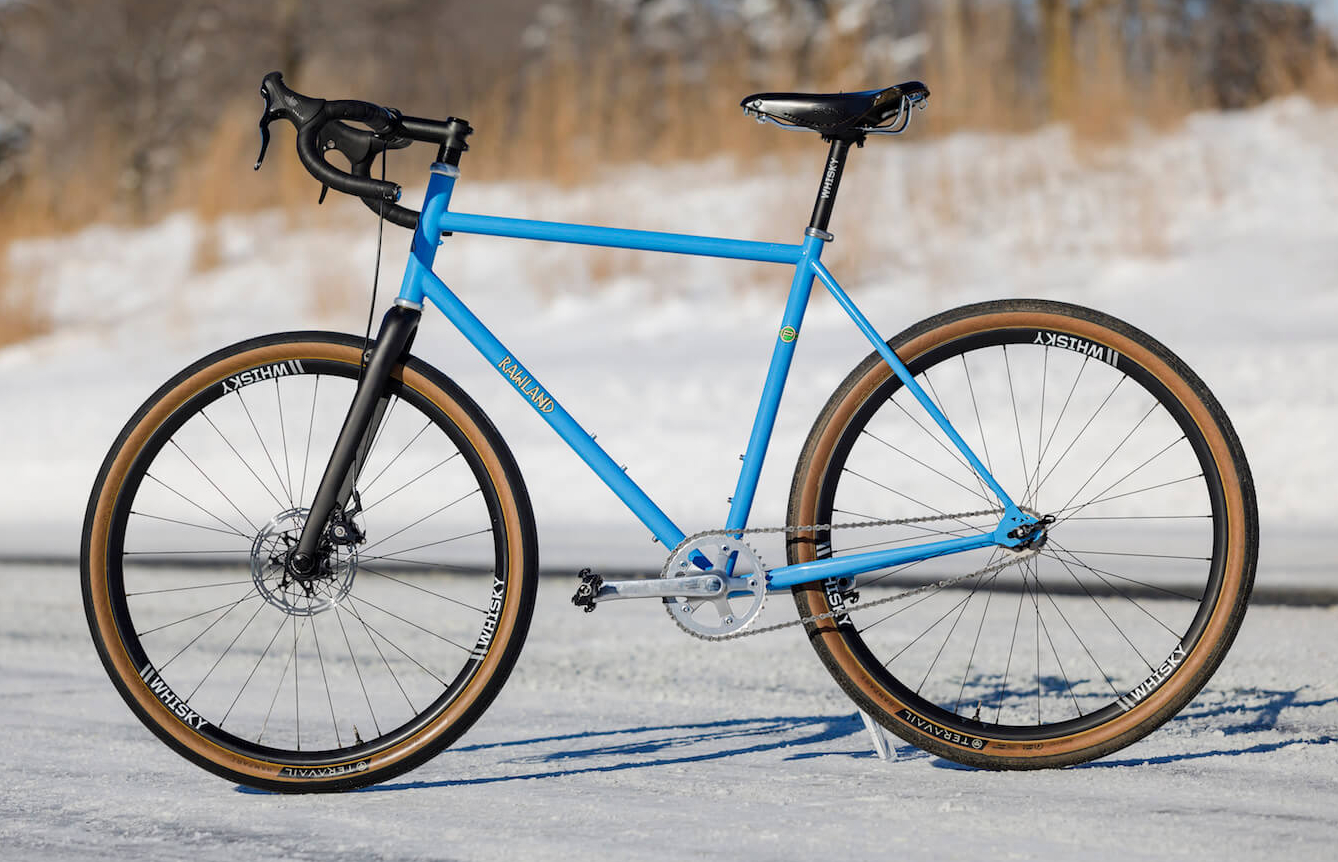 A versatile 650b singlespeed
650b wheels are more agile than their larger 700c brethren – and they also accelerate faster. There is another benefit of these mid-sized wheels – and it's being capitalized-on by contemporary manufacturers. Using 650b wheels, smaller bike sizes stay in proportion and allow a lower standover height.
If you're a smaller or shorter rider, 650b is well worth your consideration. Some models come with the option of 650b or 700c. For other models; larger frame sizes use 700c, while smaller sizes use 650b.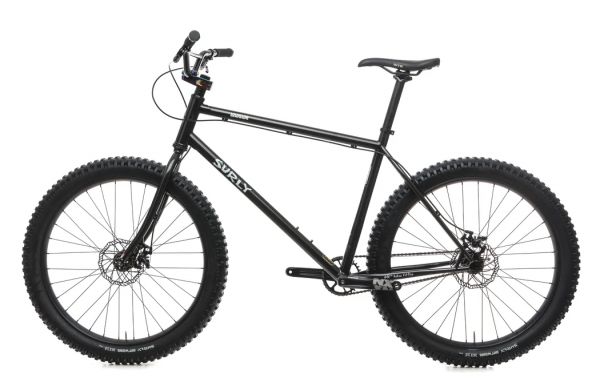 A new-model 26″ single-speed mountain bike
27.5" is mountain-bike lingo for 650b. They're the same circumference and diameter as 650b but usually sport wider rims for larger tires and rougher applications. Rims will likely be tough, particularly when coupled with the fat, slick tires that fit best on these rims.
You'll usually only confront 27.5" wheels on single-speed mountain bikes or some BMX cruisers.
26" wheels used to be the standard on mountain bikes. They are smaller than 27.5" and 650b. As such, they are tough, agile and quickly pick up speed. However, they are noticeably slower than the larger sizes when it comes to maintaining speed over distances.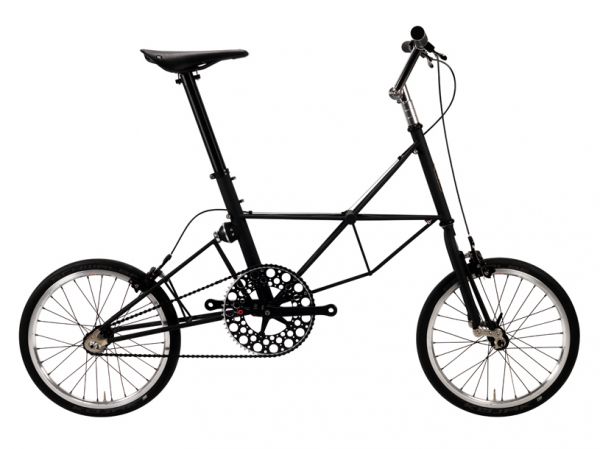 This single-speed folder uses 17″ wheels
You may enjoy these wheels with wide and cushioned tires, if comfort is more of a priority than speed. Some cruisers and town bikes will still use 26" wheels for a plush ride. On single-speeds, they're usually only found on mountain bikes.
Smaller wheel sizes. Many single-speeds with wheels smaller than 26" are either childrens' bikes or BMXs. The rare exception is the odd folding bike. These may have wheels anywhere between 16" and 24". To compensate for the low rolling speed of tiny wheels, these bikes will use a large gear ratio.
Tires
Single-Speeds can use any kind of tire. Urban single-speeds will usually use slick or semi-slick tires, as they are almost exclusively ridden on urban roads.


Slick and Semi-slick tires
For most commuters, slick tires suffice for a large part of the year. Lightly treaded tires may be more appropriate for winter. Of course, if your commute includes dirt roads or particularly neglected asphalt, you might need something more rugged. If you're into single-speed mountain-biking, you'll want something chunky with grippy tread.
An important thing to remember is that wider, chunkier and fatter tires add weight. Whether you're riding on or off-road, it always helps to shed weight from a bike that only has one gear!
Mid-size tires, between 30c and 47c, can be run at lower pressures. This increases shock absorbance, while still being efficient and decently fast. A wider tire creates more traction through a wider 'contact patch', meaning that more rubber is in contact with the ground at any given time. For you, this translates to a safer ride with more grip, less slippage and more braking power. This is particularly helpful in wet conditions.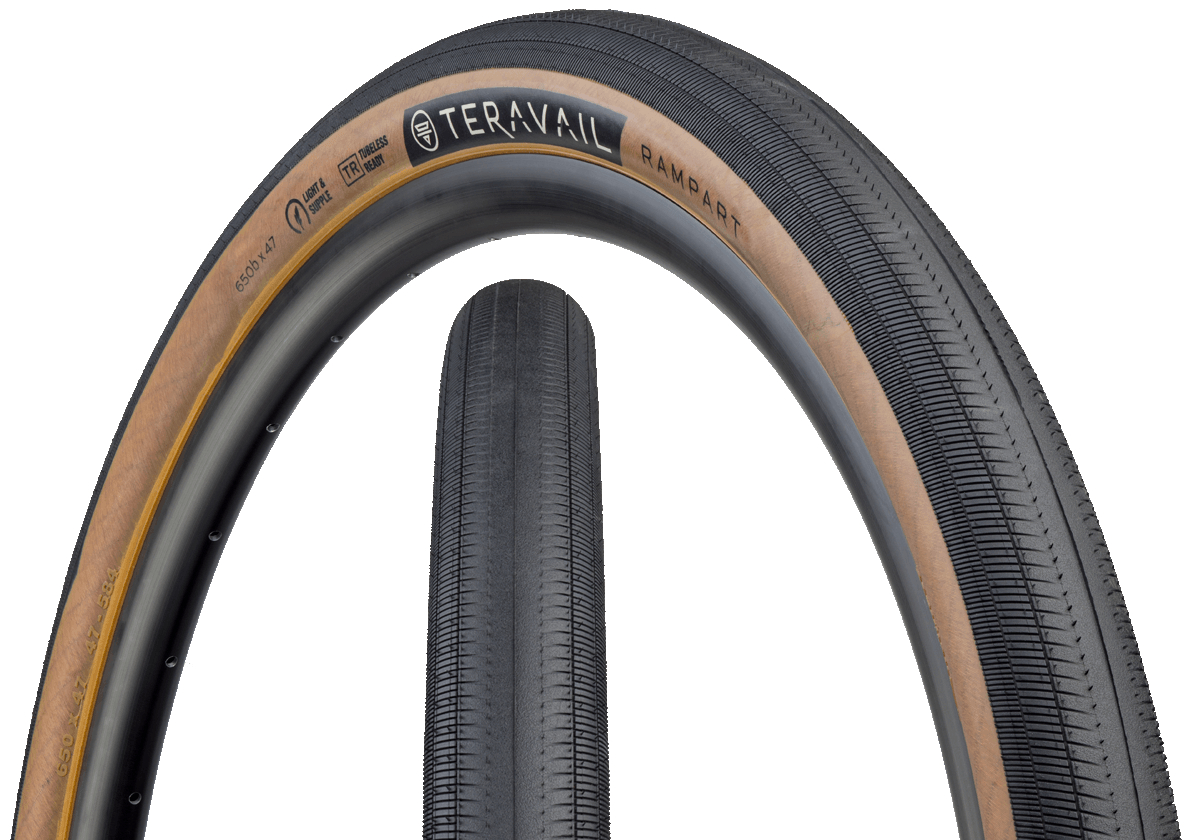 Mixed-tread tires are versatile
When choosing tires for your single-speed, the factors to balance are:
Comfort vs.
Speed vs.
Weight vs.
Traction.
Wider tires are heavier, slower and more comfortable. Thinner tires are lighter, faster, less comfortable and more prone to punctures.
For mixed riding on both asphalt and the occasional gravel-track, a 'semi-slick' or mixed-tread hybrid tire will be more versatile. These are often less slick, more grippy and have some knobs or file tread.
Single-speed tire sizes on 700c wheels can vary a lot.They'll usually sit between 23c and 35c, for an urban bike. These sizes are designated as '23c' and '35c'. Anything over 35c can get heavy. Less than 28c is intended primarily for speed and will be firmer, less forgiving and more susceptible to punctures. On 650b tires, sizes between 42c and 47c are popular on city bikes, as they give a similar circumference to a 700 x 28c to 700 x 30c tire.
Sizes are written in the format: '700x25c', where '700' refers to the wheel size (700c) and '25c' describes the tire circumference (in this case, approximately 25mm). You'll find this sizing written along the side of the tire.
For 700c and 650b, tire sizes are written in millimeters (ie 28c, 35c, 47c). For mountain bike wheel sizes (29", 27.5", 26"), they are usually written in inches (1.75", 1.95", 2.30"). History has left us with a mess of conflicting sizing standards that can become complicated. There is a more precise, universal reference standard known as E.T.R.T.O., which may either enlighten or confuse you.
Never fear, because we have a breakdown of…
Single-Speed Tire Sizes and Widths
700c
Racier single-speeds will have similar tires to a road bike. The standard is a 23c width.
If you're a casual city rider, tires 28c and wider will provide more comfort and give you added protection against punctures and curb hits.
Some single-speeders like to rock a combo, with a speedy 23c in the front and a tougher, wider 25 or 28c in the rear.
32c is reasonable as a large size. The upper limit would be about 35c, before tires become heavy and slow. Town bikes and cruisers may have tires as wide as 42c.
Anything narrower than 28c is fast, but more susceptible to punctures and pinch-flats.
29" (29 Inch)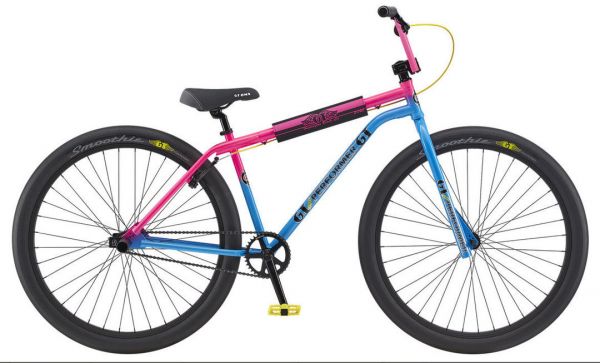 This BMX Cruiser uses slick 29 x 2.5″ tires!
29" is the mountain bike version of 700c. You'll find these on single-speed mountain bikes and 29" BMX cruisers.
A majority of 29" tires are knobbly mountain bike tires. But slick varieties are also available. 29" wheels will use wider rims than most 700c wheels and wider tires are safer on these rims. These fatter tires will be comfortable and tough, but heavier than narrower 700c options.
To know the full range that is suited to your rims, refer to the details printed on the rim or the manufacturer recommendations.
650b
Because 650b wheels are smaller than 700c, they are often fit with wider tires to give them a similar circumference. Their wide volume makes them comfortable and cushioning on bumpy rides. They are increasing in popularity. Subsequently, a larger number of high-quality options are becoming available every day.
Popular sizes for city commuting are between 42c and 47c. 650B x 47c is equivalent in size to 700c x 28c.
27.5"
If you're using 27.5" tires, you're probably referring to a single-speed mountain bike. These rims are the same circumference and diameter as 650b. They are usually wider than most 650b rims and suit a wider minimum tire size than that which can be fit to a 650b rim.
26"
In the single-speed world, 26" tires are mostly seen on single-speed mountain bikes. On roads, they are used by some cruisers and town bikes. 1.5" to 1.9" are some of the narrowest widths available, but these result in a somewhat rigid ride and a slower, smaller diameter wheel. Some 26" rims are not built to handle the high pressures of narrower tires.
The safest tires to use are most likely 1.95" to 2.125" in slicks or semi-slicks.
Anything up to 3.0" can be used on single-speed mountain bikes.
20"
Anything this size or smaller may be used on a single-speed folding bike. Otherwise, it's probably a BMX.
It's a good idea to invest in a sturdy pair of tires, with decent grip and puncture protection. 'Sidewalls' are the sides of the tires. If they aren't strong, they can wear out before the tread. They can also puncture or pinch-flat easily. A pinch-flat results from impact with a sharp edge (such as a curb), where the sidewall is 'bitten' by the wheel rim. There's nothing worse than having to repair a puncture every few days.
Good tires are a great contribution to safe riding.
Suspension
The only single-speeds that need a suspension fork are mountain bikes. These days, there are a lot of great big-volume tires that roll fast and act as ample suspension on rough city roads.
For city cycling, suspension isn't necessary. It adds weight, complication and maintenance needs to a bike. In exchange, it offers a level of shock-absorbance that isn't usually required for road riding. Suspension is overkill for urban bikes.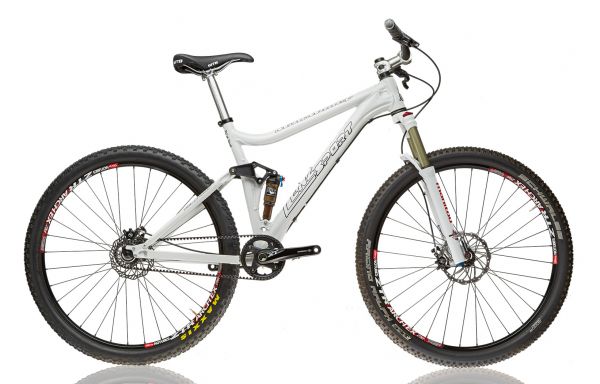 Rare: Full-Suspension
'Full-Suspension' single-speeds are almost non-existent, as their weight would make them inefficient. A bike with front suspension and a rigid rear-end is known as a 'hardtail'.
For hardtail bikes, you will find noticeable differences between suspension forks of differing qualities. For more detailed information, please refer to our guide to buying a new mountain bike.
The quality of a suspension fork will be reflected in the price of a hardtail single-speed bike.
Mount Up
'Mounts' and 'eyelets' refer to the drilled holes or mount-points on the frame, where you can attach essential and useful accessories.
Some single-speeders aim for minimalism and don't care to attach a rack, fitted fenders or a bottle holder. Commuting single-speeders will often seek eyelets to attach a rear rack, at minimum.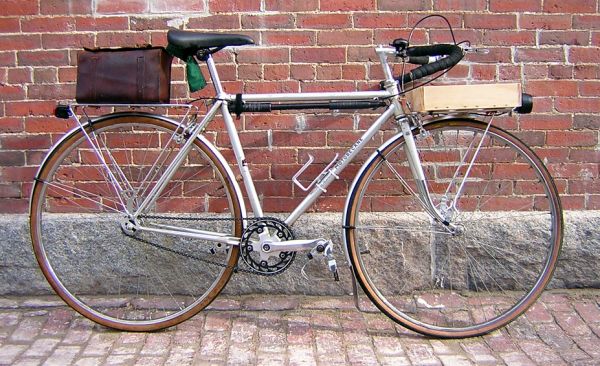 An improvised front rack and bottle cage added to fender and rear rack mounts.
To avoid wet clothes and a muddy back, it helps to choose a frame that has mount points for fenders. If your single-speed frame doesn't have them, you can attach a rear fender to your seat post.
'Bosses' are the name for eyelets that let you attach a water bottle cage. Many commuters and mountain bikers will want at least one bottle available.
Some single-speed bikes will come ready with all three of the above. This might be something to consider when crunching the numbers on the cost of a new bike. But if you like things clean and simple, feel free to forget 'em.

Extras and Accessories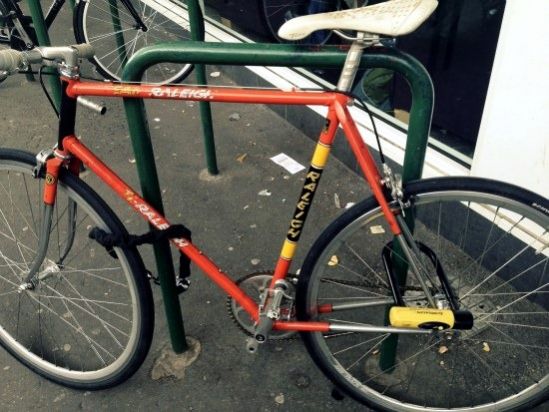 A securely locked single-speed
These are the most common accessories sought by buyers of any new bike:
Lights. When looking at your options, consider USB-rechargeable lights. They reduce waste and don't require removable batteries.
Locks. A chunky 'D-Lock' or similar is recommended. Cables are usually breakable. Remember to buy a lock big enough to secure your wheel – together with your frame – to something secure and stationery.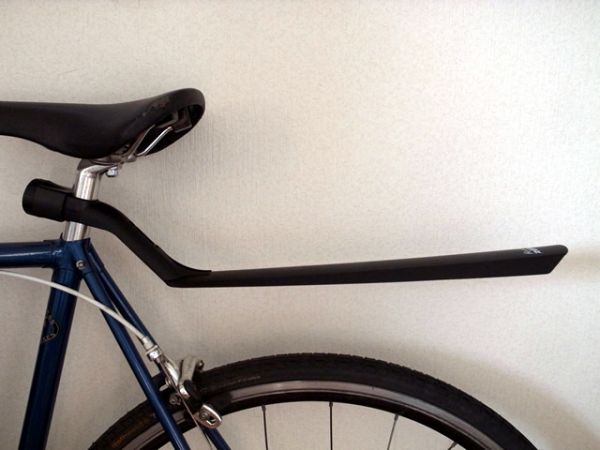 Seatpole-mounted fender
Fenders. A seasonal essential. If you have mount-points on your bike, you can attach rigid fenders and leave them there all winter. Quite a few single-speeds don't, but you can buy a removable fender that attaches to your seatpost.
Racks If you use a rack and panniers, you can carry far more than you could comfortably tote in a backpack. This moves weight off your back and shoulders, while lessening the chance of arriving at your destination with a sweaty back.
Consider whether you need panniers – and if you need a front and / or rear racks. They may be too heavy for your single-speed commute – or you might lack the required mounts. Luckily, there are many innovative rack alternatives to consider.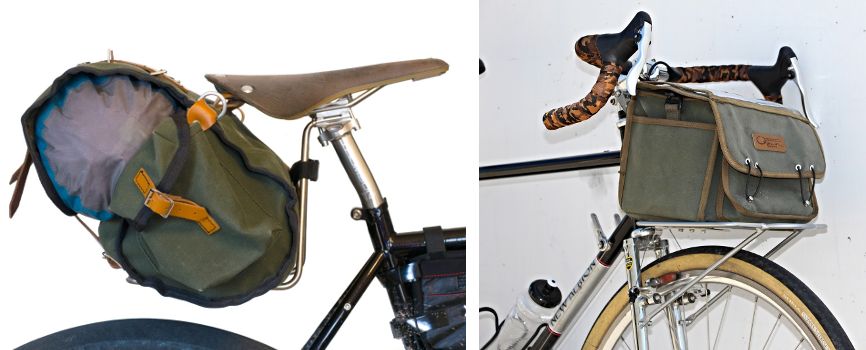 Options for cargo include a saddle-bag rack (left) or porteur front rack (right)
Chainguards. This is an accessory that covers the chain and often the chainrings. It protects your legs and clothing from grease. On cheaper bikes, these can rattle and rub against the chain. Higher quality options can be quiet and give peace of mind.
Some single-speeds come equipped with a chainguard, fenders and even lights or a rack. This is definitely something to keep in mind when considering your budget.

Security
As mentioned above, the importance of a good lock can't be understated. Singlespeeds are often easier to secure than other kinds of bike, especially if they use nutted axles.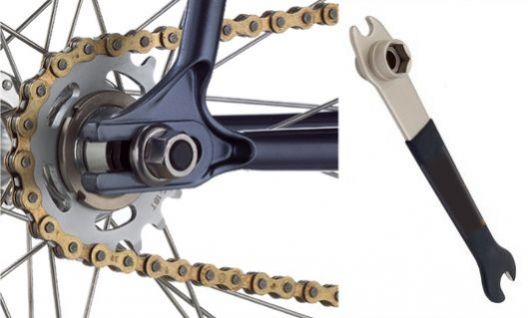 A nutted rear wheel axle and the necessary 'box wrench / pedal spanner'
Nutted axles may require you to carry a tool in order to change a flat tire. However, they can deter thieves by making thievery attempts more obvious. Often, they won't bother. Quick-release levers make your wheels easy to steal. Your safest bet is to lock your wheels to your frame and to something stationery. You'll notice that bike messengers almost exclusively use nutted axles.
If you are locking up your bike in public spaces, your safest bet is an inexpensive and nondescript bike. A flashy single-speed is tempting fate.

Simple or 'Basic' ?
There are a lot of cheap, new single-speed bikes on the market. In the early 2000s and 2010s, the urban single-speed experienced a renaissance in popularity. This resulted in the market being flooded by a flurry of brands and models. Because of their simplicity, many manufacturers have tried their hand at producing a line of single-speed bikes. Even though they are simple, they can be made poorly. A single-speed's drivetrain can undergo a large amount of torque and stress.
It's important to look for a quality frame and components when buying a new single-speed.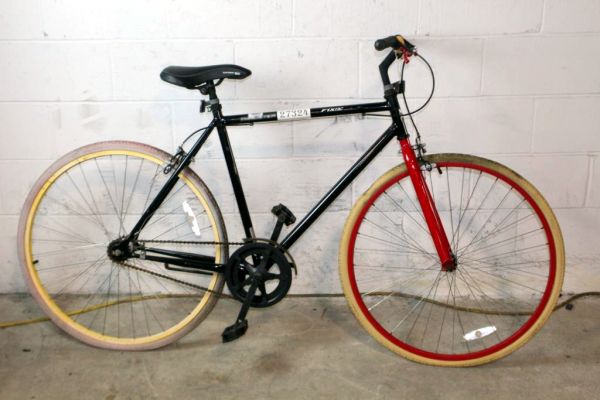 Buyers of this bike reported buckled wheels, ineffective brakes, faulty freewheels and broken welds – when new!
Super-cheap bikes often come equipped with low-quality components that won't last. You may think, "Oh, I don't ride a lot, so it should last a while", but these bikes can start to fail immediately. They can also make your ride experience miserable. As the parts fail, you'll end up spending more money on upgrades and repairs. This money could be better spent on a reliable, higher quality bike that you can trust. This is the more cost-effective option.
If you aren't a cycling enthusiast, most single-speed bikes may look the same. But many of the important factors are not obvious. This includes drivetrain components; such as your bottom-bracket, hubs, chainrings, cranks and freewheel. Frame material is also important to consider (see Frames section).
Brakes may be the most important factor of all (see main Brakes section).
It can be difficult to discern crud from quality, but by reading a wide range of buyer and expert reviews you should be able to make an informed decision.
When it comes to single-speeds, there are many brands producing parts. Too many to memorize! But there are reliable names to look for. When it comes to gearing components, Shimano can be trusted.

Pricing
At the lowest price point, you can potentially buy a new single-speed bike for as little as $100. What you'll get for this price is basically disposable. Frames are certainly heavy, hi-tensile steel. Components are cheap, heavy, unreliable and subject to imminent failure. Most buyers end up replacing a majority of components within the first year of ownership. Either that or they get rid of it and buy a new one.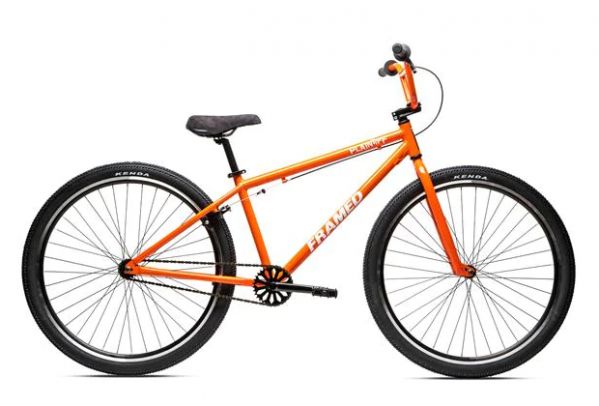 A 29″ BMX cruiser is a solid budget option
From $270, you can find an alloy, 29" BMX cruiser with a chromoly fork. Some parts are branded. This kind of single-speed is more solid than many skinny road bikes in this price range.
Starting around $330 and up, you can find cut-rate single-speeds that combine some brand-name parts with acceptable no-name components. They will be hi-tensile steel. A good rule is that you can trust a manufacturer that makes mention of the kind of steel they use. If it's hi-tensile, that's OK – just know that your ride is a little heavier and a tad more rigid.
From as low as $400, chromoly-steel bikes become affordable. This puts you in a realm where frames are lighter and more comfortable through increased flexibility. Up to about $500, these will still have a mix of branded and generic parts.
Heading up to $500 – $600, bikes use chromoly-steel and aluminum frames, with mid-range branded parts. At this price range you can find bikes that are durable, with components that can be maintained and used for years. There are some good bikes in this range. Higher-end BMX cruisers sit here too.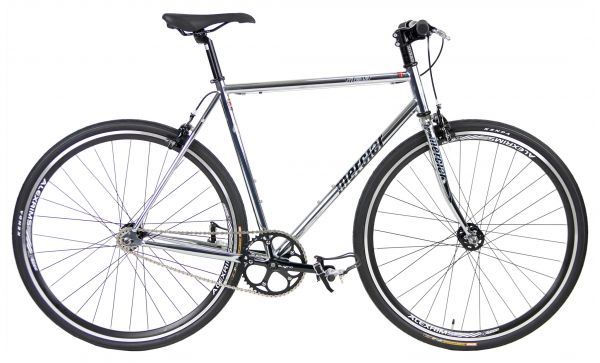 $500 to $600 buys a solid chromoly bike
Between $600 and $800, road and commuter single-speeds will be good to great quality with brand name parts and a considerable weight reduction. Chromoly or aluminum is standard. BMX cruisers are 100% chromoly with high-end components.
$800 to $1200 will see you into the world of high-end single-speed commuters and performance track frames that are drilled for use with front and rear brakes. Disc brakes enter the fray here.
The world of high-end single-speeds is a weird and wonderful one. Here, there are no rules and you will find many types of specialist niche vehicles. Single-speeds never get as expensive as road bikes or high-end mountain bikes and rarely top $2500. They are almost never made of carbon-fiber. In this range, $1200 to $2500 can buy you:
A high-end commuter with 650b wheels, disc brakes and a carbon belt-drive.
A titanium single-speed built on an aggressive track frame.
A beautiful vintage-style single-speed with a leather saddle and grips.
A single-speed mountain bike with disc brakes and a rigid fork.
A single-speed mountain bike with disc brakes and a front suspension fork.
A single-speed cyclocross bike with a carbon fork and disc brakes.
Budgeting
You can spend the absolute minimum on a single-speed and end up dealing with rapidly failing components, repair fees and the cost of shelling out for replacement parts.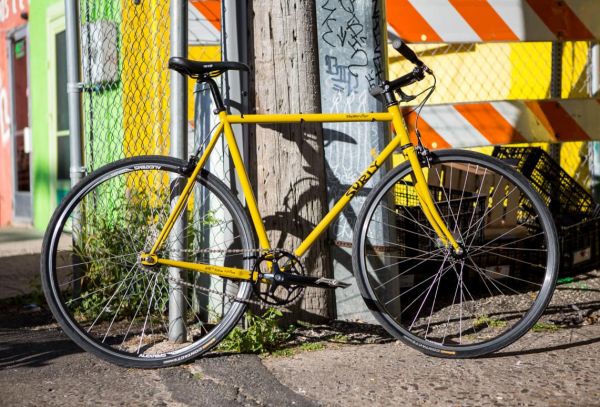 A mid-priced single-speed can be resilient
You can spend top-dollar on a sexy street-machine or mountain bike with top-end parts. If you ride for recreation, racing or fitness and aren't going to be locking your bike up in public areas, it's no problem. If you usually commute or run errands on your bike, it might not be such a great idea. A lightweight track frame with skinny wheels might not cope with rough streets and curb hits. It will eventually get scratched and probably attract thieves.
You can spend moderately, compromising between performance and cost. Aim for a sturdy, low-key, medium-weight bike with resilient parts. This type of machine can last you for years as a commuter and run-around.

Sizing
Most manufacturers will have a range of sizes available for each bike. In the U.S., this is given in inches. If you aren't an experienced cyclist, this may hold little meaning for you. Don't fret.
Basic sizes may be given as: S / M / L / XL – or similar. Each of these sizes should have a height range associated with them (for example, M = 5'7" to 5'10"). These are great as a rough guide, however…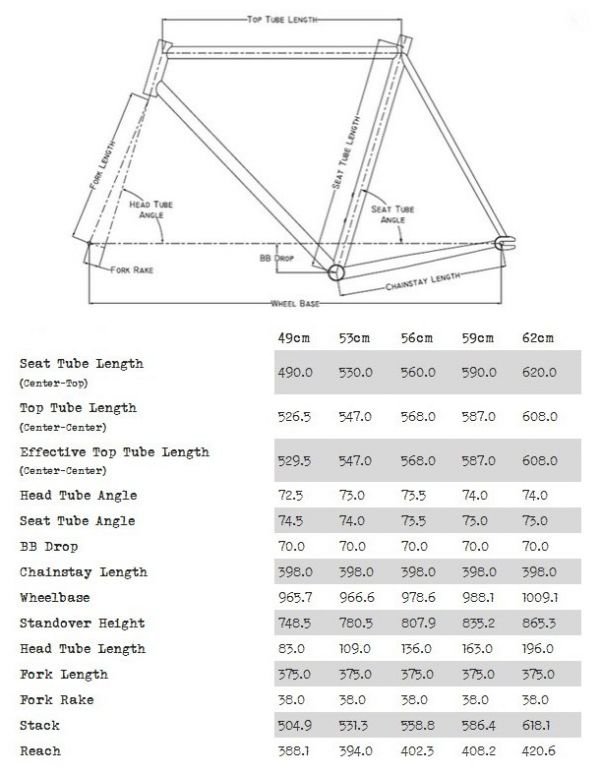 A single-speed geometry chart
There's no such thing as an 'Average Medium': Sizing is not the same across all bikes and manufacturers. A 'Medium' on one model can be the same as a 'Large' in another model. In addition, we all have differing proportions, in comparison to our full height. Some of us have shorter or longer arms, legs or torsos.
More specific measurements are given in centimeters or inches, relating to frame size. This often refers to the length of the seat tube. For mountain bikes, inches are used (ie 14", 16", 18.5", 20"). For road bikes, it's in centimeters and will look like: '52cm', '55cm', '58cm' etc. Commuter bikes may be measured in either centimeters or inches. This may allow you to get a 'frame of reference' (if you will) in comparison with different models and other bikes you have owned, but even these sizes vary from manufacturer to manufacturer and between bike styles (a 52cm town bike is very different from a 20.5" mountain bike).
If you're determined to perform your entire bike purchase process online, you'll have to check the manufacturer's 'Geometry Charts' and compare these measurements to your own (after measuring your own 'reach', 'standover' etc). These charts may seem complicated at first, but learning how to read them is rewarding.

Measuring Up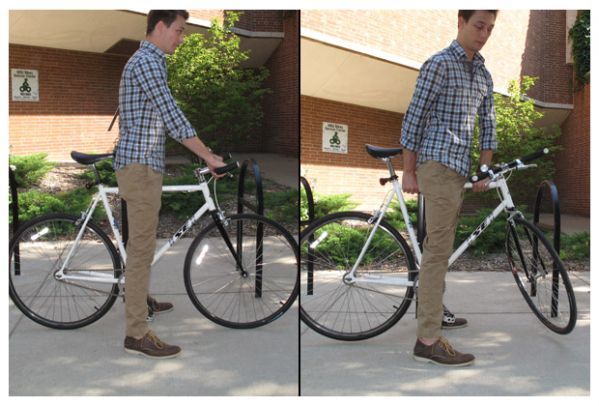 At least 1″ between you and the top-tube
'Standover' height is the distance from the ground to the top of the top tube. If the bike has a sloping top tube, this measurement is taken halfway along the tube. In urban areas, you'll be regularly stopping and starting in traffic and having to put a foot or two down at the stop lights. When you have both feet flat on the ground, there should be one to two inches between the top tube and your precious assets. Measure your inseam with a measuring tape and add this 'one to two inches' to attain your optimum standover height.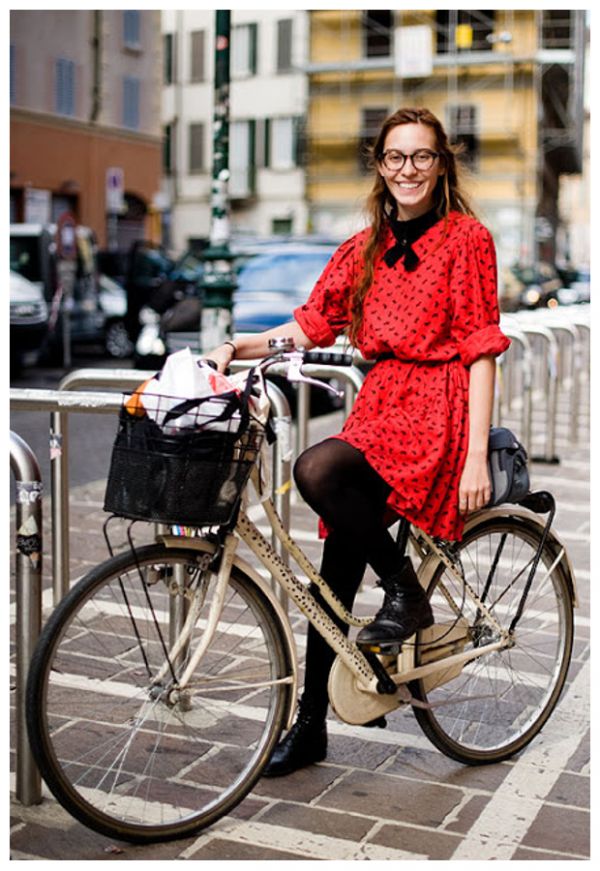 Step-through bikes suit casual dress
Saddle height will be easy to adjust if you purchase a bike with an appropriately-sized frame. If the frame is undersized, you may not be able to raise the seat up high enough because you'll run out of seatpost. If the seatpost is raised past its 'maximum insertion level', it can fatigue, bend or break. If your frame is too big, you won't be able to lower the seat enough and your standover will be nonexistent, exposing you to potential groin injury. Yowch.
A 'step-through' style bike suits riders who prefer to wear dresses, skirts or jeans while riding, or anyone who wants an easier time of swinging a leg over the top tube.
Reach is the distance from your saddle to your handlebars. Too long – and you'll be stretched out. This will not only cause soreness, but will reduce your visibility and your handling dexterity. Too short – and you'll feel cramped and excessively upright. Maybe your elbows will knock your knees.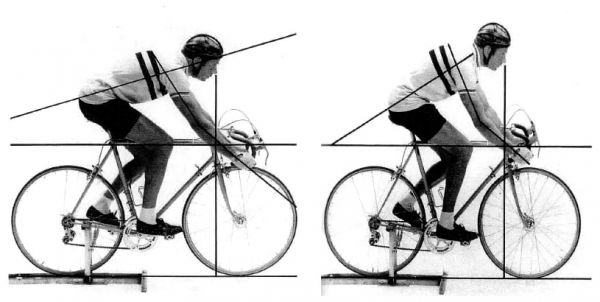 Overreach (left) and correct reach (right)
How to Be Certain?
You can find online guides that explain how to measure yourself for an approximate fit, but the best solution to this problem is to visit your local bike shop.
Your local bike shop can offer you a professional fit and match you to appropriate bikes. You can even test-ride bikes and get a feel for the size and type that suits you.

Choosing a Single-Speed
Before you make a selection from the myriad choices out there, here are some key criteria to consider.
Purpose
Will your new single-speed be your daily commuter?
Do you use it mostly for short trips, errands and shop runs?
Are you dedicated to single-speed racing or long distance riding on roads?
Do you heed the call of single-speed mountain biking or cyclocross?
Knowing your riding intentions will help you find the best single-speed bike for your needs. Most new single-speeds are sold as simple urban bikes for casual riders. You can further simplify your choices by focusing on your…
Riding Style
If you like a comfortable, mid-weight bike that can attain decent speeds while offering good visibility in traffic, you'll probably aim for an Urban Single-Speed.
If you want one bike for all your needs, consider a Do-It-All type single-speed.
If you're a strong rider that's dedicated to high speeds and agility, a Single-Speed Road Bike or Track Frame will suit.
If your style is more easy-going, a step-through Town Bike (or even a cruiser) may satisfy.
For cruising comfort, indestructibility, wheelies and style – take a look at a 29" BMX Cruiser.
For specialist disciplines, seek out a Single-Speed Cyclocross or Mountain Bike.
Terrain
There are a number of mid-priced single-speeds that can handle rough city streets and light gravel equally well. Some road-only bikes are more lightweight and delicate.
Carrying Capacity
Is cargo a concern? Keep in mind that some single-speed frames don't have mounts for racks. The same will go for most track bikes.
With these factors in mind, let's move on to choosing from the single-speed types.

Types of Single-Speed
Urban / Everyday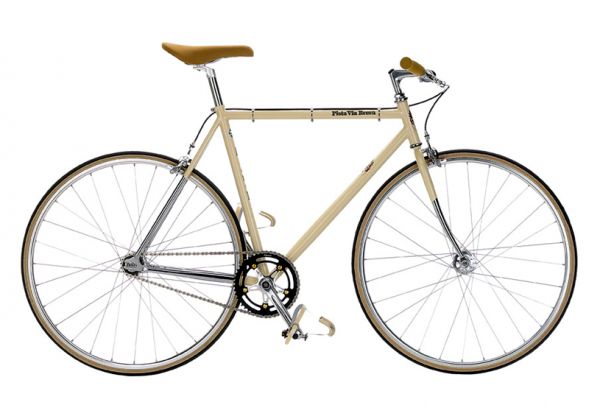 A refined and practical urban single-speed
Most new single-speed bikes fall into this category.
Build
These bikes are usually built similarly to classic road bikes and modern touring bikes. This means that frame tubing is narrow but not delicate, compromising between moderate weight and strength. They are tougher than race bikes but not as heavy or resilient as mountain bikes.
Use
An urban single-speed can be used by any cyclist over shorter distances or in flatter areas on sealed roads. Otherwise, they suit riders who possess an extra level of fitness or are looking to gain it.
Ride Position
Ride position is usually 'semi-upright', as these bikes have flat handlebars. This offers good visibility in urban areas. Frame shapes vary, from more aggressive and leant-forward, to laid-back and upright. They are less aggressive than a road bike.
Weight
Urban single-speeds with chromoly steel frames will usually weigh between 17 and 25 pounds, depending on how robust they are. Bikes with hi-tensile steel frames can weigh up to 35 pounds. On a single gear, this upper weight limit will quickly exhaust most riders.
Frame Material
Steel is common. Chromoly steel frames are compliant and forgiving on rough surfaces. They are lighter than their Hi-Tensile steel counterparts and cost slightly more. 'Hi-ten' is cheaper, heavier and jouncier, without having a strength advantage over chromoly. Aluminum frames are also available.
Wheels
Wheels are almost always 700c. Some of the smallest bike sizes may be made for 650b wheels. A few new models use 650b wheels with 'plus-size' tires.
Tires
When commuting, most single-speeds will use tires between 25c and 35c on 700c wheels. 650b wheels will often use tires between 42c and 47c. These sizes are chosen in order to cope with rough city streets, while still maintaining speed.
Tire Clearance
Keep in mind that some new urban single-speeds only have enough room in the frame for narrower tires (up to about 28c). Skinny tires are fast and light, but may be less comfortable and resilient than mid-width tires.
Mounts
Urban single-speed bikes may or may not have rack mounts, fender mounts or bottle bosses.
Drivetrains
Most drivetrains are similar and use a chain with a single chainring and freewheel.
Ratios
Ratios on new bikes are usually around 2.3:1 up to 2.75:1. You'll find chainring/ freewheel combinations with a 42 to 44 tooth chainring and 16 to 20 tooth freewheel. 44:16 and 44:17 is common, with some as steep as 48:17. They are suited to a town of moderate elevation for a rider of moderate fitness. This allows for a compromise between climbing ability and moderate speeds on flats.
Brakes
Most models use caliper rim brakes. Some models use a coaster brake, sometimes in conjunction with a front caliper brake. Coasters are more common on older bikes.
Distance
For most people, urban single-speeds suit short to medium rides and flatter terrain. If you are a stronger cyclist or looking to become one, you might consider these bikes for longer jaunts.
Cost
Urban single-speeds with hi-tensile frames can be bought for as low as $100. But at this price, you get what you pay for. Hi-tensile bikes with better components can be bought for around $300. Chromoly steel options, with mid-range components, start at around $450.
Strengths
Cost. Many decent, low-cost options are available.
Flexibility. It's a generalist's city bike.
Security. It's of least concern if your bike isn't flashy.
Flip-Floppin'. A 'flip-flop' hub helps riders learn fixed gear riding.
Maintenance. Parts are easily sourced, interchangeable and standardized.
Compromise on…
Speed. They're less racy than track bikes.
Comfort. Tires can be narrow. Town bikes and BMX cruisers are more casual.
Strength. Not for off-road use, gravel roads or trick-riding.
Weight. They aren't as light as a high-end track bike.
'Do-It-All' Bike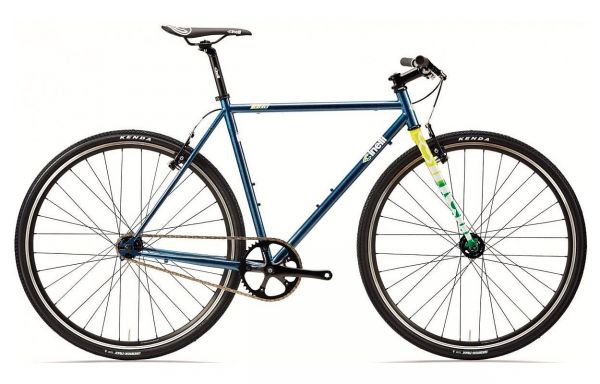 Wider tires, beefier tubing. A workhorse.
Build
These are 'all-rounder' bikes that are made a bit tougher than your average city single-speed. Construction is a bit sturdier, tire clearance is a little bigger.
Use
A do-it-all bike can handle the roughest city streets, in addition to hardpack dirt roads and some gravel. They are more practical and less racy than aggressive models. They make good workhorses and can serve as delivery bikes.
Ride Position
Ride position is semi-upright with flat handlebars. This offers good visibility in urban areas and off-road conditions. It's also a bit more casual.
Weight
Do-it-All rigs start at around 19lb, with the more beefy examples getting up around 27lb.
Frame Material
Chromoly steel is the most common material here. It's tough and compliant over broken roads, even when loads are toted.
Wheels
Wheels are mostly 700c, with more plus-size 650b examples becoming available.
Tires
Tires on these bikes are wider and tougher than on urban single-speeds. 30c to 35c is a decent average size.
Tire Clearance
Clearance is more generous than on urban and race single-speeds. Maximum clearance is around 38c to 45c, allowing you to fit cyclocross and gravel tires for off-road use.
Mounts
A good do-it-all bike has mounts for at least one rack, one bottle cage and fenders.
Drivetrains
Standard single-speed drivetrain: one chainring, one freewheel and a chain.
Ratios
Ratios are often a little lower than on lightweight and aggressive bikes. Maybe 2.5:1 (ie 46:18).
Brakes
Quite a few of these rigs use linear (V-brakes) to accommodate larger tires than street bikes, while keeping prices down. But there isn't any standard.
Distance
These bikes are comfortable to ride any distance, short or long, at a moderate and even pace.
Cost
$800 to $1300 gets you a resilient, reliable and durable bike with hardy components.
Strengths
Build. They're tough enough to knock around whilst carrying cargo.
Flexibility. It's a commuter, work-bike, even a gravel or cyclocross bike.
Durability. The do-it-all will serve you dutifully, for years.
Compromise on…
Speed. They're not race bikes.
Weight. They aren't heavy but they outweigh race and track bikes.
Single-Speed Commuters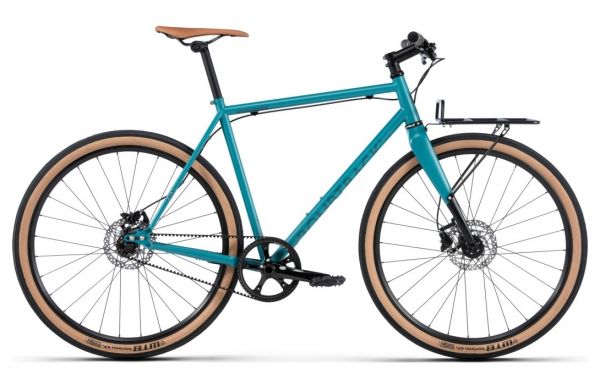 Comfort, utility & a belt-drive!
Build
Strong, with mid-width tubing similar to touring bike construction.
Use
Primarily for commuting and urban use. Resilient enough for hardpack and some gravel. Suits weekend jaunts.
Ride Position
Varies, but more or less upright geometry. Top tubes may be slightly sloped for extra standover.
Flat handlebars for upright visibility.
Weight
23lb to 27lb is about average.
Frame Material
High-end Chromoly steels and Aluminum are common.
Wheels
650b is common on this new style of bike. 700c specimens are also out there.
Tires
650b x 47c is the current favorite.
Tire Clearance
650B x 47C or 700C x 35 to 45C.
Mounts
This is an urban utility bike. It should have mounts, eyelets and/or bosses for racks, fenders and bottle cages.
Drivetrains
Both chain and belt-drives are common.
Ratios
Ratios are slightly higher than 700c urban single-speeds, to compensate for 650b wheels. 2.45:1 to 2.75:1 is a common range for new models.
(44:18 chain-drive and 55:20 belt-drive are examples).
Brakes
Brakes are usually discs. Mechanical options are common.
Distance
These bikes offer a comfortable ride, for as far as you can pedal in one gear.
Cost
Available models use quality components and construction.
Expect to pay $1200 to $2000.
Strengths
Quality. Component selection is considered well.
All Weather Capability, provided by a stable frame and disc brakes.
Comfort. 47c tires provide high speeds combined with maximum comfort.
Utility. These are practical bikes, with provisions for racks, fenders and bottles.
Versatility. This could be your single-speed gravel ride and weekend rambler.
Safety; via disc brakes, high visibility and tough construction.
Compromise on…
Price. This level of quality comes at a suitable price.
Weight. Weights are moderate, but not super-light.
Single-Speed Road Bikes and Track Frames with Brakes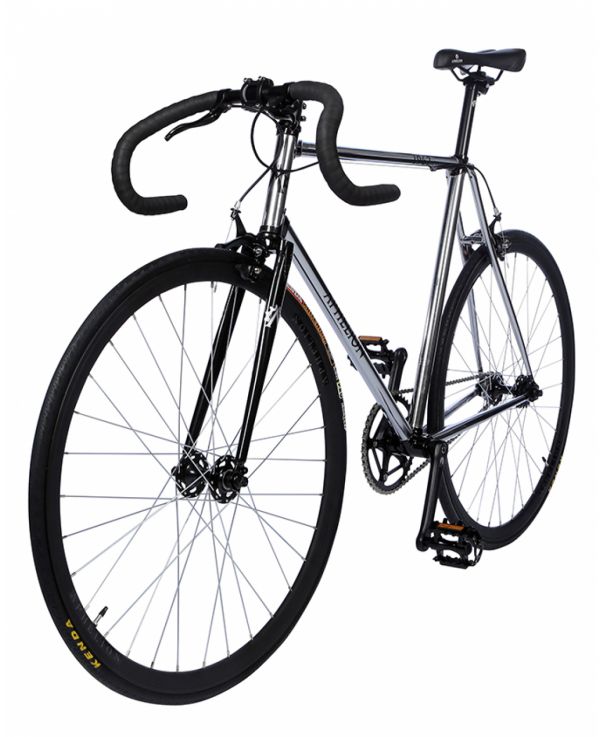 Race-bred, single-speed, road-specific.
Build
These bikes are built with speed and agility as a priority over strength. Track bikes are built with the intended purpose of velodrome racing. Many track frames are not drilled to attach brakes.
Use
They are used by folk who prefer to ride and race single-speed, over both short and long distances. Street riders love adapting a track frame to urban use. Messengers often use customized single-speed and track frames.
Ride Position
A fast single-speed may have either drop bars or flat bars. Either way, it puts the rider in an aggressive stance, leaning forward. More-so with drop bars.
Weight
Aggressive single-speeds are usually quite light, even though weight isn't the primary concern here. Conservatively, 15 to 22 pounds is likely.
Frame Material
Chromoly steel is popular in this range. Aluminum is also used, to a lesser extent. Track frames are built tough, to withstand the severe lateral forces of velodrome racing and hard pedaling. However, they may not be so robust when confronted with the rigors of street-riding and curb hits. Single-speed racing bikes often use tubing similar to that used on tougher road bikes.
Wheels
Wheels are almost always 700c.
Tires
Tires are slick and usually narrow, between 19c and 28c.
Tire Clearance
Tire clearance may be less than on an urban single-speed, and may be limited to 25c. True track bike frames are designed to use tires between 19c and 22c, but may allow for slightly more. Upper limit on a racy single-speed is probably 28c.
Mounts
Urban single-speed bikes may or may not have mounts or bosses for racks, fenders or bottle cages. Many track frames have none of these mounts.
Drivetrains
Most drivetrains are similar and use a single chainring, freewheel and chain.
Ratios
As these bikes are usually ridden by single-speed enthusiasts, they may have steeper ratios than a casual urban bike. They'll be closer to the 2.75:1 to 3.0:1 end of the scale. 46:17 to 48:16, for example.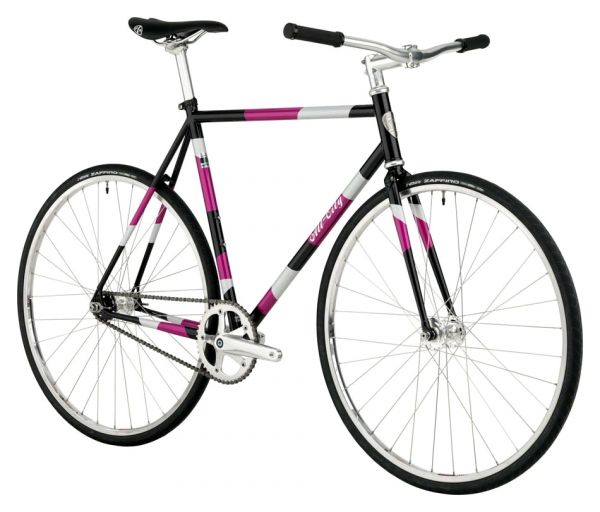 This track bike has a frame that is drilled to attach both front and rear brakes
Brakes
Brakes on single-speed road bikes are mostly caliper rim brakes. It's important to note that many track frames aren't drilled for brakes and even if you replace the fork with one that is drilled for a brake, you will only have one brake available. In an emergency, sudden front braking can be dangerous.
Distance
An aggressive single-speed is more attuned to longer distances than an urban single-speed. Track bikes are very aggressive and suit short, fast sprints or longer rides for a niche few.
Cost
These bikes are more refined than your average, casual single-speed and will set you back anywhere from roughly $800 to $1200.
Strengths
Speed. These bikes are made to ride and accelerate quickly.
Agility. Aggressive street bikes exhibit sharp, tight handling.
Fitness. Theses bikes will either use or build strong calves and quads.
Weight. The lightest single-speeds are in this category.
Fun. Few bikes deliver the simplicity and thrill of a fast single-speed.
Compromise on…
Price: These bikes use higher-end parts to ensure performance at speed.
Versatility. Track frames usually don't have any mounts.
Strength. Many of these frames are more delicate than urban single-speeds.
Fixed Gear Bikes – "Fixies"
Track bike
Flat-bar on track frame
Single or Fixed with a flip-flop hub
Build
Fixed gear bikes can use any frame that is used by a single-speed. Track bike frames are more commonly used by fixed gear riders than by single-speeders in general (see above). Track frames do not feature mount points to attach brakes, as they are built for velodrome use.
Use
Fixed gear bikes can be ridden by many cyclists over shorter distances or in flatter areas. Otherwise, they suit riders who possess an extra level of fitness or are looking to gain it.
Ride Position
Ride positions are similar to those found on singlespeeds.
Weight
Weights are comparable to those of singlespeed bikes.
Frame Material
The same frame materials are used for singlespeed and fixed gear bikes.
Wheels
Wheels are almost always 700c. A small number of riders experiment with 650b wheels.
Tires
Tires are similar in size to those used on singlespeeds. As the rear tire is 'skidded' to brake, it's a good idea to have a tough, high quality rear tire. A wider tire can provide a large contact patch for stopping.
Tire Clearance
Tire clearances are similar to those of singlespeeds. True track bike frames are designed to use tires between 19c and 22c, but 'street track' frames may allow for rubber up to 25c.
Mounts
'Fixie' frames may or may not have mounts or bosses for racks, fenders or bottle cages. Many track frames have none of these mounts.
Drivetrains
Most drivetrains are external, with one chainring and a single cog that is fixed onto the rear hub. This means that the rear wheel keeps moving as long as the pedals rotate. They move in unison, linked by your chain. You can't coast on a fixed gear bike.
Ratios
Fixed gear ratios tend to be higher than on your average single-speed. Because you will be continuously pedaling on descents, it's more comfortable at a lower cadence. 2.75:1 is a good starting point.
Brakes
The maximum number of rim brakes used on a fixed gear is usually one. This is a front brake. The rear fixed cog acts as a brake but this technique takes some effort to master. Some skilled riders (including bike messengers) use only the rear fixed hub to stop. This is illegal in many areas and does not provide instant braking. It's more of a skid and can be dangerous if a chain were to break. A front brake is encouraged.
Distance
For most people, fixed gear bikes suit short to medium rides and flatter terrain. If you are a stronger cyclist or looking to become one, you might consider a fixed gear bike for longer jaunts. The need to 'always be pedaling' can be tiring if your quads aren't up to snuff.
Cost
Fixed gear bikes can be much cheaper than other options. That said, it isn't uncommon for enthusiasts to pay more for good looking bikes with exotic components.
Strengths
Maintenance doesn't get any simpler than with a fixed gear bike.
Weight. Most fixed gears are lightweight.
Cred. The ability to ride a fixed gear can muster respect in some circles.
Aesthetics. A clean, stripped-back fixed gear can look pretty darn good.
Fitness. Fixed gear bikes can contribute to a higher level of fitness.
On climbs, the momentum of a fixed drivetrain 'propels' you forward.
'Riding fixed' uniquely synchronizes your movement with the bike's machinery.
Security. Low-key fixed gears won't attract thieves and can be inexpensive to replace (Most thieves can't ride a fixed gear bike!)
Compromise on…
Ease. With only one gear, they require greater fitness for climbs and long distances.
Distance. Many cyclists are only able to ride shorter distances on a fixed gear bike.
Security. Flashy fixed gear bikes are more stealable, due to their elevated level of radness.
Safety, especially if a chain breaks. Riding a fixed gear requires practice.
Comfort. Riding a fixed gear requires concentration and can be fatiguing.
The Difference Between Single-speeds and Fixed Gear Bikes
On a fixed gear bike, you can not coast. When the bike is moving, you are always pedaling.
On a singlespeed, you can coast. Rolling down hills without pedaling is no problem. Many singlespeeds come with a 'flip-flop' rear hub. This has a fixed-gear cog on one side and a coasting freewheel on the other. This allows you to 'flip' between the two, giving you a chance to practice fixed gear riding or to choose to ride fixed, seasonally.
Town Bikes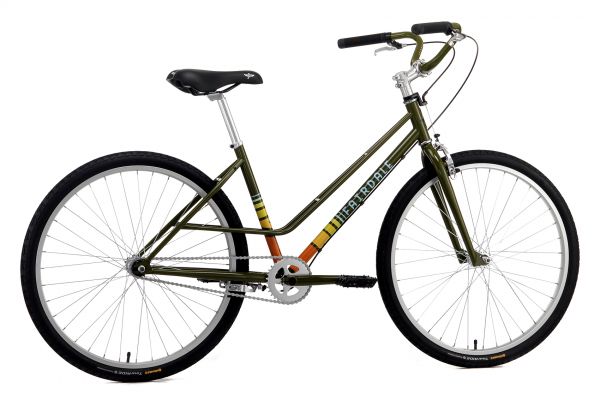 A Hi-Tensile, 26″ step-through with rack mounts & U-brakes
Build
'Town bikes', 'City Bikes' and 'Dutch Bikes' are heavy, solid, upright and casual. Classic, sweeping shapes with step-through frames are popular. They have a low standover height and suit wearing dresses, skirts and casual clothing.
Use
These bikes suit short, cruisy commutes.
Ride Position
You sit very upright on these bikes. They often have wide, swept-back bars that leave the arms akimbo.
Weight
There's no getting around it. Town bikes are almost always heavy.
Frame Material
Frames are usually steel (and frequently heavy, jouncy, high-tensile steel at that). Sometimes, aluminum.
Wheels
Wheels are often 700c (sometimes written as 28" which is an older 'roadster' size). Older bikes actually use a rarer size 28" wheel. They may also be 27.5", 650b or 26".
Tires
Rubber is often at the fat end of the spectrum, from about 32c to 38c.
Tire Clearance
Town bikes will often allow for wide "balloon tires". These can reach 700c x 50c or 60c in width.
Mounts
Town bikes may come fit with a basket or rack. They often have rack and fender mounts. They may or may not have a mount for a bottle cage.
Drivetrains
Most drivetrains use a single chainring, freewheel and chain. Chainguards are common.
Ratios
Closer ratios are specified on town bikes. This makes it easier to move their heavy weight while seated in the classic upright manner.
Brakes
The Town Bike is heavy and must be stopped. In the rim brake category, we have V-brakes and calipers. Coaster brakes still exist on some new models. Disc brakes are rare.
Distance
A town bike welcomes a short ride. They're great for brief commutes, errands, corner-store trips, riverside ambles and picnics.
Cost
Most town bikes are a cheerfully cheap, low-cost option. They're simple and not necessarily low-quality.
Strengths
Comfort. They're relaxed and upright, with wide bars for cruisy boat steering.
Resilience is a hallmark of well-built Town Bikes, e.g. the traditional Dutch Bike.
Maintenance is minimal and usually simple.
Baskets and Racks may come included with your town bike.
Compromise on…
Weight. Tradition dictates that sturdiness and durability are priorities.
Climbing Ability, due to the upright ride position, close ratio and weight.
Distance, also due to the upright ride position, close ratio and weight.
Speed. Again; due to the upright ride position, close ratio and weight.
29" BMX Cruisers

Low-cost, tough & comfy, with bigger wheels than a road bike
Build
This is the Big-Kids' BMX. Fat-tired, twenty nine inch wheels have a bigger diameter than 700c wheels on a road bike. This makes them fast enough to be practical as a commuter, while being built as tough as any other BMX.
Use
There are two main uses for the BMX cruiser. In one camp are the chill riders, who just want a relaxed and comfy run-a-bout for casual rides. The other group are trick-riders and wheelie afficionados.
Ride Position
BMX cruisers usually have the seat low, bars high and 'slack' geometry for a laid-back ride.
Weight
These bikes are tough, not light. A lot of bikes are around 29lb, while 28lb to 34lb is the range.
Frame Material
Chromoly steel is the preferred material for the BMX cruiser. Some aluminum examples exist.
Wheels
Wheels are 29 Inches.
Tires
Tires are slick and fat, for comfort and big hits on roads, between 2.10" and 2.5".
Tire Clearance
Tire clearance is generous. Up to 2.5".
Mounts
BMX cruisers usually do not have mounts or bosses for racks, fenders or bottle cages. Front racks can be attached to some forks.
Drivetrains
Most drivetrains are similar and use a single chainring, freewheel and chain.
Ratios
Ratios are usually lower than on other single-speeds, to enable slow-speed cruising on these heavy rigs. Ratios also need to suit wheelies and tricks. Anywhere from 1.95:1 to 2.44:1 can be found on new bikes. Chainrings and sprockets are both smaller than on most racier bikes. Expect 33:16 / 36:16 / 30:13 or similar.
Brakes
Most BMX cruisers come equipped with one rear brake. Most often, this is a linear (V-Brake) or U Brake. You can always attach an additional front brake.
Distance
BMX cruisers are heavy but comfortable and suit short to medium distances.
Cost
There is quite a wide range in quality, weight and style. Anywhere from $300 to $1000 can be expected, with a lot of good options around the $550 to $750 mark.
Strengths
Indestructibility: …or close to it. BMX cruisers are near bombproof.
Comfort. Laid-back, with massive tires and a relaxed riding position.
Fun. If so inclined; you can jump and wheelie these rigs.
Price. 29" BMXs are a budget alternative to a sturdy 700c bike.
Style. There are some visually and structurally impressive rides on the market.
Compromise on…
Weight. BMX cruisers are hefty.
Speed. With the stock ratio and extra weight, don't expect to break records.
Mounts. They usually don't have any.
Single-Speed Mountain Bikes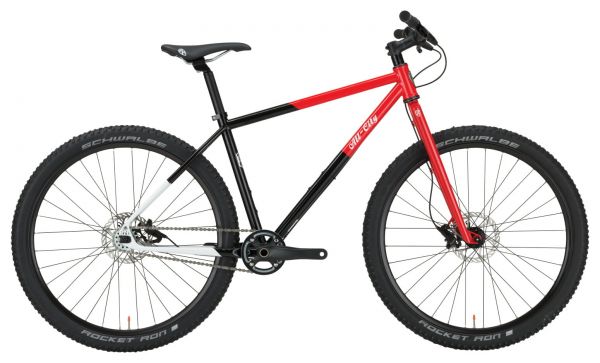 A rigid, 27.5″ single-speed MTB
Build
Tough.
Use
They're made for off-road use.
Ride Position
Varies, but a slack top tube allows a lower saddle height to keep weight toward the rear on descents. Flat handlebars keep you upright.
Weight
Heavier than a single-speed road or track bike. However, with high-end and lightweight steel and aluminum tubing, they can be of similar weight to many urban single-speeds. 20 to 28lbs.
Frame Material
High-end Chromoly steels and Aluminum are common.
Wheels
Strong alloy wheels in 29", 27.5" and 26".
Tires
Wide tires for off-road use, roughly 1.95" up to 3.0". Anything wider is difficult to push with one gear.
Tire Clearance
A maximum clearance of at least 2.4". Clearances may reach 3.0".
Mounts
Single-speed mountain bikes will probably have bottle cage bosses. They may or may not have mounts and eyelets for fenders and racks.
Drivetrains
Drivetrains usually use a chain and may use either a freewheel or a single-speed conversion kit on a freehub.
Suspension
Many single-speed mountain bikes are run rigid (no suspension fork), to cut weight and maintain simplicity. Other single-speeders do choose to use a suspension fork. Hyper-niche, full-suspension single-speeds are rare.
Ratios
1.8:1 to 2.0:1 is a common range for new models. (32:16 to 32:18 is common).
Brakes
Brakes are mostly discs. V-brakes and cantilevers are more common on older bikes.
Distance
Mountain bikes are heavy and suit trail jaunts, but you can ride single-speed all day if your quads are buff.
Cost
These are specialist items. But without incorporating gearing (and often suspension), they can be had for a lot cheaper than a mountain bike of similar quality. Entry-level: $350-$700. Mid-level: $1500-$2000. Belt-drive and full-suspension: $2800 and up.
Strengths
Strength and Durability. Tougher than any other single-speed.
All-Weather Capability is provided by a stable frame and disc brakes.
Comfort. Laid-back geometry and fat tires for that 'couchy' ride.
Compromise on…
Weight. SS mountain bikes can tire the fittest rider. They're overkill for cities.
Speed. Fat tires are heavy and slow on-roads.
Price. Entry-level models are rare. Some specimens are boutique items.
Versatility. SS MTBs have a defined niche: 'less-mountainous mountain-biking'.
Single-Speed Cyclocross Bikes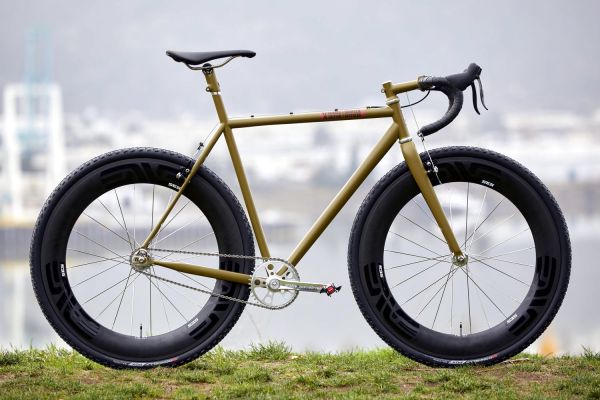 This high-end rig uses cantilever brakes
Build
Strong and light.
Use
Off-road, drop-bar racing. Very adaptable to being a road or urban bike.
Ride Position
These bikes are made to be ridden in the drops. Even so, slightly-sloped top-tubes give more standover than a road bike. They are agile.
Weight
Weights vary with price, but they can be impressively low while remaining robust. Bikes are for sale from 13lb to 25lb. Cyclocross riders have to occasionally carry their bikes.
Frame Material
High-end Chromoly steel is a favorite. One new, lower-priced model is Scandium with a carbon fork.
Wheels
Strong alloy wheels in 700c.
Tires
700 x 35c is the cyclocross standard. Sometimes 33c.
Tire Clearance
Tire clearances are usually designed around 35c tires.
Mounts
Single-speed cyclocross bikes will usually have bottle cage bosses and fender mounts. They may or may not have mounts for racks.
Drivetrains
Drivetrains usually use a chain and may use either a freewheel or freehub.
Ratios
2.3:1 to 2.6:1 is a common range. 42 tooth chainrings are common.
Expect: 42:16, 42:17, 42:18.
Brakes
Cantilever rim brakes and mechanical disc brakes are both popular.
Distance
These bikes are built for cyclocross races, but are comfortable to ride over medium to long distances. You may not want to ride shorter distances in the drops.
Cost
There's a wide range of prices. Most bikes fall into the $950 to $1200 range.
Strengths
Strength and Durability. These are tough bikes, built well.
All-Weather Capability. CX bikes want to be ridden through mud and rain.
Speed. You can tuck in and gun it, down on the drop bars.
Versatility, as a single-speed long-haul commuter, road bike or gravel bike.
Weight. Considering their strength, these bikes are lightweight.
Compromise on…
Price. These bikes start in a higher bracket than urban singlespeeds.
Comfort. They're a bit racy and many models are fit with drop bars.
Urban Use. Without flat bars, visibility is reduced in urban settings.
Security. A flashy bike is more likely to be stolen.
Direct Sales vs. Local Bike Shop
Over-the-counter…
or box-fresh?
Buying a bike online is a world apart from the experience of choosing a bike from your local bike shop. The benefit of a direct sale from the manufacturer, is that you aren't paying for the middleman. If you're buying a bike from an online retailer, they don't have to pay for the rent of premises and they don't need to pay an experienced, professional mechanic to assemble and tune your bike. For these reasons, you pay less.
Good online bike retailers will pre-assemble as much as 80% to 95% of your bike before shipping and will provide the tools required for the remaining adjustments.
Your local bike shop (or 'L.B.S.') will assemble, tune and fit your bike for you before you ride away. They will usually offer you a warranty deal and a minor servicing for free within the first few weeks of purchase.
Whatever route you choose, there are benefits and drawbacks.

One and Done
Single-Speeds are simple bikes, so buying one shouldn't be complicated. There are a lot of manufacturers offering their own models.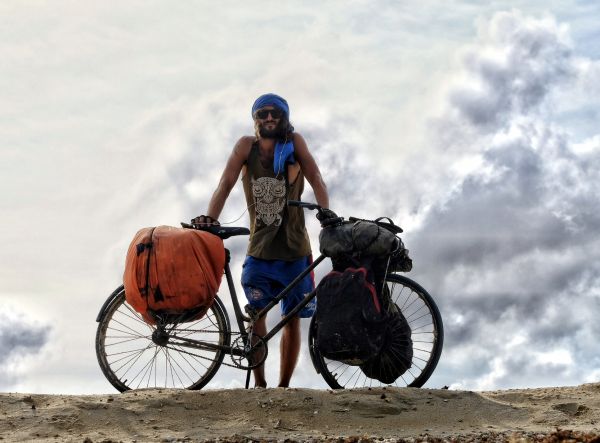 For some folk, one gear is enough
At first, the choice can seem overwhelming. But options are easily narrowed down by focusing on your needs, priorities and riding style.
When it comes to single-speeds, a moderate price should buy you a decent bike. In comparison to a geared bike of similar quality, your money goes a lot further. In return, you get a low-maintenance bike that lets you either step up to the next level of fitness or just take it easy.
Choose wisely and ride on!
Further Reading and Useful Links
Have questions about which bike to choose? Ask in our Forum.
Want to win a bike instead of buying one? See our bike Giveaway.
Find out more about BikeRide.
Sources
Bike Categories