Shenandoah Fall Foliage Bike Festival
Friday, Oct 20, 2023 to Sunday, Oct 22, 2023
Staunton, VA, USA
Camp, Century, Kids, Metric Century, Recreational
Celebrating its 32nd year, the ShenandoahFall Foliage Bike Festival brings experienced century cyclists, mid-distance recreational riders and novices, and families to the Shenandoah Valley of Virginia to enjoy a weekend of beautiful riding and friendly hospitality! Choose from 9 routes over two days of full-supported riding with great food and entertainment.
Constant vistas of the Blue Ridge and Allegheny Mountains enhance your enjoyment of the scenic countryside of the Shenandoah Valley. You'll pass bucolic farmlands (where the pace of life slows down so much, you may even pass a few horse-drawn buggies), trees loaded with changing Fall colors, historic Civil War battlefields, and small towns with picturesque town squares and classic Americana architecture.
Our festival — which annually draws between 600-750 riders from up and down the mid-Atlantic states and beyond — was recently featured by mapmyride.com as one of "10 Epic Fall Century Rides in the U.S." and in U.S. News and World Report's Travel as one of "America's Best Fall Bike Rides." We go out of our way to make sure you have enjoyable routes with plenty of rest stops (with a variety of snacks ) and a hearty after-ride meal on Saturday and brunch on Sunday prepared by the master cooks of our local Ruritan Clubs.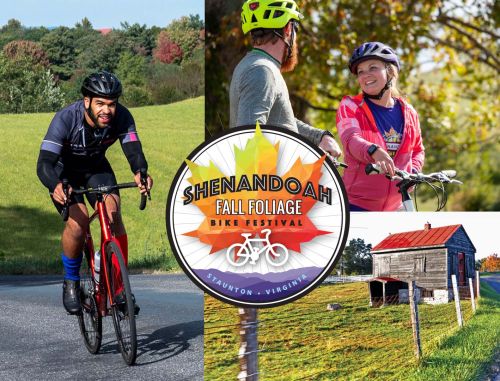 Contact Information
Robert Mott
5402901677