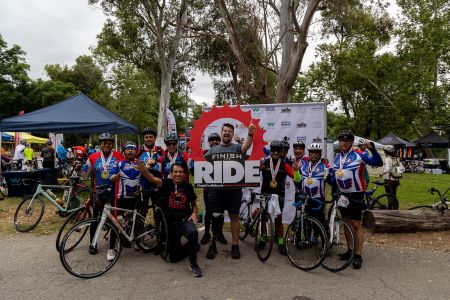 Finish The Ride Griffith Park
Sunday, Apr 7, 2024
Los Angeles, California, United States
Charity Ride, Half Century, Metric Century, Multisport, Recreational
Full event details can be found at www.streetsareforeveryone.org/finish-the-ride-griffith-park
It's not just an event; it's a movement for the safety of all on the streets of California.
Join hundreds of other cyclists to enjoy the beautiful scenery and back roads of Griffith Park. Our rides take you on a journey through the park and surrounding areas. Top it all off with our wonderful end event venue.
The event benefits:
Streets Are For Everyone (SAFE) – aims to improve the quality of life for pedestrians, bicyclists and drivers alike by working to reduce traffic caused fatalities to Zero.
SAFE addresses the problem in a holistic fashion through direct education, broad awareness campaigns, partnerships, community outreach, policy and legislation, support for those impacted and other proven strategies.
Check out FinishTheRide.org for videos and information about the amazing beginnings of the movement.
The event includes:
Finish The Ride — April 7th, 2024
12 Mile Fun Ride/Roll
20 Mile Nice N' Easy
35 Mile Leg Burn
Killer Half Century
Free t-shirt or athletic sleeves with registration
NEW individual event medals awarded for all events!
Great live music and dancing
Free festival and safety expo with giveaways, raffles, prizes and more.
Feel free to bring the whole family, even the dog!
Join Finish The Ride and Finish The Run Griffith Park 2024, not only for yourself but for those who survived, those who didn't, and the safety of ALL!
#FinishTheRide #FinishTheRun #NeverGiveUp #PhoenixRising
For more information on the event itself or how you can help, e-mail us at [email protected] or call (844) 884-7233 Ext. 801
Contact Information
Streets Are For Everyone (SAFE)
8448847233