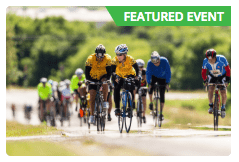 CAMBRIDGESHIRE RUMBLE 2022
Saturday, Apr 23, 2022 to Sunday, Apr 24, 2022
St Ives, United Kingdom
Would you like thousands of cyclists to see your event? Feature your event now.
For only $219, this event listing will be upgraded with the following features:
Your event is listed at the top of the front page of BikeRide.com.
Your event is sorted at the top of regional event listing pages to make sure that all visitors close to your location sees your event.
Your event gets a featured event image and green colors to help it stand out on the event listing pages.
Your event stays featured until the day of your event.
Your event is promoted on our Twitter account @bikeride to 8,000 followers.
Your event is promoted on our Facebook page BikeRide to 26,000 followers.